Abstract
Glia have been implicated in Alzheimer's disease (AD) pathogenesis. Variants of the microglia receptor triggering receptor expressed on myeloid cells 2 (TREM2) increase AD risk, and activation of disease-associated microglia (DAM) is dependent on TREM2 in mouse models of AD. We surveyed gene-expression changes associated with AD pathology and TREM2 in 5XFAD mice and in human AD by single-nucleus RNA sequencing. We confirmed the presence of Trem2-dependent DAM and identified a previously undiscovered Serpina3n+C4b+ reactive oligodendrocyte population in mice. Interestingly, remarkably different glial phenotypes were evident in human AD. Microglia signature was reminiscent of IRF8-driven reactive microglia in peripheral-nerve injury. Oligodendrocyte signatures suggested impaired axonal myelination and metabolic adaptation to neuronal degeneration. Astrocyte profiles indicated weakened metabolic coordination with neurons. Notably, the reactive phenotype of microglia was less evident in TREM2-R47H and TREM2-R62H carriers than in non-carriers, demonstrating a TREM2 requirement in both mouse and human AD, despite the marked species-specific differences.
Access options
Subscribe to Journal
Get full journal access for 1 year
$209.00
only $17.42 per issue
All prices are NET prices.
VAT will be added later in the checkout.
Rent or Buy article
Get time limited or full article access on ReadCube.
from$8.99
All prices are NET prices.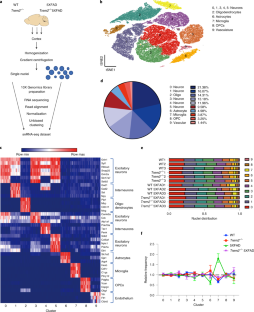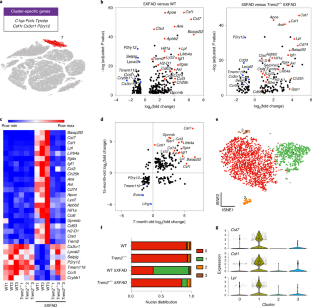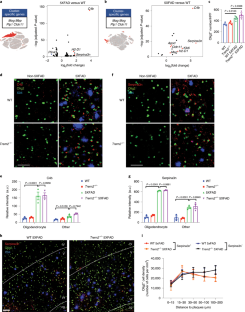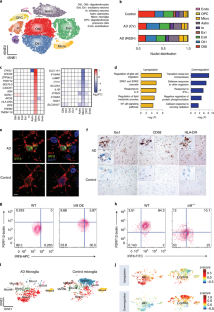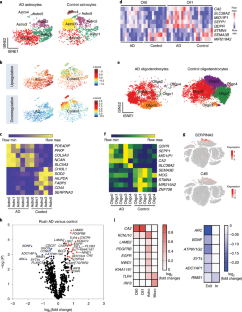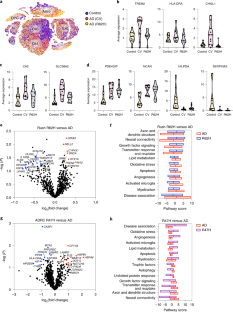 Data availability
snRNA-seq gene lists with statistics and NanoString nCounter gene lists are available in Supplementary Tables 1, 4 and 5. Mouse snRNA-seq data that support the findings of this study have been deposited in the Gene Expression Omnibus (GEO) database with accession number GSE140511. Human snRNA-seq data that support the findings of this study are available via the AD Knowledge Portal (https://adknowledgeportal.org) under study snRNAseqAD_TREM2 and are also accessible through https://doi.org/10.7303/syn21125841. The AD Knowledge Portal is a platform for accessing data, analyses and tools generated by the Accelerating Medicines Partnership (AMP-AD) Target Discovery Program and other National Institute on Aging (NIA)-supported programs to enable open-science practices and accelerate translational learning. Data are available for general research use according to the requirements for data access and data attribution at https://adknowledgeportal.synapse.org/DataAccess/Instructions. Additional ROSMAP data can be requested at https://www.radc.rush.edu/.
References
1.

Long, J. M. & Holtzman, D. M. Alzheimer disease: an update on pathobiology and treatment strategies. Cell 179, 312–339 (2019).

2.

De Strooper, B. & Karran, E. The cellular phase of Alzheimer's disease. Cell 164, 603–615 (2016).

3.

Heneka, M. T., Golenbock, D. T. & Latz, E. Innate immunity in Alzheimer's disease. Nat. Immunol. 16, 229–236 (2015).

4.

Griciuc, A. et al. Alzheimer's disease risk gene CD33 inhibits microglial uptake of amyloid beta. Neuron 78, 631–643 (2013).

5.

Gjoneska, E. et al. Conserved epigenomic signals in mice and humans reveal immune basis of Alzheimer's disease. Nature 518, 365–369 (2015).

6.

Seyfried, N. T. et al. A multi-network approach identifies protein-specific co-expression in asymptomatic and symptomatic Alzheimer's disease. Cell Syst. 4, 60–72.e4 (2017).

7.

Gosselin, D. et al. An environment-dependent transcriptional network specifies human microglia identity. Science 356, eaal3222 (2017).

8.

Olah, M. et al. A transcriptomic atlas of aged human microglia. Nat. Commun. 9, 539 (2018).

9.

Masuda, T. et al. Spatial and temporal heterogeneity of mouse and human microglia at single-cell resolution. Nature 566, 388–392 (2019).

10.

Keren-Shaul, H. et al. A unique microglia type associated with restricting development of Alzheimer's disease. Cell 169, 1276–1290.e17 (2017).

11.

Krasemann, S. et al. The TREM2–APOE pathway drives the transcriptional phenotype of dysfunctional microglia in neurodegenerative diseases. Immunity 47, 566–581.e9 (2017).

12.

Mathys, H. et al. temporal tracking of microglia activation in neurodegeneration at single-cell resolution. Cell Rep. 21, 366–380 (2017).

13.

Bohlen, C. J., Friedman, B. A., Dejanovic, B. & Sheng, M. Microglia in brain development, homeostasis, and neurodegeneration. Annu. Rev. Genet. https://doi.org/10.1146/annurev-genet-112618-043515 (2019).

14.

Ulland, T. K. & Colonna, M. TREM2 - a key player in microglial biology and Alzheimer disease. Nat. Rev. Neurol. 14, 667–675 (2018).

15.

Wang, Y. et al. TREM2 lipid sensing sustains the microglial response in an Alzheimer's disease model. Cell 160, 1061–1071 (2015).

16.

Jay, T. R. et al. TREM2 deficiency eliminates TREM2+ inflammatory macrophages and ameliorates pathology in Alzheimer's disease mouse models. J. Exp. Med. 212, 287–295 (2015).

17.

Song, W. M. et al. Humanized TREM2 mice reveal microglia-intrinsic and -extrinsic effects of R47H polymorphism. J. Exp. Med. 215, 745 (2018).

18.

Yuan, P. et al. TREM2 haplodeficiency in mice and humans impairs the microglia barrier function leading to decreased amyloid compaction and severe axonal dystrophy. Neuron 90, 724–739 (2016).

19.

Wang, Y. et al. TREM2-mediated early microglial response limits diffusion and toxicity of amyloid plaques. J. Exp. Med. 213, 667–675 (2016).

20.

Mathys, H. et al. Single-cell transcriptomic analysis of Alzheimer's disease. Nature 570, 332–337 (2019).

21.

Jäkel, S. et al. Altered human oligodendrocyte heterogeneity in multiple sclerosis. Nature 566, 543–547 (2019).

22.

Oakley, H. et al. Intraneuronal β-amyloid aggregates, neurodegeneration, and neuron loss in transgenic mice with five familial Alzheimer's disease mutations:potential factors in amyloid plaque formation. J. Neurosci. 26, 10129–10140 (2006).

23.

Mucke, L. et al. Astroglial expression of human α1-antichymotrypsin enhances alzheimer-like pathology in amyloid protein precursor transgenic mice. Am. J. Pathol. 157, 2003–2010 (2000).

24.

Nilsson, L. N. et al. α-1-antichymotrypsin promotes β-sheet amyloid plaque deposition in a transgenic mouse model of Alzheimer's disease. J. Neurosci. 21, 1444–1451 (2001).

25.

Winkler, C. & Yao, S. The midkine family of growth factors: diverse roles in nervous system formation and maintenance. Br. J. Pharmacol. 171, 905–912 (2014).

26.

Molinuevo, J. L. et al. Current state of Alzheimer's fluid biomarkers. Acta Neuropathol. (Berl.) 136, 821–853 (2018).

27.

Masuda, T. et al. IRF8 is a critical transcription factor for transforming microglia into a reactive phenotype. Cell Rep. 1, 334–340 (2012).

28.

Vardarajan, B. N. et al. Coding mutations in SORL1 and Alzheimer's disease. Ann. Neurol. 77, 215–227 (2015).

29.

Angelova, D. M. & Brown, D. R. Microglia and the aging brain: are senescent microglia the key to neurodegeneration? J. Neurochem. https://doi.org/10.1111/jnc.14860 (2019).

30.

Ioannou, M. S. et al. Neuron–astrocyte metabolic coupling protects against activity-induced fatty acid toxicity. Cell 177, 1522–1535.e14 (2019).

31.

McKeon, R. J., Jurynec, M. J. & Buck, C. R. The chondroitin sulfate proteoglycans neurocan and phosphacan are expressed by reactive astrocytes in the chronic CNS glial scar. J. Neurosci. 19, 10778–10788 (1999).

32.

Schultz, C. C. et al. Common variation in NCAN, a risk factor for bipolar disorder and schizophrenia, influences local cortical folding in schizophrenia. Psychol. Med. 44, 811–820 (2014).

33.

Liddelow, S. A. et al. Neurotoxic reactive astrocytes are induced by activated microglia. Nature 541, 481–487 (2017).

34.

Richter-Landsberg, C. The cytoskeleton in oligodendrocytes. Microtubule dynamics in health and disease. J. Mol. Neurosci. MN 35, 55–63 (2008).

35.

Mecollari, V., Nieuwenhuis, B. & Verhaagen, J. A perspective on the role of class III semaphorin signaling in central nervous system trauma. Front. Cell. Neurosci. 8, 328 (2014).

36.

Wang, H. et al. miR-219 Cooperates with miR-338 in myelination and promotes myelin repair in the CNS. Dev. Cell 40, 566–582.e5 (2017).

37.

Wang, L. et al. Epidermal growth factor receptor is a preferred target for treating amyloid-β-induced memory loss. Proc. Natl Acad. Sci. USA 109, 16743–16748 (2012).

38.

Rothhammer, V. et al. Microglial control of astrocytes in response to microbial metabolites. Nature 557, 724–728 (2018).

39.

Dickey, C. A. et al. Selectively reduced expression of synaptic plasticity-related genes in amyloid precursor protein + presenilin-1 transgenic mice. J. Neurosci. 23, 5219–5226 (2003).

40.

Han, P. et al. Association of pituitary adenylate cyclase-activating polypeptide with cognitive decline in mild cognitive impairment due to Alzheimer disease. JAMA Neurol. 72, 333–339 (2015).

41.

Harboe, M., Torvund-Jensen, J., Kjaer-Sorensen, K. & Laursen, L. S. Ephrin-A1–EphA4 signaling negatively regulates myelination in the central nervous system. Glia 66, 934–950 (2018).

42.

Tozaki-Saitoh, H. et al. Transcription factor MafB contributes to the activation of spinal microglia underlying neuropathic pain development. Glia 67, 729–740 (2019).

43.

Zhang, P. et al. Senolytic therapy alleviates Aβ-associated oligodendrocyte progenitor cell senescence and cognitive deficits in an Alzheimer's disease model. Nat. Neurosci. 22, 719–728 (2019).

44.

Hong, S. et al. Complement and microglia mediate early synapse loss in Alzheimer mouse models. Science 352, 712–716 (2016).

45.

Ma, J., Yee, A., Brewer, H. B., Das, S. & Potter, H. Amyloid-associated proteins α1-antichymotrypsin and apolipoprotein E promote assembly of Alzheimer β-protein into filaments. Nature 372, 92–94 (1994).

46.

Kamboh, M. I., Sanghera, D. K., Ferrell, R. E. & DeKosky, S. T. APOE*4-associated Alzheimer's disease risk is modified by α1-antichymotrypsin polymorphism. Nat. Genet. 10, 486–488 (1995).

47.

Butler, A., Hoffman, P., Smibert, P., Papalexi, E. & Satija, R. Integrating single-cell transcriptomic data across different conditions, technologies, and species. Nat. Biotechnol. 36, 411–420 (2018).

48.

Finak, G. et al. MAST: a flexible statistical framework for assessing transcriptional changes and characterizing heterogeneity in single-cell RNA sequencing data. Genome Biol. 16, 278 (2015).

49.

Geiss, G. K. et al. Direct multiplexed measurement of gene expression with color-coded probe pairs. Nat. Biotechnol. 26, 317–325 (2008).

50.

McAlister, G. C. et al. MultiNotch MS3 enables accurate, sensitive and multiplexed detection of differential expression across cancer cell line proteomes. Anal. Chem. 86, 7150–7158 (2014).

51.

Huttlin, E. L. et al. A tissue-specific atlas of mouse protein phosphorylation and expression. Cell 143, 1174–1189 (2010).

52.

Elias, J. E. & Gygi, S. P. Target-decoy search strategy for mass spectrometry-based proteomics. Methods Mol. Biol. Clifton NJ 604, 55–71 (2010).

53.

McAlister, G. C. et al. Increasing the multiplexing capacity of TMTs using reporter ion isotopologues with isobaric masses. Anal. Chem. 84, 7469–7478 (2012).

54.

Beausoleil, S. A., Villén, J., Gerber, S. A., Rush, J. & Gygi, S. P. A probability-based approach for high-throughput protein phosphorylation analysis and site localization. Nat. Biotechnol. 24, 1285–1292 (2006).

55.

Stine, W. B., Jungbauer, L., Yu, C. & LaDu, M. J. Preparing synthetic Aβ in different aggregation states. Methods Mol. Biol. Clifton NJ 670, 13–32 (2011).

56.

Gouwens, L. K. et al. Aβ42 protofibrils interact with and are trafficked through microglial-derived microvesicles. ACS Chem. Neurosci. 9, 1416–1425 (2018).

57.

Zhou, Y. et al. Metascape provides a biologist-oriented resource for the analysis of systems-level datasets. Nat. Commun. 10, 1523 (2019).
Acknowledgements
We would like to thank K. Murphy and T. Murphy for generously providing us Irf8-overexpression constructs and Irf8–/– mice. We thank S. Kumar for the help with IF on human PPFE samples, and B. Zinselmeyer and B. Saunders for their help with confocal images. We thank B. Schmidt for helpful discussions. We thank I. Kawaki and the Collaborative Research Project of the BRI, Niigata University. A. Kakita is supported by the Strategic Research Program for Brain Sciences from Japan Agency for Medical Research and Development, AMED. This work was supported by the NIH (RF1 AG051485, R21 AG059176, and RF1 AG059082 to M. Colonna, RF1 AG047644 and R01 NS090934 to D.M.H., R15 GM119070 to M.R.N.), the Cure Alzheimer's Fund (to M. Colonna and D.M.H.) and the JPB Foundation (to D.M.H).
Ethics declarations
Competing interests
M. Colonna receives research support from Pfizer, Amgen, Alector and Ono.
Additional information
Peer review information Kate Gao was the primary editor on this article and managed its editorial process and peer review in collaboration with the rest of the editorial team.
Publisher's note Springer Nature remains neutral with regard to jurisdictional claims in published maps and institutional affiliations.
Supplementary information
About this article
Cite this article
Zhou, Y., Song, W.M., Andhey, P.S. et al. Human and mouse single-nucleus transcriptomics reveal TREM2-dependent and TREM2-independent cellular responses in Alzheimer's disease. Nat Med 26, 131–142 (2020). https://doi.org/10.1038/s41591-019-0695-9
Received:

Accepted:

Published:

Issue Date: