Abstract
Immune checkpoint therapy with anti-CTLA-4 and anti-PD-1/PD-L1 has revolutionized the treatment of many solid tumors. However, the clinical efficacy of immune checkpoint therapy is limited to a subset of patients with specific tumor types1,2. Multiple clinical trials with combinatorial immune checkpoint strategies are ongoing; however, the mechanistic rationale for tumor-specific targeting of immune checkpoints is elusive. To garner an insight into tumor-specific immunomodulatory targets, we analyzed 94 patients representing five different cancer types, including those that respond relatively well to immune checkpoint therapy and those that do not, such as glioblastoma multiforme, prostate cancer and colorectal cancer. Through mass cytometry and single-cell RNA sequencing, we identified a unique population of CD73hi macrophages in glioblastoma multiforme that persists after anti-PD-1 treatment. To test if targeting CD73 would be important for a successful combination strategy in glioblastoma multiforme, we performed reverse translational studies using CD73−/− mice. We found that the absence of CD73 improved survival in a murine model of glioblastoma multiforme treated with anti-CTLA-4 and anti-PD-1. Our data identified CD73 as a specific immunotherapeutic target to improve antitumor immune responses to immune checkpoint therapy in glioblastoma multiforme and demonstrate that comprehensive human and reverse translational studies can be used for rational design of combinatorial immune checkpoint strategies.
Your institute does not have access to this article
Relevant articles
Open Access articles citing this article.
Qingzhu Jia

,

Han Chu

…

Bo Zhu

Signal Transduction and Targeted Therapy Open Access 03 May 2022

Hui Huang

,

Zhengyuan Huo

…

Jun Sun

Cancer Cell International Open Access 29 April 2022

Huai-liang Wu

,

Yue Gong

…

Guang-yu Liu

Journal of Hematology & Oncology Open Access 27 April 2022
Access options
Subscribe to Nature+
Get immediate online access to the entire Nature family of 50+ journals
Subscribe to Journal
Get full journal access for 1 year
$59.00
only $4.92 per issue
All prices are NET prices.
VAT will be added later in the checkout.
Tax calculation will be finalised during checkout.
Buy article
Get time limited or full article access on ReadCube.
$32.00
All prices are NET prices.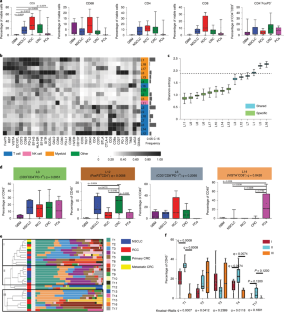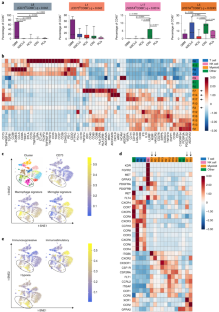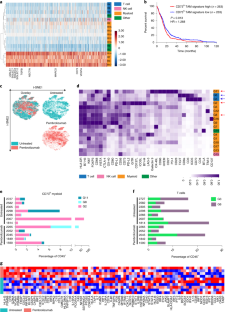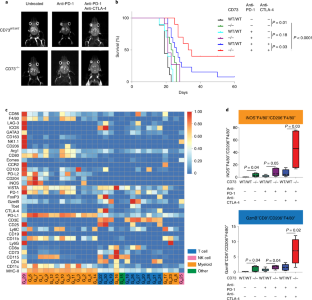 Data availability
CyTOF data (Figs. 1, 2a,b, 3c–g and 4c,d) have been deposited with the FlowRepository (FR-FCM-Z2B3). scRNA-seq data (Figs. 2c–e and 3a) have been deposited with the Sequence Read Archive with accession number PRJNA588461. All requests for data and materials should be made to the corresponding author, following verification of any intellectual property or confidentiality obligations.
References
Sharma, P. & Allison, J. P. Immune checkpoint targeting in cancer therapy: toward combination strategies with curative potential. Cell 161, 205–214 (2015).

Sharma, P. & Allison, J. P. The future of immune checkpoint therapy. Science 348, 56–61 (2015).

Borghaei, H. et al. Nivolumab versus docetaxel in advanced nonsquamous non-small-cell lung cancer. N. Engl. J. Med. 373, 1627–1639 (2015).

Hodi, F. S. et al. Improved survival with ipilimumab in patients with metastatic melanoma. N. Engl. J. Med. 363, 711–723 (2010).

Kwon, E. D. et al. Ipilimumab versus placebo after radiotherapy in patients with metastatic castration-resistant prostate cancer that had progressed after docetaxel chemotherapy (CA184-043): a multicentre, randomised, double-blind, phase 3 trial. Lancet Oncol. 15, 700–712 (2014).

Motzer, R. J. et al. Nivolumab versus everolimus in advanced renal-cell carcinoma. N. Engl. J. Med. 373, 1803–1813 (2015).

Motzer, R. J. et al. Nivolumab plus ipilimumab versus sunitinib in advanced renal-cell carcinoma. N. Engl. J. Med. 378, 1277–1290 (2018).

Sharma, P. et al. Nivolumab in metastatic urothelial carcinoma after platinum therapy (CheckMate 275): a multicentre, single-arm, phase 2 trial. Lancet Oncol. 18, 312–322 (2017).

Le, D. T. et al. Mismatch repair deficiency predicts response of solid tumors to PD-1 blockade. Science 357, 409–413 (2017).

Chevrier, S. et al. An immune atlas of clear cell renal cell carcinoma. Cell 169, 736–749.e18 (2017).

Chew, V. et al. Delineation of an immunosuppressive gradient in hepatocellular carcinoma using high-dimensional proteomic and transcriptomic analyses. Proc. Natl Acad. Sci. USA 114, E5900–E5909 (2017).

Lavin, Y. et al. Innate immune landscape in early lung adenocarcinoma by paired single-cell analyses. Cell 169, 750–765.e17 (2017).

Wei, S. C. et al. Distinct cellular mechanisms underlie anti-CTLA-4 and anti-PD-1 checkpoint blockade. Cell 170, 1120–1133.e17 (2017).

Gao, J. et al. Loss of IFN-γ pathway genes in tumor cells as a mechanism of resistance to anti-CTLA-4 therapy. Cell 167, 397–404.e9 (2016).

Saito, T. et al. Two FOXP3+CD4+ T cell subpopulations distinctly control the prognosis of colorectal cancers. Nat. Med. 22, 679–684 (2016).

Antonioli, L., Pacher, P., Vizi, E. S. & Haskó, G. CD39 and CD73 in immunity and inflammation. Trends Mol. Med. 19, 355–367 (2013).

Azambuja, J. H. et al. CD73 downregulation decreases in vitro and in vivo glioblastoma growth. Mol. Neurobiol. 56, 3260–3279 (2019).

Azambuja, J. H., et al. Nasal administration of cationic nanoemulsions as CD73-siRNA delivery system for glioblastoma treatment: a new therapeutical approach. Mol. Neurobiol. https://doi.org/10.1007/s12035-019-01730-6 (2019).

Takenaka, M. C. et al. Control of tumor-associated macrophages and T cells in glioblastoma via AHR and CD39. Nat. Neurosci. 22, 729–740 (2019).

Yan, A. et al. CD73 promotes glioblastoma pathogenesis and enhances its chemoresistance via A2B adenosine receptor signaling. J. Neurosci. 39, 4387–4402 (2019).

Müller S. et al. Single-cell profiling of human gliomas reveals macrophage ontogeny as a basis for regional differences in macrophage activation in the tumor microenvironment. Genome Biol. 18, 234 (2017).

Chang, A. L. et al. CCL2 produced by the glioma microenvironment is essential for the recruitment of regulatory T cells and myeloid-derived suppressor cells. Cancer Res. 76, 5671–5682 (2016).

Chen, Z. et al. Cellular and molecular identity of tumor-associated macrophages in glioblastoma. Cancer Res. 77, 2266–2278 (2017).

Pham, K., Luo, D., Liu, C. & Harrison, J. K. CCL5, CCR1 and CCR5 in murine glioblastoma: immune cell infiltration and survival rates are not dependent on individual expression of either CCR1 or CCR5. J. Neuroimmunol. 246, 10–17 (2012).

Pyonteck, S. M. et al. CSF-1R inhibition alters macrophage polarization and blocks glioma progression. Nat. Med. 19, 1264–1272 (2013).

Wang, Y. et al. Hypoxia and macrophages promote glioblastoma invasion by the CCL4-CCR5 axis. Oncol. Rep. 36, 3522–3528 (2016).

Schalper, K. A. et al. Neoadjuvant nivolumab modifies the tumor immune microenvironment in resectable glioblastoma. Nat. Med. 25, 470–476 (2019).

Cloughesy, T. F. et al. Neoadjuvant anti-PD-1 immunotherapy promotes a survival benefit with intratumoral and systemic immune responses in recurrent glioblastoma. Nat. Med. 25, 477–486 (2019).

Stagg, J. et al. CD73-deficient mice have increased antitumor immunity and are resistant to experimental metastasis. Cancer Res. 71, 2892–2900 (2011).

Andrews, L. P., Marciscano, A. E., Drake, C. G. & Vignali, D. A. LAG3 (CD223) as a cancer immunotherapy target. Immunol. Rev. 276, 80–96 (2017).

Larkin, J. et al. Combined nivolumab and ipilimumab or monotherapy in untreated melanoma. N. Engl. J. Med. 373, 23–34 (2015).

Pfannenstiel, L. W. et al. Immune-checkpoint blockade opposes CD8+ T-cell suppression in human and murine cancer. Cancer Immunol. Res. 7, 510–525 (2019).

Papadopoulos, K. P. et al. First-in-human study of AMG 820, a monoclonal anti-colony-stimulating factor 1 receptor antibody, in patients with advanced solid tumors. Clin. Cancer Res. 23, 5703–5710 (2017).

Cannarile, M. A. et al. Colony-stimulating factor 1 receptor (CSF1R) inhibitors in cancer therapy. J. Immunother. Cancer 5, 53 (2017).

Antonioli, L. et al. Switching off CD73: a way to boost the activity of conventional and targeted antineoplastic therapies. Drug Discov. Today 22, 1686–1696 (2017).

Perrot, I. et al. Blocking antibodies targeting the CD39/CD73 immunosuppressive pathway unleash immune responses in combination cancer therapies. Cell Rep. 27, 2411–2425.e9 (2019).

Wei, J. et al. MiR-138 exerts anti-glioma efficacy by targeting immune checkpoints. Neuro Oncol. 18, 639–648 (2016).

Finck, R. et al. Normalization of mass cytometry data with bead standards. Cytometry A 83, 483–494 (2013).

Zunder, E. R. et al. Palladium-based mass tag cell barcoding with a doublet-filtering scheme and single-cell deconvolution algorithm. Nat. Protoc. 10, 316–333 (2015).

Amir, el-A. D. et al. viSNE enables visualization of high dimensional single-cell data and reveals phenotypic heterogeneity of leukemia. Nat. Biotechnol. 31, 545–552 (2013).

Levine, J. H. et al. Data-driven phenotypic dissection of AML reveals progenitor-like cells that correlate with prognosis. Cell 162, 184–197 (2015).

Van Gassen, S. et al. FlowSOM: using self-organizing maps for visualization and interpretation of cytometry data. Cytometry A 87, 636–645 (2015).

Stack, E. C., Wang, C., Roman, K. A. & Hoyt, C. C. Multiplexed immunohistochemistry, imaging, and quantitation: a review, with an assessment of Tyramide signal amplification, multispectral imaging and multiplex analysis. Methods 70, 46–58 (2014).

Azizi, E. et al. Single-cell map of diverse immune phenotypes in the breast tumor microenvironment. Cell 174, 1293–1308.e36 (2018).

van Dijk, D et al. Recovering gene interactions from single-cell data using data diffusion. Cell 174, 716–729.e27 (2018).
Acknowledgements
We thank the entire Immunotherapy Platform team at the MD Anderson Cancer Center for assistance in obtaining patient samples and processing them for CyTOF, immunofluorescence and gene expression analysis. We thank F. Gherardini at The Parker Institute for Cancer Immunotherapy for his expert advice with normalization of CyTOF data and J. Zhang and S. Meena Natarajan for technical assistance with the murine experiments. This work was supported by philanthropic contributions to the University of Texas MD Anderson Cancer Center Glioblastoma Moon Shot and Lung Cancer Moon Shot Program and by the National Institutes of Health/National Cancer Institute (award no. CA1208113 to A.B.H. and no. P30CA016672 to B.S.) and used the Tissue Biospecimen and Pathology Resource. P.S. is a member of the Parker Institute for Cancer Immunotherapy and the codirector of the Parker Institute for Cancer Immunotherapy at the MD Anderson Cancer Center.
Ethics declarations
Competing interests
P.S. has ownership in Jounce Therapeutics, Neon, Constellation, Oncolytics Biotech, BioAtla, Forty Seven, Apricity, Polaris, Marker Therapeutics, Codiak BioSciences, ImaginAb, Dragonfly, Lytix Biopharma and Hummingbird. P.S. serves as a consultant for Constellation, Jounce Therapeutics, Neon, BioAtla, Pieris Pharmaceuticals, Oncolytics Biotech, Forty Seven, Polaris, Apricity, Marker Therapeutics, Codiak BioSciences, ImaginAb, Dragonfly, Lytix Biopharma and Hummingbird.
Additional information
Peer review information Joao Monteiro and Saheli Sadanand were the primary editors on this article and managed its editorial process and peer review in collaboration with the rest of the editorial team.
Publisher's note Springer Nature remains neutral with regard to jurisdictional claims in published maps and institutional affiliations.
Supplementary information
Supplementary Tables 1–4.
About this article
Cite this article
Goswami, S., Walle, T., Cornish, A.E. et al. Immune profiling of human tumors identifies CD73 as a combinatorial target in glioblastoma. Nat Med 26, 39–46 (2020). https://doi.org/10.1038/s41591-019-0694-x
Received:

Accepted:

Published:

Issue Date:

DOI: https://doi.org/10.1038/s41591-019-0694-x