Abstract
B-cell lymphoma extra large (BCL-XL) is a well-validated cancer target. However, the on-target and dose-limiting thrombocytopenia limits the use of BCL-XL inhibitors, such as ABT263, as safe and effective anticancer agents. To reduce the toxicity of ABT263, we converted it into DT2216, a BCL-XL proteolysis-targeting chimera (PROTAC), that targets BCL-XL to the Von Hippel-Lindau (VHL) E3 ligase for degradation. We found that DT2216 was more potent against various BCL-XL-dependent leukemia and cancer cells but considerably less toxic to platelets than ABT263 in vitro because VHL is poorly expressed in platelets. In vivo, DT2216 effectively inhibits the growth of several xenograft tumors as a single agent or in combination with other chemotherapeutic agents, without causing appreciable thrombocytopenia. These findings demonstrate the potential to use PROTAC technology to reduce on-target drug toxicities and rescue the therapeutic potential of previously undruggable targets. Furthermore, DT2216 may be developed as a safe first-in-class anticancer agent targeting BCL-XL.
Relevant articles
Open Access articles citing this article.
Kun Wang

,

Xiaoyong Dai

…

Laiqiang Huang

Journal of Experimental & Clinical Cancer Research Open Access 29 September 2022

Ming He

,

Chaoguo Cao

…

Yu Rao

Signal Transduction and Targeted Therapy Open Access 09 June 2022

Marie-Claire Fitzgerald

,

Philip J. O'Halloran

…

Brona M. Murphy

Cell Death & Disease Open Access 14 May 2022
Access options
Subscribe to Nature+
Get immediate online access to Nature and 55 other Nature journal
Subscribe to Journal
Get full journal access for 1 year
$79.00
only $6.58 per issue
All prices are NET prices.
VAT will be added later in the checkout.
Tax calculation will be finalised during checkout.
Buy article
Get time limited or full article access on ReadCube.
$32.00
All prices are NET prices.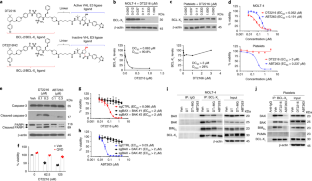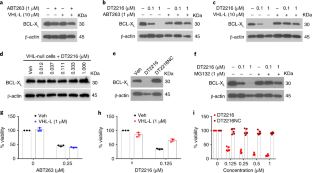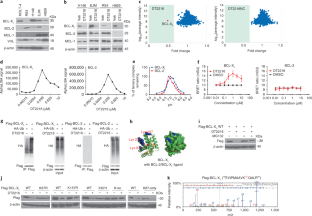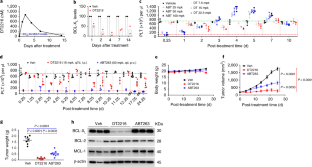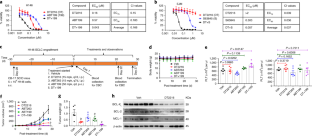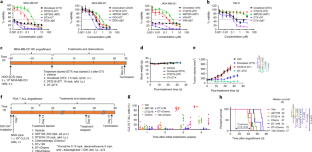 Data availability
The MS data have been deposited to the ProteomeXchange Consortium (http://proteomecentral.proteomexchange.org) through the PRIDE partner repository with the dataset identifiers PXD010878 and PXD015454. The raw immunoblot images and files from statistical analyses are supplied as source data. Other raw and analyzed data files are available from the corresponding author upon reasonable request. A data availability statement is also included in the reporting summary linked to this article.
References
Hanahan, D. & Weinberg, R. A. Hallmarks of cancer: the next generation. Cell. 144, 646–674 (2011).

Singh, R., Letai, A. & Sarosiek, K. Regulation of apoptosis in health and disease: the balancing act of BCL-2 family proteins. Nat. Rev. Mol. Cell Biol. 20, 175–193 (2019).

Igney, F. H. & Krammer, P. H. Death and anti-death: tumour resistance to apoptosis. Nat. Rev. Cancer 2, 277–288 (2002).

Ashkenazi, A., Fairbrother, W. J., Leverson, J. D. & Souers, A. J. From basic apoptosis discoveries to advanced selective BCL-2 family inhibitors. Nat. Rev. Drug Discov. 16, 273–284 (2017).

Adams, J. M. & Cory, S. The Bcl-2 apoptotic switch in cancer development and therapy. Oncogene 26, 1324–1337 (2007).

Reed, J. C. Bcl-2-family proteins and hematologic malignancies: history and future prospects. Blood 111, 3322–3330 (2008).

Thomas, S. et al. Targeting the Bcl-2 family for cancer therapy. Expert Opin. Ther. Targets 17, 61–75 (2013).

Opfermann, J. T. Attacking cancer's Achilles heel: antagonism of antiapoptotic BCL-2 family members. FEBS J. 283, 2661–2675 (2016).

Garner, T. P., Lopez, A., Reyna, D. E., Spitz, A. Z. & Gavathiotis, E. Progress in targeting the BCL-2 family of proteins. Curr. Opin. Chem. Biol. 39, 133–142 (2017).

Delbridge, A. R., Grabow, S., Strasser, A. & Vaux, D. L. Thirty years of BCL-2: translating cell death discoveries into novel cancer therapies. Nat. Rev. Cancer 16, 99–109 (2016).

Delbridge, A. R. & Strasser, A. The BCL-2 protein family, BH3-mimetics and cancer therapy. Cell Death Differ. 22, 1071–1080 (2015).

Oltersdorf, T. et al. An inhibitor of Bcl-2 family proteins induces regression of solid tumours. Nature 435, 677–681 (2005).

Tse, C. et al. ABT-263: a potent and orally bioavailable Bcl-2 family inhibitor. Cancer Res. 68, 3421–3428 (2008).

Souers, A. J. et al. ABT-199, a potent and selective BCL-2 inhibitor, achieves antitumor activity while sparing platelets. Nat. Med. 19, 202–208 (2013).

Tao, Z. F. et al. Discovery of a potent and selective BCL-XL inhibitor with in vivo activity. ACS Med. Chem. Lett. 5, 1088–1093 (2014).

Kotschy, A. et al. The MCL1 inhibitor S63845 is tolerable and effective in diverse cancer models. Nature 538, 477–482 (2016).

Deeks, E. D. Venetoclax: first global approval. Drugs 76, 979–987 (2016).

Roberts, A. W. et al. Targeting BCL2 with venetoclax in relapsed chronic lymphocytic leukemia. N. Engl. J. Med. 374, 311–322 (2016).

Mason, K. D. et al. Programmed anuclear cell death delimits platelet life span. Cell. 128, 1173–1186 (2007).

Schoenwaelder, S. M. et al. Bcl-xL-inhibitory BH3 mimetics can induce a transient thrombocytopathy that undermines the hemostatic function of platelets. Blood 118, 1663–1674 (2011).

Kaefer, A. et al. Mechanism-based pharmacokinetic/pharmacodynamic meta-analysis of navitoclax (ABT-263) induced thrombocytopenia. Cancer Chemother. Pharmacol. 74, 593–602 (2014).

Itchaki, G. & Brown, J. R. The potential of venetoclax (ABT-199) in chronic lymphocytic leukemia. Adv. Hematol. 7, 270–287 (2016).

Perini, G. F., Ribeiro, G. N., Neto, J. V. P., Campos, L. T. & Hamerschlak, N. BCL-2 as therapeutic target for hematological malignancies. J. Hematol. Oncol. 11, 65 (2018).

Leverson, J. D. et al. Exploiting selective BCL-2 family inhibitors to dissect cell survival dependencies and define improved strategies for cancer therapy. Sci. Transl. Med. 7, 279ra40 (2015).

Amundson, S. A. et al. An informatics approach identifying markers of chemosensitivity in human cancer cell lines. Cancer Res. 60, 6101–6110 (2000).

Vogler, M. Targeting BCL2-proteins for the treatment of solid tumours. J. Adv Med. 2014, 943648 (2014).

Lai, A. C. & Crews, C. M. Induced protein degradation: an emerging drug discovery paradigm. Nat. Rev. Drug Discov. 16, 101–114 (2017).

Runcie, A. C., Chan, K. H., Zengerle, M. & Ciulli, A. Chemical genetics approaches for selective intervention in epigenetics. Curr. Opin. Chem. Biol. 33, 186–194 (2016).

Deshaies, R. J. Protein degradation: prime time for PROTACs. Nat. Chem. Biol. 11, 634–635 (2015).

Churcher, I. Protac-induced protein degradation in drug discovery: breaking the rules or just making new ones? J. Med. Chem. 61, 444–452 (2018).

Ohoka, N., Shibata, N., Hattori, T. & Naito, M. Protein knockdown technology: application of ubiquitin ligase to cancer therapy. Curr. Cancer Drug Targets 16, 136–146 (2016).

Lu, J. et al. Hijacking the E3 ubiquitin ligase cereblon to efficiently target BRD4. Chem. Biol. 22, 755–763 (2015).

Bondeson, D. P. et al. Catalytic in vivo protein knockdown by small-molecule PROTACs. Nat. Chem. Biol. 11, 611–617 (2015).

Lai, A. C. et al. Modular PROTAC design for the degradation of oncogenic BCR-ABL. Angew. Chem. Int. Ed. 55, 807–810 (2016).

Raina, K. et al. PROTAC-induced BET protein degradation as a therapy for castration-resistant prostate cancer. Proc. Natl Acad. Sci. USA 113, 7124–7129 (2016).

Saenz, D. T. et al. Novel BET protein proteolysis-targeting chimera exerts superior lethal activity than bromodomain inhibitor (BETi) against post-myeloproliferative neoplasm secondary (s) AML cells. Leukemia 31, 1951–1961 (2017).

Winter, G. E. et al. Drug development. Phthalimide conjugation as a strategy for in vivo target protein degradation. Science 348, 1376–1381 (2015).

Huang, H. T. et al. A chemoproteomic approach to query the degradable kinome using a multi-kinase degrader. Cell Chem. Biol. 25, 88–99.e6 (2018).

Bray, P. F. et al. The complex transcriptional landscape of the anucleate human platelet. BMC Genomics 14, 1 (2013).

Kissopoulou, A., Jonasson, J., Lindahl, T. L. & Osman, A. Next generation sequencing analysis of human platelet PolyA+ mRNAs and rRNA-depleted total RNA. PLoS One 8, e81809 (2013).

Cerami, E. et al. The cBio cancer genomics portal: an open platform for exploring multidimensional cancer genomics data. Cancer Discov. 2, 401–404 (2012).

Gao, J. et al. Integrative analysis of complex cancer genomics and clinical profiles using the cBioPortal. Sci. Signal. 6, pl1 (2013).

Vogler, M. et al. BCL2/BCL-X(L) inhibition induces apoptosis, disrupts cellular calcium homeostasis, and prevents platelet activation. Blood. 117, 7145–7154 (2011).

Gadd, M. S. et al. Structural basis of PROTAC cooperative recognition for selective protein degradation. Nat. Chem. Biol. 13, 514–521 (2017).

Nowak, R. P. et al. Plasticity in binding confers selectivity in ligand-induced protein degradation. Nat. Chem. Biol. 14, 706–714 (2018).

Riching, K. M. et al. Quantitative live-cell kinetic degradation and mechanistic profiling of PROTAC mode of action. ACS Chem. Biol. 13, 2758–2770 (2018).

Farmer, T., O'Neill, K. L., Naslavsky, N., Luo, X. & Caplan, S. Retromer facilitates the localization of Bcl-xL to the mitochondrial outer membrane. Mol. Biol. Cell 30, 1138–1146 (2019).

Smith, B. E. et al. Differential PROTAC substrate specificity dictated by orientation of recruited E3 ligase. Nat. Commun. 10, 131 (2019).

Morowski, M. et al. Only severe thrombocytopenia results in bleeding and defective thrombus formation in mice. Blood 121, 4938–4947 (2013).

Rinder, H. M. et al. Correlation of thrombosis with increased platelet turnover in thrombocytosis. Blood 91, 1288–1294 (1998).

Koch, R. et al. Biomarker-driven strategy for MCL1 inhibition in T-cell lymphomas. Blood 133, 566–575 (2018).

Berger, S. et al. Computationally designed high specificity inhibitors delineate the roles of BCL2 family proteins in cancer. eLife. 5, e20352 (2016).

Hikita, H. et al. Mcl-1 and Bcl-xL cooperatively maintain integrity of hepatocytes in developing and adult murine liver. Hepatology 50, 1217–1226.

Chen, J. et al. The Bcl-2/Bcl-X(L)/Bcl-w inhibitor, navitoclax, enhances the activity of chemotherapeutic agents in vitro and in vivo. Mol. Cancer Ther. 10, 2340–2349 (2011).

Ackler, S. et al. The Bcl-2 inhibitor ABT-263 enhances the response of multiple chemotherapeutic regimens in hematologic tumors in vivo. Cancer Chemother. Pharmacol. 66, 869–880 (2010).

Pompili, L., Porru, M., Caruso, C., Biroccio, A. & Leonetti, C. Patient-derived xenografts: a relevant preclinical model for drug development. J. Exp. Clin. Cancer Res. 35, 189 (2016).

Zengerle, M., Chan, K. H. & Ciulli, A. Selective small molecule induced degradation of the BET bromodomain protein BRD4. ACS Chem. Biol. 10, 1770–1777 (2015).

Bondeson, D. P. et al. Lessons in PROTAC design from selective degradation with a promiscuous warhead. Cell Chem Biol. 25, 78–87.e5 (2018).

Lv, D.-W., Zhang, K. & Li, R. Interferon regulatory factor 8 regulates aspase-1 expression to facilitate Epstein–Barr virus reactivation in response to B cell receptor stimulation and chemical induction. PLoS Pathog. 14, e1006868 (2018).

Wiśniewski, J. R. et al. Universal sample preparation method for proteome analysis. Nat. Methods 6, 359–362 (2009).

Nesvizhskii, A. I., Keller, A., Kolker, E. & Aebersold, R. A statistical model for identifying proteins by tandem mass spectrometry. Anal. Chem. 75, 4646–4658 (2003).

Tyanova, S. et al. The Perseus computational platform for comprehensive analysis of (prote) omics data. Nat. Methods 13, 731–740 (2016).

Vizcaíno, J. A. et al. The PRoteomics IDEntifications (PRIDE) database and associated tools: status in 2013. Nucleic Acids Res. 41, D1063–D1069 (2013).

US Food and Drug Administration. Bioanalytical Method Validation, Guidance for Industry (US Department of Health and Human Services Food and Drug Administration, 2018).
Acknowledgements
This study was supported by US National Institutes of Health (NIH) grants R01 CA211963 (D.Z.), R01 CA219836 (D.Z.), R01 GM109645 (R.H.), R01 CA205224 (R.H.), R01 CA200673 (W.Z.), R01 CA203834 (W.Z.), R21 CA223371 (G.Z.), R35 CA210065 (A.F.), R01 CA172809 (Y.-M.K.), Department of Defense grant BC180227 (W.Z.), the Schwab Charitable fund (M.K.) and CPRIT grant RP160716 (P.J.H.). Mass spectrometric support was provided by Alan J. Tackett and Samuel G. Mackintosh in the UAMS Proteomics Core Facility.
Ethics declarations
Competing interests
S.K., X.Z, Y.H., P.Z., G.Z. and D.Z. are inventors of two pending patent applications for use of BCL-XL PROTACs as senolytic and antitumor agents. R.H., G.Z. and D.Z. are co-founders of and have equity in Dialectic Therapeutics, which develops BCL-XL PROTACs to treat cancer.
Additional information
Peer review information Javier Carmona was the primary editor on this article and managed its editorial process and peer review in collaboration with the rest of the editorial team
Publisher's note Springer Nature remains neutral with regard to jurisdictional claims in published maps and institutional affiliations.
Supplementary information
Supplementary Figure 1 and Supplementary Tables 1–8
About this article
Cite this article
Khan, S., Zhang, X., Lv, D. et al. A selective BCL-XL PROTAC degrader achieves safe and potent antitumor activity. Nat Med 25, 1938–1947 (2019). https://doi.org/10.1038/s41591-019-0668-z
Received:

Accepted:

Published:

Issue Date:

DOI: https://doi.org/10.1038/s41591-019-0668-z