Cardiometabolic disease is the leading cause of death and disability in the world, driven in part by the rise in unhealthy diets, poor air quality and other byproducts of economic development. A new economic model is needed, one that places people rather than profits at its center.
Access options
Subscribe to Journal
Get full journal access for 1 year
$225.00
only $18.75 per issue
All prices are NET prices.
VAT will be added later in the checkout.
Rent or Buy article
Get time limited or full article access on ReadCube.
from$8.99
All prices are NET prices.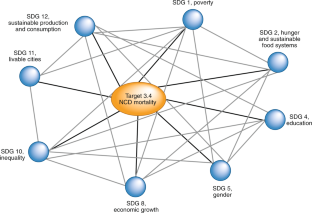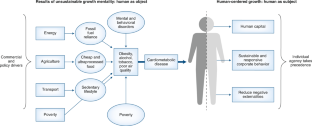 References
1.

Niessen, L. W. Lancet 391, 2036–2046 (2018).

2.

Alleyne, G. et al. Lancet 381, 566–574 (2013).

3.

Nugent, R. et al. Lancet 391, 2029–2035 (2018).

4.

Dieleman, J. L. et al. Lancet 387, 2536–2544 (2016).

5.

WHO Commission on Macroeconomics and Health & World Health Organization. Macroeconomics and Health: Investing in Health for Economic Development (World Health Organization, 2001).

6.

Mendenhall, E., Kohrt, B. A., Norris, S. A., Ndetei, D. & Prabhakaran, D. Lancet 389, 951–963 (2017).

7.

Nugent, R. & Fottrell, E. Lancet 394, 622–623 (2019).

8.

Whitmee, S. et al. Lancet 386, 1973–1983 (2015).

9.

Gies, E. Nature 551, S145–S147 (2017). 2017.

10.

Jamison, D. T. et al. Lancet 382, 1898–1955 (2013).

11.

Kraay, A. Methodology for a World Bank Human Capital Index (World Bank, 2018).

12.

Stiglitz, J., Sen, A. K. and Fitoussi, J. P. The Measurement of Economic Performance and Social Progress Revisited: Reflections and Overview (Sciences Po, 2009).

13.

Kemm, J., Parry, J., Palmer, S. and Palmer, S. R. (eds). Health Impact Assessment (Oxford Univ. Press, 2004).

14.

Collins, T. et al. Glob. Public Health 13, 1152–1157 (2018).
Ethics declarations
Competing interests
The authors declare no competing interests.
About this article
Cite this article
Ralston, J., Nugent, R. Toward a broader response to cardiometabolic disease. Nat Med 25, 1644–1646 (2019). https://doi.org/10.1038/s41591-019-0642-9
Further reading
Shobhana Nagraj

,

Stephen H. Kennedy

,

Robyn Norton

,

Vivekananda Jha

,

Devarsetty Praveen

,

Lisa Hinton

&

Jane E. Hirst

Frontiers in Cardiovascular Medicine (2020)