Abstract
Millions of people worldwide with incurable end-stage lung disease die because of inadequate treatment options and limited availability of donor organs for lung transplantation1. Current bioengineering strategies to regenerate the lung have not been able to replicate its extraordinary cellular diversity and complex three-dimensional arrangement, which are indispensable for life-sustaining gas exchange2,3. Here we report the successful generation of functional lungs in mice through a conditional blastocyst complementation (CBC) approach that vacates a specific niche in chimeric hosts and allows for initiation of organogenesis by donor mouse pluripotent stem cells (PSCs). We show that wild-type donor PSCs rescued lung formation in genetically defective recipient mouse embryos unable to specify (due to Ctnnb1cnull mutation) or expand (due to Fgfr2cnull mutation) early respiratory endodermal progenitors. Rescued neonates survived into adulthood and had lungs functionally indistinguishable from those of wild-type littermates. Efficient chimera formation and lung complementation required newly developed culture conditions that maintained the developmental potential of the donor PSCs and were associated with global DNA hypomethylation and increased H4 histone acetylation. These results pave the way for the development of new strategies for generating lungs in large animals to enable modeling of human lung disease as well as cell-based therapeutic interventions4,5,6.
This is a preview of subscription content
Access options
Subscribe to Nature+
Get immediate online access to the entire Nature family of 50+ journals
Subscribe to Journal
Get full journal access for 1 year
$59.00
only $4.92 per issue
All prices are NET prices.
VAT will be added later in the checkout.
Tax calculation will be finalised during checkout.
Buy article
Get time limited or full article access on ReadCube.
$32.00
All prices are NET prices.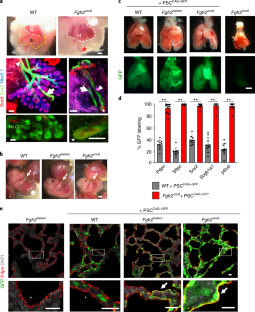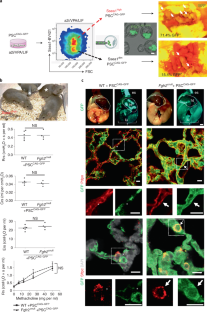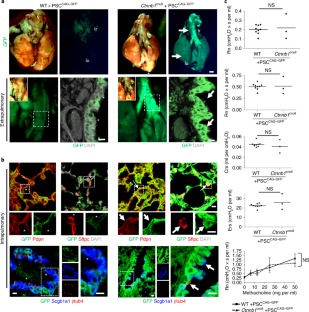 References
Murphy, S. L., Xu, J., Kochanek, K. D. & Arias, E. Mortality in the United States, 2017. NCHS Data Brief no. 328 (National Center for Health Statistics, 2018).

Petersen, T. H. et al. Tissue-engineered lungs for in vivo implantation. Science 329, 538–541 (2010).

Kotton, D. N. & Morrisey, E. E. Lung regeneration: mechanisms, applications and emerging stem cell populations. Nat. Med. 20, 822–832 (2014).

Matsunari, H. et al. Blastocyst complementation generates exogenic pancreas in vivo in apancreatic cloned pigs. Proc. Natl Acad. Sci. USA 110, 4557–4562 (2013).

Wu, J. et al. Interspecies chimerism with mammalian pluripotent stem cells. Cell 168, 473–486.e15 (2017).

Suchy, F., Yamaguchi, T. & Nakauchi, H. iPSC-derived organs in vivo: challenges and promise. Cell Stem Cell 22, 21–24 (2018).

Valapour, M. et al. OPTN/SRTR 2017 annual data report: lung. Am. J. Transplant. 19, 404–484 (2019).

Chen, Y.-W. et al. A three-dimensional model of human lung development and disease from pluripotent stem cells. Nat. Cell Biol. 19, 542–549 (2017).

Dye, B. R. et al. A bioengineered niche promotes in vivo engraftment and maturation of pluripotent stem cell derived human lung organoids. eLife 5, 1–18 (2016).

Ott, H. C. et al. Regeneration and orthotopic transplantation of a bioartificial lung. Nat. Med. 16, 927–933 (2010).

Rosen, C. et al. Preconditioning allows engraftment of mouse and human embryonic lung cells, enabling lung repair in mice. Nat Med 21, 869–879 (2015).

Stone, K. C., Mercer, R. R., Gehr, P., Stockstill, B. & Crapo, J. D. Allometric relationships of cell numbers and size in the mammalian lung. Am. J. Respir. Cell Mol. BioI. 6, 235–243 (1992).

Crapo, J. D., Barry, B. E., Gehr, P., Bachofen, M. & Weibel, E. R. Cell number and cell characteristics of the normal human lung. Am. Rev. Respir. Dis. 126, 332–337 (1982).

Chen, J., Lansford, R., Stewart, V., Young, F. & Alt, F. W. RAG-2-deficient blastocyst complementation: an assay of gene function in lymphocyte development. Proc. Natl Acad. Sci. USA 90, 4528–4532 (1993).

Kobayashi, T. et al. Generation of rat pancreas in mouse by interspecific blastocyst injection of pluripotent stem cells. Cell 142, 787–799 (2010).

Yamaguchi, T. et al. Interspecies organogenesis generates autologous functional islets. Nature 542, 191–196 (2017).

Usui, J. et al. Generation of kidney from pluripotent stem cells via blastocyst complementation. Am. J. Pathol. 180, 2417–2426 (2012).

Freedman, B. S. Hopes and difficulties for blastocyst complementation. Nephron 139, 42–47 (2018).

Harris-Johnson, K. S., Domyan, E. T., Vezina, C. M. & Sun, X. Beta-catenin promotes respiratory progenitor identity in mouse foregut. Proc. Natl Acad. Sci. USA 106, 16287–16292 (2009).

Goss, A. M. et al. Wnt2/2b and β-catenin signaling are necessary and sufficient to specify lung progenitors in the foregut. Dev. Cell 17, 290–298 (2009).

Sekine, K. et al. Fgf10 is essential for limb and lung formation. Nat. Genet. 21, 138–141 (1999).

De Moerlooze, L. et al. An important role for the IIIb isoform of fibroblast growth factor receptor 2 (FGFR2) in mesenchymal-epithelial signalling during mouse organogenesis. Development 127, 483–492 (2000).

Xu, X. et al. Fibroblast growth factor receptor 2 (FGFR2)-mediated reciprocal regulation loop between FGF8 and FGF10 is essential for limb induction. Development 125, 753–765 (1998).

Harris, K. S., Zhang, Z., McManus, M. T., Harfe, B. D. & Sun, X. Dicer function is essential for lung epithelium morphogenesis. Proc. Natl Acad. Sci. USA 103, 2208–2213 (2006).

Yu, K. Conditional inactivation of FGF receptor 2 reveals an essential role for FGF signaling in the regulation of osteoblast function and bone growth. Development 130, 3063–3074 (2003).

Longmire, T. A. et al. Efficient derivation of purified lung and thyroid progenitors from embryonic stem cells. Cell Stem Cell 10, 398–411 (2012).

Ying, Q. L. et al. The ground state of embryonic stem cell self-renewal. Nature 453, 519–523 (2008).

Kretsovali, A., Hadjimichael, C. & Charmpilas, N. Histone deacetylase inhibitors in cell pluripotency, differentiation, and reprogramming. Stem Cells Int. 2012, 184154 (2012).

Stadtfeld, M. et al. Aberrant silencing of imprinted genes on chromosome 12qF1 in mouse induced pluripotent stem cells. Nature 465, 175–181 (2010).

Choi, J. et al. Prolonged Mek1/2 suppression impairs the developmental potential of embryonic stem cells. Nature 548, 219–223 (2017).

Yagi, M. et al. Derivation of ground-state female ES cells maintaining gamete-derived DNA methylation. Nature 548, 224–227 (2017).

Furusawa, T., Ohkoshi, K., Honda, C., Takahashi, S. & Tokunaga, T. Embryonic stem cells expressing both platelet endothelial cell adhesion molecule-1 and stage-specific embryonic antigen-1 differentiate predominantly into epiblast cells in a chimeric embryo1. Biol. Reprod. 70, 1452–1457 (2004).

Leitch, H. G. et al. Naive pluripotency is associated with global DNA hypomethylation. Nat. Struct. Mol. Biol. 20, 311–316 (2013).

Lyko, F. The DNA methyltransferase family: a versatile toolkit for epigenetic regulation. Nat. Rev. Genet. 19, 81–92 (2017).

Brault, V. et al. Inactivation of the beta-catenin gene by Wnt1-Cre-mediated deletion results in dramatic brain malformation and failure of craniofacial development. Development 128, 1253–1264 (2001).

Ke, M. T. et al. Super-resolution mapping of neuronal circuitry with an index-optimized clearing agent. Cell Rep. 14, 2718–2732 (2016).

Mori, M. et al. Cytoplasmic E2f4 forms organizing centres for initiation of centriole amplification during multiciliogenesis. Nat. Commun. 8, 15857 (2017).

Huang, S. X. L. et al. The in vitro generation of lung and airway progenitor cells from human pluripotent stem cells. Nat. Protoc. 10, 413–425 (2015).

Singer, X. B. D. et al. Flow-cytometric method for simultaneous analysis of mouse lung epithelial, endothelial, and hematopoietic lineage cells. Am. J. Physiol. Lung Cell Mol. Physiol. 310, L796–L801 (2016).

Chapman, H. A. et al. Lineage-negative progenitors mobilize to regenerate lung epithelium after major injury. Nature 517, 621–625 (2015).

Golde, W. T., Gollobin, P. & Rodriguez, L. L. A rapid, simple, and humane method for submandibular bleeding of mice using a lancet. Lab Anim. (NY) 34, 39–43 (2005).

Mori, M. et al. Notch3-Jagged signaling controls the pool of undifferentiated airway progenitors. Development 142, 258–267 (2015).

Lu, C. et al. Histone H3K36 mutations promote sarcomagenesis through altered histone methylation landscape. Science 352, 844–849 (2016).

Mikami, M. et al. Impaired relaxation of airway smooth muscle in mice lacking the actin-binding protein gelsolin. Am. J. Respir. Cell Mol. Biol. 56, 628–636 (2017).
Acknowledgements
We thank J. Qian, J. Huang, A. Kuforiji and M. Jiang for technical assistance, and D. Kotton and L. Oikonomou (CReM, Boston University) for invaluable reagents. We also thank the helpful scientific input from members of the Cardoso's lab and the Columbia Center for Human Development (J. Lu, H. Snoeck, S. Huang, J. Que, F. Constantini, J. Bhattacharya and M. Bacchetta) as well as from M. Morimoto (RIKEN, Japan), T. Matozaki (Kobe University), H. Masaki, S. Hamanaka (University of Tokyo) and T. Nishimura (Stanford University). We also thank K. Kennedy for help in editing the manuscript. We would like to acknowledge the support from the CCTI flow cytometry core (LSRII: NIH S10RR027050) and Columbia Stem Cell Initiative (CSCI) Flow Cytometry core (FACS Area). This work was funded by the Department of Defense, PR161857 and NIH-NHLBI 1 R01 HL148223-01 to M.M., CIRM Research Leadership Award, LA1_C12-06917 to H.N., NIH-NHLBI R35-HL135834-01 to W.V.C., Giannandrea Family Dale F. Frey Breakthrough Scientist of the Damon Runyon Foundation (DFS-28-18) and a Pew-Stewart Scholar for Cancer Research to C.L.
Ethics declarations
Competing interests
The authors declare no competing interests.
Additional information
Peer review information Michael Basson was the primary editor on this article and managed its editorial process and peer review in collaboration with the rest of the editorial team.
Publisher's note Springer Nature remains neutral with regard to jurisdictional claims in published maps and institutional affiliations.
Supplementary information
Supplementary Figs. 1 and 2, and Table 1
About this article
Cite this article
Mori, M., Furuhashi, K., Danielsson, J.A. et al. Generation of functional lungs via conditional blastocyst complementation using pluripotent stem cells. Nat Med 25, 1691–1698 (2019). https://doi.org/10.1038/s41591-019-0635-8
Received:

Accepted:

Published:

Issue Date:

DOI: https://doi.org/10.1038/s41591-019-0635-8