Abstract
Dysregulation of the mammalian target of rapamycin (mTOR) signaling, which is mediated by two structurally and functionally distinct complexes, mTORC1 and mTORC2, has been implicated in several neurological disorders1,2,3. Individuals carrying loss-of-function mutations in the phosphatase and tensin homolog (PTEN) gene, a negative regulator of mTOR signaling, are prone to developing macrocephaly, autism spectrum disorder (ASD), seizures and intellectual disability2,4,5. It is generally believed that the neurological symptoms associated with loss of PTEN and other mTORopathies (for example, mutations in the tuberous sclerosis genes TSC1 or TSC2) are due to hyperactivation of mTORC1-mediated protein synthesis1,2,4,6,7. Using molecular genetics, we unexpectedly found that genetic deletion of mTORC2 (but not mTORC1) activity prolonged lifespan, suppressed seizures, rescued ASD-like behaviors and long-term memory, and normalized metabolic changes in the brain of mice lacking Pten. In a more therapeutically oriented approach, we found that administration of an antisense oligonucleotide (ASO) targeting mTORC2's defining component Rictor specifically inhibits mTORC2 activity and reverses the behavioral and neurophysiological abnormalities in adolescent Pten-deficient mice. Collectively, our findings indicate that mTORC2 is the major driver underlying the neuropathophysiology associated with Pten-deficiency, and its therapeutic reduction could represent a promising and broadly effective translational therapy for neurological disorders where mTOR signaling is dysregulated.
Access options
Subscribe to Journal
Get full journal access for 1 year
$209.00
only $17.42 per issue
All prices are NET prices.
VAT will be added later in the checkout.
Rent or Buy article
Get time limited or full article access on ReadCube.
from$8.99
All prices are NET prices.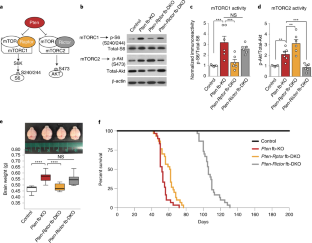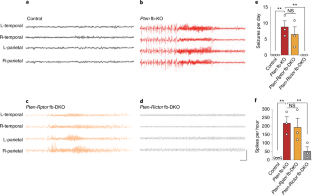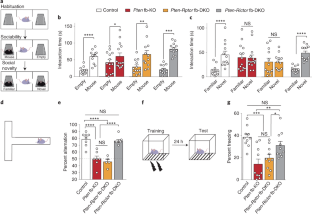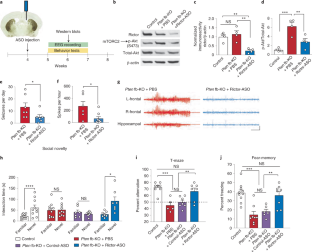 Data availability
The data supporting the findings of this study are available in this paper or the Supplementary Information. Full uncropped blots are available as Source data. Any other raw data that support the findings of this study are available from the corresponding author upon reasonable request. The request for Rictor-ASO will be promptly reviewed by Ionis Pharmaceuticals to verify that the request is subject to any intellectual property confidential obligations. If not, the ASO will be available upon completion of a standard Material Transfer Agreement with Ionis Pharmaceuticals.
References
1.

Ehninger, D. & Silva, A. J. Rapamycin for treating tuberous sclerosis and autism spectrum disorders. Trends Mol. Med. 17, 78–87 (2011).

2.

Winden, K. D., Ebrahimi-Fakhari, D. & Sahin, M. Abnormal mTOR activation in autism. Annu. Rev. Neurosci. 41, 1–23 (2018).

3.

Costa-Mattioli, M. & Monteggia, L. M. mTOR complexes in neurodevelopmental and neuropsychiatric disorders. Nat. Neurosci. 16, 1537–1543 (2013).

4.

Zhou, J. & Parada, L. F. PTEN signaling in autism spectrum disorders. Curr. Opin. Neurobiol. 22, 873–879 (2012).

5.

Knafo, S. & Esteban, J. A. PTEN: local and global modulation of neuronal function in health and disease. Trends Neurosci. 40, 83–91 (2017).

6.

Kelleher, R. J. 3rd & Bear, M. F. The autistic neuron: troubled translation? Cell 135, 401–406 (2008).

7.

Hoeffer, C. A. & Klann, E. mTOR signaling: at the crossroads of plasticity, memory and disease. Trends Neurosci. 33, 67–75 (2010).

8.

Lipton, J. O. & Sahin, M. The neurology of mTOR. Neuron 84, 275–291 (2014).

9.

Wullschleger, S., Loewith, R. & Hall, M. N. TOR signaling in growth and metabolism. Cell 124, 471–484 (2006).

10.

Saxton, R. A. & Sabatini, D. M. mTOR signaling in growth, metabolism and disease. Cell 169, 361–371 (2017).

11.

Sarbassov, D. D. et al. Rictor, a novel binding partner of mTOR, defines a rapamycin-insensitive and raptor-independent pathway that regulates the cytoskeleton. Curr. Biol. 14, 1296–1302 (2004).

12.

Hay, N. & Sonenberg, N. Upstream and downstream of mTOR.Genes Dev. 18, 1926–1945 (2004).

13.

Buffington, S. A., Huang, W. & Costa-Mattioli, M. Translational control in synaptic plasticity and cognitive dysfunction. Annu. Rev. Neurosci. 37, 17–38 (2014).

14.

Crino, P. B. The mTOR signalling cascade: paving new roads to cure neurological diseaseNat. Rev. Neurol. 12, 379–392 (2016).

15.

Zhou, J. et al. Pharmacological inhibition of mTORC1 suppresses anatomical, cellular and behavioral abnormalities in neural-specific Pten knock-out mice. J. Neurosci. 29, 1773–1783 (2009).

16.

Ljungberg, M. C., Sunnen, C. N., Lugo, J. N., Anderson, A. E. & D'Arcangelo, G. Rapamycin suppresses seizures and neuronal hypertrophy in a mouse model of cortical dysplasia. Dis. Models Mech. 2, 389–398 (2009).

17.

Nguyen, L. H. et al. mTOR inhibition suppresses established epilepsy in a mouse model of cortical dysplasia. Epilepsia 56, 636–646 (2015).

18.

Hobert, J. A., Embacher, R., Mester, J. L., Frazier, T. W.II & Eng, C. Biochemical screening and PTEN mutation analysis in individuals with autism spectrum disorders and macrocephaly. Eur. J. Hum. Genet 22, 273–276 (2014).

19.

Tilot, A. K. et al. Neural transcriptome of constitutional Pten dysfunction in mice and its relevance to human idiopathic autism spectrum disorder. Mol. Psychiatry 21, 118–125 (2016).

20.

McBride, K. L. et al. Confirmation study of PTEN mutations among individuals with autism or developmental delays/mental retardation and macrocephaly.Autism Res. 3, 137–141 (2010).

21.

Hu, W. F., Chahrour, M. H. & Walsh, C. A. The diverse genetic landscape of neurodevelopmental disorders. Annu. Rev. Genomics Hum. Genet. 15, 195–213 (2014).

22.

Mirzaa, G. M. & Poduri, A. Megalencephaly and hemimegalencephaly: breakthroughs in molecular etiology. Am. J. Med. Genet. C Semin. Med. Genet. 166C, 156–172 (2014).

23.

Kwon, C. H. et al. Pten regulates neuronal arborization and social interaction in mice. Neuron 50, 377–388 (2006).

24.

Backman, S. A. et al. Deletion of Pten in mouse brain causes seizures, ataxia and defects in soma size resembling Lhermitte–Duclos disease. Nat. Genet. 29, 396–403 (2001).

25.

Kwon, C. H. et al. Pten regulates neuronal soma size: a mouse model of Lhermitte–Duclos disease. Nat. Genet. 29, 404–411 (2001).

26.

Ostendorf, A. P. & Wong, M. mTOR inhibition in epilepsy: rationale and clinical perspectives. CNS Drugs 29, 91–99 (2015).

27.

Noebels, J. L Single-gene determinants of epilepsy comorbidity. Cold Spring Harb. Perspect. Med. 5, a022756 (2015).

28.

Fombonne, E. The epidemiology of autism: a review. Psychol. Med. 29, 769–786 (1999).

29.

Kazdoba, T. M. et al. Translational mouse models of autism: advancing toward pharmacological therapeutics. Curr. Top. Behav. Neurosci. 28, 1–52 (2016).

30.

Jiang, Y. H. & Ehlers, M. D. Modeling autism by SHANK gene mutations in mice. Neuron 78, 8–27 (2013).

31.

American Psychiatric Association & American Psychiatric Association DSM-5 Task Force Diagnostic and Statistical Manual of Mental Disorders: DSM-5 (American Psychiatric Association, 2013).

32.

Lopez, B. R., Lincoln, A. J., Ozonoff, S. & Lai, Z. Examining the relationship between executive functions and restricted, repetitive symptoms of autistic disorder. J. Autism Dev. Disord. 35, 445–460 (2005).

33.

Stoica, L. et al. Selective pharmacogenetic inhibition of mammalian target of rapamycin complex I (mTORC1) blocks long-term synaptic plasticity and memory storage. Proc. Natl Acad. Sci. USA 108, 3791–3796 (2011).

34.

Huang, W. et al. mTORC2 controls actin polymerization required for consolidation of long-term memory. Nat. Neurosci. 16, 441–448 (2013).

35.

Garcia-Cao, I. et al. Systemic elevation of PTEN induces a tumor-suppressive metabolic state. Cell 149, 49–62 (2012).

36.

Hagiwara, A. et al. Hepatic mTORC2 activates glycolysis and lipogenesis through Akt, glucokinase and SREBP1c. Cell Metab. 15, 725–738 (2012).

37.

Masui, K. et al. mTOR complex 2 controls glycolytic metabolism in glioblastoma through FoxO acetylation and upregulation of c-Myc. Cell Metab. 18, 726–739 (2013).

38.

Panasyuk, G. et al. PPARγ contributes to PKM2 and HK2 expression in fatty liver. Nat. Commun. 3, 672 (2012).

39.

Robey, R. B. & Hay, N. Is Akt the 'Warburg kinase'? Akt-energy metabolism interactions and oncogenesis. Semin. Cancer Biol. 19, 25–31 (2009).

40.

Rinaldi, C. & Wood, M. J. A. Antisense oligonucleotides: the next frontier for treatment of neurological disorders. Nat. Rev. Neurol. 14, 9–21 (2018).

41.

Vickers, T. A. et al. Efficient reduction of target RNAs by small interfering RNA and RNase H-dependent antisense agents. A comparative analysis. J. Biol. Chem. 278, 7108–7118 (2003).

42.

Cioffi, C. L. et al. Selective inhibition of A-Raf and C-Raf mRNA expression by antisense oligodeoxynucleotides in rat vascular smooth muscle cells: role of A-Raf and C-Raf in serum-induced proliferation. Mol. Pharmacol. 51, 383–389 (1997).

43.

Zhang, H. et al. Reduction of liver Fas expression by an antisense oligonucleotide protects mice from fulminant hepatitis. Nat. Biotechnol. 18, 862–867 (2000).

44.

Langmead, B., Trapnell, C., Pop, M. & Salzberg, S. L. Ultrafast and memory-efficient alignment of short DNA sequences to the human genome. Genome Biol. 10, R25 (2009).

45.

Zhu, P. J. et al. Suppression of PKR promotes network excitability and enhanced cognition by interferon-γ-mediated disinhibition. Cell 147, 1384–1396 (2011).

46.

Buffington, S. A. et al. Microbial reconstitution reverses maternal diet-induced social and synaptic deficits in offspring. Cell 165, 1762–1775 (2016).

47.

Silverman, J. L., Yang, M., Lord, C. & Crawley, J. N. Behavioural phenotyping assays for mouse models of autism. Nat. Rev. Neurosci. 11, 490–502 (2010).

48.

Deacon, R. M. & Rawlins, J. N. T-maze alternation in the rodent. Nat. Protoc. 1, 7–12 (2006).

49.

Johnson, J. L., Huang, W., Roman, G. & Costa-Mattioli, M. TORC2: a novel target for treating age-associated memory impairment. Sci. Rep. 5, 15193 (2015).

50.

Zhu, P. J., Chen, C. J., Mays, J., Stoica, L. & Costa-Mattioli, M. mTORC2, but not mTORC1, is required for hippocampal mGluR-LTD and associated behaviors. Nat. Neurosci. 21, 799–802 (2018).

51.

Huang, W et al. Translational control by eIF2α phosphorylation regulates vulnerability to the synaptic and behavioral effects of cocaine. eLife 5, e12052 (2016).

52.

Ma, Y., Bai, R. K., Trieu, R. & Wong, L. J. Mitochondrial dysfunction in human breast cancer cells and their transmitochondrial cybrids. Biochim. Biophys. Acta 1797, 29–37 (2010).

53.

Frazier, A. E. & Thorburn, D. R. Biochemical analyses of the electron transport chain complexes by spectrophotometry. Methods Mol. Biol. 837, 49–62 (2012).

54.

Venegas, V. & Halberg, M. C. Measurement of mitochondrial DNA copy number. Methods Mol. Biol. 837, 327–335 (2012).

55.

Swayze, E. E. et al. Antisense oligonucleotides containing locked nucleic acid improve potency but cause significant hepatotoxicity in animals. Nucleic Acids Res. 35, 687–700 (2007).
Acknowledgements
We thank A. Placzek and members of the Costa-Mattioli laboratory for comments on the manuscript. This work was supported by funds to M.C.-M. (NIMH 096816, Department of Defense AR120254 and Sammons Enterprises), J.N. (NINDS NS29709) and J.C. (NS085171).
Ethics declarations
Competing interests
P.J.-N. and F.R. are employed by Ionis Pharmaceutical, a company that develops ASO therapies. The authors declare no other competing interests.
Additional information
Peer review information Brett Benedetti was the primary editor on this article and managed its editorial process and peer review in collaboration with the rest of the editorial team.
Publisher's note Springer Nature remains neutral with regard to jurisdictional claims in published maps and institutional affiliations.
Supplementary information
Supplementary Table 1, Supplementary Methods and Supplementary References
About this article
Cite this article
Chen, C., Sgritta, M., Mays, J. et al. Therapeutic inhibition of mTORC2 rescues the behavioral and neurophysiological abnormalities associated with Pten-deficiency. Nat Med 25, 1684–1690 (2019). https://doi.org/10.1038/s41591-019-0608-y
Received:

Accepted:

Published:

Issue Date: