Abstract
Insulin and other injectable biologic drugs have transformed the treatment of patients suffering from diabetes1,2, yet patients and healthcare providers often prefer to use and prescribe less effective orally dosed medications3,4,5. Compared with subcutaneously administered drugs, oral formulations create less patient discomfort4, show greater chemical stability at high temperatures6, and do not generate biohazardous needle waste7. An oral dosage form for biologic medications is ideal; however, macromolecule drugs are not readily absorbed into the bloodstream through the gastrointestinal tract8. We developed an ingestible capsule, termed the luminal unfolding microneedle injector, which allows for the oral delivery of biologic drugs by rapidly propelling dissolvable drug-loaded microneedles into intestinal tissue using a set of unfolding arms. During ex vivo human and in vivo swine studies, the device consistently delivered the microneedles to the tissue without causing complete thickness perforations. Using insulin as a model drug, we showed that, when actuated, the luminal unfolding microneedle injector provided a faster pharmacokinetic uptake profile and a systemic uptake >10% of that of a subcutaneous injection over a 4-h sampling period. With the ability to load a multitude of microneedle formulations, the device can serve as a platform to orally deliver therapeutic doses of macromolecule drugs.
Relevant articles
Open Access articles citing this article.
Seho Kweon

,

Jun-Hyuck Lee

…

Jin Woo Park

Biomaterials Research Open Access 02 September 2023

Xiangyi Kong

,

Peng Gao

…

Kuo Chu Hwang

Journal of Hematology & Oncology Open Access 14 July 2023

Michael A. Straker

,

Joshua A. Levy

…

Reza Ghodssi

Microsystems & Nanoengineering Open Access 16 May 2023
Access options
Access Nature and 54 other Nature Portfolio journals
Get Nature+, our best-value online-access subscription
$29.99 / 30 days
cancel any time
Subscribe to this journal
Receive 12 print issues and online access
$209.00 per year
only $17.42 per issue
Rent or buy this article
Prices vary by article type
from$1.95
to$39.95
Prices may be subject to local taxes which are calculated during checkout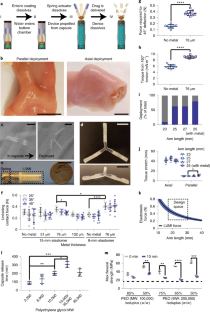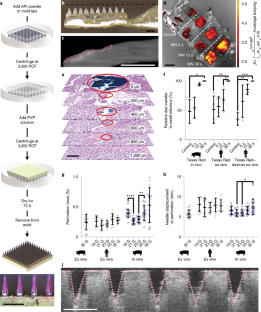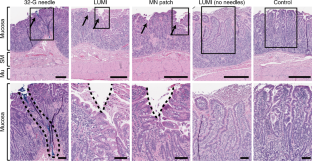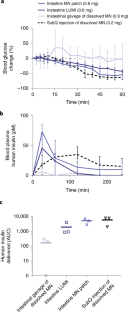 References
Turner, R. C., Cull, C. A., Frighi, V. & Holman, R. R. Glycemic control with diet, sulfonylurea, metformin, or insulin in patients with type 2 diabetes mellitus: progressive requirement for multiple therapies (UKPDS 49). J. Am. Med. Assoc. 281, 2005–2012 (1999).

Pratley, R. E. et al. Liraglutide versus sitagliptin for patients with type 2 diabetes who did not have adequate glycaemic control with metformin: a 26-week, randomised, parallel-group, open-label trial. Lancet 375, 1447–1456 (2010).

Korytkowski, M. When oral agents fail: practical barriers to starting insulin. Int. J. Obes. 26, S18–S24 (2002).

Boye, K. S. et al. Utilities and disutilities for attributes of injectable treatments for type 2 diabetes. Eur. J. Heal. Econ. 12, 219–230 (2011).

Calvert, M. J., McManus, R. J. & Freemantle, N. Management of type 2 diabetes with multiple oral hypoglycaemic agents or insulin in primary care: retrospective cohort study. Br. J. Gen. Pract. 57, 455–460 (2007).

Cleland, J. & Langer, R. in Formulation and Delivery of Proteins and Peptides (eds. Cleland, J. L. & Langer, R.) 1–19 (American Chemical Society, 1994).

Dallel, N., Kacem, M., Nabouli, R. M. & El May, M. Disposal of insulin syringes by diabetic patients. Report of 100 patients.Tunis. Med. 83, 390–392 (2005).

Anselmo, A. C., Gokarn, Y. & Mitragotri, S. Non-invasive delivery strategies for biologics. Nat. Rev. Drug Discov. 18, 19–40 (2018).

Harrison, G. A. Insulin in alcoholic solution by the mouth. Br. Med. J. 2, 1204–1205 (1923).

Abramson, A. et al. An ingestible self-orienting system for oral delivery of macromolecules. Science 363, 611–615 (2019).

Traverso, G. et al. Microneedles for drug delivery via the gastrointestinal tract. J. Pharm. Sci. 104, 362–367 (2015).

Scudellari, M. Shot to the Gut: "Robotic" Pill Sails Through Human Safety Study. https://spectrum.ieee.org/the-human-os/biomedical/devices/shot-to-the-gut-robotic-pill-sails-through-human-safety-study (accessed 25 September 2019).

Vllasaliu, D., Thanou, M., Stolnik, S. & Fowler, R. Recent advances in oral delivery of biologics: nanomedicine and physical modes of delivery. Expert Opin. Drug Deliv. 15, 759–770 (2018).

Davies, M. et al. Effect of oral semaglutide compared with placebo and subcutaneous semaglutide on glycemic control in patients with type 2 diabetes. J. Am. Med. Assoc. 318, 1460–1470 (2017).

Banerjee, A. et al. Ionic liquids for oral insulin delivery. Proc. Natl Acad. Sci. USA 115, 7296–7301 (2018).

Mathiowitz, E. et al. Biologically erodable microspheres as potential oral drug delivery systems. Nature 386, 410–414 (1997).

Pridgen, E. M., Alexis, F. & Farokhzad, O. C. Polymeric nanoparticle drug delivery technologies for oral delivery applications. Expert Opin. Drug Deliv. 12, 1459–1473 (2015).

Banerjee, A., Wong, J., Gogoi, R., Brown, T. & Mitragotri, S. Intestinal micropatches for oral insulin delivery. J. Drug Target. 25, 608–615 (2017).

Mitragotri, S., Burke, P. A. & Langer, R. Overcoming the challenges in administering biopharmaceuticals: formulation and delivery strategies. Nat. Rev. Drug Discov. 13, 655–672 (2014).

Bass, D. M., Prevo, M. & Waxman, D. S. Gastrointestinal safety of an extended-release, nondeformable, oral dosage form (OROS): a retrospective study. Drug Saf. 25, 1021–1033 (2002).

Coffey, J. W., Meliga, S. C., Corrie, S. R. & Kendall, M. A. F. Dynamic application of microprojection arrays to skin induces circulating protein extravasation for enhanced biomarker capture and detection. Biomaterials 84, 130–143 (2016).

Gatto, N. M. et al. Risk of perforation after colonoscopy and sigmoidoscopy: a population-based study. J. Natl Cancer Inst. 95, 230–236 (2003).

Podolsky, D. K. Healing the epithelium: solving the problem from two sides. J. Gastroenterol. 32, 122–126 (1997).

Classen, M., Tytgat, G. & Lightdale, C. Gastroenterological Endoscopy (Thieme, 2010).

Velitchkov, N. G., Grigorov, G. I., Losanoff, J. E. & Kjossev, K. T. Ingested foreign bodies of the gastrointestinal tract: retrospective analysis of 542 cases. World J. Surg. 20, 1001–1005 (1996).

Sandler, R. S., Stewart, W. F., Liberman, J. N., Ricci, J. A. & Zorich, N. L. Abdominal pain, bloating, and diarrhea in the United States. Dig. Dis. Sci. 45, 1166–1171 (2000).

Bass, D. M., Prevo, M. & Waxman, D. S. Gastrointestinal safety of an extended-release, nondeformable, oral dosage form (OROS: a retrospective study). Drug Saf. 25, 1021–1033 (2002).

Iddan, G., Meron, G., Glukhovsky, A. & Swain, P. Wireless capsule endoscopy. Nature 405, 417 (2000).

Hellmig, S. et al. Gastric emptying time of fluids and solids in healthy subjects determined by 13C breath tests: influence of age, sex and body mass index. J. Gastroenterol. Hepatol. 21, 1832–1838 (2006).

Wang, Y. R., Fisher, R. S. & Parkman, H. P. Gastroparesis-related hospitalizations in the United States: trends, characteristics, and outcomes, 1995–2004. Am. J. Gastroenterol. 103, 313–322 (2008).

Snoeck, V. et al. Gastrointestinal transit time of nondisintegrating radio-opaque pellets in suckling and recently weaned piglets. J. Control. Release 94, 143–153 (2004).

Cole, E. T. et al. Enteric coated HPMC capsules designed to achieve intestinal targeting. Int. J. Pharm. 231, 83–95 (2002).

Ye, Y., Yu, J., Wen, D. & Kahkoska, A. R. Polymeric microneedles for transdermal protein delivery. Adv. Drug Deliv. Rev. 127, 106–118 (2018).

Van Meer, L. et al. Injection site reactions after subcutaneous oligonucleotide therapy. Br. J. Clin. Pharmacol. 82, 340–351 (2016).

Fallingborg, J. Intraluminal pH of the human gastrointestinal tract. Dan. Med. Bull. 46, 183–196 (1999).
Acknowledgements
We thank S. McDonnell, K. Ishida, J. Haupt and M. Jamiel for help with the in vivo porcine work. We thank C. Steiger and Y. L. Kong for helpful conversations on the capsule system. We thank J. Bales and the Edgerton Center at MIT for providing a high-speed camera setup. We thank A. Hupalowska for illustrations of the LUMI concept. We thank the Koch Institute for Integrative Cancer Research at MIT's Histology Core, High Throughput Facility and Imaging Core. We thank the National Disease Research Interchange for help with the procurement of human cadaveric tissue. We thank U. Stilz, M. Bielecki, T. Kjeldsen, L. F. Iversen, J. Trosborg, P. Herskind, R. K. Kirk, F. Hubálek, J. J. Water, A. V. Friderichsen, S. Buckley, A. Vegge and T. B. Pedersen for helpful discussions throughout the development of the LUMI. We are grateful to R. Yona and all of the other members of the Langer and Traverso laboratories and Novo Nordisk for their expertise and discussions around biologic drug delivery. This work was funded in part by a grant from Novo Nordisk and NIH grant number EB000244. A.A. was supported in part by the NSF Graduate Research Fellowship Program fellowship. G.T. was supported in part by the Division of Gastroenterology at Brigham and Woman's Hospital and the Department of Mechanical Engineering at MIT. D.D. was supported by the MIT Undergraduate Research Opportunities Program. N.R. was supported in part by the Viking Olof Björk scholarship trust. H.-C.L., T.Y. and J. Fujimoto were supported in part by NIH R01-CA075289-21.
Additional information
Peer review information Brett Benedetti was the primary editor on this article and managed its editorial process and peer review in collaboration with the rest of the editorial team.
Publisher's note Springer Nature remains neutral with regard to jurisdictional claims in published maps and institutional affiliations.
Supplementary information
Supplementary Tables 1 and 2
Penetration of needles into swine small intestine tissue
About this article
Cite this article
Abramson, A., Caffarel-Salvador, E., Soares, V. et al. A luminal unfolding microneedle injector for oral delivery of macromolecules. Nat Med 25, 1512–1518 (2019). https://doi.org/10.1038/s41591-019-0598-9
Received:

Accepted:

Published:

Issue Date:

DOI: https://doi.org/10.1038/s41591-019-0598-9