Abstract
Natalizumab (NZM), a humanized monoclonal IgG4 antibody to α4 integrins, is used to treat patients with relapsing-remitting multiple sclerosis (MS)1,2, but in about 6% of the cases persistent neutralizing anti-drug antibodies (ADAs) are induced leading to therapy discontinuation3,4. To understand the basis of the ADA response and the mechanism of ADA-mediated neutralization, we performed an in-depth analysis of the B and T cell responses in two patients. By characterizing a large panel of NZM-specific monoclonal antibodies, we found that, in both patients, the response was polyclonal and targeted different epitopes of the NZM idiotype. The neutralizing activity was acquired through somatic mutations and correlated with a slow dissociation rate, a finding that was supported by structural data. Interestingly, in both patients, the analysis of the CD4+ T cell response, combined with mass spectrometry-based peptidomics, revealed a single immunodominant T cell epitope spanning the FR2-CDR2 region of the NZM light chain. Moreover, a CDR2-modified version of NZM was not recognized by T cells, while retaining binding to α4 integrins. Collectively, our integrated analysis identifies the basis of T-B collaboration that leads to ADA-mediated therapeutic resistance and delineates an approach to design novel deimmunized antibodies for autoimmune disease and cancer treatment.
Relevant articles
Open Access articles citing this article.
Daniel I. Chasman

,

Craig L. Hyde

…

A. Katrina Loomis

Scientific Reports Open Access 11 March 2022
Access options
Access Nature and 54 other Nature Portfolio journals
Get Nature+, our best-value online-access subscription
$29.99 / 30 days
cancel any time
Subscribe to this journal
Receive 12 print issues and online access
$189.00 per year
only $15.75 per issue
Rent or buy this article
Get just this article for as long as you need it
$39.95
Prices may be subject to local taxes which are calculated during checkout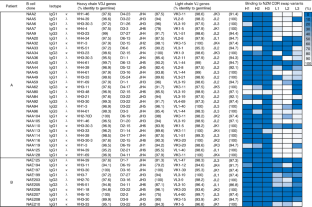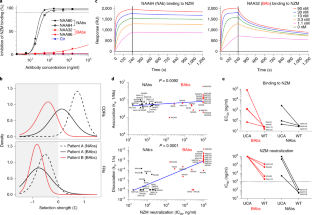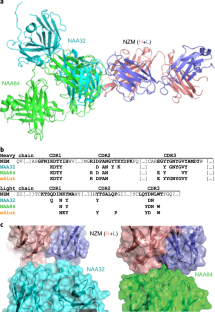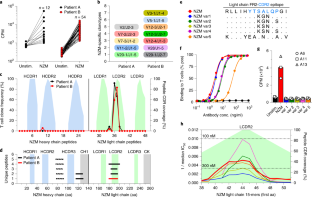 Data availability
All requests for raw and analyzed data and materials will be promptly reviewed by the Institute for Research in Biomedicine to verify if the request is subject to any intellectual property or confidentiality obligations. Patient-related data not included in the paper may be subject to patient confidentiality. Any data and materials that can be shared will be released via a Material Transfer Agreement. Source data of Fig. 1 are provided. Sequence data of the monoclonal antibodies isolated in this study have been deposited in GenBank (MN044260–MN044339). The mass spectrometry proteomics data have been deposited to the ProteomeXchange Consortium via the PRIDE34 partner repository with the dataset identifier PXD013599. The X-ray structure factors and coordinates have been deposited in the Protein Data Bank (access numbers are 6FG1 and 6FG2).
References
Hao, L., Fang-Hong, S., Shi-Ying, H., Shun-Guo, Z. & Min-Ling, C. A review on clinical pharmacokinetics, pharmacodynamics, and pharmacogenomics of natalizumab: a humanized anti-alpha4 integrin monoclonal antibody. Curr. Drug Metab. 19, 1213–1223 (2018).

Chataway, J. & Miller, D. H. Natalizumab therapy for multiple sclerosis. Neurotherapeutics 10, 19–28 (2013).

Calabresi, P. A. et al. The incidence and significance of anti-natalizumab antibodies: results from AFFIRM and SENTINEL. Neurology 69, 1391–1403 (2007).

Bachelet, D. et al. Occurrence of anti-drug antibodies against interferon-beta and natalizumab in multiple sclerosis: A collaborative cohort analysis. PLoS One 11, e0162752 (2016).

Rup, B. et al. Standardizing terms, definitions and concepts for describing and interpreting unwanted immunogenicity of biopharmaceuticals: recommendations of the Innovative Medicines Initiative ABIRISK consortium. Clin. Exp. Immunol. 181, 385–400 (2015).

Link, J. et al. Clinical practice of analysis of anti-drug antibodies against interferon beta and natalizumab in multiple sclerosis patients in Europe: A descriptive study of test results. PLoS One 12, e0170395 (2017).

Dunn, N. et al. Rituximab in multiple sclerosis: Frequency and clinical relevance of anti-drug antibodies. Mult. Scler. 24, 1224–1233 (2018).

Quistrebert, J. et al. Incidence and risk factors for adalimumab and infliximab anti-drug antibodies in rheumatoid arthritis: a European retrospective multicohort analysis. Semin. Arthritis Rheum. 48, 967–975 (2018).

Jensen, P. E. H. et al. Detection and kinetics of persistent neutralizing anti-interferon-beta antibodies in patients with multiple sclerosis. Results from the ABIRISK prospective cohort study. J. Neuroimmunol. 326, 19–27 (2019).

Zare, N., Zarkesh-Esfahani, S. H., Gharagozloo, M. & Shaygannejad, V. Antibodies to interferon beta in patients with multiple sclerosis receiving CinnoVex, rebif, and betaferon. J. Korean Med. Sci. 28, 1801–1806 (2013).

Murdaca, G. et al. Immunogenicity of infliximab and adalimumab: what is its role in hypersensitivity and modulation of therapeutic efficacy and safety? Expert Opin. Drug Saf. 15, 43–52 (2016).

Traggiai, E. et al. An efficient method to make human monoclonal antibodies from memory B cells: potent neutralization of SARS coronavirus. Nat. Med. 10, 871–875 (2004).

Yu, Y., Schurpf, T. & Springer, T. A. How natalizumab binds and antagonizes alpha4 integrins. J. Biol. Chem. 288, 32314–32325 (2013).

Jensen, K. K. et al. Improved methods for predicting peptide binding affinity to MHC class II molecules. Immunology 154, 394–406 (2018).

Paul, S. et al. Development and validation of a broad scheme for prediction of HLA class II restricted T cell epitopes. J. Immunol. Methods 422, 28–34 (2015).

de la Hera, B. et al. Natalizumab-related anaphylactoid reactions in MS patients are associated with HLA class II alleles. Neurol. Neuroimmunol. Neuroinflamm 1, e47 (2014).

Pan, Y., Yuhasz, S. C. & Amzel, L. M. Anti-idiotypic antibodies: biological function and structural studies. FASEB J. 9, 43–49 (1995).

van Schie, K. A. et al. Neutralizing capacity of monoclonal and polyclonal anti-natalizumab antibodies: The immune response to antibody therapeutics preferentially targets the antigen-binding site. J. Allergy Clin. Immunol. 139, 1035–1037.e6 (2017).

Foote, J. & Milstein, C. Kinetic maturation of an immune response. Nature 352, 530–532 (1991).

Hamze, M. et al. Characterization of CD4 T cell epitopes of infliximab and rituximab identified from healthy donors. Front Immunol. 8, 500 (2017).

Harding, F. A., Stickler, M. M., Razo, J. & DuBridge, R. B. The immunogenicity of humanized and fully human antibodies: residual immunogenicity resides in the CDR regions. MAbs 2, 256–265 (2010).

Tiller, T. et al. Efficient generation of monoclonal antibodies from single human B cells by single cell RT-PCR and expression vector cloning. J. Immunol. Methods 329, 112–124 (2008).

Lefranc, M. P. et al. IMGT, the international ImMunoGeneTics information system. Nucleic Acids Res. 37, D1006–D1012 (2009).

Yaari, G., Uduman, M. & Kleinstein, S. H. Quantifying selection in high-throughput Immunoglobulin sequencing data sets. Nucleic Acids Res. 40, e134 (2012).

Gupta, N. T. et al. Change-O: a toolkit for analyzing large-scale B cell immunoglobulin repertoire sequencing data. Bioinformatics 31, 3356–3358 (2015).

Vagin, A. & Teplyakov, A. MOLREP: an automated program for molecular replacement. J. Appl. Cryst. 30, 1022–1025 (1997).

Winn, M. D. et al. Overview of the CCP4 suite and current developments. Acta Crystallogr. D Biol. Crystallogr. 67, 235–242 (2011).

Bricogne, G. et al. BUSTER version 2.11.7. (Global Phasing Ltd, Cambridge, United Kingdom, 2017).

Spits, H. et al. Characterization of monoclonal antibodies against cell surface molecules associated with cytotoxic activity of natural and activated killer cells and cloned CTL lines. Hybridoma 2, 423–437 (1983).

Watson, A. J., DeMars, R., Trowbridge, I. S. & Bach, F. H. Detection of a novel human class II HLA antigen. Nature 304, 358–361 (1983).

Latorre, D. et al. T cells in patients with narcolepsy target self-antigens of hypocretin neurons. Nature 562, 63–68 (2018).

Bassani-Sternberg, M., Pletscher-Frankild, S., Jensen, L. J. & Mann, M. Mass spectrometry of human leukocyte antigen class I peptidomes reveals strong effects of protein abundance and turnover on antigen presentation. Mol. Cell Proteomics 14, 658–673 (2015).

Cox, J. et al. Andromeda: a peptide search engine integrated into the MaxQuant environment. J. Proteome Res. 10, 1794–1805 (2011).

Perez-Riverol, Y. et al. The PRIDE database and related tools and resources in 2019: improving support for quantification data. Nucleic Acids Res. 47, D442–D450 (2019).
Acknowledgements
The authors would like to thank the patients for their participation in the study. We would like to thank M. Nussenzweig (Rockefeller University) for providing reagents for antibody cloning and expression, and Servizio Tipizzazione of the IRCCS San Matteo Hospital Foundation, Pavia, Italy, for HLA typing. This work was supported by the Swiss National Science Foundation (grant no. 176165 to A.L.) and by the Innovative Medicines Initiative Joint Undertaking ABIRISK (Anti-Biopharmaceutical Immunization: Prediction and analysis of clinical relevance to minimize the risk) project under grant agreement no. 115303, resources of which are composed of financial contribution from the European Union's Seventh Framework Program (FP7/2007-2013) and EFPIA Companies. A.L. and F.S. are supported by the Helmut Horten Foundation.
Ethics declarations
Competing interests
V.M., T.B., S.P., J.L.P., P.F. and J.D. are all employees of Sanofi. F.D. has participated in meetings sponsored by or received honoraria for acting as an advisor/speaker for Biogen Idec, Celgene, Genzyme-Sanofi, Merck, Novartis Pharma, and Roche. His institution has received research grants from Biogen and Genzyme Sanofi. He is section editor of the MSARD Journal (Multiple Sclerosis and Related Disorders). A.L. is a Senior Vice President and Senior Research Fellow at Vir Biotechnology, Inc.
Additional information
Peer review information: Saheli Sadanand was the primary editor on this article and managed its editorial process and peer review in collaboration with the rest of the editorial team.
Publisher's note: Springer Nature remains neutral with regard to jurisdictional claims in published maps and institutional affiliations.
Supplementary information
Supplementary Figure 1 and Supplementary Tables 1–5.
About this article
Cite this article
Cassotta, A., Mikol, V., Bertrand, T. et al. A single T cell epitope drives the neutralizing anti-drug antibody response to natalizumab in multiple sclerosis patients. Nat Med 25, 1402–1407 (2019). https://doi.org/10.1038/s41591-019-0568-2
Received:

Accepted:

Published:

Issue Date:

DOI: https://doi.org/10.1038/s41591-019-0568-2
This article is cited by
Eiji Miyauchi
Chikako Shimokawa
Hiroshi Ohno

Nature Reviews Immunology (2023)

Daniel I. Chasman
Craig L. Hyde
A. Katrina Loomis

Scientific Reports (2022)

Barry D. Hock
Judith L. McKenzie
Margaret J. Currie

Cancer Immunology, Immunotherapy (2020)