Abstract
Conventional leg prostheses do not convey sensory information about motion or interaction with the ground to above-knee amputees, thereby reducing confidence and walking speed in the users that is associated with high mental and physical fatigue1,2,3,4. The lack of physiological feedback from the remaining extremity to the brain also contributes to the generation of phantom limb pain from the missing leg5,6. To determine whether neural sensory feedback restoration addresses these issues, we conducted a study with two transfemoral amputees, implanted with four intraneural stimulation electrodes7 in the remaining tibial nerve (ClinicalTrials.gov identifier NCT03350061). Participants were evaluated while using a neuroprosthetic device consisting of a prosthetic leg equipped with foot and knee sensors. These sensors drive neural stimulation, which elicits sensations of knee motion and the sole of the foot touching the ground. We found that walking speed and self-reported confidence increased while mental and physical fatigue decreased for both participants during neural sensory feedback compared to the no stimulation trials. Furthermore, participants exhibited reduced phantom limb pain with neural sensory feedback. The results from these proof-of-concept cases provide the rationale for larger population studies investigating the clinical utility of neuroprostheses that restore sensory feedback.
Relevant articles
Open Access articles citing this article.
Romain Valette

,

Jose Gonzalez-Vargas

&

Strahinja Dosen

Journal of NeuroEngineering and Rehabilitation Open Access 17 August 2023

Thomas Stieglitz

,

Calogero Gueli

…

Maurits Ortmanns

Microsystems & Nanoengineering Open Access 09 May 2023

Elke Lathouwers

,

María Alejandra Díaz

…

Kevin De Pauw

Journal of NeuroEngineering and Rehabilitation Open Access 13 January 2023
Access options
Access Nature and 54 other Nature Portfolio journals
Get Nature+, our best-value online-access subscription
$29.99 / 30 days
cancel any time
Subscribe to this journal
Receive 12 print issues and online access
$209.00 per year
only $17.42 per issue
Rent or buy this article
Prices vary by article type
from$1.95
to$39.95
Prices may be subject to local taxes which are calculated during checkout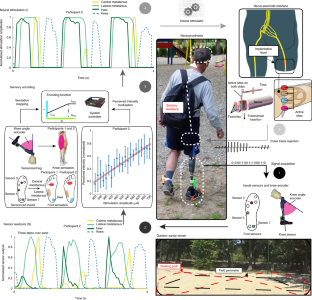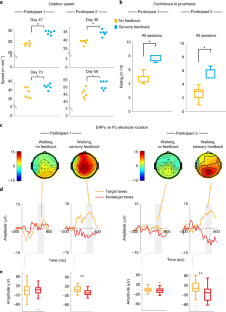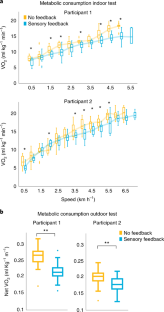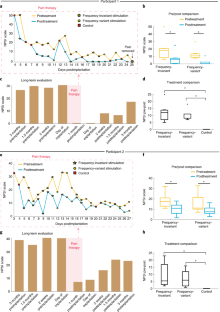 Data availability
Data that support the findings and software routines developed for the analysis are available from the corresponding author. Data can be made available to qualified individuals for collaboration provided that a written agreement is signed in advance between the included consortium and the requester's affiliated institution.
References
Nolan, L. et al. Adjustments in gait symmetry with walking speed in trans-femoral and trans-tibial amputees. Gait Posture 17, 142–151 (2003).

Miller, W. C., Deathe, A. B., Speechley, M. & Koval, J. The influence of falling, fear of falling, and balance confidence on prosthetic mobility and social activity among individuals with a lower extremity amputation. Arch. Phys. Med. Rehabil. 82, 1238–1244 (2001).

Waters, R. L., Perry, J., Antonelli, D. & Hislop, H. Energy cost of walking of amputees: the influence of level of amputation. J. Bone Joint Surg. Am. 58, 42–46 (1976).

Williams, R. M. et al. Does having a computerized prosthetic knee influence cognitive performance during amputee walking? Arch. Phys. Med. Rehabil. 87, 989–994 (2006).

Flor, H., Nikolajsen, L. & Staehelin Jensen, T. Phantom limb pain: a case of maladaptive CNS plasticity? Nat. Rev. Neurosci. 7, 873–881 (2006).

Makin, T. R. et al. Phantom pain is associated with preserved structure and function in the former hand area. Nat. Commun. 4, 1570 (2013).

Boretius, T. et al. A transverse intrafascicular multichannel electrode (TIME) to interface with the peripheral nerve. Biosens. Bioelectron. 26, 62–69 (2010).

Hargrove, L. J., Young, A. J. & Simon, A. M. Intuitive control of a powered prosthetic leg during ambulation: a randomized clinical trial. J. Vasc. Surg. 63, 1405–1406 (2016).

Clites, T. R. et al. Proprioception from a neurally controlled lower-extremity prosthesis. Sci. Transl. Med. 10, eaap8373 (2018).

Crea, S., Edin, B. B., Knaepen, K., Meeusen, R. & Vitiello, N. Time-discrete vibrotactile feedback contributes to improved gait symmetry in patients with lower limb amputations: case series. Phys. Ther. 97, 198–207 (2017).

Rusaw, D., Hagberg, K., Nolan, L. & Ramstrand, N. Can vibratory feedback be used to improve postural stability in persons with transtibial limb loss? J. Rehabil. Res. Dev. 49, 1239–1254 (2012).

Dietrich, C. et al. Leg prosthesis with somatosensory feedback reduces phantom limb pain and increases functionality. Front. Neurol. 9, 270 (2018).

Petrini, F. M. et al. Six‐month assessment of a hand prosthesis with intraneural tactile feedback. Ann. Neurol. 85, 137–154 (2019).

Raspopovic, S. et al. Restoring natural sensory feedback in real-time bidirectional hand prostheses. Sci. Transl. Med. 6, 222ra19 (2014).

Charkhkar, H. et al. High-density peripheral nerve cuffs restore natural sensation to individuals with lower-limb amputations. J. Neural Eng. 15, 056002 (2018).

Clippinger, F. W., Seaber, A. V., McElhaney, J. H., Harrelson, J. M. & Maxwell, G. M. Afferent sensory feedback for lower extremity prosthesis. Clin. Orthop. Relat. Res. 169, 202–206 (1982).

Tan, D. W. et al. A neural interface provides long-term stable natural touch perception. Sci. Transl. Med. 6, 257ra138 (2014).

Rossini, P. M. et al. Double nerve intraneural interface implant on a human amputee for robotic hand control. Clin. Neurophysiol. 121, 777–783 (2010).

Cruccu, G. et al. EFNS guidelines on neurostimulation therapy for neuropathic pain. Eur. J. Neurol. 14, 952–970 (2007).

Wickens, C. D., Isreal, J. & Donchin, E. The event related cortical potential as an index of task workload. In Proc. of the Human Factors and Ergonomics Society Annual Meeting 282–286 (SAGE Publications, 1977).

Zink, R., Hunyadi, B., Van Huffel, S. & De Vos, M. Mobile EEG on the bike: disentangling attentional and physical contributions to auditory attention tasks. J. Neural Eng. 13, 046017 (2016).

Isreal, J. B., Wickens, C. D., Chesney, G. L. & Donchin, E. The event-related brain potential as an index of display-monitoring workload. Hum. Factors 22, 211–224 (1980).

Wickens, C., Kramer, A., Vanasse, L. & Donchin, E. Performance of concurrent tasks: a psychophysiological analysis of the reciprocity of information-processing resources. Science 221, 1080–1082 (1983).

Burkitt, A. N. A review of the integrate-and-fire neuron model: I. homogeneous synaptic input. Biol. Cybern. 95, 1–19 (2006).

Valle, G. et al. Biomimetic intraneural sensory feedback enhances sensation naturalness, tactile sensitivity, and manual dexterity in a bidirectional prosthesis. Neuron 100, 37–45.e7 (2018).

Melzack, R. & Casey, K. L. Sensory, motivational, and central control determinants of pain: a new conceptual model. In Proc. of the First International Symposium on the Skin Senses (ed. Kenshalo, D. R.) 423–436, (Charles C Thomas Publisher, 1968).

Bouhassira, D. et al. Development and validation of the Neuropathic Pain Symptom Inventory. Pain 108, 248–257 (2004).

Wewers, M. E. & Lowe, N. K. A critical review of visual analogue scales in the measurement of clinical phenomena. Res. Nurs. Health 13, 227–236 (1990).

Orendurff, M. S. et al. Gait efficiency using the C-Leg. J. Rehabil. Res. Dev. 43, 239–246 (2006).

Peduzzi de Castro, M., Soares, D., Mendes, E. & Machado, L. Plantar pressures and ground reaction forces during walking of individuals with unilateral transfemoral amputation. PM R 6, 698–707.e1 (2014).

Gailey, R. et al. Unilateral lower-limb loss: prosthetic device use and functional outcomes in servicemembers from Vietnam war and OIF/OEF conflicts. J. Rehabil. Res. Dev. 47, 317–331 (2010).

Naschitz, J. E. & Lenger, R. Why traumatic leg amputees are at increased risk for cardiovascular diseases. QJM 101, 251–259 (2008).

Modan, M. et al. Increased cardiovascular disease mortality rates in traumatic lower limb amputees. Am. J. Cardiol. 82, 1242–1247 (1998).

Johansson, J. L., Sherrill, D. M., Riley, P. O., Bonato, P. & Herr, H. A clinical comparison of variable-damping and mechanically passive prosthetic knee devices. Am. J. Phys. Med. Rehabil. 84, 563–575 (2005).

Schmalz, T., Blumentritt, S. & Jarasch, R. Energy expenditure and biomechanical characteristics of lower limb amputee gait: the influence of prosthetic alignment and different prosthetic components. Gait Posture 16, 255–263 (2002).

Genin, J. J., Bastien, G. J., Franck, B., Detrembleur, C. & Willems, P. A. Effect of speed on the energy cost of walking in unilateral traumatic lower limb amputees. Eur. J. Appl. Physiol. 103, 655–663 (2008).

Detrembleur, C., Vanmarsenille, J.-M., De Cuyper, F. & Dierick, F. Relationship between energy cost, gait speed, vertical displacement of centre of body mass and efficiency of pendulum-like mechanism in unilateral amputee gait. Gait Posture 21, 333–340 (2005).

Farrar, J. T., Young, J. P. Jr., LaMoreaux, L., Werth, J. L. & Poole, R. M. Clinical importance of changes in chronic pain intensity measured on an 11-point numerical pain rating scale. Pain 94, 149–158 (2001).

Melzack, R. & Wall, P. D. Pain mechanisms: a new theory. Science 150, 971–979 (1965).

Raspopovic, S., Petrini, F. M., Zelechowski, M. & Valle, G. Framework for the development of neuroprostheses: from basic understanding by sciatic and median nerves models to bionic legs and hands. Proc. IEEE Inst. Electr. Electron. Eng. 105, 34–49 (2017).

Kim, L. H., McLeod, R. S. & Kiss, Z. H. T. A new psychometric questionnaire for reporting of somatosensory percepts. J. Neural Eng. 15, 013002 (2018).

Bellmann, M., Schmalz, T., Ludwigs, E. & Blumentritt, S. Immediate effects of a new microprocessor-controlled prosthetic knee joint: a comparative biomechanical evaluation. Arch. Phys. Med. Rehabil. 93, 541–549 (2012).

Andreu, D., Guiraud, D. & Souquet, G. A distributed architecture for activating the peripheral nervous system. J. Neural Eng. 6, 026001 (2009).

Hafner, B. J. & Smith, D. G. Differences in function and safety between Medicare Functional Classification Level-2 and -3 transfemoral amputees and influence of prosthetic knee joint control. J. Rehabil. Res. Dev. 46, 417–433 (2009).

Asano, M., Miller, W. C. & Eng, J. J. Development and psychometric properties of the ambulatory self-confidence questionnaire. Gerontology 53, 373–381 (2007).

Powell, L. E. & Myers, A. M. The Activities-specific Balance Confidence (ABC) Scale. J. Gerontol. A Biol. Sci. Med. Sci. 50A, M28–M34 (1995).

Polich, J. Updating P300: an integrative theory of P3a and P3b. Clin. Neurophysiol. 118, 2128–2148 (2007).

Strayer, D. L. et al. Assessing cognitive distraction in the automobile. Hum. Factors 57, 1300–1324 (2015).

Giraudet, L., St-Louis, M.-E., Scannella, S. & Causse, M. P300 event-related potential as an indicator of inattentional deafness? PLoS One 10, e0118556 (2015).

Deeny, S., Chicoine, C., Hargrove, L., Parrish, T. & Jayaraman, A. A simple ERP method for quantitative analysis of cognitive workload in myoelectric prosthesis control and human-machine interaction. PLoS One 9, e112091 (2014).

Mullen, T. R. et al. Real-time neuroimaging and cognitive monitoring using wearable dry EEG. IEEE Trans. Biomed. Eng. 62, 2553–2567 (2015).

Viola, F. C. et al. Semi-automatic identification of independent components representing EEG artifact. Clin. Neurophysiol. 120, 868–877 (2009).

Luck, S. J. An Introduction to the Event-related Potential Technique (The MIT Press, 2014).

Kennedy, P. M. & Inglis, J. T. Distribution and behaviour of glabrous cutaneous receptors in the human foot sole. J. Physiol. 538, 995–1002 (2002).

Steffen, T. M., Hacker, T. A. & Mollinger, L. Age- and gender-related test performance in community-dwelling elderly people: Six-Minute Walk Test, Berg Balance Scale, Timed Up & Go Test, and gait speeds. Phys. Ther. 82, 128–137 (2002).

Traballesi, M., Porcacchia, P., Averna, T. & Brunelli, S. Energy cost of walking measurements in subjects with lower limb amputations: a comparison study between floor and treadmill test. Gait Posture 27, 70–75 (2008).

Soin, A., Syed Shah, N. & Fang, Z.-P. High-Frequency electrical nerve block for postamputation pain: a pilot study. Neuromodulation 18, 197–206 (2015).
Acknowledgements
The authors are deeply grateful to the study participants who freely donated months of their life for the advancement of knowledge and for a better future for traumatic leg amputees. Thanks are also due to T. Palibrk for helping during the surgical implantation/explantation of the TIMEs and M. Marazzi for helping during the data analysis. European Research Council grant no. 759998 (FeelAgain), European Commission grant no. 754497 (SensAgain) and Swiss National Science Foundation grant no. 176006 (SYMBIO-LEG) funded this research.
Ethics declarations
Competing interests
F.M.P., S.R. and S. Micera hold shares of SensArs Neuroprosthetics Sarl, a start-up company dealing with the commercialization of neurocontrolled artificial limbs. The other authors declare no competing interests.
Additional information
Peer review information: Brett Benedetti was the primary editor on this article and managed its editorial process and peer review in collaboration with the rest of the editorial team.
Publisher's note: Springer Nature remains neutral with regard to jurisdictional claims in published maps and institutional affiliations.
Supplementary information
About this article
Cite this article
Petrini, F.M., Bumbasirevic, M., Valle, G. et al. Sensory feedback restoration in leg amputees improves walking speed, metabolic cost and phantom pain. Nat Med 25, 1356–1363 (2019). https://doi.org/10.1038/s41591-019-0567-3
Received:

Accepted:

Published:

Issue Date:

DOI: https://doi.org/10.1038/s41591-019-0567-3