Abstract
Chimeric antigen receptor (CAR)-modified T cells targeting CD19 demonstrate unparalleled responses in relapsed/refractory acute lymphoblastic leukemia (ALL)1,2,3,4,5, but toxicity, including cytokine-release syndrome (CRS) and neurotoxicity, limits broader application. Moreover, 40–60% of patients relapse owing to poor CAR T cell persistence or emergence of CD19− clones. Some factors, including the choice of single-chain spacer6 and extracellular7 and costimulatory domains8, have a profound effect on CAR T cell function and persistence. However, little is known about the impact of CAR binding affinity. There is evidence of a ceiling above which increased immunoreceptor affinity may adversely affect T cell responses9,10,11. We generated a novel CD19 CAR (CAT) with a lower affinity than FMC63, the high-affinity binder used in many clinical studies1,2,3,4. CAT CAR T cells showed increased proliferation and cytotoxicity in vitro and had enhanced proliferative and in vivo antitumor activity compared with FMC63 CAR T cells. In a clinical study (CARPALL, NCT02443831), 12/14 patients with relapsed/refractory pediatric B cell acute lymphoblastic leukemia treated with CAT CAR T cells achieved molecular remission. Persistence was demonstrated in 11 of 14 patients at last follow-up, with enhanced CAR T cell expansion compared with published data. Toxicity was low, with no severe CRS. One-year overall and event-free survival were 63% and 46%, respectively.
Relevant articles
Open Access articles citing this article.
Tina Sarén

,

Giulia Saronio

…

Magnus Essand

Nature Communications Open Access 10 August 2023

Nathaniel D. Anderson

,

Jack Birch

…

Sara Ghorashian

Nature Medicine Open Access 06 July 2023

Shengkang Huang

,

Xinyu Wang

…

Yuhua Li

Molecular Cancer Open Access 06 May 2023
Access options
Access Nature and 54 other Nature Portfolio journals
Get Nature+, our best-value online-access subscription
$29.99 / 30 days
cancel any time
Subscribe to this journal
Receive 12 print issues and online access
$209.00 per year
only $17.42 per issue
Rent or buy this article
Prices vary by article type
from$1.95
to$39.95
Prices may be subject to local taxes which are calculated during checkout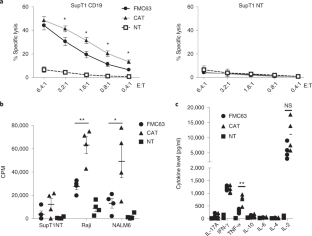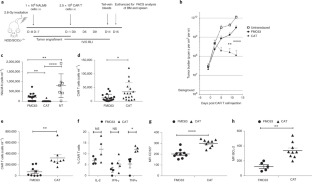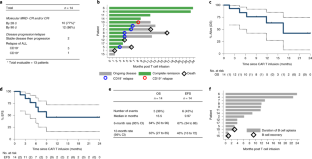 Data availability
The whole-exome sequencing data files from the CARPALL study are available in controlled-access format from the European Genome-phenome Archive (http://www.ebi.ac.uk/ega; accession no. EGAS00001003733). Sequencing data requests will be reviewed by the Independent Data Monitoring Committee and Trial Management Group of the CARPALL study and may be subject to patient confidentiality. After approval, a data-access agreement with UCL will be required. All requests for raw and analyzed data and materials will be reviewed by UCL Business (UCLB) to verify whether the request is subject to any intellectual property or confidentiality obligations.
References
Lee, D. W. et al. T cells expressing CD19 chimeric antigen receptors for acute lymphoblastic leukaemia in children and young adults: a phase 1 dose-escalation trial. Lancet 385, 517–528 (2015).

Turtle, C. J. et al. CD19 CAR-T cells of defined CD4+:CD8+ composition in adult B cell ALL patients. J. Clin. Invest 126, 2123–2138 (2016).

Gardner, R. A. et al. Intent to treat leukemia remission by CD19CAR T cells of defined formulation and dose in children and young adults. Blood 129, 3322–3330 (2017).

Maude, S. L. et al. Tisagenlecleucel in children and young adults with B-cell lymphoblastic leukemia. N. Engl. J. Med. 378, 439–448 (2018).

Park, J. H. et al. Long-term follow-up of CD19 CAR therapy in acute lymphoblastic leukemia. N. Engl. J. Med. 378, 449–459 (2018).

Qin, H. et al. Novel CD19/CD22 bicistronic chimeric antigen receptors outperform single or bivalent cars in eradicating CD19+CD22+, CD19- and CD22- Pre-B Leukemia. Blood 130, 810 (2017).

Hudecek, M. et al. Receptor affinity and extracellular domain modifications affect tumor recognition by ROR1-specific chimeric antigen receptor T cells. Clin. Cancer Res 19, 3153–3164 (2013).

Milone, M. C. et al. Chimeric receptors containing CD137 signal transduction domains mediate enhanced survival of T cells and increased antileukemic efficacy in vivo. Mol. Ther. 17, 1453–1464 (2009).

Schmid, D. A. et al. Evidence for a TCR affinity threshold delimiting maximal CD8 T cell function. J. Immunol. 184, 4936–4946 (2010).

Thomas, S. et al. Human T cells expressing affinity-matured TCR display accelerated responses but fail to recognize low density of MHC-peptide antigen. Blood 118, 319–329 (2011).

Chmielewski, M., Hombach, A., Heuser, C., Adams, G. P. & Abken, H. T cell activation by antibody-like immunoreceptors: increase in affinity of the single-chain fragment domain above threshold does not increase T cell activation against antigen-positive target cells but decreases selectivity. J. Immunol. 173, 7647–7653 (2004).

Imai, C. et al. Chimeric receptors with 4-1BB signaling capacity provoke potent cytotoxicity against acute lymphoblastic leukemia. Leukemia 18, 676–684 (2004).

Kowolik, C. M. et al. CD28 costimulation provided through a CD19-specific chimeric antigen receptor enhances in vivo persistence and antitumor efficacy of adoptively transferred T cells. Cancer Res. 66, 10995–11004 (2006).

Lee, D. W. et al. Current concepts in the diagnosis and management of cytokine release syndrome. Blood 124, 188–195 (2014).

Teachey, D. T. et al. Identification of predictive biomarkers for cytokine release syndrome after chimeric antigen receptor T-cell therapy for acute lymphoblastic leukemia. Cancer Discov. 6, 664–679 (2016).

Maude, S. L. et al. Chimeric antigen receptor t cells for sustained remissions in leukemia. N. Engl. J. Med. 371, 1507–1517 (2014).

Liu, X. et al. Affinity-tuned ErbB2 or EGFR chimeric antigen receptor T cells exhibit an increased therapeutic index against tumors in mice. Cancer Res. 75, 3596–3607 (2015).

Park, S. et al. Micromolar affinity CAR T cells to ICAM-1 achieves rapid tumor elimination while avoiding systemic toxicity. Sci. Rep. 7, 70 (2017).

Davila, M. L. et al. Efficacy and toxicity management of 19-28z CAR T cell therapy in B cell acute lymphoblastic leukemia. Sci. Transl. Med. 6, 224ra25 (2014).

Maude, S. L. et al. Sustained remissions with CD19-specific chimeric antigen receptor (CAR)-modified T cells in children with relapsed/refractory ALL. J. Clin. Oncol. 34, 3011 (2016).

Mueller, K. T. et al. Cellular kinetics of CTL019 in relapsed/refractory B-cell acute lymphoblastic leukemia and chronic lymphocytic leukemia. Blood 130, 2317–2325 (2017).

Long, A. H. et al. 4-1BB costimulation ameliorates T cell exhaustion induced by tonic signaling of chimeric antigen receptors. Nat. Med. 21, 581–590 (2015).

Brentjens, R. J. et al. CD19-targeted T cells rapidly induce molecular remissions in adults with chemotherapy-refractory acute lymphoblastic leukemia. Sci. Transl. Med. 5, 177ra38 (2013).

Orlando, E. J. et al. Genetic mechanisms of target antigen loss in CAR19 therapy of acute lymphoblastic leukemia. Nat. Med. 24, 1504–1506 (2018).

Almåsbak, H. et al. Inclusion of an IgG1-Fc spacer abrogates efficacy of CD19 CAR T cells in a xenograft mouse model. Gene. Ther. 22, 391–403 (2015).

Zola, H. et al. Preparation and characterization of a chimeric CD19 monoclonal antibody. Immunol. Cell Biol. 69, 411–422 (1991).

Donnelly, M. L. et al. The 'cleavage' activities of foot-and-mouth disease virus 2A site-directed mutants and naturally occurring '2A-like' sequences. J. Gen. Virol. 82, 1027–1041 (2001).

Niesen, F. H., Berglund, H. & Vedadi, M. The use of differential scanning fluorimetry to detect ligand interactions that promote protein stability. Nat. Protoc. 2, 2212–2221 (2007).

Lugthart, G. et al. Simultaneous generation of multivirus-specific and regulatory T cells for adoptive immunotherapy. J. Immunother. 35, 42–53 (2012).

Ricciardelli, I. et al. Towards gene therapy for EBV-associated posttransplant lymphoma with genetically modified EBV-specific cytotoxic T cells. Blood 124, 2514 (2014).

Dull, T. et al. A third-generation lentivirus vector with a conditional packaging system. J. Virol. 72, 8463–8471 (1998).

Kim, S. et al. Strelka2: fast and accurate calling of germline and somatic variants. Nat. Methods 15, 591–594 (2018).

Cingolani, P. et al. A program for annotating and predicting the effects of single nucleotide polymorphisms, SnpEff: SNPs in the genome of Drosophila melanogaster strainw1118; iso-2; iso-3. Fly. (Austin) 6, 80–92 (2012).
Acknowledgements
This work was supported by Children with Cancer UK, Great Ormond St Children's Charity, the JP Moulton Foundation and the National Institute for Health Research Biomedical Research Centres at Great Ormond Street Hospital for Children NHS Foundation Trust, University College London Hospital, and King's Health Partners, as well as University College London. P.J.A. is a recipient of an NIHR Research Professorship, which also supported S.G. (grant code 514413). R.R. was supported by GOSH-CC (grant code 543539). F.C. was supported by the Stylian Petrov Foundation. M.P. is supported by the UK National Institute of Health Research University College London Hospital Biomedical Research Centre. F.F.'s group at King's is supported by CRUK (grant code C604/A25135), the Experimental Cancer Medicine Centre (grant code C30122/A25150), and the NIHR Biomedical Research Centres (BRC) based at King's Health Partners. The work carried out by S.G., A-M.K., R.R., S.J.A., J.C-C., F.C., B.P., K.V., J.Y., W.V., A.G., K.C., T.B., A.L. and A.H. was supported by Children with Cancer UK, Great Ormond St Children's Charity and the JP Moulton Foundation (grant code 522356). P.W., L.M. and G.W-K.C. were supported by the European Union FP7 consortium ATECT (grant code 602239). We thank M. Brenner, J. Moppett and W. Qian for providing oversight of the study as the Independent Data Monitoring Committee, W. Qasim for technical support in GMP CAR T cell manufacture and M. Al-hajj and L. Stanczuk for multiplex cytokine analysis.
Ethics declarations
Competing interests
S.G., A.M.K., L.M., G.W-K.C., M.A.P and P.J.A. have patent rights for CAT CAR in targeting CD19 (patent application, World Intellectual Property Organization, WO 2016/139487 Al) and may receive royalties from Autolus PLC, which has licensed the intellectual property and know-how from the CARPALL study. P.J.A. has research funding from bluebird bio Inc. O.C. and P.V. have received funding from Servier. P.V. has research funding from Bellicum Pharmaceuticals. F.F. has founder shares in Autolus PLC, and work in his laboratory is supported by Autolus funding. S.C.O. and M.A.P. are shareholders in and employees of Autolus PLC, which has licensed CAT CAR.
Additional information
Peer review information: Saheli Sadanand was the primary editor on this article and managed its editorial process and peer review in collaboration with the rest of the editorial team.
Publisher's note: Springer Nature remains neutral with regard to jurisdictional claims in published maps and institutional affiliations.
Supplementary information
Supplementary Figures 1 and 2 and Supplementary Tables 1–7
About this article
Cite this article
Ghorashian, S., Kramer, A.M., Onuoha, S. et al. Enhanced CAR T cell expansion and prolonged persistence in pediatric patients with ALL treated with a low-affinity CD19 CAR. Nat Med 25, 1408–1414 (2019). https://doi.org/10.1038/s41591-019-0549-5
Received:

Accepted:

Published:

Issue Date:

DOI: https://doi.org/10.1038/s41591-019-0549-5