Abstract
TRK fusions are found in a variety of cancer types, lead to oncogenic addiction, and strongly predict tumor-agnostic efficacy of TRK inhibition1,2,3,4,5,6,7,8. With the recent approval of the first selective TRK inhibitor, larotrectinib, for patients with any TRK-fusion-positive adult or pediatric solid tumor, to identify mechanisms of treatment failure after initial response has become of immediate therapeutic relevance. So far, the only known resistance mechanism is the acquisition of on-target TRK kinase domain mutations, which interfere with drug binding and can potentially be addressable through second-generation TRK inhibitors9,10,11. Here, we report off-target resistance in patients treated with TRK inhibitors and in patient-derived models, mediated by genomic alterations that converge to activate the mitogen-activated protein kinase (MAPK) pathway. MAPK pathway-directed targeted therapy, administered alone or in combination with TRK inhibition, re-established disease control. Experimental modeling further suggests that upfront dual inhibition of TRK and MEK may delay time to progression in cancer types prone to the genomic acquisition of MAPK pathway-activating alterations. Collectively, these data suggest that a subset of patients will develop off-target mechanisms of resistance to TRK inhibition with potential implications for clinical management and future clinical trial design.
Access options
Subscribe to Journal
Get full journal access for 1 year
$209.00
only $17.42 per issue
All prices are NET prices.
VAT will be added later in the checkout.
Rent or Buy article
Get time limited or full article access on ReadCube.
from$8.99
All prices are NET prices.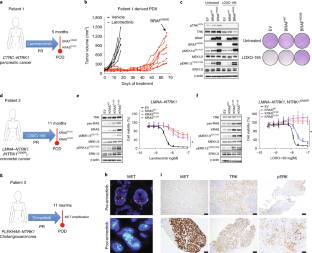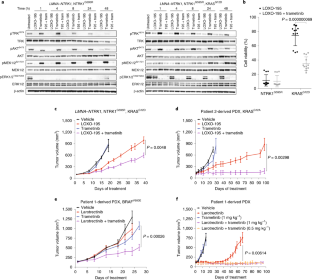 Data availability
All genomic results and associated clinical data for all patients in this study are publically available in the cBioPortal for Cancer Genomics at http://cbioportal.org/msk-impact. All relevant cell-free DNA sequencing data are included in the paper and/or supplementary files.
References
1.

Cocco, E., Scaltriti, M. & Drilon, A. NTRK fusion-positive cancers and TRK inhibitor therapy. Nat. Rev. Clin. Oncol. 15, 731–747 (2018).

2.

Demetri, G. D. et al. LBA17 Efficacy and safety of entrectinib in patients with NTRK fusion-positive (NTRK-fp) tumors: pooled analysis of STARTRK-2, STARTRK-1 and ALKA-372-001. Ann. Oncol. 29, mdy424.017 (2018).

3.

Drilon, A. et al. Efficacy of larotrectinib in TRK fusion-positive cancers in adults and children. N. Engl. J. Med. 378, 731–739 (2018).

4.

Drilon, A. et al. Safety and antitumor activity of the multitargeted Pan-TRK, ROS1, and ALK inhibitor entrectinib: combined results from two phase I trials (ALKA-372-001 and STARTRK-1). Cancer Discov. 7, 400–409 (2017).

5.

Laetsch, T. W. et al. Larotrectinib for paediatric solid tumours harbouring NTRK gene fusions: phase 1 results from a multicentre, open-label, phase 1/2 study. Lancet Oncol. 19, 705–714 (2018).

6.

Martin-Zanca, D., Hughes, S. H. & Barbacid, M. A human oncogene formed by the fusion of truncated tropomyosin and protein tyrosine kinase sequences. Nature 319, 743–748 (1986).

7.

Schram, A. M., Chang, M. T., Jonsson, P. & Drilon, A. Fusions in solid tumours: diagnostic strategies, targeted therapy, and acquired resistance. Nat. Rev. Clin. Oncol. 14, 735–748 (2017).

8.

Vaishnavi, A., Le, A. T. & Doebele, R. C. TRKing down an old oncogene in a new era of targeted therapy. Cancer Discov. 5, 25–34 (2015).

9.

Drilon, A. et al. A next-generation TRK kinase inhibitor overcomes acquired resistance to prior TRK kinase inhibition in patients with TRK fusion-positive solid tumors. Cancer Discov. 7, 963–972 (2017).

10.

Drilon, A. et al. Repotrectinib (TPX-0005) is a next-generation ROS1/TRK/ALK inhibitor that potently inhibits ROS1/TRK/ALK solvent-front mutations. Cancer Discov. 8, 1227–1236 (2018).

11.

Russo, M. et al. Acquired resistance to the TRK inhibitor entrectinib in colorectal cancer. Cancer Discov. 6, 36–44 (2016).

12.

Bardelli, A. et al. Amplification of the MET receptor drives resistance to anti-EGFR therapies in colorectal cancer. Cancer Discov. 3, 658–673 (2013).

13.

Le, X. et al. Landscape of EGFR-dependent and -independent resistance mechanisms to osimertinib and continuation therapy beyond progression in EGFR-mutant NSCLC. Clin. Cancer Res. 24, 6195–6203 (2018).

14.

Pietrantonio, F. et al. MET-driven resistance to dual EGFR and BRAF blockade may be overcome by switching from EGFR to MET inhibition in BRAF-mutated colorectal cancer. Cancer Discov. 6, 963–971 (2016).

15.

Sanchez-Vega, F. et al. EGFR and MET amplifications determine response to HER2 inhibition in ERBB2-Amplified esophagogastric cancer. Cancer Discov. 9, 199–209 (2019).

16.

Turke, A. B. et al. Preexistence and clonal selection of MET amplification in EGFR mutant NSCLC. Cancer Cell 17, 77–88 (2010).

17.

Carlino, M. S. et al. Preexisting MEK1P124 mutations diminish response to BRAF inhibitors in metastatic melanoma patients. Clin. Cancer Res. 21, 98–105 (2015).

18.

Hyman, D. M. et al. Author correction: HER kinase inhibition in patients with HER2- and HER3-mutant cancers. Nature 566, E11–E12 (2019).

19.

Heist, R. S. et al. Acquired resistance to crizotinib in NSCLC with MET exon 14 skipping. J. Thorac. Oncol. 11, 1242–1245 (2016).

20.

Qi, J. et al. Multiple mutations and bypass mechanisms can contribute to development of acquired resistance to MET inhibitors. Cancer Res. 71, 1081–1091 (2011).

21.

Hunter, J. C. et al. Biochemical and structural analysis of common cancer-associated KRAS mutations. Mol. Cancer Res. 13, 1325–1335 (2015).

22.

Caunt, C. J., Sale, M. J., Smith, P. D. & Cook, S. J. MEK1 and MEK2 inhibitors and cancer therapy: the long and winding road. Nat. Rev. Cancer 15, 577–592 (2015).

23.

Falchook, G. S. et al. Activity of the oral MEK inhibitor trametinib in patients with advanced melanoma: a phase 1 dose-escalation trial. Lancet Oncol. 13, 782–789 (2012).

24.

Long, G. V. et al. Combined BRAF and MEK inhibition versus BRAF inhibition alone in melanoma. N. Engl. J. Med. 371, 1877–1888 (2014).

25.

Peters, S. et al. Alectinib versus Crizotinib in Untreated ALK-positive non-small-cell lung cancer. N. Engl. J. Med. 377, 829–838 (2017).

26.

Soria, J. C. et al. Osimertinib in untreated EGFR-Mutated advanced non-small-cell lung cancer. N. Engl. J. Med. 378, 113–125 (2018).

27.

Misale, S. et al. Vertical suppression of the EGFR pathway prevents onset of resistance in colorectal cancers. Nat. Commun. 6, 8305 (2015).

28.

Nathenson, M., et al. O-020 Activity of larotrectinib in patients with TRK fusion GI malignancies. Ann. Oncol. 29 (Suppl. 5), O-020 (2018).

29.

Misale, S. et al. Emergence of KRAS mutations and acquired resistance to anti-EGFR therapy in colorectal cancer. Nature 486, 532–536 (2012).

30.

Russo, M. et al. Tumor heterogeneity and lesion-specific response to targeted therapy in colorectal cancer. Cancer Discov. 6, 147–153 (2016).

31.

Siravegna, G. et al. Clonal evolution and resistance to EGFR blockade in the blood of colorectal cancer patients. Nat. Med. 21, 827 (2015).

32.

Yaeger, R. et al. Mechanisms of acquired resistance to BRAF V600E inhibition in colon cancers converge on RAF dimerization and are sensitive to its inhibition. Cancer Res. 77, 6513–6523 (2017).

33.

Zehir, A. et al. Mutational landscape of metastatic cancer revealed from prospective clinical sequencing of 10,000 patients. Nat. Med. 23, 703–713 (2017).

34.

Cheng, D. T. et al. Memorial sloan kettering-integrated mutation profiling of actionable cancer targets (MSK-IMPACT): a hybridization capture-based next-generation sequencing clinical assay for solid tumor molecular oncology. J. Mol. Diagn. 17, 251–264 (2015).

35.

Chang, M. T. et al. Identifying recurrent mutations in cancer reveals widespread lineage diversity and mutational specificity. Nat. Biotechnol. 34, 155–163 (2016).

36.

Chang, M. T. et al. Accelerating discovery of functional mutant alleles in cancer. Cancer Discov. 8, 174–183 (2018).

37.

Tkac, J. et al. HELB Is a feedback inhibitor of DNA end resection. Mol. Cell 61, 405–418 (2016).
Acknowledgements
This study was funded by the National Cancer Institute (NCI) under the MSKCC Support Grant/Core Grant (P30 CA008748) and the R01CA226864 (to M.S. and A.D.). This work was also partially funded by the Cycle for Survival (to A.D.) and LOXO Oncology. The study was also supported by NIH T32 CA009207 (to A.M.S). A.M.S. is a recipient of the ASCO Young Investigator Award. E.C. is a recipient of a MSK society scholar prize.
Ethics declarations
Competing interests
M.S. is on the Advisory Board of the Bioscience Institute and Menarini Ricerche, has received research funds from Puma Biotechnology, Daiichi-Sankio, Targimmune, Immunomedics, and Menarini Ricerche, is a co-founder of Medendi Medical Travel, and in the past 2 years has received honoraria from Menarini Ricerche and ADC Pharma. A.D. has honoraria from Medscape, OncLive, PeerVoice, Physician Education Resources, Tyra Biosciences, Targeted Oncology, MORE Health, Research to Practice, Foundation Medicine, PeerView, AstraZeneca, Genentech/Roche, Bayer, and has consulting roles at Ignyta, Loxo Oncology, TP Therapeutics, AstraZeneca, Pfizer, Blueprint Medicines, Genentech/Roche, Takeda, Helsinn Therapeutics, BeiGene, Hengrui Therapeutics, Exelixis, and Bayer. D.M.H. reports personal fees from Atara Biotherapeutics, Chugai Pharma, CytomX Therapeutics, Boehringer Ingelheim, and AstraZeneca and research funding from Puma Biotechnology, AstraZeneca, and Loxo Oncology. R.Y. has received research support from GlaxoSmithKline, Novartis and Array and consulting fees from GlaxoSmithKline. J.F.H. has received honoraria from Medscape, the European Society of Medical Oncology, and Axiom Biotechnologies, as well as research funding from Bayer. R.S. has received research funding from Helsinn Therapeutics. M.F.B. has received honoraria for advisory board participation from Roche and research support from Illumina. M.L. has received honoraria for ad hoc advisory board participation from AstraZeneca, Bristol-Myers Squibb, Takeda, and Bayer, and research support from LOXO Oncology (for expanded Archer targeted RNAseq testing) and Helsinn Therapeutics. P.R. has received consulting fees from Novartis.
Additional information
Peer review information: Joao Monteiro was the primary editor on this article and managed its editorial process and peer review in collaboration with the rest of the editorial team.
Publisher's note: Springer Nature remains neutral with regard to jurisdictional claims in published maps and institutional affiliations.
Supplementary information
Supplementary Tables 1 and 2
About this article
Cite this article
Cocco, E., Schram, A.M., Kulick, A. et al. Resistance to TRK inhibition mediated by convergent MAPK pathway activation. Nat Med 25, 1422–1427 (2019). https://doi.org/10.1038/s41591-019-0542-z
Received:

Accepted:

Published:

Issue Date: