Abstract
Checkpoint inhibitors produce durable responses in numerous metastatic cancers, but immune-related adverse events (irAEs) complicate and limit their benefit. IrAEs can affect organ systems idiosyncratically; presentations range from mild and self-limited to fulminant and fatal. The molecular mechanisms underlying irAEs are poorly understood. Here, we report a fatal case of encephalitis arising during anti-programmed cell death receptor 1 therapy in a patient with metastatic melanoma. Histologic analyses revealed robust T cell infiltration and prominent programmed death ligand 1 expression. We identified 209 reported cases in global pharmacovigilance databases (across multiple cancer types) of encephalitis associated with checkpoint inhibitor regimens, with a 19% fatality rate. We performed further analyses from the index case and two additional cases to shed light on this recurrent and fulminant irAE. Spatial and multi-omic analyses pinpointed activated memory CD4+ T cells as highly enriched in the inflamed, affected region. We identified a highly oligoclonal T cell receptor repertoire, which we localized to activated memory cytotoxic (CD45RO+GZMB+Ki67+) CD4 cells. We also identified Epstein–Barr virus-specific T cell receptors and EBV+ lymphocytes in the affected region, which we speculate contributed to neural inflammation in the index case. Collectively, the three cases studied here identify CD4+ and CD8+ T cells as culprits of checkpoint inhibitor-associated immune encephalitis.
Access options
Subscribe to Journal
Get full journal access for 1 year
$59.00
only $4.92 per issue
All prices are NET prices.
VAT will be added later in the checkout.
Tax calculation will be finalised during checkout.
Rent or Buy article
Get time limited or full article access on ReadCube.
from$8.99
All prices are NET prices.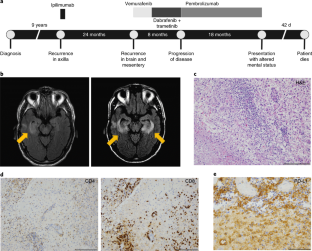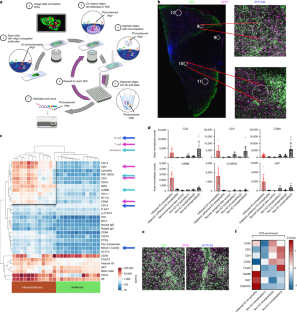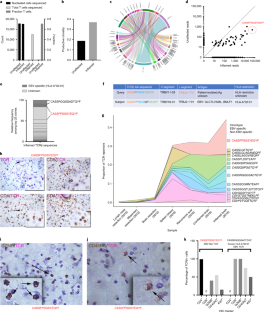 Data availability
Source data for RNA-seq analyses (IFN-γ genes) are included as Supplementary Data Set 1. All other data, including processed TCR sequencing data, are available on request from the corresponding authors. The Center for Technology Transfer and Commercialization at Vanderbilt University Medical Center will promptly review all data requests to ensure that intellectual property and confidentiality obligations are met; a Material Transfer Agreement will be used to transfer any and all data that can be shared, including TCR sequencing data.
RNA-seq data from this study have been deposited in the database of Genotypes and Phenotypes (https://prod.tbilab.org/balko_lab/encephalitis_NMED/).
References
1.

Darvin, P., Toor, S. M., Sasidharan Nair, V. & Elkord, E. Immune checkpoint inhibitors: recent progress and potential biomarkers. Exp. Mol. Med. 50, 165 (2018).

2.

Johnson, D. B., Chandra, S. & Sosman, J. A. Immune checkpoint inhibitor toxicity in 2018. JAMA 320, 1702–1703 (2018).

3.

Postow, M. A., Sidlow, R. & Hellmann, M. D. Immune-related adverse events associated with immune checkpoint blockade. N. Engl. J. Med. 378, 158–168 (2018).

4.

Moslehi, J. J., Salem, J.-E., Sosman, J. A., Lebrun-Vignes, B. & Johnson, D. B. Increased reporting of fatal immune checkpoint inhibitor-associated myocarditis. Lancet 391, 933 (2018).

5.

Johnson, D. B. et al. Fulminant myocarditis with combination immune checkpoint blockade. N. Engl. J. Med. 375, 1749–1755 (2016).

6.

Naidoo, J. et al. Pneumonitis in patients treated with anti-programmed death-1/programmed death ligand 1 therapy. J. Clin. Oncol. 35, 709–717 (2017).

7.

Gonzalez, R. S. et al. PD-1 inhibitor gastroenterocolitis: case series and appraisal of 'immunomodulatory gastroenterocolitis'. Histopathology 70, 558–567 (2017).

8.

Verschuren, E. C. et al. Clinical, endoscopic, and histologic characteristics of ipilimumab-associated colitis. Clin. Gastroenterol. Hepatol. 14, 836–842 (2016).

9.

Larkin, J. et al. Neurologic serious adverse events associated with nivolumab plus ipilimumab or nivolumab alone in advanced melanoma, including a case series of encephalitis. Oncologist 22, 709–718 (2017).

10.

Rustenhoven, J., Jansson, D., Smyth, L. C. & Dragunow, M. Brain pericytes as mediators of neuroinflammation. Trends Pharmacol. Sci. 38, 291–304 (2017).

11.

Annels, N. E., Callan, M. F., Tan, L. & Rickinson, A. B. Changing patterns of dominant TCR usage with maturation of an EBV-specific cytotoxic T cell response. J. Immunol. 165, 4831–4841 (2000).

12.

Lim, A. et al. Frequent contribution of T cell clonotypes with public TCR features to the chronic response against a dominant EBV-derived epitope: application to direct detection of their molecular imprint on the human peripheral T cell repertoire. J. Immunol. 165, 2001–2011 (2000).

13.

Cohen, G. B. et al. Clonotype tracking of TCR repertoires during chronic virus infections. Virology 304, 474–484 (2002).

14.

Koning, D. et al. In vitro expansion of antigen-specific CD8(+) T cells distorts the T-cell repertoire. J. Immunol. Methods 405, 199–203 (2014).

15.

Grant, E. J. et al. Lack of heterologous cross-reactivity toward HLA-A*02:01 restricted viral epitopes is underpinned by distinct αβT cell receptor signatures. J. Biol. Chem. 291, 24335–24351 (2016).

16.

Dash, P. et al. Quantifiable predictive features define epitope-specific T cell receptor repertoires. Nature 547, 89–93 (2017).

17.

Glanville, J. et al. Identifying specificity groups in the T cell receptor repertoire. Nature 547, 94–98 (2017).

18.

Wang, D. Y. et al. Fatal toxic effects associated with immune checkpoint inhibitors: a systematic review and meta-analysis. JAMA Oncol. 4, 1721–1728 (2018).

19.

Iwama, S. et al. Pituitary expression of CTLA-4 mediates hypophysitis secondary to administration of CTLA-4 blocking antibody. Sci. Transl. Med 6, 230ra45 (2014).

20.

Osorio, J. C. et al. Antibody-mediated thyroid dysfunction during T-cell checkpoint blockade in patients with nonsmall cell lung cancer. Ann. Oncol. 28, 583–589 (2017).

21.

Das, R. et al. Early B cell changes predict autoimmunity following combination immune checkpoint blockade. J. Clin. Invest. 128, 715–720 (2018).

22.

Dubin, K. et al. Intestinal microbiome analyses identify melanoma patients at risk for checkpoint-blockade-induced colitis. Nat. Commun. 7, 10391 (2016).

23.

Peeters, L. M. et al. Cytotoxic CD4+ T cells drive multiple sclerosis progression. Front Immunol. 8, 1160 (2017).

24.

Curran, M. A. et al. Systemic 4-1BB activation induces a novel T cell phenotype driven by high expression of eomesodermin. J. Exp. Med. 210, 743–755 (2013).

25.

Hirschhorn-Cymerman, D. et al. Induction of tumoricidal function in CD4+ T cells is associated with concomitant memory and terminally differentiated phenotype. J. Exp. Med. 209, 2113–2126 (2012).

26.

Penaloza-MacMaster, P. et al. Vaccine-elicited CD4 T cells induce immunopathology after chronic LCMV infection. Science 347, 278–282 (2015).

27.

Takeuchi, A. & Saito, T. CD4 C. T. L., a cytotoxic subset of CD4+ T Cells, their differentiation and function. Front Immunol. 8, 194 (2017).

28.

Ranasinghe, S. et al. Antiviral CD8+ T cells restricted by human leukocyte antigen class II exist during natural HIV infection and exhibit clonal expansion. Immunity 45, 917–930 (2016).

29.

Boyle, L. H., Goodall, J. C. & Gaston, J. S. H. Major histocompatibility complex class I-restricted alloreactive CD4+ T cells. Immunology 112, 54–63 (2004).

30.

Wang, M. et al. High-affinity human leucocyte antigen class I binding variola-derived peptides induce CD4+ T cell responses more than 30 years post-vaccinia virus vaccination. Clin. Exp. Immunol. 155, 441–446 (2009).

31.

Legoux, F. et al. Characterization of the human CD4(+) T-cell repertoire specific for major histocompatibility class I-restricted antigens. Eur. J. Immunol. 43, 3244–3253 (2013).

32.

Heemskerk, M. H. et al. Dual HLA class I and class II restricted recognition of alloreactive T lymphocytes mediated by a single T cell receptor complex. Proc. Natl Acad. Sci. USA 98, 6806–6811 (2001).

33.

Bossart, S. et al. Case report: encephalitis, with brainstem involvement, following checkpoint inhibitor therapy in metastatic melanoma. Oncologist 22, 749–753 (2017).

34.

Andrews, S. FastQC: a quality control tool for high throughput sequence data. http://www.bioinformatics.babraham.ac.uk/projects/fastqc (2010).

35.

Dobin, A. et al. STAR: ultrafast universal RNA-seq aligner. Bioinformatics 29, 15–21 (2013).

36.

Wang, L., Wang, S. & Li, W. RSeQC: quality control of RNA-seq experiments. Bioinformatics 28, 2184–2185 (2012).

37.

Li, B. & Dewey, C. N. RSEM: accurate transcript quantification from RNA-Seq data with or without a reference genome. BMC Bioinforma. 12, 323 (2011).

38.

Newman, A. M. et al. Robust enumeration of cell subsets from tissue expression profiles. Nat. Methods 12, 453–457 (2015).

39.

Tumeh, P. C. et al. PD-1 blockade induces responses by inhibiting adaptive immune resistance. Nature 515, 568–571 (2014).

40.

Mathew, J. M. et al. Generation and characterization of alloantigen-specific regulatory T cells for clinical transplant tolerance. Sci. Rep. 8, 1136 (2018).

41.

Shugay, M. et al. VDJtools: unifying post-analysis of T cell receptor repertoires. PLoS Comput. Biol. 11, e1004503 (2015).

42.

Shugay, M. et al. VDJdb: a curated database of T-cell receptor sequences with known antigen specificity. Nucleic Acids Res. 46, D419–D427 (2018).

43.

Tickotsky, N., Sagiv, T., Prilusky, J., Shifrut, E. & Friedman, N. McPAS-TCR: a manually curated catalogue of pathology-associated T cell receptor sequences. Bioinformatics 33, 2924–2929 (2017).

44.

Chen, G. et al. Sequence and structural analyses reveal distinct and highly diverse human CD8(+) TCR repertoires to immunodominant viral antigens. Cell Rep. 19, 569–583 (2017).

45.

Gielis, S. et al. TCRex: a webtool for the prediction of T-cell receptor sequence epitope specificity. Preprint at bioRxiv https://doi.org/10.1101/373472 (2018).
Acknowledgments
We thank the patients and their families for participating in this study. W.J.M. was supported by NHBLI grant no. T32HL069765, NIDDK grant nos. R01DK112262 and R56DK108352 and NHLBI grant no. K12HL143956. S.A.M. was supported by NIAID grant no. P30AI110527. D.B.J. is supported by NIH/NCI grant no. K23 CA204726 and the James C. Bradford Jr. Melanoma Fund. J.E.S. was supported by the Cancer ITMO of the French National Alliance for Life and Health Sciences (AVIESAN): 'Plan Cancer 2014–2019'. J.M.B. was supported by the Department of Defense Era of Hope Award no. BC170037 and NIH/NCI grant no. R00CA181491. In addition, we acknowledge the Translational Pathology Shared Resource supported by NCI/NIH Cancer Center Support Grant no. 5P30 CA68485-19 and the Vanderbilt Mouse Metabolic Phenotyping Center Grant no. 2 U24 DK059637-16. The supplied data from VigiBase come from a variety of sources. The probability that a reported adverse event is related to a drug response is not equal in all cases; the information in VigiBase and these analyses does not represent the opinion of the World Health Organization or the Uppsala Monitoring Centre.
Ethics declarations
Competing interests
K.B., J.B., Y.L. and S.W. are employees of NanoString and receive compensation as such. D.J. serves on advisory boards for Array, Bristol Myers Squibb, Genoptix, Incyte and Merck, and has received research funding from Bristol Myers Squibb and Incyte. J.M.B. receives consulting fees from Novartis and research support from Genentech and Incyte. J.J.M. serves as a consultant or in an advisory role for BMS, Daiichi Sankyo, Novartis, Pfizer, Regeneron, Takeda, Myokardia, Deciphera and Ipsen, and has received research funding from BMS and Pfizer. C.A.C. receives grant/research funding from Gilead Sciences, Inc. (related to hepatitis C virus). A.M.M. serves on advisory boards for Bristol Myers Squibb, Merck Sharpe and Dohme, Novartis, Roche, and Pierre-Fabre. E.I.B. serves on advisory boards for Bristol Myers Squibb and Novartis. G.V.L. reports receiving fees for serving on advisory boards of Aduro, Amgen, Array Biopharma, Bristol-Myers Squibb, Merck Sharp and Dohme (a subsidiary of Merck & Co., Inc., Kenilworth, NJ, USA), Novartis, Oncosec, Pierre Fabre and Roche.
Additional information
Peer review information: Saheli Sadanand was the primary editor on this article and managed its editorial process and peer review in collaboration with the rest of the editorial team.
Publisher's note: Springer Nature remains neutral with regard to jurisdictional claims in published maps and institutional affiliations.
Supplementary information
Source data
Statistical source data for Extended Data 6; TPM counts from processed RNA-seq data
About this article
Cite this article
Johnson, D.B., McDonnell, W.J., Gonzalez-Ericsson, P.I. et al. A case report of clonal EBV-like memory CD4+ T cell activation in fatal checkpoint inhibitor-induced encephalitis. Nat Med 25, 1243–1250 (2019). https://doi.org/10.1038/s41591-019-0523-2
Received:

Accepted:

Published:

Issue Date: