Abstract
Flaviviral infections result in a wide spectrum of clinical outcomes, ranging from asymptomatic infection to severe disease. Although the correlates of severe disease have been explored1,2,3,4, the pathophysiology that differentiates symptomatic from asymptomatic infection remains undefined. To understand the molecular underpinnings of symptomatic infection, the blood transcriptomic and metabolomic profiles of individuals were examined before and after inoculation with the live yellow fever viral vaccine (YF17D). It was found that individuals with adaptive endoplasmic reticulum (ER) stress and reduced tricarboxylic acid cycle activity at baseline showed increased susceptibility to symptomatic outcome. YF17D infection in these individuals induced maladaptive ER stress, triggering downstream proinflammatory responses that correlated with symptomatic outcome. The findings of the present study thus suggest that the ER stress response and immunometabolism underpin symptomatic yellow fever and possibly even other flaviviral infections. Modulating either ER stress or metabolism could be exploited for prophylaxis against symptomatic flaviviral infection outcome.
Access options
Subscribe to Journal
Get full journal access for 1 year
$59.00
only $4.92 per issue
All prices are NET prices.
VAT will be added later in the checkout.
Tax calculation will be finalised during checkout.
Rent or Buy article
Get time limited or full article access on ReadCube.
from$8.99
All prices are NET prices.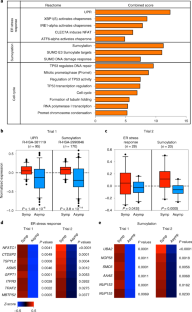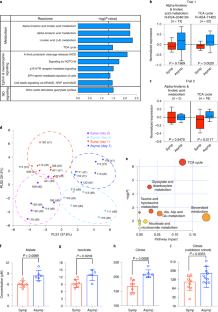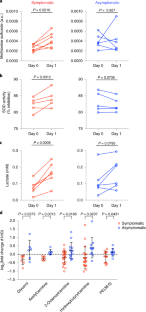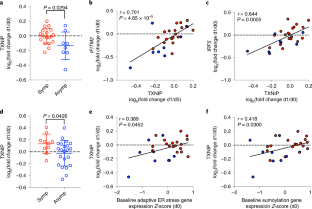 Data availability
Trial 1 and trial 2 raw baseline gene expression data and the processed Z-scores have been deposited in ArrayExpress database (www.ebi.ac.uk/arrayexpress) under accession numbers E-MTAB-7928 and E-MTAB-7931, respectively. The CE-MS/MS metabolite expression data was deposited in the National Institute of Health's Metabolomics Workbench under accession number ST001176.
References
1.

Caires-Junior, L. C. et al. Discordant congenital zika syndrome twins show differential in vitro viral susceptibility of neural progenitor cells. Nat. Commun. 9, 475 (2018).

2.

Coffey, L. L. et al. Human genetic determinants of dengue virus susceptibility. Microbes Infect. 11, 143–156 (2009).

3.

Khor, C. C. et al. Genome-wide association study identifies susceptibility loci for dengue shock syndrome at MICB and PLCE1. Nat. Genet. 43, 1139–1141 (2011).

4.

ter Meulen, J. et al. Activation of the cytokine network and unfavorable outcome in patients with yellow fever. J. Infect. Dis. 190, 1821–1827 (2004).

5.

Couto-Lima, D. et al. Potential risk of re-emergence of urban transmission of yellow fever virus in Brazil facilitated by competent aedes populations. Sci. Rep. 7, 4848 (2017).

6.

Mayer, S. V., Tesh, R. B. & Vasilakis, N. The emergence of arthropod-borne viral diseases: a global prospective on dengue, chikungunya and zika fevers. Acta Trop. 166, 155–163 (2017).

7.

Beckham, J. D., Pastula, D. M., Massey, A. & Tyler, K. L. Zika virus as an emerging global pathogen: neurological complications of zika virus. JAMA Neurol. 73, 875–879 (2016).

8.

Gould, E. A. & Solomon, T. Pathogenic flaviviruses. Lancet 371, 500–509 (2008).

9.

Brasil, P. et al. Zika virus infection in pregnant women in Rio de Janeiro. N. Engl. J. Med. 375, 2321–2334 (2016).

10.

Monath, T. P. Treatment of yellow fever. Antivir. Res. 78, 116–124 (2008).

11.

Simmons, C. P., Farrar, J. J., Nguyen, v. V. & Wills, B. Dengue. N. Engl. J. Med. 366, 1423–1432 (2012).

12.

Johansson, M. A., Vasconcelos, P. F. & Staples, J. E. The whole iceberg: estimating the incidence of yellow fever virus infection from the number of severe cases. Trans. R. Soc. Trop. Med. Hyg. 108, 482–487 (2014).

13.

Andres-Terre, M. et al. Integrated, multi-cohort analysis identifies conserved transcriptional signatures across multiple respiratory viruses. Immunity 43, 1199–1211 (2015).

14.

Chan, C. Y. et al. Early molecular correlates of adverse events following yellow fever vaccination. JCI Insight 2, e96031 (2017).

15.

Glass, W. G. et al. CCR5 deficiency increases risk of symptomatic West Nile virus infection. J. Exp. Med. 203, 35–40 (2006).

16.

Simon-Loriere, E. et al. Increased adaptive immune responses and proper feedback regulation protect against clinical dengue. Sci. Transl. Med. 9, eaal5088 (2017).

17.

Kuleshov, M. V. et al. Enrichr: a comprehensive gene set enrichment analysis web server 2016 update. Nucleic Acids Res. 44, W90–W97 (2016).

18.

Li, S. et al. Molecular signatures of antibody responses derived from a systems biology study of five human vaccines. Nat. Immunol. 15, 195–204 (2014).

19.

Kakiuchi, C., Ishiwata, M., Hayashi, A. & Kato, T. XBP1 induces WFS1 through an endoplasmic reticulum stress response element-like motif in SH-SY5Y cells. J. Neurochem. 97, 545–555 (2006).

20.

Johnson, E. S., Schwienhorst, I., Dohmen, R. J. & Blobel, G. The ubiquitin-like protein Smt3p is activated for conjugation to other proteins by an Aos1p/Uba2p heterodimer. EMBO J. 16, 5509–5519 (1997).

21.

Enserink, J. M. Sumo and the cellular stress response. Cell Div. 10, 4 (2015).

22.

Wang, X. et al. ER stress modulates cellular metabolism. Biochem. J. 435, 285–296 (2011).

23.

Mahmoudabadi, G., Milo, R. & Phillips, R. Energetic cost of building a virus. Proc. Natl Acad. Sci. USA 114, E4324–E4333 (2017).

24.

Kaufman, R. J. & Malhotra, J. D. Calcium trafficking integrates endoplasmic reticulum function with mitochondrial bioenergetics. Biochim. Biophys. Acta 1843, 2233–2239 (2014).

25.

Wang, M. & Kaufman, R. J. Protein misfolding in the endoplasmic reticulum as a conduit to human disease. Nature 529, 326–335 (2016).

26.

Pryor, W. A., Jin, X. & Squadrito, G. L. One- and two-electron oxidations of methionine by peroxynitrite. Proc. Natl Acad. Sci. USA 91, 11173–11177 (1994).

27.

Wang, Y., Branicky, R., Noe, A. & Hekimi, S. Superoxide dismutases: dual roles in controlling ROS damage and regulating ROS signaling. J. Cell Biol. 217, 1915–1928 (2018).

28.

Douglas, D. N. et al. Oxidative stress attenuates lipid synthesis and increases mitochondrial fatty acid oxidation in hepatoma cells infected with hepatitis C virus. J. Biol. Chem. 291, 1974–1990 (2016).

29.

Lerner, A. G. et al. IRE1alpha induces thioredoxin-interacting protein to activate the NLRP3 inflammasome and promote programmed cell death under irremediable ER stress. Cell Metab. 16, 250–264 (2012).

30.

Oslowski, C. M. et al. Thioredoxin-interacting protein mediates ER stress-induced beta cell death through initiation of the inflammasome. Cell Metab. 16, 265–273 (2012).

31.

Theiler, M. & Smith, H. H. The effect of prolonged cultivation in vitro upon the pathogenicity of yellow fever virus. J. Exp. Med. 65, 767–786 (1937).

32.

Monath, T. P. Review of the risks and benefits of yellow fever vaccination including some new analyses. Expert Rev. Vaccin. 11, 427–448 (2012).

33.

Lindsey, N. P., Rabe, I. B., Miller, E. R., Fischer, M. & Staples, J. E. Adverse event reports following yellow fever vaccination, 2007-13. J. Travel Med. 23 https://doi.org/10.1093/jtm/taw045 (2016).

34.

Monath, T. P. et al. Comparative safety and immunogenicity of two yellow fever 17D vaccines (ARILVAX and YF-VAX) in a phase III multicenter, double-blind clinical trial. Am. J. Trop. Med. Hyg. 66, 533–541 (2002).

35.

Pfister, M. et al. Immunogenicity and safety of BERNA-YF compared with two other 17D yellow fever vaccines in a phase 3 clinical trial. Am. J. Trop. Med. Hyg. 72, 339–346 (2005).

36.

Fox, C. J., Hammerman, P. S. & Thompson, C. B. Fuel feeds function: energy metabolism and the T-cell response. Nat. Rev. Immunol. 5, 844–852 (2005).

37.

Wang, A., Luan, H. H. & Medzhitov, R. An evolutionary perspective on immunometabolism. Science 363, eaar3932 (2019).

38.

Rutkowski, D. T. & Kaufman, R. J. That which does not kill me makes me stronger: adapting to chronic ER stress. Trends Biochem. Sci. 32, 469–476 (2007).

39.

Belkaid, Y. & Harrison, O. J. Homeostatic immunity and the microbiota. Immunity 46, 562–576 (2017).

40.

Belkaid, Y. & Hand, T. W. Role of the microbiota in immunity and inflammation. Cell 157, 121–141 (2014).

41.

Chan, K. R. et al. Cross-reactive antibodies enhance live attenuated virus infection for increased immunogenicity. Nat. Microbiol. 1, 16164 (2016).

42.

Low, J. G. et al. The role of pre-existing cross-reactive antibodies in determining the efficacy of vaccination in humans: study protocol for a randomized controlled trial. Trials 16, 147 (2015).

43.

Cheadle, C., Vawter, M. P., Freed, W. J. & Becker, K. G. Analysis of microarray data using Z score transformation. J. Mol. Diagn. 5, 73–81 (2003).

44.

Ohashi, Y. et al. Depiction of metabolome changes in histidine-starved Escherichia coli by CE-TOFMS. Mol. Biosyst. 4, 135–147 (2008).

45.

Ooga, T. et al. Metabolomic anatomy of an animal model revealing homeostatic imbalances in dyslipidaemia. Mol. Biosyst. 7, 1217–1223 (2011).

46.

Sugimoto, M., Wong, D. T., Hirayama, A., Soga, T. & Tomita, M. Capillary electrophoresis mass spectrometry-based saliva metabolomics identified oral, breast and pancreatic cancer-specific profiles. Metabolomics 6, 78–95 (2010).

47.

Chong, J. et al. MetaboAnalyst 4.0: towards more transparent and integrative metabolomics analysis. Nucleic Acids Res. 46, W486–W494 (2018).
Acknowledgements
We thank all the participants, research coordinators and nurses at the SingHealth Investigational Medicine Unit for their time and assistance in the conduct of the clinical trials. We also thank the anonymous reviewers for their constructive comments. This work is supported by J.G.-H.L.'s Clinician-Scientist Award (NMRC/CSA-INV/0013/2016) and E.E.O.'s Senior Clinician-Scientist Award (NMRC/CSA/060/2014) and Centre Grant (NMRC/CG/M003/2017), all from the National Medicine Research Council of Singapore. We also thank the Tanoto Foundation for their generous support for ViREMiCS.
Ethics declarations
Competing interests
The authors declare no competing interests.
Additional information
Peer review information: Alison Farrell is the primary editor on this article and managed its editorial process and peer review in collaboration with the rest of the editorial team.
Publisher's note: Springer Nature remains neutral with regard to jurisdictional claims in published maps and institutional affiliations.
Supplementary information
About this article
Cite this article
Chan, K.R., Gan, E.S., Chan, C.Y.Y. et al. Metabolic perturbations and cellular stress underpin susceptibility to symptomatic live-attenuated yellow fever infection. Nat Med 25, 1218–1224 (2019). https://doi.org/10.1038/s41591-019-0510-7
Received:

Accepted:

Published:

Issue Date:
Further reading
Nan Xiao

,

Meng Nie

,

Huanhuan Pang

,

Bohong Wang

,

Jieli Hu

,

Xiangjun Meng

,

Ke Li

,

Xiaorong Ran

,

Quanxin Long

,

Haijun Deng

,

Na Chen

,

Shao Li

,

Ni Tang

,

Ailong Huang

&

Zeping Hu

Nature Communications (2021)

John P. Hanley

,

Huy A. Tu

,

Julie A. Dragon

,

Dorothy M. Dickson

,

Roxana del Rio-Guerra

,

Scott W. Tighe

,

Korin M. Eckstrom

,

Nicholas Selig

,

Samuel V. Scarpino

,

Stephen S. Whitehead

,

Anna P. Durbin

,

Kristen K. Pierce

,

Beth D. Kirkpatrick

,

Donna M. Rizzo

,

Seth Frietze

&

Sean A. Diehl

Nature Communications (2021)

Agieshkumar Balakrishna Pillai

,

Krishna Raja Muthuraman

,

Vignesh Mariappan

,

Srisha Srivatsan Belur

,

S. Lokesh

&

Soundravally Rajendiran

Archives of Virology (2019)