Abstract
Polycystic ovary syndrome (PCOS) is characterized by androgen excess, ovulatory dysfunction and polycystic ovaries1, and is often accompanied by insulin resistance2. The mechanism of ovulatory dysfunction and insulin resistance in PCOS remains elusive, thus limiting the development of therapeutics. Improved metabolic health is associated with a relatively high microbiota gene content and increased microbial diversity3,4. This study aimed to investigate the impact of the gut microbiota and its metabolites on the regulation of PCOS-associated ovarian dysfunction and insulin resistance. Here, we report that Bacteroides vulgatus was markedly elevated in the gut microbiota of individuals with PCOS, accompanied by reduced glycodeoxycholic acid and tauroursodeoxycholic acid levels. Transplantation of fecal microbiota from women with PCOS or B. vulgatus-colonized recipient mice resulted in increased disruption of ovarian functions, insulin resistance, altered bile acid metabolism, reduced interleukin-22 secretion and infertility. Mechanistically, glycodeoxycholic acid induced intestinal group 3 innate lymphoid cell IL-22 secretion through GATA binding protein 3, and IL-22 in turn improved the PCOS phenotype. This finding is consistent with the reduced levels of IL-22 in individuals with PCOS. This study suggests that modifying the gut microbiota, altering bile acid metabolism and/or increasing IL-22 levels may be of value for the treatment of PCOS.
Access options
Subscribe to Journal
Get full journal access for 1 year
$209.00
only $17.42 per issue
All prices are NET prices.
VAT will be added later in the checkout.
Rent or Buy article
Get time limited or full article access on ReadCube.
from$8.99
All prices are NET prices.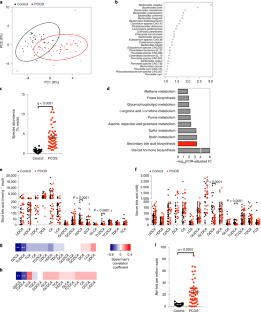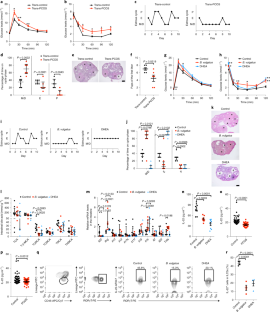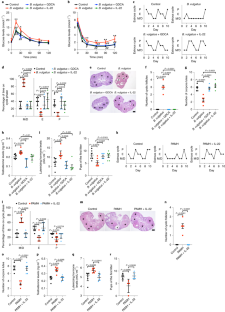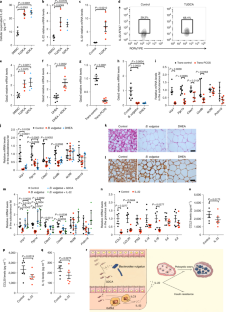 References
1.

Norman, R. J., Dewailly, D., Legro, R. S. & Hickey, T. E. Polycystic ovary syndrome. Lancet 370, 685–697 (2007).

2.

Dumesic, D. A. et al. Scientific statement on the diagnostic criteria, epidemiology, pathophysiology, and molecular genetics of polycystic ovary syndrome. Endocr. Rev. 36, 487–525 (2015).

3.

Sonnenburg, J. L. & Backhed, F. Diet–microbiota interactions as moderators of human metabolism. Nature 535, 56–64 (2016).

4.

Turnbaugh, P. J., Backhed, F., Fulton, L. & Gordon, J. I. Diet-induced obesity is linked to marked but reversible alterations in the mouse distal gut microbiome. Cell Host Microbe 3, 213–223 (2008).

5.

Lindheim, L. et al. Alterations in gut microbiome composition and barrier function are associated with reproductive and metabolic defects in women with polycystic ovary syndrome (PCOS): a pilot study. PLoS ONE 12, e0168390 (2017).

6.

Liu, R. et al. Dysbiosis of gut microbiota associated with clinical parameters in polycystic ovary syndrome. Front. Microbiol. 8, 324 (2017).

7.

Torres, P. J. et al. Gut microbial diversity in women with polycystic ovary syndrome correlates with hyperandrogenism. J. Clin. Endocrinol. Metab. 103, 1502–1511 (2018).

8.

Martin, F. P. et al. A top-down systems biology view of microbiome–mammalian metabolic interactions in a mouse model. Mol. Syst. Biol. 3, 112 (2007).

9.

Claus, S. P. et al. Systemic multicompartmental effects of the gut microbiome on mouse metabolic phenotypes. Mol. Syst. Biol. 4, 219 (2008).

10.

Shindo, K., Machida, M., Fukumura, M., Koide, K. & Yamazaki, R. Omeprazole induces altered bile acid metabolism. Gut 42, 266–271 (1998).

11.

Van Houten, E. L. & Visser, J. A. Mouse models to study polycystic ovary syndrome: a possible link between metabolism and ovarian function? Reprod. Biol. 14, 32–43 (2014).

12.

Hand, T. W., Vujkovic-Cvijin, I., Ridaura, V. K. & Belkaid, Y. Linking the microbiota, chronic disease, and the immune system. Trends Endocrinol. Metab. 27, 831–843 (2016).

13.

Tata, B. et al. Elevated prenatal anti-Mullerian hormone reprograms the fetus and induces polycystic ovary syndrome in adulthood. Nat. Med. 24, 834–846 (2018).

14.

Zhong, C. et al. Group 3 innate lymphoid cells continuously require the transcription factor GATA-3 after commitment. Nat. Immunol. 17, 169–178 (2016).

15.

Bouchard, M. F., Taniguchi, H. & Viger, R. S. Protein kinase A-dependent synergism between GATA factors and the nuclear receptor, liver receptor homolog-1, regulates human aromatase (CYP19) PII promoter activity in breast cancer cells. Endocrinology 146, 4905–4916 (2005).

16.

Brestoff, J. R. & Artis, D. Immune regulation of metabolic homeostasis in health and disease. Cell 161, 146–160 (2015).

17.

Bartelt, A. & Heeren, J. Adipose tissue browning and metabolic health. Nat. Rev. Endocrinol. 10, 24–36 (2014).

18.

Yuan, X. et al. Brown adipose tissue transplantation ameliorates polycystic ovary syndrome. Proc. Natl Acad. Sci. USA 113, 2708–2713 (2016).

19.

Zhao, Y. et al. Up-regulated expression of WNT5a increases inflammation and oxidative stress via PI3K/AKT/NF-κB signaling in the granulosa cells of PCOS patients. J. Clin. Endocrinol. Metab. 100, 201–211 (2015).

20.

Dudakov, J. A., Hanash, A. M. & van den Brink, M. R. Interleukin-22: immunobiology and pathology. Annu. Rev. Immunol. 33, 747–785 (2015).

21.

Pedersen, B. K. & Febbraio, M. A. Muscle as an endocrine organ: focus on muscle-derived interleukin-6. Physiol. Rev. 88, 1379–1406 (2008).

22.

Sag, D., Carling, D., Stout, R. D. & Suttles, J. Adenosine 5′-monophosphate-activated protein kinase promotes macrophage polarization to an anti-inflammatory functional phenotype. J. Immunol. 181, 8633–8641 (2008).

23.

Pang, Y. et al. Intermedin restores hyperhomocysteinemia-induced macrophage polarization and improves insulin resistance in mice. J. Biol. Chem. 291, 12336–12345 (2016).

24.

Bankevich, A. et al. SPAdes: a new genome assembly algorithm and its applications to single-cell sequencing. J. Comput. Biol. 19, 455–477 (2012).

25.

Zhu, W., Lomsadze, A. & Borodovsky, M. Ab initio gene identification in metagenomic sequences. Nucleic Acids Res. 38, e132 (2010).

26.

Perez-Enciso, M. & Tenenhaus, M. Prediction of clinical outcome with microarray data: a partial least squares discriminant analysis (PLS-DA) approach. Hum. Genet. 112, 581–592 (2003).
Acknowledgements
This work was supported by the National Key Research and Development Program of China (2018YFC1003200 and 2018YFC1003900 to Y.P.), National Natural Science Foundation of China (91857115 to C.J.; 81521002 and 81730038 to J.Q.; and 81771650 to R.L.), Clinical Medicine Plus X—Young Scholars Project of Peking University (PKU2019LCXQ025 and PKU2018LCXQ013 to Y.P. and C.J.) and the National Key Research and Development Program of China (2016YFC1000201 to R.L.).
Ethics declarations
Competing interests
The authors declare no competing interests.
Additional information
Peer Review Information: Randy Levinson and Joao Monteiro were the primary editors on this article and managed its editorial process and peer review in collaboration with the rest of the editorial team.
Publisher's note: Springer Nature remains neutral with regard to jurisdictional claims in published maps and institutional affiliations.
Supplementary information
About this article
Cite this article
Qi, X., Yun, C., Sun, L. et al. Gut microbiota–bile acid–interleukin-22 axis orchestrates polycystic ovary syndrome. Nat Med 25, 1225–1233 (2019). https://doi.org/10.1038/s41591-019-0509-0
Received:

Accepted:

Published:

Issue Date: