Abstract
Neonates are protected from colonizing bacteria by antibodies secreted into maternal milk. Necrotizing enterocolitis (NEC) is a disease of neonatal preterm infants with high morbidity and mortality that is associated with intestinal inflammation driven by the microbiota1,2,3. The incidence of NEC is substantially lower in infants fed with maternal milk, although the mechanisms that underlie this benefit are not clear4,5,6. Here we show that maternal immunoglobulin A (IgA) is an important factor for protection against NEC. Analysis of IgA binding to fecal bacteria from preterm infants indicated that maternal milk was the predominant source of IgA in the first month of life and that a relative decrease in IgA-bound bacteria is associated with the development of NEC. Sequencing of IgA-bound and unbound bacteria revealed that before the onset of disease, NEC was associated with increasing domination by Enterobacteriaceae in the IgA-unbound fraction of the microbiota. Furthermore, we confirmed that IgA is critical for preventing NEC in a mouse model, in which pups that are reared by IgA-deficient mothers are susceptible to disease despite exposure to maternal milk. Our findings show that maternal IgA shapes the host–microbiota relationship of preterm neonates and that IgA in maternal milk is a critical and necessary factor for the prevention of NEC.
Relevant articles
Open Access articles citing this article.
Yufeng Du

,

Ya Gao

…

Qingbiao Xu

Journal of Animal Science and Biotechnology Open Access 09 April 2023

Wenjie Tang

,

Yifan Zhong

…

Haifeng Wang

BMC Biology Open Access 30 May 2022

Yun Chao Lin

,

Ansaf Salleb-Aouissi

&

Thomas A. Hooven

BMC Bioinformatics Open Access 25 March 2022
Access options
Access Nature and 54 other Nature Portfolio journals
Get Nature+, our best-value online-access subscription
$29.99 / 30 days
cancel any time
Subscribe to this journal
Receive 12 print issues and online access
$209.00 per year
only $17.42 per issue
Rent or buy this article
Prices vary by article type
from$1.95
to$39.95
Prices may be subject to local taxes which are calculated during checkout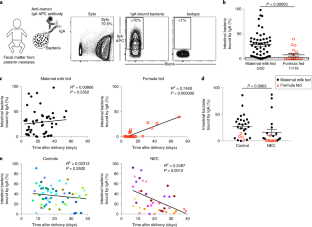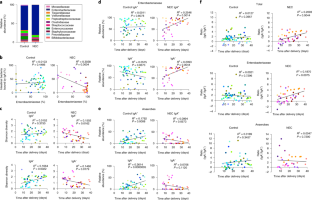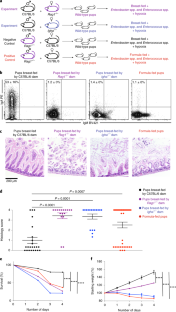 Data availability
Patient-related data not included in the paper were generated as part of clinical trials and may be subject to patient confidentiality. The human study protocol was approved by the Institutional Review Board (protocol numbers PRO16030078 and PRO09110437) of the University of Pittsburgh. All raw and analyzed sequencing data have been deposited in Sequence Read Archive (accession number PRJNA526906).
References
Neu, J. & Walker, W. A. Necrotizing enterocolitis. N. Engl. J. Med. 364, 255–264 (2011).

Hackam, D. & Caplan, M. Necrotizing enterocolitis: pathophysiology from a historical context. Semin. Pediatr. Surg. 27, 11–18 (2018).

Hintz, S. R. et al. Neurodevelopmental and growth outcomes of extremely low birth weight infants after necrotizing enterocolitis. Pediatrics 115, 696–703 (2005).

Cortez, J. et al. Maternal milk feedings reduce sepsis, necrotizing enterocolitis and improve outcomes of premature infants. J. Perinatol. 38, 71–74 (2018).

Le Doare, K., Holder, B., Bassett, A. & Pannaraj, P. S. Mother's milk: a purposeful contribution to the development of the infant microbiota and immunity. Front. Immunol. 9, 361 (2018).

Lucas, A. & Cole, T. J. Breast milk and neonatal necrotising enterocolitis. Lancet 336, 1519–1523 (1990).

Pammi, M. et al. Intestinal dysbiosis in preterm infants preceding necrotizing enterocolitis: a systematic review and meta-analysis. Microbiome 5, 31 (2017).

Brower-Sinning, R. et al. Mucosa-associated bacterial diversity in necrotizing enterocolitis. PloS ONE 9, e105046 (2014).

Good, M. et al. The human milk oligosaccharide 2′-fucosyllactose attenuates the severity of experimental necrotising enterocolitis by enhancing mesenteric perfusion in the neonatal intestine. Br. J. Nutr. 116, 1175–1187 (2016).

Wisgrill, L. et al. Human lactoferrin attenuates the proinflammatory response of neonatal monocyte‐derived macrophages. Clin. Exp. Immunol. 192, 315–324 (2018).

He, Y.-M. et al. Transitory presence of myeloid-derived suppressor cells in neonates is critical for control of inflammation. Nat. Med. 24, 224–231 (2018).

Brandtzaeg, P. The mucosal immune system and its integration with the mammary glands. J. Pediatr. 156, S8–S15 (2010).

Hapfelmeier, S. et al. Reversible microbial colonization of germ-free mice reveals the dynamics of IgA immune responses. Science 328, 1705–1709 (2010).

Lindner, C. et al. Diversification of memory B cells drives the continuous adaptation of secretory antibodies to gut microbiota. Nat. Immunol. 16, 880–888 (2015).

Wilson, E. & Butcher, E. C. CCL28 controls immunoglobulin (Ig)A plasma cell accumulation in the lactating mammary gland and IgA antibody transfer to the neonate. J. Exp. Med. 200, 805–809 (2004).

Palm, N. W. et al. Immunoglobulin A coating identifies colitogenic bacteria in inflammatory bowel disease. Cell 158, 1000–1010 (2014).

Cullender, T. C. et al. Innate and adaptive immunity interact to quench microbiome flagellar motility in the gut. Cell Host Microbe 14, 571–581 (2013).

Rognum, T. O., Thrane, P. S., Stoltenberg, L., Vege, Å. & Brandtzaeg, P. Development of intestinal mucosal immunity in fetal life and the first postnatal months. Pediatr. Res. 32, 145–148 (1992).

Bunker, J. J. et al. Innate and adaptive humoral responses coat distinct commensal bacteria with immunoglobulin A. Immunity 43, 541–553 (2015).

Kubinak, J. L. et al. MyD88 signaling in T cells directs IgA-mediated control of the microbiota to promote health. Cell Host Microbe 17, 153–163 (2015).

Yee, W. H. et al. Incidence and timing of presentation of necrotizing enterocolitis in preterm infants. Pediatrics 129, e298–e304 (2012).

Winter, S. E. et al. Host-derived nitrate boosts growth of E. coli in the inflamed gut. Science 339, 708–711 (2013).

Vandeputte, D. et al. Quantitative microbiome profiling links gut community variation to microbial load. Nature 551, 507–511 (2017).

Olm, M. R. et al. Necrotizing enterocolitis is preceded by increased gut bacterial replication, Klebsiella, and fimbriae-encoding bacteria that may stimulate TLR4 receptors. Preprint at https://www.biorxiv.org/content/10.1101/558676v1 (2019).

Barlow, B. et al. An experimental study of acute neonatal enterocolitis—the importance of breast milk. J. Pediatr. Surg. 9, 587–595 (1974).

Jilling, T. et al. The roles of bacteria and TLR4 in rat and murine models of necrotizing enterocolitis. J. Immunol. 177, 3273–3282 (2006).

Rogier, E. W. et al. Secretory antibodies in breast milk promote long-term intestinal homeostasis by regulating the gut microbiota and host gene expression. Proc. Natl Acad. Sci. USA 111, 3074–3079 (2014).

Harris, N. L. et al. Mechanisms of neonatal mucosal antibody protection. J. Immunol. 177, 6256–6262 (2006).

Planer, J. D. et al. Development of the gut microbiota and mucosal IgA responses in twins and gnotobiotic mice. Nature 534, 263–266 (2016).

Mirpuri, J. et al. Proteobacteria-specific IgA regulates maturation of the intestinal microbiota. Gut Microbes 5, 28–39 (2014).

Slack, E. et al. Innate and adaptive immunity cooperate flexibly to maintain host–microbiota mutualism. Science 325, 617–620 (2009).

Kawamoto, S. et al. Foxp3+ T cells regulate immunoglobulin A selection and facilitate diversification of bacterial species responsible for immune homeostasis. Immunity 41, 152–165 (2014).

Byndloss, M. X. et al. Microbiota-activated PPAR-γ signaling inhibits dysbiotic Enterobacteriaceae expansion. Science 357, 570–575 (2017).

Peterson, D. A., McNulty, N. P., Guruge, J. L. & Gordon, J. I. IgA response to symbiotic bacteria as a mediator of gut homeostasis. Cell Host Microbe 2, 328–339 (2007).

Moor, K. et al. High-avidity IgA protects the intestine by enchaining growing bacteria. Nature 544, 498–502 (2017).

Gauger, E. J. et al. Role of motility and the flhDC operon in Escherichia coli MG1655 colonization of the mouse intestine. Infect. Immun. 75, 3315–3324 (2007).

Leatham, M. P. et al. Mouse intestine selects nonmotile flhDC mutants of Escherichia coli MG1655 with increased colonizing ability and better utilization of carbon sources. Infect. Immun. 73, 8039–8049 (2005).

Eibl, M. M., Wolf, H. M., Fürnkranz, H. & Rosenkranz, A. Prevention of necrotizing enterocolitis in low-birth-weight infants by IgA–IgG feeding. N. Engl. J. Med. 319, 1–7 (1988).

Foster, J. P., Seth, R. & Cole, M. J. Oral immunoglobulin for preventing necrotizing enterocolitis in preterm and low birth weight neonates. Cochrane Database Syst. Rev. 4, CD001816 (2016).

Caporaso, J. G. et al. Ultra-high-throughput microbial community analysis on the Illumina HiSeq and MiSeq platforms. ISME J. 6, 1621–1624 (2012).

Caporaso, J. G. et al. Global patterns of 16S rRNA diversity at a depth of millions of sequences per sample. Proc. Natl Acad. Sci. USA 108, 4516–4522 (2011).

Edgar, R. C. UPARSE: highly accurate OTU sequences from microbial amplicon reads. Nat. Methods 10, 996–998 (2013).

Caporaso, J. G. et al. QIIME allows analysis of high-throughput community sequencing data. Nat. Methods 7, 335–336 (2010).

Segata, N. et al. Metagenomic biomarker discovery and explanation. Genome Biol. 12, R60 (2011).

Patel, C. B., Shanker, R., Gupta, V. K. & Upadhyay, R. S. q-PCR based culture-independent enumeration and detection of Enterobacter: an emerging environmental human pathogen in riverine systems and potable water. Front. Microbiol. 7, 172 (2016).

Good, M. et al. Lactobacillus rhamnosus HN001 decreases the severity of necrotizing enterocolitis in neonatal mice and preterm piglets: evidence in mice for a role of TLR9. Am. J. Physiol. Gastrointest. Liver Physiol. 306, G1021–G1032 (2014).

Good, M. et al. Breast milk protects against the development of necrotizing enterocolitis through inhibition of Toll-like receptor 4 in the intestinal epithelium via activation of the epidermal growth factor receptor. Mucosal Immunol. 8, 1166–1179 (2015).

Radulescu, A. et al. Heparin-binding epidermal growth factor-like growth factor overexpression in transgenic mice increases resistance to necrotizing enterocolitis. J. Pediatr. Surg. 45, 1933–1939 (2010).
Acknowledgements
We thank the University of Pittsburgh In Situ Hybridization Laboratory for the preparation of tissue slides and the University of Pittsburgh Division of Laboratory Animal Research for assistance with animal husbandry; M. Band, C. Wright, T. Akraiko and the Roy J. Carver Biotechnology Center DNA Sequencing Center at the University of Illinois for assistance with NextGen Sequencing. Igha−/− mice were provided by Y. Belkaid. We thank A. Poholek, L. Konnikova, S. Canna and the members of the Hand and Morowitz laboratories for discussion and critical reading of the manuscript, N. Palm for advice on IgSeq analysis and D. Kostka for advice on deconvolution of IgSeq samples. This project was supported in part by the UPMC Children's Hospital of Pittsburgh. M.G. is supported by K08DK101608, R03DK111473 and R01DK118568 from the National Institutes of Health, March of Dimes Foundation grant no. 5-FY17-79, the Children's Discovery Institute of Washington University and St Louis Children's Hospital. M.J.M. and the collection of samples are supported by R01AI092531. T.W.H. is supported by the Richard King Mellon Foundation Institute for Pediatric Research.
Ethics declarations
Competing interests
The authors declare no competing interests.
Additional information
Peer review information: Joao Monteiro was the primary editor on this article and managed its editorial process and peer review in collaboration with the rest of the editorial team.
Publisher's note: Springer Nature remains neutral with regard to jurisdictional claims in published maps and institutional affiliations.
Supplementary information
About this article
Cite this article
Gopalakrishna, K.P., Macadangdang, B.R., Rogers, M.B. et al. Maternal IgA protects against the development of necrotizing enterocolitis in preterm infants. Nat Med 25, 1110–1115 (2019). https://doi.org/10.1038/s41591-019-0480-9
Received:

Accepted:

Published:

Issue Date:

DOI: https://doi.org/10.1038/s41591-019-0480-9