Abstract
In most cases of sporadic colorectal cancers, tumorigenesis is a multistep process, involving genomic alterations in parallel with morphologic changes. In addition, accumulating evidence suggests that the human gut microbiome is linked to the development of colorectal cancer. Here we performed fecal metagenomic and metabolomic studies on samples from a large cohort of 616 participants who underwent colonoscopy to assess taxonomic and functional characteristics of gut microbiota and metabolites. Microbiome and metabolome shifts were apparent in cases of multiple polypoid adenomas and intramucosal carcinomas, in addition to more advanced lesions. We found two distinct patterns of microbiome elevations. First, the relative abundance of Fusobacterium nucleatum spp. was significantly (P < 0.005) elevated continuously from intramucosal carcinoma to more advanced stages. Second, Atopobium parvulum and Actinomyces odontolyticus, which co-occurred in intramucosal carcinomas, were significantly (P < 0.005) increased only in multiple polypoid adenomas and/or intramucosal carcinomas. Metabolome analyses showed that branched-chain amino acids and phenylalanine were significantly (P < 0.005) increased in intramucosal carcinomas and bile acids, including deoxycholate, were significantly (P < 0.005) elevated in multiple polypoid adenomas and/or intramucosal carcinomas. We identified metagenomic and metabolomic markers to discriminate cases of intramucosal carcinoma from the healthy controls. Our large-cohort multi-omics data indicate that shifts in the microbiome and metabolome occur from the very early stages of the development of colorectal cancer, which is of possible etiological and diagnostic importance.
Relevant articles
Open Access articles citing this article.
Wenchao Liu

,

Huimei Liu

…

Rajesh Jha

Journal of Animal Science and Biotechnology Open Access 10 October 2023

Dangdang Wang

,

Luyu Chen

…

Junhu Yao

Microbiome Open Access 29 September 2023

Ziyang Di

,

Gaoran Xu

…

Bin Xiong

Cancer Cell International Open Access 05 September 2023
Access options
Access Nature and 54 other Nature Portfolio journals
Get Nature+, our best-value online-access subscription
$29.99 / 30 days
cancel any time
Subscribe to this journal
Receive 12 print issues and online access
$209.00 per year
only $17.42 per issue
Rent or buy this article
Prices vary by article type
from$1.95
to$39.95
Prices may be subject to local taxes which are calculated during checkout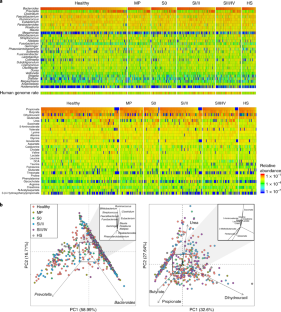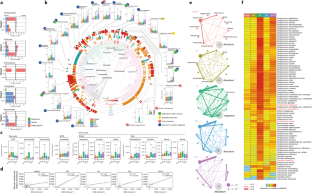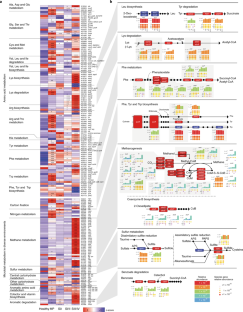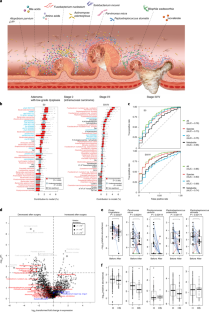 References
Brenner, H., Kloor, M. & Pox, C. P. Colorectal cancer. Lancet 383, 1490–1502 (2014).

Fearon, E. R. & Vogelstein, B. A genetic model for colorectal tumorigenesis. Cell 61, 759–767 (1990).

Jones, S. et al. Comparative lesion sequencing provides insights into tumor evolution. Proc. Natl Acad. Sci. USA 105, 4283–4288 (2008).

Ashktorab, H., Kupfer, S. S., Brim, H. & Carethers, J. M. Racial disparity in gastrointestinal cancer risk. Gastroenterology 153, 910–923 (2017).

Zeller, G. et al. Potential of fecal microbiota for early-stage detection of colorectal cancer. Mol. Syst. Biol. 10, 766 (2014).

Castellarin, M. et al. Fusobacterium nucleatum infection is prevalent in human colorectal carcinoma. Genome Res. 22, 299–306 (2012).

Kostic, A. D. et al. Genomic analysis identifies association of Fusobacterium with colorectal carcinoma. Genome Res. 22, 292–298 (2012).

Yang, Y. et al. Fusobacterium nucleatum increases proliferation of colorectal cancer cells and tumor development in mice by activating Toll-like receptor 4 signaling to nuclear factor-kB, and up-regulating expression of microRNA-21. Gastroenterology 152, 851–866 (2017).

Louis, P., Hold, G. L. & Flint, H. J. The gut microbiota, bacterial metabolites and colorectal cancer. Nat. Rev. Microbiol. 12, 661–672 (2014).

Hirayama, A. et al. Quantitative metabolome profiling of colon and stomach cancer microenvironment by capillary electrophoresis time-of-flight mass spectrometry. Cancer Res. 69, 4918–4925 (2009).

Liao, M. et al. Comparative analyses of fecal microbiota in Chinese isolated Yao population, minority Zhuang and rural Han by 16sRNA sequencing. Sci. Rep. 8, 1142 (2018).

Arumugam, M. et al. Enterotypes of the human gut microbiome. Nature 473, 174–180 (2011).

Ding, T. & Schloss, P. D. Dynamics and associations of microbial community types across the human body. Nature 509, 357–360 (2014).

Wong, J. M., de Souza, R., Kendall, C. W., Emam, A. & Jenkins, D. J. Colonic health: fermentation and short chain fatty acids. J. Clin. Gastroenterol. 40, 235–243 (2006).

Emiola, A. & Oh, J. High throughput in situ metagenomic measurement of bacterial replication at ultra-low sequencing coverage. Nat. Commun. 9, 4956 (2018).

Brestoff, J. R. & Artis, D. Commensal bacteria at the interface of host metabolism and the immune system. Nat. Immunol. 14, 676–684 (2013).

Zarling, E. J. & Ruchim, M. A. Protein origin of the volatile fatty acids isobutyrate and isovalerate in human stool. J. Lab. Clin. Med. 109, 566–570 (1987).

Devkota, S. et al. Dietary-fat-induced taurocholic acid promotes pathobiont expansion and colitis in Il10 −/− mice. Nature 487, 104–108 (2012).

Mottawea, W. et al. Altered intestinal microbiota–host mitochondria crosstalk in new onset Crohn's disease. Nat. Commun. 7, 13419 (2016).

Xu, H. et al. Isoleucine biosynthesis in Leptospira interrogans serotype lai strain 56601 proceeds via a threonine-independent pathway. J. Bacteriol. 186, 5400–5409 (2004).

Bui, T. P. et al. Production of butyrate from lysine and the Amadori product fructoselysine by a human gut commensal. Nat. Commun. 6, 10062 (2015).

Prieto, M. A., Díaz, E. & García, J. L. Molecular characterization of the 4-hydroxyphenylacetate catabolic pathway of Escherichia coli W: engineering a mobile aromatic degradative cluster. J. Bacteriol. 178, 111–120 (1996).

Teufel, R. et al. Bacterial phenylalanine and phenylacetate catabolic pathway revealed. Proc. Natl Acad. Sci. USA 107, 14390–14395 (2010).

Russell, W. R. et al. High-protein, reduced-carbohydrate weight-loss diets promote metabolite profiles likely to be detrimental to colonic health. Am. J. Clin. Nutr. 93, 1062–1072 (2011).

Russell, W. R. et al. Major phenylpropanoid-derived metabolites in the human gut can arise from microbial fermentation of protein. Mol. Nutr. Food Res. 57, 523–535 (2013).

Windey, K., De Preter, V. & Verbeke, K. Relevance of protein fermentation to gut health. Mol. Nutr. Food Res. 56, 184–196 (2012).

Attene-Ramos, M. S., Wagner, E. D., Plewa, M. J. & Gaskins, H. R. Evidence that hydrogen sulfide is a genotoxic agent. Mol. Cancer Res. 4, 9–14 (2006).

Loubinoux, J., Bisson-Boutelliez, C., Miller, N. & Le Faou, A. E. Isolation of the provisionally named Desulfovibrio fairfieldensis from human periodontal pockets. Oral Microbiol. Immunol. 17, 321–323 (2002).

Feng, Q. et al. Gut microbiome development along the colorectal adenoma–carcinoma sequence. Nat. Commun. 6, 6528 (2015).

Yu, J. et al. Metagenomic analysis of faecal microbiome as a tool towards targeted non-invasive biomarkers for colorectal cancer. Gut 66, 70–78 (2017).

Bullman, S. et al. Analysis of Fusobacterium persistence and antibiotic response in colorectal cancer. Science 358, 1443–1448 (2017).

Carbonero, F., Benefiel, A. C., Alizadeh-Ghamsari, A. H. & Gaskins, H. R. Microbial pathways in colonic sulfur metabolism and links with health and disease. Front. Physiol. 3, 448 (2012).

Könönen, E. & Wade, W. G. Actinomyces and related organisms in human infections. Clin. Microbiol. Rev. 28, 419–442 (2015).

Kasai, C. et al. Comparison of human gut microbiota in control subjects and patients with colorectal carcinoma in adenoma: terminal restriction fragment length polymorphism and next-generation sequencing analyses. Oncol. Rep. 35, 325–333 (2016).

Bernstein, H., Bernstein, C., Payne, C. M. & Dvorak, K. Bile acids as endogenous etiologic agents in gastrointestinal cancer. World J. Gastroenterol. 15, 3329–3340 (2009).

Suzuki, K. & Bruce, W. R. Increase by deoxycholic acid of the colonic nuclear damage induced by known carcinogens in C57BL/6J mice. J. Natl Cancer Inst. 76, 1129–1132 (1986).

Vandeputte, D. et al. Quantitative microbiome profiling links gut community variation to microbial load. Nature 551, 507–511 (2017).

Tahara, T. et al. Fusobacterium in colonic flora and molecular features of colorectal carcinoma. Cancer Res. 74, 1311–1318 (2014).

Ito, M. et al. Association of Fusobacterium nucleatum with clinical and molecular features in colorectal serrated pathway. Int J. Cancer 137, 1258–1268 (2015).

Mima, K. et al. Fusobacterium nucleatum in colorectal carcinoma tissue and patient prognosis. Gut 65, 1973–1980 (2016).

Nishimoto, Y. et al. High stability of faecal microbiome composition in guanidine thiocyanate solution at room temperature and robustness during colonoscopy. Gut 65, 1574–1575 (2016).

Tsugane, S. & Sawada, N. The JPHC study: design and some findings on the typical Japanese diet. Jpn J. Clin. Oncol. 44, 777–782 (2014).

Furet, J. P. et al. Comparative assessment of human and farm animal faecal microbiota using real-time quantitative PCR. FEMS Microbiol. Ecol. 68, 351–362 (2009).

Langmead, B. & Salzberg, S. L. Fast gapped-read alignment with Bowtie 2. Nat. Methods 9, 357–359 (2012).

Martin, M. Cutadapt removes adapter sequences from high-throughput sequencing reads. EMBnet J. 17, 10 (2011).

Mori, H., Maruyama, T., Yano, M., Yamada, T. & Kurokawa, K. VITCOMIC2: visualization tool for the phylogenetic composition of microbial communities based on 16S rRNA gene amplicons and metagenomic shotgun sequencing. BMC Syst. Biol. 12, 30 (2018).

Camacho, C. et al. BLAST+: architecture and applications. BMC Bioinformatics 10, 421 (2009).

Yarza, P. et al. Update of the All-Species Living Tree Project based on 16S and 23S rRNA sequence analyses. Syst. Appl. Microbiol. 33, 291–299 (2010).

Yarza, P. et al. Uniting the classification of cultured and uncultured bacteria and archaea using 16S rRNA gene sequences. Nat. Rev. Microbiol. 12, 635–645 (2014).

Sunagawa, S. et al. Metagenomic species profiling using universal phylogenetic marker genes. Nat. Methods 10, 1196–1199 (2013).

Truong, D. T. et al. MetaPhlAn2 for enhanced metagenomic taxonomic profiling. Nat. Methods 12, 902–903 (2015).

Holmes, I., Harris, K. & Quince, C. Dirichlet multinomial mixtures: generative models for microbial metagenomics. PLoS ONE 7, e30126 (2012).

Asnicar, F., Weingart, G., Tickle, T. L., Huttenhower, C. & Segata, N. Compact graphical representation of phylogenetic data and metadata with GraPhlAn. PeerJ 3, e1029 (2015).

Peng, Y., Leung, H. C., Yiu, S. M. & Chin, F. Y. IDBA-UD: a de novo assembler for single-cell and metagenomic sequencing data with highly uneven depth. Bioinformatics 28, 1420–1428 (2012).

Besemer, J. & Borodovsky, M. Heuristic approach to deriving models for gene finding. Nucleic Acids Res. 27, 3911–3920 (1999).

Kanehisa, M. & Goto, S. KEGG: Kyoto Encyclopedia of Genes and Genomes. Nucleic Acids Res. 28, 27–30 (2000).

Soga, T. et al. Quantitative metabolome analysis using capillary electrophoresis mass spectrometry. J. Proteome Res. 2, 488–494 (2003).

Mishima, E. et al. Evaluation of the impact of gut microbiota on uremic solute accumulation by a CE-TOFMS-based metabolomics approach. Kidney Int. 92, 634–645 (2017).

Tibshirani, R. Regression shrinkage and selection via the LASSO. J. R. Stat. Soc. B 58, 267–288 (1996).

Pedregosa, F. et al. Scikit-learn: machine learning in Python. J. Mach. Learn. Res. 12, 2825–2830 (2011).
Acknowledgements
We thank all patients and their families who participated in this study, S. Goto for technical advice and A. Kaya, C. Shima, K. Igarashi, R. Usui, K. Murakami, I. Take, M. Sezawa, M. Iwahara, M. Komori, Z. Nakagawa, Y. Ohara and K. Kamezaki for expert technical assistance. Computations were partially performed on the NIG supercomputer at the ROIS National Institute of Genetics. This work was supported by grants from the National Cancer Center Research and Development Fund (25-A-4 and 28-A-4 to S.Y., S.F and T. Yamada and 29-A-6 to T. Yamada and T. Shibata); Practical Research Project for Rare/Intractable Diseases from the Japan Agency for Medical Research and Development (AMED) (JP18ek0109187 to S.Y., S.M., Y.S., S.F. and T. Yamada; JP18jk0210009 to S.Y. and T. Shibata); AMED-CREST (JP18gm0710003 to S.Y. and T. Soga.); JST (Japan Science and Technology Agency)-PRESTO (JPMJPR1537 to S.F. and JPMJPR1507 to T. Yamada); JSPS (Japan Society for the Promotion of Science) KAKENHI (16H04901, 17H05654 and 18H04805 to S.F.; 16J10135, 142558 and 221S0002 to T. Yamada); Joint Research Project of the Institute of Medical Science, the University of Tokyo (2017–2107 to S.Y. and T. Shibata); Integrated Frontier Research for Medical Science Division, Institute for Open and Transdisciplinary Research Initiatives, Osaka University (to S.Y.); the Takeda Science Foundation (to S.Y.) and Suzuken Memorial Foundation (H25–2–11 to S.Y.).
Ethics declarations
Competing interests
S.F. and T. Yamada are founders of Metabologenomics. The company is focused on the design and control of the gut environment for human health. The company had no control over the interpretation, writing or publication of this work. The terms of these arrangements are being managed by Keio University and Tokyo Institute of Technology in accordance with its conflict of interest policies. S.Y., S.F. and T. Yamada are currently applying for a patent (2018–18134/PCT/JP2019/3825, 'Method for diagnosing the early stage of colorectal cancers based on the gut microbiome and metabolome profiles').
Additional information
Publisher's note: Springer Nature remains neutral with regard to jurisdictional claims in published maps and institutional affiliations.
Supplementary information
Supplementary Results and Discussion
Supplementary Tables 1–15
About this article
Cite this article
Yachida, S., Mizutani, S., Shiroma, H. et al. Metagenomic and metabolomic analyses reveal distinct stage-specific phenotypes of the gut microbiota in colorectal cancer. Nat Med 25, 968–976 (2019). https://doi.org/10.1038/s41591-019-0458-7
Received:

Accepted:

Published:

Issue Date:

DOI: https://doi.org/10.1038/s41591-019-0458-7