Abstract
It is estimated that 350 million individuals worldwide suffer from rare diseases, which are predominantly caused by mutation in a single gene1. The current molecular diagnostic rate is estimated at 50%, with whole-exome sequencing (WES) among the most successful approaches2,3,4,5. For patients in whom WES is uninformative, RNA sequencing (RNA-seq) has shown diagnostic utility in specific tissues and diseases6,7,8. This includes muscle biopsies from patients with undiagnosed rare muscle disorders6,9, and cultured fibroblasts from patients with mitochondrial disorders7. However, for many individuals, biopsies are not performed for clinical care, and tissues are difficult to access. We sought to assess the utility of RNA-seq from blood as a diagnostic tool for rare diseases of different pathophysiologies. We generated whole-blood RNA-seq from 94 individuals with undiagnosed rare diseases spanning 16 diverse disease categories. We developed a robust approach to compare data from these individuals with large sets of RNA-seq data for controls (n = 1,594 unrelated controls and n = 49 family members) and demonstrated the impacts of expression, splicing, gene and variant filtering strategies on disease gene identification. Across our cohort, we observed that RNA-seq yields a 7.5% diagnostic rate, and an additional 16.7% with improved candidate gene resolution.
Relevant articles
Open Access articles citing this article.
Warren A. Cheung

,

Adam F. Johnson

…

Tomi Pastinen

Nature Communications Open Access 29 May 2023

Zhuodong Fu

,

Xingkai Wang

…

Shouyu Wang

Scientific Reports Open Access 21 April 2023

Patrick Forny

,

Ximena Bonilla

…

D. Sean Froese

Nature Metabolism Open Access 26 January 2023
Access options
Access Nature and 54 other Nature Portfolio journals
Get Nature+, our best-value online-access subscription
$29.99 / 30 days
cancel any time
Subscribe to this journal
Receive 12 print issues and online access
$209.00 per year
only $17.42 per issue
Rent or buy this article
Prices vary by article type
from$1.95
to$39.95
Prices may be subject to local taxes which are calculated during checkout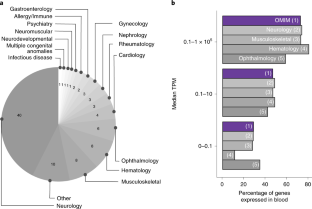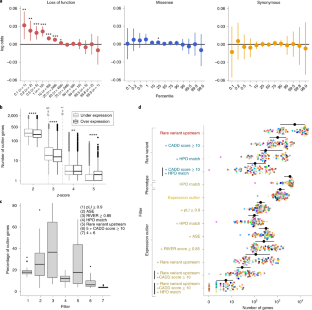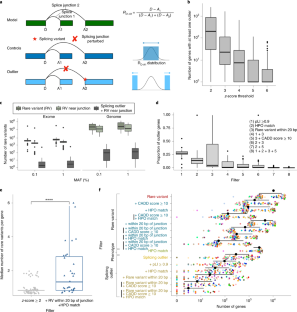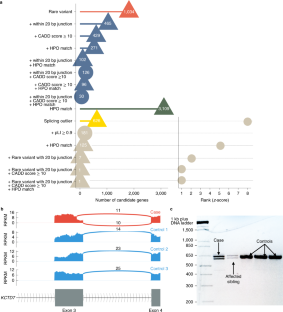 Data availability
UDN data are accessible through the UDN Gateway and through dbGaP entry at phs001232.v1.p1. DGN RNA-seq data are available by application through the NIMH Center for Collaborative Genomic Studies on Mental Disorders. Instructions for requesting access to data can be found at https://www.nimhgenetics.org/access_data_biomaterial.php, and inquiries should reference the 'Depression Genes and Networks study (D. Levinson, PI)'. The GTEx Analysis v.7 release allele-specific expression data are available from dbGaP (dbGaP Accession phs000424.v7.p2). PIVUS RNA-seq data are accessible on the European Genome-Phenome Archive (EGAS00001003583). The Care4Rare data are available through Genomics4RD.
References
Amberger, J. S., Bocchini, C. A., Schiettecatte, F., Scott, A. F. & Hamosh, A. OMIM.org: Online Mendelian Inheritance in Man (OMIM®), an online catalog of human genes and genetic disorders. Nucleic Acids Res. 43, D789–D798 (2015).

Boycott, K. M. et al. International cooperation to enable the diagnosis of all rare genetic diseases. Am. J. Hum. Genet. 100, 695–705 (2017).

Gilissen, C., Hoischen, A., Brunner, H. G. & Veltman, J. A. Unlocking Mendelian disease using exome sequencing. Genome Biol. 12, 228 (2011).

Yang, Y. et al. Clinical whole-exome sequencing for the diagnosis of Mendelian disorders. N. Engl. J. Med. 369, 1502–1511 (2013).

Ewans, L. J. et al. Whole-exome sequencing reanalysis at 12 months boosts diagnosis and is cost-effective when applied early in Mendelian disorders. Genet. Med. 20, 1564–1574 (2018).

Cummings, B. B. et al. Improving genetic diagnosis in Mendelian disease with transcriptome sequencing. Sci. Transl. Med. 9, eaal5209 (2017).

Kremer, L. S. et al. Genetic diagnosis of Mendelian disorders via RNA sequencing. Nat. Commun. 8, 15824 (2017).

Kernohan, K. D. et al. Whole-transcriptome sequencing in blood provides a diagnosis of spinal muscular atrophy with progressive myoclonic epilepsy. Hum. Mutat. 38, 611–614 (2017).

Hamanaka, K. et al. RNA sequencing solved the most common but unrecognized NEB pathogenic variant in Japanese nemaline myopathy. Genet. Med. https://doi.org/10.1038/s41436-018-0360-6. (2018).

Battle, A. et al. Characterizing the genetic basis of transcriptome diversity through RNA-sequencing of 922 individuals. Genome Res. 24, 14–24 (2014).

Lind, L. A comparison of three different methods to evaluate endothelium-dependent vasodilation in the elderly: the Prospective Investigation of the Vasculature in Uppsala Seniors (PIVUS) Study. Arterioscler. Thromb. Vasc. Biol. 25, 2368–2375 (2005).

GTEx Consortium Genetic effects on gene expression across human tissues. Nature 550, 204–213 (2017).

Hamosh, A., Scott, A. F., Amberger, J. S., Bocchini, C. A. & McKusick, V. A. Online Mendelian Inheritance in Man (OMIM), a knowledgebase of human genes and genetic disorders. Nucleic Acids Res. 33, D514–D517 (2005).

Lek, M. et al. Analysis of protein-coding genetic variation in 60,706 humans. Nature 536, 285–291 (2016).

Zeng, Y. et al. Aberrant gene expression in humans. PLOS Genet. 11, e1004942 (2015).

Zhao, J. et al. A burden of rare variants associated with extremes of gene expression in human peripheral blood. Am. J. Hum. Genet. 98, 299–309 (2016).

Pala, M. et al. Population- and individual-specific regulatory variation in Sardinia. Nat. Genet. 49, 700–707 (2017).

Cao, D. & Parker, R. Computational modeling and experimental analysis of nonsense-mediated decay in yeast. Cell 113, 533–545 (2003).

Lykke-Andersen, S. & Jensen, T. H. Nonsense-mediated mRNA decay: an intricate machinery that shapes transcriptomes. Nat. Rev. Mol. Cell Biol. 16, 665–677 (2015).

Nickless, A., Bailis, J. M. & You, Z. Control of gene expression through the nonsense-mediated RNA decay pathway. Cell Biosci. 7, 26 (2017).

Li, X. et al. The impact of rare variation on gene expression across tissues. Nature 550, 239–243 (2017).

Köhler, S. et al. The Human Phenotype Ontology in 2017. Nucleic Acids Res. 45, D865–D876 (2017).

Estivill, X. Genetic variation and alternative splicing. Nat. Biotechnol. 33, 357–359 (2015).

Xiong, H. Y. et al. The human splicing code reveals new insights into the genetic determinants of disease. Science 347, 1254806–1254806 (2015).

Walter, K. et al. The UK10K project identifies rare variants in health and disease. Nature 526, 82–90 (2015).

Soens, Z. T. et al. Leveraging splice-affecting variant predictors and a minigene validation system to identify Mendelian disease-causing variants among exon-captured variants of uncertain significance. Hum. Mutat. 38, 1521–1533 (2017).

Albers, C. A. et al. Compound inheritance of a low-frequency regulatory SNP and a rare null mutation in exon-junction complex subunit RBM8A causes TAR syndrome. Nat. Genet. 44, S1–S2 (2012).

Reinius, B. & Sandberg, R. Random monoallelic expression of autosomal genes: stochastic transcription and allele-level regulation. Nat. Rev. Genet. 16, 653–664 (2015).

Barbosa, M. et al. Identification of rare de novo epigenetic variations in congenital disorders. Nat. Commun. 9, 2064 (2018).

Avramidou, A. et al. The novel adaptor protein Swiprosin-1 enhances BCR signals and contributes to BCR-induced apoptosis. Cell Death Differ. 14, 1936–1947 (2007).

Kroczek, C. et al. Swiprosin-1/EFhd2 controls B cell receptor signaling through the assembly of the B cell receptor, Syk, and phospholipase C gamma2 in membrane rafts. J. Immunol. 184, 3665–3676 (2010).

Dütting, S., Brachs, S. & Mielenz, D. Fraternal twins: Swiprosin-1/EFhd2 and Swiprosin-2/EFhd1, two homologous EF-hand containing calcium binding adaptor proteins with distinct functions. Cell Commun. Signal. 9, 2 (2011).

Thylur, R. P., Gowda, R., Mishra, S. & Jun, C.-D. Swiprosin-1: its expression and diverse biological functions. J. Cell. Biochem. 119, 150–156 (2018).

Heimer, G. et al. MECR mutations cause childhood-onset dystonia and optic atrophy, a mitochondrial fatty acid synthesis disorder. Am. J. Hum. Genet. 99, 1229–1244 (2016).

Kircher, M. et al. A general framework for estimating the relative pathogenicity of human genetic variants. Nat. Genet. 46, 310–315 (2014).

Eldomery, M. K. et al. Lessons learned from additional research analyses of unsolved clinical exome cases. Genome Med. 9, 26 (2017).

Wright, C. F. et al. Making new genetic diagnoses with old data: iterative reanalysis and reporting from genome-wide data in 1,133 families with developmental disorders. Genet. Med. 20, 1216–1223 (2018).

Dewey, F. E. et al. Distribution and clinical impact of functional variants in 50,726 whole-exome sequences from the DiscovEHR study. Science 354, aaf6814 (2016).

Eilbeck, K., Quinlan, A. & Yandell, M. Settling the score: variant prioritization and Mendelian disease. Nat. Rev. Genet. 18, 599–612 (2017).

Rao, A. R. & Nelson, S. F. Calculating the statistical significance of rare variants causal for Mendelian and complex disorders. BMC Med. Genomics 11, 53 (2018).

Li, B. & Dewey, C. N. RSEM: accurate transcript quantification from RNA-seq data with or without a reference genome. BMC Bioinformatics 12, 323 (2011).

Tange, O. GNU Parallel - The Command-Line Power Tool. The USENIX Magazine 36, 42–47 (2011).

Li, H. & Durbin, R. Fast and accurate short read alignment with Burrows–Wheeler transform. Bioinformatics 25, 1754–1760 (2009).

DePristo, M. A. et al. A framework for variation discovery and genotyping using next-generation DNA sequencing data. Nat. Genet. 43, 491–498 (2011).

Ganna, A. et al. Quantifying the impact of rare and ultra-rare coding variation across the phenotypic spectrum. Am. J. Hum. Genet. 102, 1204–1211 (2018).

Quinlan, A. R. & Hall, I. M. BEDTools: a flexible suite of utilities for comparing genomic features. Bioinformatics 26, 841–842 (2010).

Pedersen, B. S., Layer, R. M. & Quinlan, A. R. Vcfanno: fast, flexible annotation of genetic variants. Genome Biol. 17, 118 (2016).

McLaren, W. et al. The Ensembl Variant Effect Predictor. Genome Biol. 17, 122 (2016).

Quang, D., Chen, Y. & Xie, X. DANN: a deep learning approach for annotating the pathogenicity of genetic variants. Bioinformatics 31, 761–763 (2015).

Davydov, E. V. et al. Identifying a high fraction of the human genome to be under selective constraint using GERP++. PLoS Comput. Biol. 6, e1001025 (2010).

Pollard, K. S., Hubisz, M. J., Rosenbloom, K. R. & Siepel, A. Detection of nonneutral substitution rates on mammalian phylogenies. Genome Res. 20, 110–121 (2010).

Siepel, A. Evolutionarily conserved elements in vertebrate, insect, worm, and yeast genomes. Genome Res. 15, 1034–1050 (2005).

Ernst, J. & Kellis, M. ChromHMM: automating chromatin-state discovery and characterization. Nat. Meth. 9, 215–216 (2012).

Stegle, O., Parts, L., Piipari, M., Winn, J. & Durbin, R. Using probabilistic estimation of expression residuals (PEER) to obtain increased power and interpretability of gene expression analyses. Nat. Protoc. 7, 500–507 (2012).

Castel, S. E., Levy-Moonshine, A., Mohammadi, P., Banks, E. & Lappalainen, T.. Tools and best practices for data processing in allelic expression analysis. Genome Biol. 16, 195 (2015).

McKenna, A. et al. The Genome Analysis Toolkit: a MapReduce framework for analyzing next-generation DNA sequencing data. Genome Res. 20, 1297–1303 (2010).
Acknowledgements
The authors would like to thank the patients and their families for their participation in this study. S.B.M. is supported by NIH grants nos. R01HG008150 (NoVa) and U01HG009080 (GSPAC) and the Glenn Center for Aging at Stanford. L.F. was supported by the Stanford Center for Computational, Evolutionary, and Human Genomics Fellowship. C.S. is supported by a BD2K Training Grant (T32 LM012409). N.M.F. is supported by a National Science Foundation Graduate Research Fellowship. N.A.T. is supported by the Stanford Genome Training Program (2T32HG000044-21). B.L. was supported by the Stanford Computational, Evolutionary, and Human Genomics Fellowship and the National Key R&D Program of China (2016YFD0400800). K.M.B. is supported by a CIHR Foundation grant (FDN-154279). Z.Z. was supported by the CEHG Fellowship, the National Science Foundation GRFP (DGE-114747) and the Stanford Genome Training Program (NIH/NHGRI T32HG000044). B.B. was supported by the Stanford Genome Training Program and Dean's Postdoctoral Fellowship. J.R.D. was supported by a Lucille P. Markey Biomedical Research 688 Stanford Graduate Fellowship. J.R.D. acknowledges the Stanford Genome Training Program 689 (NIH/NHGRI T32HG000044). C.J.P. is supported by NIST/JIMB grant no. 70NANB15H268. A.B. is supported by NIH grant no. R01HG008150 (NoVa) and the Searle Scholar Fund. Clinical sample collection was supported, in part, by the Care4Rare Canada Consortium funded by Genome Canada, the Canadian Institutes of Health Research, the Ontario Genomics Institute, the Ontario Research Fund and the Children's Hospital of Eastern Ontario Foundation. Research reported in this manuscript was in part supported by the NIH Common Fund, through the Office of Strategic Coordination/Office of the NIH Director under Award Number U01HG007708. The content is solely the responsibility of the authors and does not necessarily represent the official views of the National Institutes of Health.
Ethics declarations
Competing interests
J.D.M. is on Genoox Scientific advisory board and Rainbow Genomics Clinical advisory board and consults for Illumina. E.A.A. is co-founder of Personalis, DeepCell and advisor to Genome Medical and Sequence Bio. E.I. is a scientific advisor for Precision Wellness for work unrelated to the present project. S.B.M. is on the scientific advisory board for Prime Genomics.
Additional information
Publisher's note: Springer Nature remains neutral with regard to jurisdictional claims in published maps and institutional affiliations.
Supplementary information
About this article
Cite this article
Frésard, L., Smail, C., Ferraro, N.M. et al. Identification of rare-disease genes using blood transcriptome sequencing and large control cohorts. Nat Med 25, 911–919 (2019). https://doi.org/10.1038/s41591-019-0457-8
Received:

Accepted:

Published:

Issue Date:

DOI: https://doi.org/10.1038/s41591-019-0457-8