Abstract
An aged circulatory environment can activate microglia, reduce neural precursor cell activity and impair cognition in mice. We hypothesized that brain endothelial cells (BECs) mediate at least some of these effects. We observe that BECs in the aged mouse hippocampus express an inflammatory transcriptional profile with focal upregulation of vascular cell adhesion molecule 1 (VCAM1), a protein that facilitates vascular–immune cell interactions. Concomitantly, levels of the shed, soluble form of VCAM1 are prominently increased in the plasma of aged humans and mice, and their plasma is sufficient to increase VCAM1 expression in cultured BECs and the hippocampi of young mice. Systemic administration of anti-VCAM1 antibody or genetic ablation of Vcam1 in BECs counteracts the detrimental effects of plasma from aged individuals on young brains and reverses aging aspects, including microglial reactivity and cognitive deficits, in the brains of aged mice. Together, these findings establish brain endothelial VCAM1 at the blood–brain barrier as a possible target to treat age-related neurodegeneration.
Relevant articles
Open Access articles citing this article.
Arundhati Jana

,

Xinge Wang

…

Jalees Rehman

Scientific Reports Open Access 01 October 2022

Xiaotao Zhang

,

Rui Wang

…

Ligen Shi

Immunity & Ageing Open Access 25 July 2022

Christopher Clark

,

Jonas Richiardi

…

Julius Popp

Journal of Neuroinflammation Open Access 28 May 2022
Access options
Subscribe to Nature+
Get immediate online access to Nature and 55 other Nature journal
Subscribe to Journal
Get full journal access for 1 year
$79.00
only $6.58 per issue
All prices are NET prices.
VAT will be added later in the checkout.
Tax calculation will be finalised during checkout.
Buy article
Get time limited or full article access on ReadCube.
$32.00
All prices are NET prices.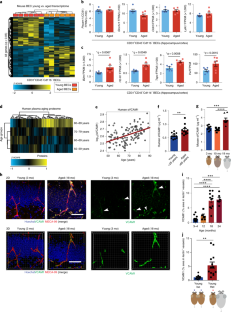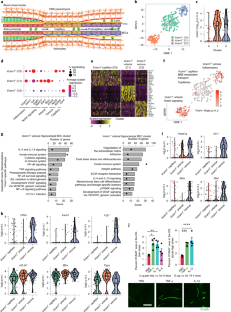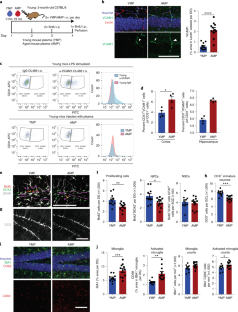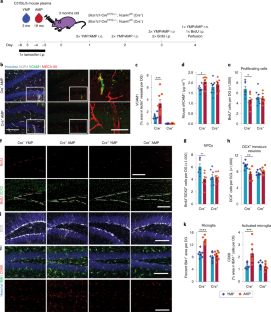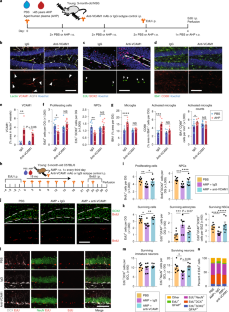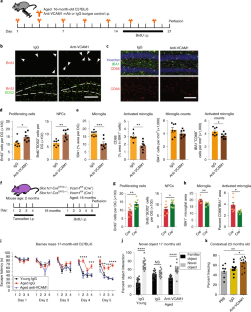 Data availability
RNA-seq gene lists with statistics (Figs. 1 and 2, and Extended Data Figs. 1 and 2), full blots (Extended Data Fig. 6) and individual data points graphed for Extended Data Fig. 9n are available as source data files and as Supplementary Tables 1–6 accompanying this article. Requests for datasets obtained from human research will be subject to additional review steps by the IRB that granted the permit for particular research. Bulk and scRNA-seq datasets that support the findings of this study have been deposited in the Gene Expression Omnibus (GEO) with the series accession number GSE127758 (embedded accession codes GSM3638211 to GSM3638222) and GSE127963. Please contact the corresponding author for additional information.
References
Wyss-Coray, T. Ageing, neurodegeneration and brain rejuvenation. Nature 539, 180–186 (2016).

Harry, G. J. Microglia during development and aging. Pharm. Ther. 139, 313–326 (2013).

Mosher, K. I. & Wyss-Coray, T. Microglial dysfunction in brain aging and Alzheimer's disease. Biochem. Pharmacol. 88, 594–604 (2014).

Safaiyan, S. et al. Age-related myelin degradation burdens the clearance function of microglia during aging. Nat. Neurosci. 19, 995–998 (2016).

Ming, G. L. & Song, H. Adult neurogenesis in the mammalian brain: significant answers and significant questions. Neuron 70, 687–702 (2011).

Lazarov, O. & Marr, R. A. Neurogenesis and Alzheimer's disease: at the crossroads. Exp. Neurol. 223, 267–281 (2010).

Ray, S. et al. Classification and prediction of clinical Alzheimer's diagnosis based on plasma signaling proteins. Nat. Med. 13, 1359–1362 (2007).

Villeda, S. et al. The ageing systemic milieu negatively regulates neurogenesis and cognitive function. Nature 477, 90–94 (2011).

Britschgi, M. et al. Modeling of pathological traits in Alzheimer's disease based on systemic extracellular signaling proteome. Mol. Cell. Proteom. 10, M111.008862 (2011).

Villeda, S. A. et al. Young blood reverses age-related impairments in cognitive function and synaptic plasticity in mice. Nat. Med. 20, 659–663 (2014).

Castellano, J. M. et al. Human umbilical cord plasma proteins revitalize hippocampal function in aged mice. Nature 544, 488–492 (2017).

Katsimpardi, L. et al. Vascular and neurogenic rejuvenation of the aging mouse brain by young systemic factors. Science 344, 630–634 (2014).

Rebo, J. et al. A single heterochronic blood exchange reveals rapid inhibition of multiple tissues by old blood. Nat. Commun. 7, 13363 (2016).

Engelhardt, B. & Liebner, S. Novel insights into the development and maintenance of the blood–brain barrier. Cell Tissue Res. 355, 687–699 (2014).

Fabene, P. F. et al. A role for leukocyte–endothelial adhesion mechanisms in epilepsy. Nat. Med. 14, 1377–1383 (2008).

Vivash, L. & OBrien, T. J. Imaging microglial activation with TSPO PET: lighting up neurologic diseases? J. Nucl. Med. 57, 165–168 (2016).

Gragnano, F. et al. The role of von Willebrand factor in vascular inflammation: from pathogenesis to targeted therapy. Mediators Inflamm. 2017, 5620314 (2017).

Rossi, B., Angiari, S., Zenaro, E., Budui, S. L. & Constantin, G. Vascular inflammation in central nervous system diseases: adhesion receptors controlling leukocyte–endothelial interactions. J. Leukoc. Biol. 89, 539–556 (2011).

Berlin, C. et al. α4 integrins mediate lymphocyte attachment and rolling under physiologic flow. Cell 80, 413–422 (1995).

Garton, K. J. et al. Stimulated shedding of vascular cell adhesion molecule 1 (VCAM-1) is mediated by tumor necrosis factor-α-converting enzyme (ADAM 17). J. Biol. Chem. 278, 37459–37464 (2003).

Pan, J. et al. Patterns of expression of factor VIII and von Willebrand factor by endothelial cell subsets in vivo. Blood 128, 104 –109 (2016).

Lee, M. et al. Transcriptional programs of lymphoid tissue capillary and high endothelium reveal control mechanisms for lymphocyte homing. Nat. Immunol. 15, 982–995 (2014).

Murakami, M. Signaling required for blood vessel maintenance: molecular basis and pathological manifestations. Int. J. Vasc. Med. 2012, 293641 (2012).

Daneman, R. et al. The mouse blood–brain barrier transcriptome: a new resource for understanding the development and function of brain endothelial cells. PLoS One 5, e13741 (2010).

Macdonald, J. A., Murugesan, N. & Pachter, J. S. Endothelial cell heterogeneity of blood–brain barrier gene expression along the cerebral microvasculature. J. Neurosci. Res. 88, 1457–1474 (2010).

Vanlandewijck, M. et al. A molecular atlas of cell types and zonation in the brain vasculature. Nature 554, 475 (2018).

Han, J. et al. Vascular endothelial growth factor receptor 3 controls neural stem cell activation in mice and humans. Cell Rep. 10, 1158–1172 (2015).

Fontaine, R. H. et al. Vascular endothelial growth factor receptor 3 directly regulates murine neurogenesis. Genes Dev. 25, 831–844 (2011).

Hosokawa, Y., Hosokawa, I., Ozaki, K., Nakae, H. & Matsuo, T. Cytokines differentially regulate ICAM-1 and VCAM-1 expression on human gingival fibroblasts. Clin. Exp. Immunol. 144, 494–502 (2006).

Zhang, J. et al. Regulation of endothelial cell adhesion molecule expression by mast cells, macrophages, and neutrophils. PLoS One 6, e14525 (2011).

Bruunsgaard, H., Pedersen, M. & Pedersen, B. K. Aging and proinflammatory cytokines. Curr. Opin. Hematol. 8, 131–136 (2001).

Sun, B. B. et al. Consequences of natural perturbations In the human plasma proteome. Preprint at bioRxiv https://www.biorxiv.org/content/10.1101/134551v1 (2017).

Shultz, L. D., Ishikawa, F. & Greiner, D. L. Humanized mice in translational biomedical research. Nat. Rev. Immunol. 7, 118–130 (2007).

Ridder, D. A. et al. TAK1 in brain endothelial cells mediates fever and lethargy. J. Exp. Med. 208, 2615–2623 (2011).

Kokovay, E. et al. VCAM1 is essential to maintain the structure of the SVZ niche and acts as an environmental sensor to regulate SVZ lineage progression. Cell Stem Cell 11, 220–230 (2012).

Elices, M. J. et al. VCAM-1 on activated endothelium interacts with the leukocyte integrin VLA-4 at a site distinct from the VLA-4/fibronectin binding site. Cell 60, 577–584 (1990).

Miller, D. H. et al. A randomized, placebo-controlled trial of natalizumab for relapsing multiple sclerosis. N. Engl. J. Med. 354, 899–910 (2006).

Chin, J. E. et al. Airway recruitment of leukocytes in mice is dependent on α4-integrins and vascular cell adhesion molecule-1. Am. J. Physiol. Cell. Mol. Physiol. 272, L219–L229 (1997).

Montagne, A., Zhao, Z. & Zlokovic, B. V. Alzheimer's disease: a matter of blood–brain barrier dysfunction? J. Exp. Med. 214, 3151–3169 (2017).

Obermeier, B., Daneman, R. & Ransohoff, R. M. Development, maintenance and disruption of the blood–brain barrier. Nat. Med. 19, 1584–1596 (2013).

Singh, R. J. R. et al. Cytokine stimulated vascular cell adhesion molecule-1 (VCAM-1) ectodomain release is regulated by TIMP-3. Cardiovasc. Res. 67, 39–49 (2005).

Tchalla, A. E. et al. Elevated soluble vascular cell adhesion molecule-1 is ssociated with cerebrovascular resistance and cognitive function. J. Gerontol. Ser. A 72, 560–566 (2017).

Merat, S., Fruebis, J., Sutphin, M., Silvestre, M. & Reaven, P. D. Effect of aging on aortic expression of the vascular cell adhesion molecule-1 and atherosclerosis in murine models of atherosclerosis. J. Gerontol. 55, B85–B94 (2000).

Richter, V. et al. Circulating vascular cell adhesion molecules VCAM-1, ICAM-1, and E-selectin in dependence on aging. Gerontology 49, 293–300 (2003).

Ballantyne, C. M. & Entman, M. L. Soluble adhesion molecules and the search for biomarkers for atherosclerosis. Circulation 106, 766–767 (2002).

Okugawa, Y. et al. Soluble VCAM-1 and its relation to disease progression in colorectal carcinoma. Exp. Ther. Med. 1, 463–469 (2010).

Schlesinger, M. & Bendas, G. Vascular cell adhesion molecule-1 (VCAM-1)—an increasing insight into its role in tumorigenicity and metastasis. Int. J. Cancer 1, 2504–2514 (2015).

Ewers, M., Mielke, M. M. & Hampel, H. Blood-based biomarkers of microvascular pathology in Alzheimer's disease. Exp. Gerontol. 45, 75 (2010).

Matsuda, M., Tsukada, N., Miyagi, K. & Yanagisawa, N. Increased levels of soluble vascular cell adhesion molecule-1 (VCAM-1) in the cerebrospinal fluid and sera of patients with multiple sclerosis and human T lymphotropic virus type-1-associated myelopathy. J. Neuroimmunol. 59, 35–40 (1995).

Elahy, M. et al. Blood–brain barrier dysfunction developed during normal aging is associated with inflammation and loss of tight junctions but not with leukocyte recruitment. Immun. Ageing 12, 2 (2015).

Cook-Mills, J. M., Marchese, M. E. & Abdala-Valencia, H. Vascular cell adhesion molecule-1 expression and signaling during disease: regulation by reactive oxygen species and antioxidants. Antioxid. Redox Signal. 15, 1607–1638 (2011).

Vestweber, D. How leukocytes cross the vascular endothelium. Nat. Rev. Immunol. 15, 692–704 (2015).

Ritzel, R. M. et al. Age-associated resident memory CD8 T cells in the central nervous system are primed to potentiate inflammation after ischemic brain injury. J. Immunol. 196, 3318–3330 (2016).

Yousef, H. et al. Systemic attenuation of the TGF-β pathway by a single drug simultaneously rejuvenates hippocampal neurogenesis and myogenesis in the same old mammal. Oncotarget 6, 11959–11978 (2015).

Hu, X.-L. et al. Persistent expression of VCAM1 in radial glial cells is required for the embryonic origin of postnatal neural stem cells. Neuron 95, 309–325 (2017).

Erdő, F., Denes, L. & de Lange, E. Age-associated physiological and pathological changes at the blood–brain barrier: a review. J. Cereb. Blood Flow Metab. 37, 4–24 (2017).

Montagne, A. et al. Blood–brain barrier breakdown in the aging human hippocampus. Neuron 85, 296–302 (2015).

Bien-Ly, N. et al. Lack of widespread BBB disruption in Alzheimer's disease models: focus on therapeutic antibodies. Neuron 88, 289–297 (2015).

Steffen, B. J., Breier, G., Butcher, E. C., Schulz, M. & Engelhardt, B. ICAM-1, VCAM-1, and MAdCAM-1 are expressed on choroid plexus epithelium but not endothelium and mediate binding of lymphocytes in vitro. Am. J. Pathol. 148, 1819–1838 (1996).

Vukovic, J., Colditz, M. J., Blackmore, D. G., Ruitenberg, M. J. & Bartlett, P. F. Microglia modulate hippocampal neural precursor activity in response to exercise and aging. J. Neurosci. 32, 6435–6443 (2012).

Muggeo, V. M. R. Estimating regression models with unknown break-points. Stat. Med. 22, 3055–3071 (2003).

Muggeo, V. M. R. Segmented: an R package to fit regression models with broken-line relationships. R News 8, 20–25 (2008).

Yousef, H., Czupalla, C. J., Lee, D., Butcher, E. C. & Wyss-Coray, T. Papain-based single cell isolation of primary murine brain endothelial cells using flow cytometry. Bio-Protoc. 8, e3091 (2018).

Xaio, H., Banks, W. A., Niehoff, M. L. & Morley, J. E. Effect of LPS on the permeability of the blood–brain barrier to insulin. Brain Res. 896, 36–42 (2001).

Trapnell, C. et al. Differential analysis of gene regulation at transcript resolution with RNA-seq. Nat. Biotechnol. 31, 46–53 (2013).

Picelli, S. et al. Full-length RNA-seq from single cells using Smart-seq2. Nat. Protoc. 9, 171 (2014).

Darmanis, S. et al. A survey of human brain transcriptome diversity at the single cell level. Proc. Natl Acad. Sci. USA 112, 7285–7290 (2015).

Montesano, R. et al. Increased proteolytic activity is responsible for the aberrant morphogenetic behavior of endothelial cells expressing the middle T oncogene. Cell 62, 435–445 (1990).

Czupalla, C. J., Liebner, S. & Devraj, K. In vitro models of the blood–brain barrier. Methods Mol. Biol. 1135, 415–437 (2014).

Calabria, A. R., Weidenfeller, C., Jones, A. R., de Vries, H. E. & Shusta, E. V. Puromycin-purified rat brain microvascular endothelial cell cultures exhibit improved barrier properties in response to glucocorticoid induction. J. Neurochem. 97, 922–933 (2006).

Luo, J. et al. Glia-dependent TGF-β signaling, acting independently of the TH17 pathway, is critical for initiation of murine autoimmune encephalomyelitis. J. Clin. Invest. 117, 3306–3315 (2007).

Czupalla, C. J., Yousef, H., Wyss-Coray, T. & Butcher, E. C. Collagenase-based single cell isolation of primary murine brain endothelial cells using flow cytometry. Bio-Protoc. 8, e3092 (2018).

Luo, J. et al. Long-term cognitive impairments and pathological alterations in a mouse model of repetitive mild traumatic brain injury. Front. Neurol. 5, 12 (2014).

Hoffmann, A. et al. High and low molecular weight fluorescein isothiocyanate (FITC)-dextrans to assess blood–brain barrier disruption: technical considerations. Transl. Stroke Res. 2, 106–111 (2011).

Kijanka, G., Prokopowicz, M., Schellekens, H. & Brinks, V. Influence of aggregation and route of injection on the biodistribution of mouse serum albumin. PLoS One 9, e85281 (2014).

van Meer, P. & Raber, J. Mouse behavioural analysis in systems biology. Biochem. J. 389, 593–610 (2005).

Wolf, A., Bauer, B., Abner, E. L., Ashkenazy-Frolinger, T. & Hartz, A. M. S. A comprehensive behavioral test battery to assess learning and memory in 129S6/Tg2576 mice. PLoS One 11, e0147733 (2016).

Leger, M. et al. Object recognition test in mice. Nat. Protoc. 8, 2531 (2013).

Engelhardt, B., Vajkoczy, P. & Weller, R. O. The movers and shapers in immune privilege of the CNS. Nat. Immunol. 18, 123–131 (2017).

Banks, W. A. From blood–brain barrier to blood–brain interface: new opportunities for CNS drug delivery. Nat. Rev. Drug Discov. 15, 275–292 (2016).
Acknowledgements
We thank L. Sutherland and C. Cain for managing the core flow cytometry facility at the VA in Palo Alto and providing H.Y. and C.J.C. training on the instruments, as well as C. Cain for his experimental advice, assistance with flow cytometry and analysis of PBMCs, and thoughtful discussion. We thank O. Leyva for assistance in staining and microscopy analysis for the experiment shown in Extended Data Fig. 4a–d. We would also like to thank R. Watts and N. Bien-Ly for sharing a BEC isolation protocol used in modified form for RNA-seq. This work was funded by the Department of Veterans Affairs (T.W.-C.), the National Institute on Aging (F32-AG051330 to H.Y., R01-AG045034 and DP1-AG053015 to T.W.-C.), the NOMIS Foundation (T.W.-C.), the D.H. Chen Foundation (T.W.-C.), the Glenn Foundation for Aging Research (T.W.-C.), a SPARK grant to H.Y. through the Stanford Clinical and Translational Science Award (CTSA) to Spectrum (UL1-TR001085), the National Institutes of Health (R01-GM37734 and R37-AI047822 to E.C.B., RO1-AI109452 to H.H.), the Wu Tsai Neurosciences Institute (T.W.-C.), the Stanford Institute for Immunity, Transplantation and Infection (C.J.C.) and the Edinger Institute (C.J.C.). The CTSA program is led by the National Center for Advancing Translational Sciences (NCATS) at the National Institutes of Health.
Ethics declarations
Competing interests
The authors declare no competing interests.
Additional information
Publisher's note: Springer Nature remains neutral with regard to jurisdictional claims in published maps and institutional affiliations.
Supplementary information
Supplementary Table 1–3, 5 and 6
Source data
FPKM values and statistics for differential gene expression analysis of Young and Aged BECs
Unprocessed western blots
Individual points graphed for Extended Data Fig. 9n
About this article
Cite this article
Yousef, H., Czupalla, C.J., Lee, D. et al. Aged blood impairs hippocampal neural precursor activity and activates microglia via brain endothelial cell VCAM1. Nat Med 25, 988–1000 (2019). https://doi.org/10.1038/s41591-019-0440-4
Received:

Accepted:

Published:

Issue Date:

DOI: https://doi.org/10.1038/s41591-019-0440-4