Abstract
The hippocampus is one of the most affected areas in Alzheimer's disease (AD)1. Moreover, this structure hosts one of the most unique phenomena of the adult mammalian brain, namely, the addition of new neurons throughout life2. This process, called adult hippocampal neurogenesis (AHN), confers an unparalleled degree of plasticity to the entire hippocampal circuitry3,4. Nonetheless, direct evidence of AHN in humans has remained elusive. Thus, determining whether new neurons are continuously incorporated into the human dentate gyrus (DG) during physiological and pathological aging is a crucial question with outstanding therapeutic potential. By combining human brain samples obtained under tightly controlled conditions and state-of-the-art tissue processing methods, we identified thousands of immature neurons in the DG of neurologically healthy human subjects up to the ninth decade of life. These neurons exhibited variable degrees of maturation along differentiation stages of AHN. In sharp contrast, the number and maturation of these neurons progressively declined as AD advanced. These results demonstrate the persistence of AHN during both physiological and pathological aging in humans and provide evidence for impaired neurogenesis as a potentially relevant mechanism underlying memory deficits in AD that might be amenable to novel therapeutic strategies.
Access options
Access Nature and 54 other Nature Portfolio journals
Get Nature+, our best-value online-access subscription
$29.99 / 30 days
cancel any time
Subscribe to this journal
Receive 12 print issues and online access
$209.00 per year
only $17.42 per issue
Rent or buy this article
Prices vary by article type
from$1.95
to$39.95
Prices may be subject to local taxes which are calculated during checkout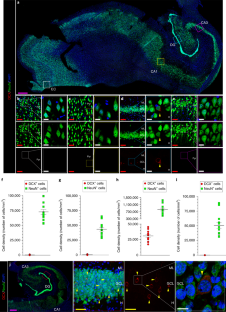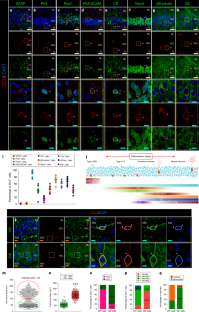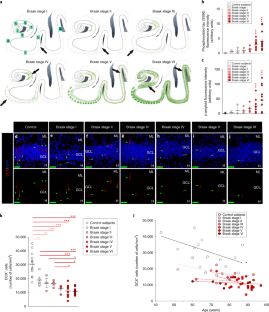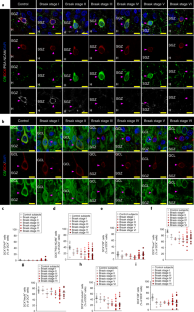 Data availability
The data that support the findings of this study are available from the corresponding author upon reasonable request. All requests for raw and analyzed data will be promptly reviewed by the Center for Networked Biomedical Research on Neurodegenerative Diseases (CIBERNED) to determine whether the request is subject to any intellectual property or confidentiality obligations. Any materials that can be shared will be released via a material transfer agreement.
References
Braak, H. & Braak, E. Morphology of Alzheimer disease. Fortschr. Med. 108, 621–624 (1990).

Altman, J. Autoradiographic investigation of cell proliferation in the brains of rats and cats. Anat. Rec. 145, 573–591 (1963).

Sahay, A. et al. Increasing adult hippocampal neurogenesis is sufficient to improve pattern separation. Nature 472, 466–470 (2011).

Anacker, C. et al. Hippocampal neurogenesis confers stress resilience by inhibiting the ventral dentate gyrus. Nature 559, 98–102 (2018).

Eriksson, P. S. et al. Neurogenesis in the adult human hippocampus. Nat. Med. 4, 1313–1317 (1998).

Spalding, K. L. et al. Dynamics of hippocampal neurogenesis in adult humans. Cell 153, 1219–1227 (2013).

Boldrini, M. et al. Human hippocampal neurogenesis persists throughout aging. Cell Stem Cell 22, 589–599 (2018).

Knoth, R. et al. Murine features of neurogenesis in the human hippocampus across the lifespan from 0 to 100 years. PLoS ONE 5, e8809 (2010).

Sorrells, S. F. et al. Human hippocampal neurogenesis drops sharply in children to undetectable levels in adults. Nature 555, 377–381 (2018).

Cipriani, S. et al. Hippocampal radial glial subtypes and their neurogenic potential in human fetuses and healthy and Alzheimer's disease adults. Cereb. Cortex 28, 2458–2478 (2018).

Kempermann, G. et al. Human adult neurogenesis: evidence and remaining questions. Cell Stem Cell 23, 25–30 (2018).

Kempermann, G., Jessberger, S., Steiner, B. & Kronenberg, G. Milestones of neuronal development in the adult hippocampus. Trends Neurosci. 27, 447–452 (2004).

Plumpe, T. et al. Variability of doublecortin-associated dendrite maturation in adult hippocampal neurogenesis is independent of the regulation of precursor cell proliferation. BMC Neurosci. 7, 77 (2006).

Karalay, O. et al. Prospero-related homeobox 1 gene (Prox1) is regulated by canonical Wnt signaling and has a stage-specific role in adult hippocampal neurogenesis. Proc. Natl Acad. Sci. USA 108, 5807–5812 (2011).

Brandt, M. D. et al. Transient calretinin expression defines early postmitotic step of neuronal differentiation in adult hippocampal neurogenesis of mice. Mol. Cell. Neurosci. 24, 603–613 (2003).

Zhao, C., Teng, E. M., Summers, R. G. Jr, Ming, G. L. & Gage, F. H. Distinct morphological stages of dentate granule neuron maturation in the adult mouse hippocampus. J. Neurosci. 26, 3–11 (2006).

Kohler, S. J., Williams, N. I., Stanton, G. B., Cameron, J. L. & Greenough, W. T. Maturation time of new granule cells in the dentate gyrus of adult macaque monkeys exceeds six months. Proc. Natl Acad. Sci. USA 108, 10326–10331 (2011).

Llorens-Martin, M. et al. GSK-3β overexpression causes reversible alterations on postsynaptic densities and dendritic morphology of hippocampal granule neurons in vivo. Mol. Psychiatry 18, 451–460 (2013).

Lazarov, O., Mattson, M. P., Peterson, D. A., Pimplikar, S. W. & van Praag, H. When neurogenesis encounters aging and disease. Trends Neurosci. 33, 569–579 (2010).

Braak, H. & Braak, E. Staging of Alzheimer's disease–related neurofibrillary changes. Neurobiol. Aging 16, 271–278 (1995).

Sierra, A. et al. Microglia shape adult hippocampal neurogenesis through apoptosis-coupled phagocytosis. Cell Stem Cell 7, 483–495 (2010).

Marin-Burgin, A., Mongiat, L. A., Pardi, M. B. & Schinder, A. F. Unique processing during a period of high excitation/inhibition balance in adult-born neurons. Science 335, 1238–1242 (2012).

Bischofberger, J. Young and excitable: new neurons in memory networks. Nat. Neurosci. 10, 273–275 (2007).

Wesnes, K. A., Annas, P., Basun, H., Edgar, C. & Blennow, K. Performance on a pattern separation task by Alzheimer's patients shows possible links between disrupted dentate gyrus activity and apolipoprotein E4 in status and cerebrospinal fluid amyloid-β42 levels. Alzheimers Res. Ther. 6, 20 (2014).

Heneka, M. T. et al. Neuroinflammation in Alzheimer's disease. Lancet Neurol. 14, 388–405 (2015).

Mai, J., Majtanik, M. & Paxinos, G. Atlas of the Human Brain (Academic Press, 2008).

Martinez-Martin, P. & Avila, J. Alzheimer Center Reina Sofia Foundation: fighting the disease and providing overall solutions. J. Alzheimers Dis. 21, 337–348 (2010).

International Society for Biological and Environmental Repositories. 2012 best practices for repositories collection, storage, retrieval, and distribution of biological materials for research. Biopreserv. Biobank 10, 79–161 (2012).

Braak, H., Alafuzoff, I., Arzberger, T., Kretzschmar, H. & Del Tredici, K. Staging of Alzheimer disease–associated neurofibrillary pathology using paraffin sections and immunocytochemistry. Acta Neuropathol. 112, 389–404 (2006).

Bolos, M. et al. Absence of CX3CR1 impairs the internalization of tau by microglia. Mol. Neurodegener. 12, 59 (2017).

Llorens-Martin, M. et al. Tau isoform with three microtubule binding domains is a marker of new axons generated from the subgranular zone in the hippocampal dentate gyrus: implications for Alzheimer's disease. J. Alzheimers Dis. 29, 921–930 (2012).

Llorens-Martin, M. et al. Peripherally triggered and GSK-3β-driven brain inflammation differentially skew adult hippocampal neurogenesis, behavioral pattern separation and microglial activation in response to ibuprofen. Transl. Psychiatry 4, e463 (2014).

Diez-Fraile, A., Van Hecke, N., Guérin, C. J. & D'Herde, K. Applications of immunocytochemistry. InTechOpen 1, 320 (2012).

Llorens-Martin, M., Torres-Aleman, I. & Trejo, J. L. Pronounced individual variation in the response to the stimulatory action of exercise on immature hippocampal neurons. Hippocampus 16, 480–490 (2006).
Acknowledgements
The authors would like to thank the patients and their families for generously donating brain samples. Moreover, they would like to thank I. Rodal for help with human sample extraction and processing, E. García, R. Cuadros and the confocal microscopy facility of the CBMSO for technical assistance, and P. Moreno for help with illustration design. A number of human samples were generously provided by the Biobanco del Hospital Universitario Reina Sofia (Córdoba, Spain). The authors are grateful to R. Sánchez for providing some of these samples. They would also like to thank J. Gleeson (University of California, San Diego) for providing an anti-DCX antibody. This study was supported by the following: the Spanish Ministry of Economy and Competitiveness (SAF-2017-82185-R and RYC-2015-171899, M.L.-M.; SAF-2014-53040-P, J.Á.); the Alzheimer's Association (2015-NIRG-340709 and AARG-17-528125, M.L.-M.); the Association for Frontotemporal Degeneration (2016 Basic Science Pilot Grant Award, M.L.-M.); the Comunidad de Madrid (PEJD-2017-PRE/BMD-3439, M.L.-M.); and the Center for Networked Biomedical Research on Neurodegenerative Diseases (CIBERNED, Spain, J.Á.). Institutional grants from the Fundación Ramón Areces and the Banco de Santander to CBMSO are also acknowledged. The salary of E.P.M.-J. was supported by a Comunidad de Madrid researcher contract (PEJD-2017-PRE/BMD-3439). The salary of J.T.-R. was supported by a Universidad Autónoma de Madrid doctoral fellowship (FPI-UAM 2017 program).
Ethics declarations
Competing interests
The authors declare no competing interests.
Additional information
Publisher's note: Springer Nature remains neutral with regard to jurisdictional claims in published maps and institutional affiliations.
Supplementary information
About this article
Cite this article
Moreno-Jiménez, E.P., Flor-García, M., Terreros-Roncal, J. et al. Adult hippocampal neurogenesis is abundant in neurologically healthy subjects and drops sharply in patients with Alzheimer's disease. Nat Med 25, 554–560 (2019). https://doi.org/10.1038/s41591-019-0375-9
Received:

Accepted:

Published:

Issue Date:

DOI: https://doi.org/10.1038/s41591-019-0375-9