Abstract
Malformations of the human cortex represent a major cause of disability1. Mouse models with mutations in known causal genes only partially recapitulate the phenotypes and are therefore not unlimitedly suited for understanding the molecular and cellular mechanisms responsible for these conditions2. Here we study periventricular heterotopia (PH) by analyzing cerebral organoids derived from induced pluripotent stem cells (iPSCs) of patients with mutations in the cadherin receptor–ligand pair DCHS1 and FAT4 or from isogenic knockout (KO) lines1,3. Our results show that human cerebral organoids reproduce the cortical heterotopia associated with PH. Mutations in DCHS1 and FAT4 or knockdown of their expression causes changes in the morphology of neural progenitor cells and result in defective neuronal migration dynamics only in a subset of neurons. Single-cell RNA-sequencing (scRNA-seq) data reveal a subpopulation of mutant neurons with dysregulated genes involved in axon guidance, neuronal migration and patterning. We suggest that defective neural progenitor cell (NPC) morphology and an altered navigation system in a subset of neurons underlie this form of PH.
Access options
Subscribe to Journal
Get full journal access for 1 year
$225.00
only $18.75 per issue
All prices are NET prices.
VAT will be added later in the checkout.
Rent or Buy article
Get time limited or full article access on ReadCube.
from$8.99
All prices are NET prices.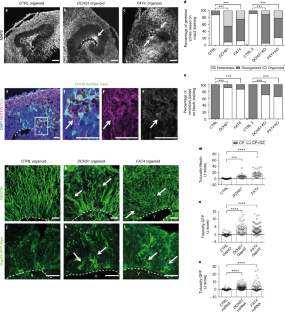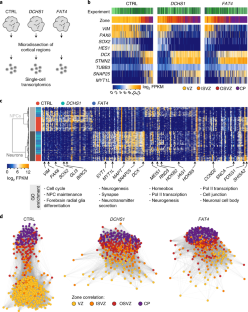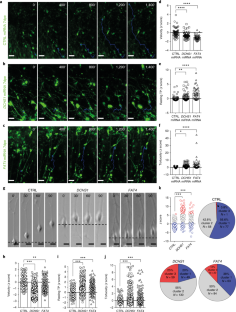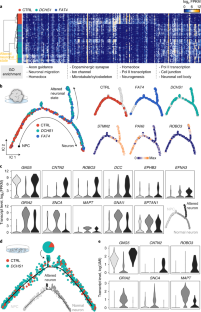 Data availability
The scRNA-seq data used in this study have been deposited in the Gene Expression Omnibus under accession number GSE124031. All relevant accession codes are provided. Further details on the methods can be found in the Life Sciences Reporting Summary. Additional data that support the findings of this study are available from the corresponding author upon reasonable request.
References
1.

Cappello, S. et al. Mutations in genes encoding the cadherin receptor-ligand pair DCHS1 and FAT4 disrupt cerebral cortical development. Nat. Genet. 45, 1300–1308 (2013).

2.

Romero, D. M., Bahi-Buisson, N. & Francis, F. Genetics and mechanisms leading to human cortical malformations. Semin. Cell. Dev. Biol. 76, 33–75 (2018).

3.

Mansour, S. et al. Van Maldergem syndrome: further characterisation and evidence for neuronal migration abnormalities and autosomal recessive inheritance. Eur. J. Hum. Genet. 20, 1024–1031 (2012).

4.

Liu, J. S. Molecular genetics of neuronal migration disorders. Curr. Neurol. Neurosci. Rep. 11, 171–178 (2011).

5.

Cardoso, C. et al. Periventricular heterotopia, mental retardation, and epilepsy associated with 5q14.3-q15 deletion. Neurology 72, 784–792 (2009).

6.

Dubeau, F. et al. Periventricular and subcortical nodular heterotopia. A study of 33 patients. Brain 118(Pt 5), 1273–1287 (1995).

7.

Tassi, L. et al. Electroclinical, MRI and neuropathological study of 10 patients with nodular heterotopia, with surgical outcomes. Brain 128, 321–337 (2004).

8.

Aghakhani, Y. et al. The role of periventricular nodular heterotopia in epileptogenesis. Brain 128, 641–651 (2005).

9.

Heinzen, E. L. et al. De novo and inherited private variants in MAP1B in periventricular nodular heterotopia. PLoS Genet. 14, e1007281 (2018).

10.

O'Neill, A. C. et al. A primate-specific isoform of PLEKHG6 regulates neurogenesis and neuronal migration. Cell Rep. 25, 2729–2741.e6 (2018).

11.

Lancaster, M. A. & Knoblich, J. A. Generation of cerebral organoids from human pluripotent stem cells. Nat. Protoc. 9, 2329–2340 (2014).

12.

Ishiuchi, T., Misaki, K., Yonemura, S., Takeichi, M. & Tanoue, T. Mammalian fat and dachsous cadherins regulate apical membrane organization in the embryonic cerebral cortex. J. Cell Biol. 185, 959–967 (2009).

13.

Cappello, S. et al. The Rho-GTPase cdc42 regulates neural progenitor fate at the apical surface. Nat. Neurosci. 9, 1099–1107 (2006).

14.

Pacary, E. et al. Proneural transcription factors regulate different steps of cortical neuron migration through Rnd-mediated inhibition of RhoA signaling. Neuron 69, 1069–1084 (2011).

15.

Camp, J. G. et al. Human cerebral organoids recapitulate gene expression programs of fetal neocortex development. Proc. Natl Acad. Sci. USA 112, 15672–15677 (2015).

16.

Topol, A., Tran, N. N. & Brennand, K. J. A guide to generating and using hiPSC derived NPCs for the study of neurological diseases. J. Vis. Exp. https://doi.org/10.3791/52495 (2015).

17.

Qiu, X. et al. Reversed graph embedding resolves complex single-cell developmental trajectories.. Nat. Methods 14, 979–982 (2017).

18.

Wang, J. et al. Epilepsy-associated genes. Seizure 44, 11–20 (2017).

19.

Riesenberg, S. & Maricic, T. Targeting repair pathways with small molecules increases precise genome editing in pluripotent stem cells. Nat. Commun. 9, 2164 (2018).

20.

Meyer, M. & Kircher, M. Illumina sequencing library preparation for highly multiplexed target capture and sequencing. Cold Spring Harb. Protoc. 2010, pdb.prot5448 (2010).

21.

Renaud, G., Stenzel, U. & Kelso, J. leeHom: adaptor trimming and merging for Illumina sequencing reads. Nucleic Acids Res. 42, e141 (2014).

22.

Li, H. et al. The Sequence Alignment/Map format and SAMtools. Bioinformatics 25, 2078–2079 (2009).

23.

Boyer, L. F., Campbell, B., Larkin, S., Mu, Y. & Gage, F. H. Dopaminergic differentiation of human pluripotent cells. Curr. Protoc. Stem Cell Biol. Chapter 1, Unit1H.6 (2012).

24.

Lancaster, M. A. et al. Cerebral organoids model human brain development and microcephaly. Nature 501, 373–379 (2013).

25.

Pilz, G.-A. et al. Amplification of progenitors in the mammalian telencephalon includes a new radial glial cell type. Nat. Commun. 4, 2125 (2013).

26.

Picelli, S. et al. Smart-seq2 for sensitive full-length transcriptome profiling in single cells. Nat. Methods 10, 1096–1098 (2013).

27.

Trapnell, C., Pachter, L. & Salzberg, S. L. TopHat: discovering splice junctions with RNA-Seq. Bioinformatics 25, 1105–1111 (2009).

28.

Treutlein, B. et al. Reconstructing lineage hierarchies of the distal lung epithelium using single-cell RNA-seq. Nature 509, 371–375 (2014).

29.

Renaud, G., Kircher, M., Stenzel, U. & Kelso, J. freeIbis: an efficient basecaller with calibrated quality scores for Illumina sequencers. Bioinformatics 29, 1208–1209 (2013).

30.

Renaud, G., Stenzel, U., Maricic, T., Wiebe, V. & Kelso, J. deML: robust demultiplexing of Illumina sequences using a likelihood-based approach. Bioinformatics 31, 770–772 (2015).

31.

Langmead, B. & Salzberg, S. L. Fast gapped-read alignment with Bowtie 2. Nat. Methods 9, 357–359 (2012).

32.

Trapnell, C. et al. Transcript assembly and quantification by RNA-Seq reveals unannotated transcripts and isoform switching during cell differentiation. Nat. Biotechnol. 28, 511–515 (2010).

33.

Huang, D. W., Sherman, B. T. & Lempicki, R. A. Systematic and integrative analysis of large gene lists using DAVID bioinformatics resources. Nat. Protoc. 4, 44–57 (2008).

34.

Fietz, S. A. et al. Transcriptomes of germinal zones of human and mouse fetal neocortex suggest a role of extracellular matrix in progenitor self-renewal. Proc. Natl Acad. Sci. 109, 11836–11841 (2012).

35.

Kang, H. M. et al. Multiplexed droplet single-cell RNA-sequencing using natural genetic variation. Nat. Biotechnol. 36, 89–94 (2018).
Acknowledgements
We thank the families participating in this study for their involvement. We thank Y. Lu for help generating the microRNAs, M. Karow and I. Buchsbaum for helping with experiments and fruitful discussions in the lab, T. Öztürk for excellent technical support, A. Weigert for organoid culture, J. Kageyama for helping with data processing, R. Snabel for helping with Smart-seq2 libraries, the Core Unit Flow Cytometry at the Zentrum für Infektionsmedizin (veterinary faculty of the University of Leipzig) and the Core Unit Qualitätsmanagement/Technologieplattform at the Sächsischer Inkubator für Klinische Translation (SIKT) in Leipzig for karyotyping. This work was supported by funding from the DFG CA1205/2-1 (S.C.), ForIPS (M.G.), by the Max Planck Society (S.C., B.T.), by the Boehringer Ingelheim Fonds (S.K.), by the Health Research Council of NZ and Curekids (S.P.R.) and by an ERC Starting Grant (B.T.).
Ethics declarations
Competing interests
The authors declare no competing interests.
Additional information
Publisher's note: Springer Nature remains neutral with regard to jurisdictional claims in published maps and institutional affiliations.
Supplementary information
About this article
Cite this article
Klaus, J., Kanton, S., Kyrousi, C. et al. Altered neuronal migratory trajectories in human cerebral organoids derived from individuals with neuronal heterotopia. Nat Med 25, 561–568 (2019). https://doi.org/10.1038/s41591-019-0371-0
Received:

Accepted:

Published:

Issue Date: