Abstract
MicroRNAs (miRNAs) are post-transcriptional regulators of gene expression. Heterozygous loss-of-function point mutations of miRNA genes are associated with several human congenital disorders1,2,3,4,5, but neomorphic (gain-of-new-function) mutations in miRNAs due to nucleotide substitutions have not been reported. Here we describe a neomorphic seed region mutation in the chondrocyte-specific, super-enhancer-associated MIR140 gene encoding microRNA-140 (miR-140) in a novel autosomal dominant human skeletal dysplasia. Mice with the corresponding single nucleotide substitution show skeletal abnormalities similar to those of the patients but distinct from those of miR-140-null mice6. This mutant miRNA gene yields abundant mutant miR-140-5p expression without miRNA-processing defects. In chondrocytes, the mutation causes widespread derepression of wild-type miR-140-5p targets and repression of mutant miR-140-5p targets, indicating that the mutation produces both loss-of-function and gain-of-function effects. Furthermore, the mutant miR-140-5p seed competes with the conserved RNA-binding protein Ybx1 for overlapping binding sites. This finding may explain the potent target repression and robust in vivo effect by this mutant miRNA even in the absence of evolutionary selection of miRNA–target RNA interactions, which contributes to the strong regulatory effects of conserved miRNAs7,8. Our study presents the first case of a pathogenic gain-of-function miRNA mutation and provides molecular insight into neomorphic actions of emerging and/or mutant miRNAs.
This is a preview of subscription content
Access options
Subscribe to Nature+
Get immediate online access to the entire Nature family of 50+ journals
Subscribe to Journal
Get full journal access for 1 year
$59.00
only $4.92 per issue
All prices are NET prices.
VAT will be added later in the checkout.
Tax calculation will be finalised during checkout.
Buy article
Get time limited or full article access on ReadCube.
$32.00
All prices are NET prices.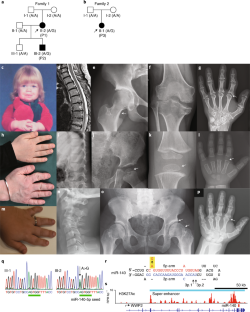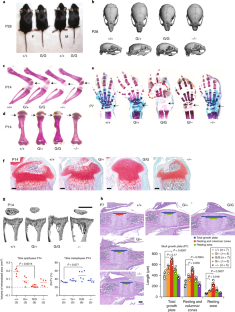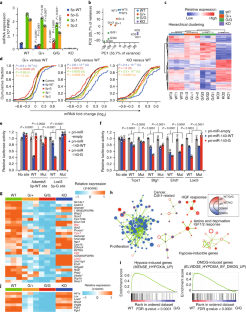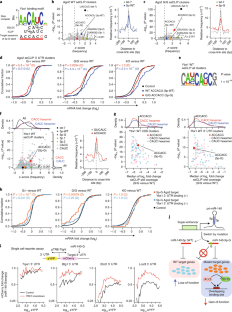 Data availability
Data generated during this study are available in the Gene Expression Omnibus under accession number GSE98309. The human variant is deposited in the ClinVar database (SCV000586692.1). Human genome data from the individuals participating in the study is protected by Swedish law (2006:351), and raw Sanger sequencing data within the area of interest is available upon request. All other data will be made available upon request to the corresponding author.
References
Mencia, A. et al. Mutations in the seed region of human miR-96 are responsible for nonsyndromic progressive hearing loss. Nat. Genet. 41, 609–613 (2009).

Solda, G. et al. A novel mutation within the MIR96 gene causes non-syndromic inherited hearing loss in an Italian family by altering pre-miRNA processing. Hum. Mol. Genet. 21, 577–585 (2012).

Hughes, A. E. et al. Mutation altering the miR-184 seed region causes familial keratoconus with cataract. Am. J. Hum. Genet. 89, 628–633 (2011).

Iliff, B. W., Riazuddin, S. A. & Gottsch, J. D. A single-base substitution in the seed region of miR-184 causes EDICT syndrome. Invest. Ophthalmol. Vis. Sci. 53, 348–353 (2012).

Lechner, J. et al. Mutational analysis of MIR184 in sporadic keratoconus and myopia. Invest. Ophthalmol. Vis. Sci. 54, 5266–5272 (2013).

Nakamura, Y., Inloes, J. B., Katagiri, T. & Kobayashi, T. Chondrocyte-specific microRNA-140 regulates endochondral bone development and targets Dnpep to modulate bone morphogenetic protein signaling. Mol. Cell. Biol. 31, 3019–3028 (2011).

Chen, K. & Rajewsky, N. The evolution of gene regulation by transcription factors and microRNAs. Nat. Rev. Genet. 8, 93–103 (2007).

Berezikov, E. Evolution of microRNA diversity and regulation in animals. Nat. Rev. Genet. 12, 846–860 (2011).

Bonafe, L. et al. Nosology and classification of genetic skeletal disorders: 2015 revision. Am. J. Med. Genet. A 167A, 2869–2892 (2015).

Lek, M. et al. Analysis of protein-coding genetic variation in 60,706 humans. Nature 536, 285–291 (2016).

Suzuki, H. I., Young, R. A. & Sharp, P. A. Super-enhancer-mediated RNA processing revealed by integrative microrna network analysis. Cell 168, 1000–1014 e1015 (2017).

Whyte, W. A. et al. Master transcription factors and mediator establish super-enhancers at key cell identity genes. Cell 153, 307–319 (2013).

Hnisz, D. et al. Super-enhancers in the control of cell identity and disease. Cell 155, 934–947 (2013).

Wienholds, E. et al. MicroRNA expression in zebrafish embryonic development. Science 309, 310–311 (2005).

Tuddenham, L. et al. The cartilage specific microRNA-140 targets histone deacetylase 4 in mouse cells. FEBS Lett. 580, 4214–4217 (2006).

Miyaki, S. et al. MicroRNA-140 plays dual roles in both cartilage development and homeostasis. Genes Dev. 24, 1173–1185 (2010).

Papaioannou, G. et al. MicroRNA-140 provides robustness to the regulation of hypertrophic chondrocyte differentiation by the PTHrP-HDAC4 pathway. J. Bone Miner. Res. 30, 1044–1052 (2015).

Ran, F. A. et al. Genome engineering using the CRISPR–Cas9 system. Nat. Protoc. 8, 2281–2308 (2013).

Park, J. E. et al. Dicer recognizes the 5′ end of RNA for efficient and accurate processing. Nature 475, 201–205 (2011).

Suzuki, H. I. et al. Small-RNA asymmetry is directly driven by mammalian Argonautes. Nat. Struct. Mol. Biol. 22, 512–521 (2015).

Agarwal, V., Bell, G. W., Nam, J. W. & Bartel, D. P. Predicting effective microRNA target sites in mammalian mRNAs. eLife 4, e05005 (2015).

Zhang, J. et al. Loss of lysyl oxidase-like 3 causes cleft palate and spinal deformity in mice. Hum. Mol. Genet. 24, 6174–6185 (2015).

Tijchon, E. et al. Targeted deletion of btg1 and btg2 results in homeotic transformation of the axial skeleton. PLoS ONE 10, e0131481 (2015).

Napierala, D. et al. Uncoupling of chondrocyte differentiation and perichondrial mineralization underlies the skeletal dysplasia in tricho-rhino-phalangeal syndrome. Hum. Mol. Genet. 17, 2244–2254 (2008).

Subramanian, A. et al. Gene set enrichment analysis: a knowledge-based approach for interpreting genome-wide expression profiles. Proc. Natl Acad. Sci. USA 102, 15545–15550 (2005).

Merico, D., Isserlin, R., Stueker, O., Emili, A. & Bader, G. D. Enrichment map: a network-based method for gene-set enrichment visualization and interpretation. PLoS ONE 5, e13984 (2010).

Wan, C. et al. Role of HIF-1α in skeletal development. Ann. N. Y. Acad. Sci. 1192, 322–326 (2010).

Grimson, A. et al. MicroRNA targeting specificity in mammals: determinants beyond seed pairing. Mol. Cell 27, 91–105 (2007).

van Kouwenhove, M., Kedde, M. & Agami, R. MicroRNA regulation by RNA-binding proteins and its implications for cancer. Nat. Rev. Cancer 11, 644–656 (2011).

Ray, D. et al. A compendium of RNA-binding motifs for decoding gene regulation. Nature 499, 172–177 (2013).

Wei, W. J. et al. YB-1 binds to CAUC motifs and stimulates exon inclusion by enhancing the recruitment of U2AF to weak polypyrimidine tracts. Nucleic Acids Res. 40, 8622–8636 (2012).

Wu, S. L. et al. Genome-wide analysis of YB-1-RNA interactions reveals a novel role of YB-1 in miRNA processing in glioblastoma multiforme. Nucleic Acids Res. 43, 8516–8528 (2015).

Lyabin, D. N., Eliseeva, I. A. & Ovchinnikov, L. P. YB-1 protein: functions and regulation. Wiley Interdiscip. Rev. RNA 5, 95–110 (2014).

Goodarzi, H. et al. Endogenous tRNA-derived fragments suppress breast cancer progression via ybx1 displacement. Cell 161, 790–802 (2015).

Van Nostrand, E. L. et al. Robust transcriptome-wide discovery of RNA-binding protein binding sites with enhanced CLIP (eCLIP). Nat. Methods 13, 508–514 (2016).

Van Nostrand, E. L. et al. Erratum to: robust, cost-effective profiling of RNA binding protein targets with single-end enhanced crosslinking and immunoprecipitation (seCLIP). Methods Mol. Biol. 1648, E1 (2017).

de Pontual, L. et al. Germline deletion of the miR-17 approximately 92 cluster causes skeletal and growth defects in humans. Nat. Genet. 43, 1026–1030 (2011).

Henrion-Caude, A., Girard, M. & Amiel, J. MicroRNAs in genetic disease: rethinking the dosage. Curr. Gene. Ther. 12, 292–300 (2012).

Lewis, M. A. et al. An ENU-induced mutation of miR-96 associated with progressive hearing loss in mice. Nat. Genet. 41, 614–618 (2009).

Suzuki, H. I., Spengler, R. M., Grigelioniene, G., Kobayashi, T. & Sharp, P. A. Deconvolution of seed and RNA-binding protein crosstalk in RNAi-based functional genomics. Nat. Genet. 50, 657–661 (2018).

Kaminsky, E. B. et al. An evidence-based approach to establish the functional and clinical significance of copy number variants in intellectual and developmental disabilities. Genet. Med. 13, 777–784 (2011).

Niklasson, A. & Albertsson-Wikland, K. Continuous growth reference from 24th week of gestation to 24 months by gender. BMC Pediatr. 8, 8 (2008).

Kvarnung, M. et al. Genomic screening in rare disorders: new mutations and phenotypes, highlighting ALG14 as a novel cause of severe intellectual disability. Clin. Genet. 94, 528–537 (2018).

Li, H. & Durbin, R. Fast and accurate short read alignment with Burrows-Wheeler transform. Bioinformatics 25, 1754–1760 (2009).

McKenna, A. et al. The Genome Analysis Toolkit: a MapReduce framework for analyzing next-generation DNA sequencing data. Genome Res. 20, 1297–1303 (2010).

Okonechnikov, K., Conesa, A. & Garcia-Alcalde, F. Qualimap 2: advanced multi-sample quality control for high-throughput sequencing data. Bioinformatics 32, 292–294 (2016).

Lindstrand, A. et al. Improved structural characterization of chromosomal breakpoints using high resolution custom array-CGH. Clin. Genet. 77, 552–562 (2010).

Yang, H., Wang, H. & Jaenisch, R. Generating genetically modified mice using CRISPR/Cas-mediated genome engineering. Nat. Protoc. 9, 1956–1968 (2014).

Wein, M. N. et al. SIKs control osteocyte responses to parathyroid hormone. Nat. Commun. 7, 13176 (2016).

Eyre, D. Collagen cross-linking amino acids. Methods Enzymol. 144, 115–139 (1987).

Ohba, S., He, X., Hojo, H. & McMahon, A. P. Distinct transcriptional programs underlie Sox9 regulation of the mammalian chondrocyte. Cell Rep. 12, 229–243 (2015).

Langmead, B., Trapnell, C., Pop, M. & Salzberg, S. L. Ultrafast and memory-efficient alignment of short DNA sequences to the human genome. Genome. Biol. 10, R25 (2009).

Zhang, Y. et al. Model-based analysis of ChIP-Seq (MACS). Genome. Biol. 9, R137 (2008).

Dobin, A. et al. STAR: ultrafast universal RNA-seq aligner. Bioinformatics 29, (15–21 (2013).

Trapnell, C. et al. Transcript assembly and quantification by RNA-seq reveals unannotated transcripts and isoform switching during cell differentiation. Nat. Biotechnol. 28, 511–515 (2010).

Grant, G. R. et al. Comparative analysis of RNA-Seq alignment algorithms and the RNA-Seq unified mapper (RUM). Bioinformatics 27, 2518–2528 (2011).

Robinson, M. D., McCarthy, D. J. & Smyth, G. K. edgeR: a Bioconductor package for differential expression analysis of digital gene expression data. Bioinformatics 26, 139–140 (2010).

Zamudio, J. R., Kelly, T. J. & Sharp, P. A. Argonaute-bound small RNAs from promoter-proximal RNA polymerase II. Cell 156, 920–934 (2014).

Paz, I. et al. RBPmap: a web server for mapping binding sites of RNA-binding proteins. Nucleic Acids Res. 42, W361–W367 (2014).

Heinz, S. et al. Simple combinations of lineage-determining transcription factors prime cis-regulatory elements required for macrophage and B cell identities. Mol. Cell 38, 576–589 (2010).
Acknowledgements
We thank patients and their family members for their participation in the study, M. Mannstadt, K. Leuter, M. Wein, H. Kronenberg, H. Jueppner, G. Björk, and A. Merker for advice and chemicals, J. Lundin for assistance with the human comparative genomic hybridization array databases, and Science for Life Laboratory, the National Genomics Infrastructure (NGI), Sweden, SNIC through UPPMAX under project b2014231 for providing assistance in massive parallel DNA sequencing and computational infrastructure. We also thank Center for Skeletal Research Core (NIH P30 AR066261) for access to histological analysis equipment; Harvard GMF for generation of knock-in mice; and DFCI and MGH Sequencing Cores for assistance with RNA and Sanger sequencing; the Robert A. Swanson (1969) Biotechnology Center at the Koch Institute for Integrative Cancer Research at Massachusetts Institute of Technology for technical support, specifically S. Levine and the staff of the BioMicro Center/KI Genomic Core Facility and G. Paradis, M. Jennings, and M. Saturno-Condon of the Flow Cytometry Core Facility. This project was supported by grants provided by the Stockholm County Council (ALF projects 20150143 and 20130315 to G. Grigelioniene. and A.N.) and by the National Institutes of Health (National Institute of Arthritis and Musculoskeletal and Skin Diseases grant R01-AR056645 to T.K., National Institute of General Medical Sciences grant R01-GM034277 and National Cancer Institute grant R01-CA133404 to P.A.S., and National Cancer Institute grant P30-CA14051 to the Koch Institute Core Facility). G.Grigelioniene was supported by a grant of the Sabbatical Leave Programme of the European Society for Paediatric Endocrinology through an educational grant from Eli Lilly International Corporation, travel grants from Fernström Foundation, Karolinska Institutet and Swedish Society of Medicine, scholarship from Stiftelsen Samariten, Stockholm, Sweden, Research Funds from Promobilia and Frimurare Barnhuset Stockholm, and project grant from Swedish Research Council 2018-03046. H.I.S. is supported by the Uehara Memorial Foundation Research Fellowship and the Osamu Hayaishi Memorial Scholarship for Study Abroad.
Ethics declarations
Competing interests
S.T. works at Emedgene Technologies, and P.A.S. is a board member of Syros Pharmaceuticals.
Additional information
Publisher's note: Springer Nature remains neutral with regard to jurisdictional claims in published maps and institutional affiliations.
Supplementary information
Supplementary Tables 1 and 2
About this article
Cite this article
Grigelioniene, G., Suzuki, H.I., Taylan, F. et al. Gain-of-function mutation of microRNA-140 in human skeletal dysplasia. Nat Med 25, 583–590 (2019). https://doi.org/10.1038/s41591-019-0353-2
Received:

Accepted:

Published:

Issue Date:

DOI: https://doi.org/10.1038/s41591-019-0353-2