Vaccination with the tuberculosis (TB) vaccine Bacillus Calmette–Guérin (BCG) into the lungs of Rhesus macaques induces specific, local immune responses that delay infection in some animals and completely prevent it in others while protecting against TB disease.
Access options
Subscribe to Journal
Get full journal access for 1 year
$59.00
only $4.92 per issue
All prices are NET prices.
VAT will be added later in the checkout.
Tax calculation will be finalised during checkout.
Rent or Buy article
Get time limited or full article access on ReadCube.
from$8.99
All prices are NET prices.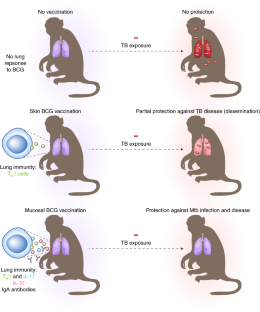 References
1.

World Health Organization. Global Tuberculosis Report 2018 (WHO, 2018).

2.

Zwerling, A.et al. PLoS Med. 8, e1001012 (2011).

3.

Mangtani, P. et al. Clin. Infect Dis. 58, 470–480 (2014).

4.

Dijkman, K. et al. Nat. Med. https://doi.org/10.1038/s41591-018-0319-9 (2019).

5.

Qin, L., Gilbert, P. B., Corey, L., McElrath, M. J. & Self, S. G. J. Infect. Dis. 196, 1304–1312 (2007).

6.

Jasenosky, L. D., Scriba, T. J., Hanekom, W. A. & Goldfeld, A. E. Immunol. Rev. 264, 74–87 (2015).

7.

Gideon, H. P.et al. PLoS Pathog. 11, e1004603 (2015).

8.

Cadena, A. M. et al. PLoS Pathog. 14, e1007305 (2018).

9.

Roy, A. et al. BMJ 349, g4643 (2014).

10.

Nemes, E. et al. N. Engl. J. Med. 379, 138–149 (2018).
Ethics declarations
Competing interests
The authors declare no competing interests
About this article
Cite this article
Scriba, T.J., Nemes, E. Protection against tuberculosis by mucosal BCG administration. Nat Med 25, 199–201 (2019). https://doi.org/10.1038/s41591-019-0347-0