Abstract
Duchenne muscular dystrophy (DMD) is a monogenic disorder and a candidate for therapeutic genome editing. There have been several recent reports of genome editing in preclinical models of Duchenne muscular dystrophy1,2,3,4,5,6, however, the long-term persistence and safety of these genome editing approaches have not been addressed. Here we show that genome editing and dystrophin protein restoration is sustained in the mdx mouse model of Duchenne muscular dystrophy for 1 year after a single intravenous administration of an adeno-associated virus that encodes CRISPR (AAV-CRISPR). We also show that AAV-CRISPR is immunogenic when administered to adult mice7; however, humoral and cellular immune responses can be avoided by treating neonatal mice. Additionally, we describe unintended genome and transcript alterations induced by AAV-CRISPR that should be considered for the development of AAV-CRISPR as a therapeutic approach. This study shows the potential of AAV-CRISPR for permanent genome corrections and highlights aspects of host response and alternative genome editing outcomes that require further study.
Relevant articles
Open Access articles citing this article.
Zhen-Hua Li

,

Jun Wang

…

Xiao Yang

Military Medical Research Open Access 10 March 2023

Derek Hong

&

Lilia M. Iakoucheva

Translational Psychiatry Open Access 16 February 2023

Julie Leann Han

&

Emilia Entcheva

Stem Cell Reviews and Reports Open Access 19 January 2023
Access options
Access Nature and 54 other Nature Portfolio journals
Get Nature+, our best-value online-access subscription
$29.99 per month
cancel any time
Subscribe to this journal
Receive 12 print issues and online access
$189.00 per year
only $15.75 per issue
Rent or buy this article
Get just this article for as long as you need it
$39.95
Prices may be subject to local taxes which are calculated during checkout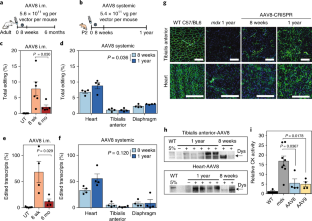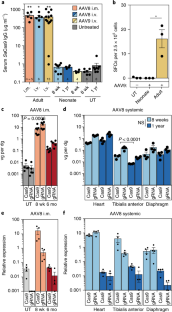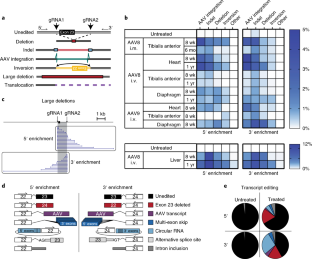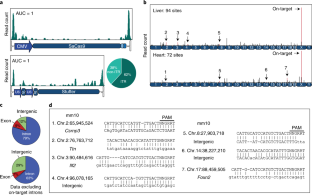 Data availability
All custom code for reproducing Figs. 1c,d, 3b,d, and 4a–d have been made available online (https://github.com/chrisnelsonlab/CRISPR-Tn5/). All sequencing data used in this study have been deposited in the National Center for Biotechnology Information Sequence Read Archive (SRA) database (SRP157083). Full uncropped gels are included as Source data. All other relevant raw data are available from the corresponding author on request.
References
Nelson, C. E., Robinson-Hamm, J. N. & Gersbach, C. A. Genome engineering: a new approach to gene therapy for neuromuscular disorders. Nat. Rev. Neurol. 13, 647–661 (2017).

Xu, L. et al. CRISPR-mediated genome editing restores dystrophin expression and function in mdx mice. Mol. Ther. 24, 564–569 (2016).

Long, C., Amoasii, L., Bassel-Duby, R. & Olson, E. N. Genome editing of monogenic neuromuscular diseases: a systematic review. JAMA Neurol. 73, 1349–1355 (2016).

Nelson, C. E. et al. In vivo genome editing improves muscle function in a mouse model of Duchenne muscular dystrophy. Science 351, 403–407 (2016).

Tabebordbar, M. et al. In vivo gene editing in dystrophic mouse muscle and muscle stem cells. Science 351, 407–411 (2016).

Bengtsson, N. E. et al. Muscle-specific CRISPR/Cas9 dystrophin gene editing ameliorates pathophysiology in a mouse model for Duchenne muscular dystrophy. Nat. Commun. 8, 14454 (2017).

Chew, W. L. et al. A multifunctional AAV-CRISPR–Cas9 and its host response. Nat. Methods 13, 868–874 (2016).

Flanigan, K. M. Duchenne and Becker muscular dystrophies. Neurol. Clin. 32, 671–688 (2014).

Hoffman, E. P., Brown, R. H. Jr. & Kunkel, L. M. Dystrophin: the protein product of the Duchenne muscular dystrophy locus. Cell 51, 919–928 (1987).

Chamberlain, J. R. & Chamberlain, J. S. Progress toward gene therapy for Duchenne muscular dystrophy. Mol. Ther. 25, 1125–1131 (2017).

Robinson-Hamm, J. N. & Gersbach, C. A. Gene therapies that restore dystrophin expression for the treatment of Duchenne muscular dystrophy. Hum. Genet. 135, 1029–1040 (2016).

Dunbar, C. E. et al. Gene therapy comes of age. Science 359, eaan4672 (2018).

Sharma, R. et al. In vivo genome editing of the albumin locus as a platform for protein replacement therapy. Blood 126, 1777–1784 (2015).

Laoharawee, K. et al. Dose-dependent prevention of metabolic and neurologic disease in murine MPS II by ZFN-mediated in vivo genome editing. Mol. Ther. 26, 1127–1136 (2018).

Amoasii, L. et al. Single-cut genome editing restores dystrophin expression in a new mouse model of muscular dystrophy. Sci. Transl. Med. 9, eaan8081 (2017).

Amoasii, L. et al. Gene editing restores dystrophin expression in a canine model of Duchenne muscular dystrophy. Science 362, 86–91 (2018).

Ran, F. A. et al. In vivo genome editing using Staphylococcus aureus Cas9. Nature 520, 186–191 (2015).

Kotterman, M. A. & Schaffer, D. V. Engineering adeno-associated viruses for clinical gene therapy. Nat. Rev. Genet. 15, 445–451 (2014).

Spencer, M. J., Montecino-Rodriguez, E., Dorshkind, K. & Tidball, J. G. Helper (CD4+) and cytotoxic (CD8+) T cells promote the pathology of dystrophin-deficient muscle. Clin. Immunol. 98, 235–243 (2001).

Kotterman, M. A., Chalberg, T. W. & Schaffer, D. V. Viral vectors for gene therapy: translational and clinical outlook. Annu. Rev. Biomed. Eng. 17, 63–89 (2015).

Brooks, A. R. et al. Transcriptional silencing is associated with extensive methylation of the CMV promoter following adenoviral gene delivery to muscle. J. Gene Med. 6, 395–404 (2004).

Charlesworth, C. T. et al. Identification of pre-existing adaptive immunity to Cas9 Proteins in humans. Nat. Med. https://doi.org/10.1038/s41591-018-0326-x (2019).

Thakore, P. I. et al. RNA-guided transcriptional silencing in vivo with S. aureus CRISPR–Cas9 repressors. Nat. Commun. 9, 1674 (2018).

Hu, C. & Lipshutz, G. S. AAV-based neonatal gene therapy for hemophilia A: long-term correction and avoidance of immune responses in mice. Gene Ther. 19, 1166–1176 (2012).

Lee, E. K. et al. Long-term survival of the juvenile lethal arginase-deficient mouse with AAV gene therapy. Mol. Ther. 20, 1844–1851 (2012).

Singh, K. et al. Efficient in vivo liver-directed gene editing using CRISPR/Cas9. Mol. Ther. 26, 1241–1254 (2018).

Zhang, P. et al. Immunodominant liver-specific expression suppresses transgene-directed immune responses in murine Pompe disease. Hum. Gene Ther. 23, 460–472 (2012).

Ferdosi, S. R. et al. Multifunctional CRISPR/Cas9 with engineered immunosilenced human T cell epitopes. Preprint at https://www.biorxiv.org/content/early/2018/07/02/360198 (2018).

Nelson, C. E. & Gersbach, C. A. Engineering delivery vehicles for genome editing. Annu. Rev. Chem. Biomol. Eng. 7, 637–662 (2016).

Giannoukos, G. et al. UDiTaSTM, a genome editing detection method for indels and genome rearrangements. BMC Genomics 19, 212 (2018).

Iyombe-Engembe, J. P. et al. Efficient restoration of the dystrophin gene reading frame and protein structure in DMD myoblasts using the CinDel method. Mol. Ther. Nucleic Acids 5, e283 (2016).

Kosicki, M., Tomberg, K. & Bradley, A. Repair of double-strand breaks induced by CRISPR-Cas9 leads to large deletions and complex rearrangements. Nat. Biotechnol. 36, 765–771 (2018).

Memczak, S. et al. Circular RNAs are a large class of animal RNAs with regulatory potency. Nature 495, 333–338 (2013).

Cox, D. B., Platt, R. J. & Zhang, F. Therapeutic genome editing: prospects and challenges. Nat. Med. 21, 121–131 (2015).

Miller, D. G., Petek, L. M. & Russell, D. W. Adeno-associated virus vectors integrate at chromosome breakage sites. Nat. Genet. 36, 767–773 (2004).

Chandler, R. J. et al. Vector design influences hepatic genotoxicity after adeno-associated virus gene therapy. J. Clin. Invest. 125, 870–880 (2015).

Barzel, A. et al. Promoterless gene targeting without nucleases ameliorates haemophilia B in mice. Nature 517, 360–364 (2015).

Bell, P. et al. No evidence for tumorigenesis of AAV vectors in a large-scale study in mice. Mol. Ther. 12, 299–306 (2005).

Donsante, A. et al. AAV vector integration sites in mouse hepatocellular carcinoma. Science 317, 477 (2007).

Gil-Farina, I. et al. Recombinant AAV integration is not associated with hepatic genotoxicity in nonhuman primates and patients. Mol. Ther. 24, 1100–1105 (2016).

Gombash Lampe, S. E., Kaspar, B. K. & Foust, K. D. Intravenous injections in neonatal mice. J. Vis. Exp. 93, e52037 (2014).

Pinello, L. et al. Analyzing CRISPR genome-editing experiments with CRISPResso. Nat. Biotechnol. 34, 695–697 (2016).

Wang, D. et al. Adenovirus-mediated somatic genome editing of Pten by CRISPR/Cas9 in mouse liver in spite of Cas9-specific immune responses. Hum. Gene Ther. 26, 432–442 (2015).

Chen, J. et al. The use of self-adjuvanting nanofiber vaccines to elicit high-affinity B cell responses to peptide antigens without inflammation. Biomaterials 34, 8776–8785 (2013).

Zincarelli, C. et al. Analysis of AAV serotypes 1–9 mediated gene expression and tropism in mice after systemic injection. Mol. Ther. 16, 1073–1080 (2008).

Crooks, G. E., Hon, G., Chandonia, J. M. & Brenner, S. E. WebLogo: a sequence logo generator. Genome Res. 14, 1188–1190 (2004).
Acknowledgements
This work has been supported by Sarepta Therapeutics, the Allen Distinguished Investigator Program through The Paul G. Allen Frontiers Group, the Muscular Dystrophy Association (grant MDA277360), a Duke–Coulter Translational Partnership Grant, a Duke/UNC-Chapel Hill CTSA Consortium Collaborative Translational Research Award, NIH grant R01AR069085, an NIH Director's New Innovator Award (DP2OD008586) and the Office of the Assistant Secretary of Defense for Health Affairs, through the Duchenne Muscular Dystrophy Research Program under awards W81XWH-15-1-0469 and W81XWH-16-1-0221. C.E.N. was supported by a Hartwell Foundation Postdoctoral Fellowship and the NIH Pathway to Independence Award (K99EB023979). J.N.R.-H. was supported by a National Science Foundation Graduate Research Fellowship and American Heart Association Predoctoral Fellowship (17PRE33350013).
Ethics declarations
Competing interests
J.N.R.-H., C.E.N. and C.A.G. have filed patent applications related to genome editing for Duchenne muscular dystrophy. C.A.G. is an advisor for Sarepta Therapeutics, and a co-founder of and advisor for Element Genomics and Locus Biosciences. A.A. is a co-founder of and advisor for StrideBio.
Additional information
Publisher's note: Springer Nature remains neutral with regard to jurisdictional claims in published maps and institutional affiliations.
Supplementary information
Source data
Unprocessed histological images and western blots
Western blots for preparation of recombinant SaCas9
About this article
Cite this article
Nelson, C.E., Wu, Y., Gemberling, M.P. et al. Long-term evaluation of AAV-CRISPR genome editing for Duchenne muscular dystrophy. Nat Med 25, 427–432 (2019). https://doi.org/10.1038/s41591-019-0344-3
Received:

Accepted:

Published:

Issue Date:

DOI: https://doi.org/10.1038/s41591-019-0344-3