Abstract
Apolipoprotein-E (ApoE) has been implicated in Alzheimer's disease, atherosclerosis, and other unresolvable inflammatory conditions but a common mechanism of action remains elusive. We found in ApoE-deficient mice that oxidized lipids activated the classical complement cascade (CCC), resulting in leukocyte infiltration of the choroid plexus (ChP). All human ApoE isoforms attenuated CCC activity via high-affinity binding to the activated CCC-initiating C1q protein (KD~140–580 pM) in vitro, and C1q–ApoE complexes emerged as markers for ongoing complement activity of diseased ChPs, Aβ plaques, and atherosclerosis in vivo. C1q–ApoE complexes in human ChPs, Aβ plaques, and arteries correlated with cognitive decline and atherosclerosis, respectively. Treatment with small interfering RNA (siRNA) against C5, which is formed by all complement pathways, attenuated murine ChP inflammation, Aβ-associated microglia accumulation, and atherosclerosis. Thus, ApoE is a direct checkpoint inhibitor of unresolvable inflammation, and reducing C5 attenuates disease burden.
Relevant articles
Open Access articles citing this article.
Jaisalmer de Frutos Lucas

,

Kelsey R. Sewell

…

Belinda M. Brown

Alzheimer's Research & Therapy Open Access 27 January 2023

Rosalía Fernández-Calle

,

Sabine C. Konings

…

Tomas Deierborg

Molecular Neurodegeneration Open Access 24 September 2022

Rong Yin

,

Linpeng Yang

…

Pengcheng Fan

Journal of Neuroinflammation Open Access 04 April 2022
Access options
Subscribe to Nature+
Get immediate online access to Nature and 55 other Nature journal
Subscribe to Journal
Get full journal access for 1 year
$79.00
only $6.58 per issue
All prices are NET prices.
VAT will be added later in the checkout.
Tax calculation will be finalised during checkout.
Buy article
Get time limited or full article access on ReadCube.
$32.00
All prices are NET prices.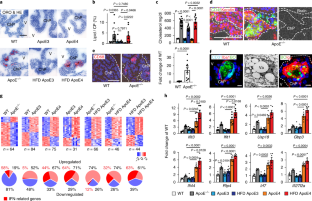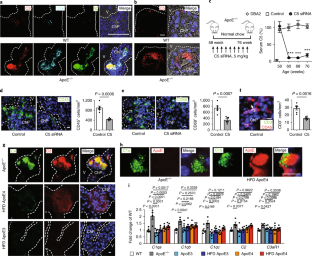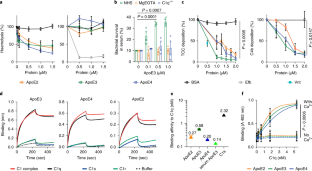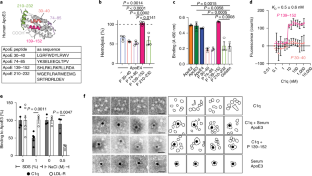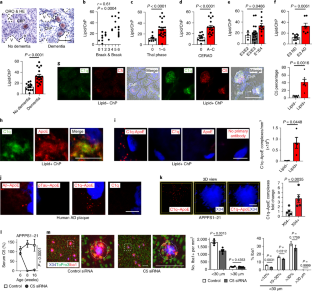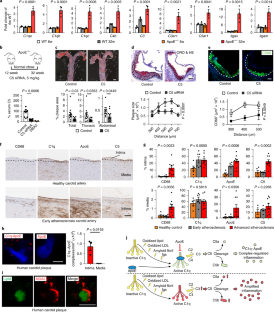 Data availability
All microarray data can be found under GEO database accession number GSE85774 and GSE85775 for ChPs. Microarray data for aorta had been published previously with the accession number GSE40156 (ref. 57). The remaining source data for figures in the manuscript will be made available upon reasonable request.
References
Bell, R. D. et al. Apolipoprotein E controls cerebrovascular integrity via cyclophilin A. Nature 485, 512–516 (2012).

Holtzman, D. M., Herz, J. & Bu, G. Apolipoprotein E and apolipoprotein E receptors: normal biology and roles in Alzheimer disease. Cold Spring Harb. Perspect. Med. 2, a006312 (2012).

Kanekiyo, T., Xu, H. & Bu, G. ApoE and Aβ in Alzheimer's disease: accidental encounters or partners? Neuron 81, 740–754 (2014).

Linton, M. F., Atkinson, J. B. & Fazio, S. Prevention of atherosclerosis in apolipoprotein E-deficient mice by bone marrow transplantation. Science 267, 1034–1037 (1995).

Mahley, R. W., Weisgraber, K. H. & Huang, Y. Apolipoprotein E: structure determines function, from atherosclerosis to Alzheimer's disease to AIDS. J. Lipid Res. 50 Suppl, S183–S188 (2009).

Zlokovic, B. V. Cerebrovascular effects of apolipoprotein E: implications for Alzheimer disease. JAMA Neurol 70, 440–444 (2013).

Mahley, R. W. & Huang, Y. Apolipoprotein E sets the stage: response to injury triggers neuropathology. Neuron 76, 871–885 (2012).

Hansson, G. K. & Hermansson, A. The immune system in atherosclerosis. Nat. Immunol. 12, 204–212 (2011).

Que, X. et al. Oxidized phospholipids are proinflammatory and proatherogenic in hypercholesterolaemic mice. Nature 558, 301–306 (2018).

Goldmann, T. et al. Origin, fate and dynamics of macrophages at central nervous system interfaces. Nat. Immunol. 17, 797–805 (2016).

Lun, M. P., Monuki, E. S. & Lehtinen, M. K. Development and functions of the choroid plexus-cerebrospinal fluid system. Nat. Rev. Neurosci. 16, 445–457 (2015).

Moore, G. R. et al. Complement and humoral adaptive immunity in the human choroid plexus: roles for stromal concretions, basement membranes, and epithelium. J. Neuropathol. Exp. Neurol. 75, 415–428 (2016).

Ransohoff, R. M. & Engelhardt, B. The anatomical and cellular basis of immune surveillance in the central nervous system. Nat. Rev. Immunol. 12, 623–635 (2012).

Schwartz, M. & Baruch, K. The resolution of neuroinflammation in neurodegeneration: leukocyte recruitment via the choroid plexus. EMBO J. 33, 7–22 (2014).

Baruch, K. et al. Aging. Aging-induced type I interferon response at the choroid plexus negatively affects brain function. Science 346, 89–93 (2014).

Binder, C. J., Papac-Milicevic, N. & Witztum, J. L. Innate sensing of oxidation-specific epitopes in health and disease. Nat. Rev. Immunol. 16, 485–497 (2016).

Weismann, D. et al. Complement factor H binds malondialdehyde epitopes and protects from oxidative stress. Nature 478, 76–81 (2011).

Zipfel, P. F. & Skerka, C. Complement regulators and inhibitory proteins. Nat. Rev. Immunol. 9, 729–740 (2009).

Arlaud, G. J., Biro, A. & Ling, W. L. Enzymatically modified low-density lipoprotein is recognized by C1q and activates the classical complement pathway. J. Lipids 2011, 376092 (2011).

Haapasalo, K. et al. Complement factor H binds to human serum apolipoprotein E and mediates complement regulation on high density lipoprotein particles. J. Biol. Chem. 290, 28977–28987 (2015).

Wilson, C. et al. Three-dimensional structure of the LDL receptor-binding domain of human apolipoprotein E. Science 252, 1817–1822 (1991).

Venkatraman Girija, U. et al. Structural basis of the C1q/C1s interaction and its central role in assembly of the C1 complex of complement activation. Proc. Natl Acad. Sci. USA 110, 13916–13920 (2013).

Braak, H. et al. Staging of Alzheimer disease-associated neurofibrillary pathology using paraffin sections and immunocytochemistry. Acta Neuropathol. 112, 389–404 (2006).

Thal, D. R., Rüb, U., Orantes, M. & Braak, H. Phases of Aβ-deposition in the human brain and its relevance for the development of AD. Neurology 58, 1791–1800 (2002).

Soderberg, O. et al. Direct observation of individual endogenous protein complexes in situ by proximity ligation. Nat. Methods 3, 995–1000 (2006).

Strittmatter, W. J. et al. Isoform-specific interactions of apolipoprotein E with microtubule-associated protein tau: implications for Alzheimer disease. Proc. Natl Acad. Sci. USA 91, 11183–11186 (1994).

Radde, R. et al. Aβ42-driven cerebral amyloidosis in transgenic mice reveals early and robust pathology. EMBO Rep. 7, 940–946 (2006).

Grabner, R. et al. Lymphotoxin beta receptor signaling promotes tertiary lymphoid organogenesis in the aorta adventitia of aged ApoE−/− mice. J. Exp. Med. 206, 233–248 (2009).

Stary, H. C. Natural history and histological classification of atherosclerotic lesions: an update. Arterioscler. Thromb. Vasc. Biol. 20, 1177–1178 (2000).

Hong, S. et al. Complement and microglia mediate early synapse loss in Alzheimer mouse models. Science 352, 712–716 (2016).

Stevens, B. et al. The classical complement cascade mediates CNS synapse elimination. Cell 131, 1164–1178 (2007).

Kolev, M., Friec, G. L. & Kemper, C. Complement - tapping into new sites and effector systems. Nat. Rev. Immunol. 14, 811–820 (2014).

Vasek, M. J. et al. A complement–microglial axis drives synapse loss during virus-induced memory impairment. Nature 534, 538–543 (2016).

Hajishengallis, G. et al. Novel mechanisms and functions of complement. Nat. Immunol. 18, 1288–1298 (2017).

Dinarello, C. A. Anti-inflammatory agents: present and future. Cell 140, 935–950 (2010).

Ricklin, D. & Lambris, J. D. Complement in immune and inflammatory disorders: pathophysiological mechanisms. J. Immunol. 190, 3831–3838 (2013).

Tabas, I. & Glass, C. K. Anti-inflammatory therapy in chronic disease: challenges and opportunities. Science 339, 166–172 (2013).

Fonseca, M. I., Zhou, J., Botto, M. & Tenner, A. J. Absence of C1q leads to less neuropathology in transgenic mouse models of Alzheimer's disease. J. Neurosci. 24, 6457–6465 (2004).

Huang, Y. A., Zhou, B., Wernig, M. & Sudhof, T. C. ApoE2, ApoE3, and ApoE4 differentially stimulate APP transcription and Abeta secretion. Cell 168, 427–441.e421 (2017).

Shi, Y. et al. ApoE4 markedly exacerbates tau-mediated neurodegeneration in a mouse model of tauopathy. Nature 549, 523–527 (2017).

Bales, K. R. et al. Lack of apolipoprotein E dramatically reduces amyloid beta-peptide deposition. Nat. Genet. 17, 263–264 (1997).

Huynh, T. V. et al. Age-dependent effects of apoE reduction using antisense oligonucleotides in a model of beta-amyloidosis. Neuron 96, 1013–1023.e1014 (2017).

Liu, C. C. et al. ApoE4 accelerates early seeding of amyloid pathology. Neuron 96, 1024–1032.e1023 (2017).

Ulrich, J. D. et al. ApoE facilitates the microglial response to amyloid plaque pathology. J. Exp. Med. 215, 1047–1058 (2018).

Wang, C. et al. Gain of toxic apolipoprotein E4 effects in human iPSC-derived neurons is ameliorated by a small-molecule structure corrector. Nat. Med. 24, 647–657 (2018).

Tenner, A. J., Stevens, B. & Woodruff, T. M. New tricks for an ancient system: Physiological and pathological roles of complement in the CNS. Mol. Immunol. 102, 3–13 (2018).

Qiu, C. & Fratiglioni, L. A major role for cardiovascular burden in age-related cognitive decline. Nat. Rev. Cardiol. 12, 267–277 (2015).

Hofman, A. et al. Atherosclerosis, apolipoprotein E, and prevalence of dementia and Alzheimer's disease in the Rotterdam Study. Lancet 349, 151–154 (1997).

Macedo, A. C. L. & Isaac, L. Systemic lupus erythematosus and deficiencies of early components of the complement classical pathway. Front. Immunol. 7, 55 (2016).

Zhang, B. et al. Integrated systems approach identifies genetic nodes and networks in late-onset Alzheimer's disease. Cell 153, 707–720 (2013).

Knouff, C. et al. Apo E structure determines VLDL clearance and atherosclerosis risk in mice. J. Clin. Invest. 103, 1579–1586 (1999).

Alafuzoff, I. et al. Staging of neurofibrillary pathology in Alzheimer's disease: a study of the BrainNet Europe Consortium. Brain. Pathol. 18, 484–496 (2008).

Alafuzoff, I. et al. Assessment of beta-amyloid deposits in human brain: a study of the BrainNet Europe Consortium. Acta Neuropathol. 117, 309–320 (2009).

Hyman, B. T. et al. National institute on aging-Alzheimer's association guidelines for the neuropathologic assessment of Alzheimer's disease. Alzheimers Dement. 8, 1–13 (2012).

Timaran, C. H., McKinsey, J. F., Schneider, P. A. & Littooy, F. Reporting standards for carotid interventions from the Society for Vascular Surgery. J. Vasc. Surg. 53, 1679–1695 (2011).

Abbott, A. L. et al. Systematic review of guidelines for the management of asymptomatic and symptomatic carotid stenosis. Stroke 46, 3288–3301 (2015).

Hu, D. et al. Artery Tertiary lymphoid organs control aorta immunity and protect against atherosclerosis via vascular smooth muscle cell lymphotoxin β receptors. Immunity 42, 1100–1115 (2015).

Greissel, A. et al. Alternation of histone and DNA methylation in human atherosclerotic carotid plaques. Thromb. Haemost. 114, 390–402 (2015).

Wendorff, C. et al. Carotid plaque morphology is significantly associated with sex, age, and history of neurological symptoms. Stroke 46, 3213–3219 (2015).

Franklin, K. & George, P. The Mouse Brain in Stereotaxic Coordinates, Compact 3rd edn. (Academic Press, Cambridge, MA, 2007).

Zhao, L. et al. The 5-lipoxygenase pathway promotes pathogenesis of hyperlipidemia-dependent aortic aneurysm. Nat. Med. 10, 966–973 (2004).

Haege, S. et al. CXC Chemokine receptor 7 (CXCR7) regulates CXCR4 protein expression and capillary tuft development in mouse kidney. PLoS One 7, e42814 (2012).

Yin, C. et al. Generation of aorta transcript atlases of wild-type and apolipoprotein e-null mice by laser capture microdissection-based mRNA expression microarrays. Methods Mol. Biol. 1339, 297–308 (2015).

Beer, M. et al. Laser-capture microdissection of hyperlipidemic/ApoE−/− mouse aorta atherosclerosis. Methods Mol. Biol. 755, 417–428 (2011).

Koch, T. K. et al. Staphylococcus aureus proteins Sbi and Efb recruit human plasmin to degrade complement C3 and C3b. PLoS One 7, e47638 (2012).
Acknowledgements
We thank W. Schneider, Medical University of Vienna, Austria, for advice; T. Hallström, Y. Lin, and S. Hälbich, Leibniz Institute for Natural Product Research and Infection Biology, Jena, for performing complement assays; W. Wilfert, Institute of Laboratory Medicine, University of Munich for lipid analyses; S. Schmidt, Institute for Experimental Neurology, Jena, for advice; and N. Buresch, Center for Neuropathology and Prion Research, Munich, for technical assistance; M. Jucker, Hertie Institute for Clinical Brain Research, University of Tübingen, for experimental support. This work was funded by the Deutsche Forschungsgemeinschaft (DFG): YI 133/2-1 to C.Y.; HA 1083/15-4 to A.J.R.H.; MO 3054/1-1 to S.M.; The German Collaborative Research Center (CRC124/2-C4), SK46/2 to C.S.; CRC124/2-C6 and DFG TR 1992 to P.F.Z.; the German Centre for Cardiovascular Research (DZHK MHA VD1.2), DFG SFB 1123/A1 and Z3, the European Research Council (ERC AdG 692511) to C.W.; SFB1123/Z01, INST409/150-1 FUGG to R.T.A.M.; Chinese National Natural Science Foundation (31770983) to D.H.; S.A. and L.D.H. are doctoral researchers at the International Leibniz Research School (ILRS) in Jena.
Ethics declarations
Competing interests
C.Y., A.J.R.H., A.B., S.K.M., S.A., P.F.Z., and C.S. declare competing financial interests. C.Y., S.K.M., and A.J.R.H. are owners of Easemedcontrol R & D GmbH & Co KG Munich, Germany; A.B. is employed by Alnylam Pharmaceuticals Cambridge; Cambridge, MA, USA; C.Y. and A.J.R.H. have been named inventors on a pending patent application related to treatment and diagnosis of unresolvable inflammatory diseases (EP18183584.4); A.B. has been named as an inventor on patent applications related to C5 including PCT publication WO2014160129, and applications and patents based thereon; S.A., P.F.Z., and C.S. have been named inventors on a pending patent application (DE 10 2018 100 377.3).
Additional information
Publisher's note: Springer Nature remains neutral with regard to jurisdictional claims in published maps and institutional affiliations.
Supplementary information
Source data
Unprocessed Western Blots gels for extended figure 3.
Unprocessed Western Blots gels for extended figure 5.
About this article
Cite this article
Yin, C., Ackermann, S., Ma, Z. et al. ApoE attenuates unresolvable inflammation by complex formation with activated C1q. Nat Med 25, 496–506 (2019). https://doi.org/10.1038/s41591-018-0336-8
Received:

Accepted:

Published:

Issue Date:

DOI: https://doi.org/10.1038/s41591-018-0336-8