Abstract
Defective brain hormonal signaling has been associated with Alzheimer's disease (AD), a disorder characterized by synapse and memory failure. Irisin is an exercise-induced myokine released on cleavage of the membrane-bound precursor protein fibronectin type III domain-containing protein 5 (FNDC5), also expressed in the hippocampus. Here we show that FNDC5/irisin levels are reduced in AD hippocampi and cerebrospinal fluid, and in experimental AD models. Knockdown of brain FNDC5/irisin impairs long-term potentiation and novel object recognition memory in mice. Conversely, boosting brain levels of FNDC5/irisin rescues synaptic plasticity and memory in AD mouse models. Peripheral overexpression of FNDC5/irisin rescues memory impairment, whereas blockade of either peripheral or brain FNDC5/irisin attenuates the neuroprotective actions of physical exercise on synaptic plasticity and memory in AD mice. By showing that FNDC5/irisin is an important mediator of the beneficial effects of exercise in AD models, our findings place FNDC5/irisin as a novel agent capable of opposing synapse failure and memory impairment in AD.
This is a preview of subscription content
Access options
Subscribe to Journal
Get full journal access for 1 year
$59.00
only $4.92 per issue
All prices are NET prices.
VAT will be added later in the checkout.
Tax calculation will be finalised during checkout.
Rent or Buy article
Get time limited or full article access on ReadCube.
from$8.99
All prices are NET prices.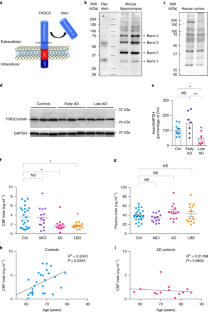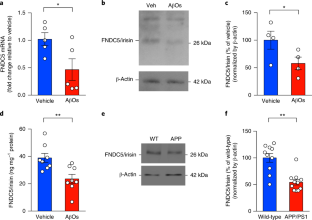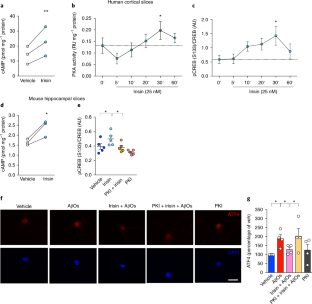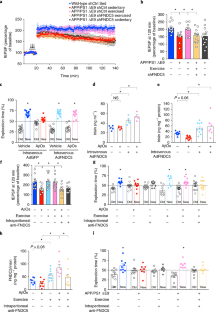 Data availability
Mass spectrometry raw data (Fig. 1 and Extended Data Fig. 1) and full blots (Fig. 2 and Extended Data Figs. 3,4, and 10) are available as source data files accompanying this article. Additional data that support the findings of this study are available from the corresponding author upon reasonable request. Requests of datasets obtained from human research will be subject to additional review steps by the IRB that has granted permit for a particular research. Please contact the corresponding authors for additional information.
References
1.

Prince, M. et al. The global prevalence of dementia: a systematic review and metaanalysis. Alzheimers Dement. 9, 63–75.e62 (2013).

2.

Ferreira, S. T., Lourenco, M. V., Oliveira, M. M. & De Felice, F. G. Soluble amyloid-β oligomers as synaptotoxins leading to cognitive impairment in Alzheimer's disease. Front. Cell. Neurosci. 9, 191 (2015).

3.

Fernandez, A. M. & Torres-Alemán, I. The many faces of insulin-like peptide signalling in the brain. Nat. Rev. Neurosci. 13, 225–239 (2012).

4.

Biessels, G. J. & Reagan, L. P. Hippocampal insulin resistance and cognitive dysfunction. Nat. Rev. Neurosci. 16, 660–671 (2015).

5.

McEwen, B. S. Preserving neuroplasticity: role of glucocorticoids and neurotrophins via phosphorylation. Proc. Natl Acad. Sci. USA 112, 15544–15545 (2015).

6.

During, M. J. et al. Glucagon-like peptide-1 receptor is involved in learning and neuroprotection. Nat. Med. 9, 1173–1179 (2003).

7.

Chiu, S.-L., Chen, C.-M. & Cline, H. T. Insulin receptor signaling regulates synapse number, dendritic plasticity, and circuit function in vivo. Neuron 58, 708–719 (2008).

8.

Grillo, C. A. et al. Hippocampal insulin resistance impairs spatial learning and synaptic plasticity. Diabetes 64, 3927–3936 (2015).

9.

Irving, A. J. & Harvey, J. Leptin regulation of hippocampal synaptic function in health and disease. Philos. Trans. R. Soc. Lond. B 369, 20130155 (2013).

10.

Lourenco, M. V., Ferreira, S. T. & De Felice, F. G. Neuronal stress signaling and eIF2α phosphorylation as molecular links between Alzheimer's disease and diabetes. Prog. Neurobiol. 129, 37–57 (2015).

11.

Bomfim, T. R. et al. An anti-diabetes agent protects the mouse brain from defective insulin signaling caused by Alzheimer's disease-associated Aβ oligomers. J. Clin. Invest. 122, 1339–1353 (2012).

12.

Talbot, K. et al. Demonstrated brain insulin resistance in Alzheimer's disease patients is associated with IGF-1 resistance, IRS-1 dysregulation, and cognitive decline. J. Clin. Invest. 122, 1316–1338 (2012).

13.

De Felice, F. G., Lourenco, M. V. & Ferreira, S. T. How does brain insulin resistance develop in Alzheimer's disease? Alzheimers Dement. 10, S26–S32 (2014).

14.

Wadman, M. US government sets out Alzheimer's plan. Nature 485, 426–427 (2012).

15.

De Felice, F. G. Alzheimer's disease and insulin resistance: translating basic science into clinical applications. J. Clin. Invest. 123, 531–539 (2013).

16.

Boström, P. et al. A PGC1-α-dependent myokine that drives brown-fat-like development of white fat and thermogenesis. Nature 481, 463–468 (2012).

17.

Jedrychowski, M. P. et al. Detection and quantitation of circulating human irisin by tandem mass spectrometry. Cell Metab. 22, 734–740 (2015).

18.

Wrann, C.D. et al. Exercise induces hippocampal BDNF through a PGC-1α/FNDC5 pathway. Cell Metab. 18, 649–659 (2013).

19.

Chen, K. et al. Irisin protects mitochondria function during pulmonary ischemia/reperfusion injury. Sci. Transl. Med. 9, eaao6298 (2017).

20.

Lee, P. et al. Irisin and FGF21 are cold-induced endocrine activators of brown fat function in humans. Cell Metab. 19, 302–309 (2014).

21.

Schumacher, M. A., Chinnam, N., Ohashi, T., Shah, R. S. & Erickson, H. P. The structure of irisin reveals a novel intersubunit β-sheet fibronectin type III (FNIII) dimer: implications for receptor activation. J. Biol. Chem. 288, 33738–33744 (2013).

22.

Mucke, L. & Selkoe, D. J. Neurotoxicity of amyloid β-protein: synaptic and network dysfunction. Cold Spring Harb. Perspect. Med. 2, a0063381 (2012).

23.

Sebollela, A. et al. Amyloid-β oligomers induce differential gene expression in adult human brain slices. J. Biol. Chem. 287, 7436–7445 (2012).

24.

Colaianni, G. et al. The myokine irisin increases cortical bone mass. Proc. Natl Acad. Sci. USA 112, 12157–12162 (2015).

25.

Figueiredo, C. P. et al. Memantine rescues transient cognitive impairment caused by high-molecular-weight Aβ oligomers but not the persistent impairment induced by low-molecular-weight oligomers. J. Neurosci. 33, 9626–9634 (2013).

26.

Lourenco, M. V. et al. TNF-α mediates PKR-dependent memory impairment and brain IRS-1 inhibition induced by Alzheimer's β-amyloid oligomers in mice and monkeys. Cell Metab. 18, 831–843 (2013).

27.

Jankowsky, J. L. et al. Co-expression of multiple transgenes in mouse CNS: a comparison of strategies. Biomol. Eng. 17, 157–165 (2001).

28.

Cheng, A. et al. Involvement of PGC-1α in the formation and maintenance of neuronal dendritic spines. Nat. Commun. 3, 1250 (2012).

29.

Holcomb, L. et al. Accelerated Alzheimer-type phenotype in transgenic mice carrying both mutant amyloid precursor protein and presenilin 1 transgenes. Nat. Med. 4, 97–100 (1998).

30.

Ma, T. et al. Suppression of eIF2α kinases alleviates Alzheimer's disease-related plasticity and memory deficits. Nat. Neurosci. 16, 1299–1305 (2013).

31.

Yang, W. et al. Repression of the eIF2α kinase PERK alleviates mGluR-LTD impairments in a mouse model of Alzheimer's disease. Neurobiol. Aging 41, 19–24 (2016).

32.

Trinh, M. A. & Klann, E. Translational control by eIF2α kinases in long-lasting synaptic plasticity and long-term memory. Neurobiol. Learn. Mem. 105, 93–99 (2013).

33.

Gong, B. et al. Persistent improvement in synaptic and cognitive functions in an Alzheimer mouse model after rolipram treatment. J. Clin. Invest. 114, 1624–1634 (2004).

34.

Vitolo, O. V. et al. Amyloid β-peptide inhibition of the PKA/CREB pathway and long-term potentiation: reversibility by drugs that enhance cAMP signaling. Proc. Natl Acad. Sci. USA 99, 13217–13221 (2002).

35.

Schaefer, N. et al. The malleable brain: plasticity of neural circuits and behavior: a review from students to students. J. Neurochem. 142, 790–811 (2017).

36.

Katsnelson, A., De Strooper, B. & Zoghbi, H. Y. Neurodegeneration: from cellular concepts to clinical applications. Sci. Transl. Med. 8, 364ps318 (2016).

37.

Selkoe, D. J. Alzheimer's disease is a synaptic failure. Science 298, 789–791 (2002).

38.

Lepeta, K. et al. Synaptopathies: synaptic dysfunction in neurological disorders: a review from students to students. J. Neurochem. 138, 785–805 (2016).

39.

Zhang, Y. et al. Irisin stimulates browning of white adipocytes through mitogen-activated protein kinase p38 MAP kinase and ERK MAP kinase signaling. Diabetes 63, 514–525 (2014).

40.

Timmons, J. A., Baar, K., Davidsen, P. K. & Atherton, P. J. Is irisin a human exercise gene? Nature 488, E9–E10 (2012).

41.

Albrecht, E. et al. Irisin: a myth rather than an exercise-inducible myokine. Sci. Rep. 5, 8889 (2015).

42.

Martin, K. C. & Kandel, E. R. Cell adhesion molecules, CREB, and the formation of new synaptic connections. Neuron 17, 567–570 (1996).

43.

Suwabe, K. et al. Rapid stimulation of human dentate gyrus function with acute mild exercise. Proc. Natl Acad. Sci. USA 115, 10487–10492 (2018).

44.

van Praag, H., Fleshner, M., Schwartz, M. W. & Mattson, M. P. Exercise, energy intake, glucose homeostasis, and the brain. J. Neurosci. 34, 15139–15149 (2014).

45.

Neufer, P. D. et al. Understanding the cellular and molecular mechanisms of physical activity-induced health benefits. Cell Metab. 22, 4–11 (2015).

46.

Baker, L. D. et al. Effects of aerobic exercise on mild cognitive impairment: a controlled trial. Arch. Neurol. 67, 71–79 (2010).

47.

Buchman, A. S. et al. Total daily physical activity and the risk of AD and cognitive decline in older adults. Neurology 78, 1323–1329 (2012).

48.

Okonkwo, O. C. et al. Physical activity attenuates age-related biomarker alterations in preclinical AD. Neurology 83, 1753–1760 (2014).

49.

Müller, S. Relationship between physical activity, cognition, and Alzheimer pathology in autosomal dominant Alzheimer's disease. Alzheimers Dement. 14, 1427–1437 (2018).

50.

Mattson, M. P. Energy intake and exercise as determinants of brain health and vulnerability to injury and disease. Cell Metab. 16, 706–722 (2012).

51.

Moon, H. Y. et al. Running-induced systemic cathepsin B secretion is associated with memory function. Cell Metab. 24, 332–340 (2016).

52.

Sleiman, S. F. et al. Exercise promotes the expression of brain derived neurotrophic factor (BDNF) through the action of the ketone body β-hydroxybutyrate. eLife 5, e15092 (2016).

53.

Smith, R. W., Wang, J., Bucking, C. P., Mothersill, C. E. & Seymour, C. B. Evidence for a protective response by the gill proteome of rainbow trout exposed to X-ray induced bystander signals. Proteomics 7, 4171–4180 (2007).

54.

Mendes, N. D. et al. Free-floating adult human brain-derived slice cultures as a model to study the neuronal impact of Alzheimer's disease-associated Aβ oligomers. J. Neurosci. Meth. 307, 203–209 (2018).

55.

Drummond, C. et al. Deficits in narrative discourse elicited by visual stimuli are already present in patients with mild cognitive impairment. Front. Aging Neurosci. 7, 96 (2015).

56.

Ledo, J. H. et al. Amyloid-β oligomers link depressive-like behavior and cognitive deficits in mice. Mol. Psychiatry 18, 1053–1054 (2013).

57.

Ledo, J. H. et al. Cross talk between brain innate immunity and serotonin signaling underlies depressive-like behavior induced by Alzheimer's amyloid-β oligomers in mice. J. Neurosci. 36, 12106–12116 (2016).

58.

Trinchese, F. et al. Inhibition of calpains improves memory and synaptic transmission in a mouse model of Alzheimer disease. J. Clin. Invest. 118, 2796–2807 (2008).

59.

Alamed, J., Wilcock, D. M., Diamond, D. M., Gordon, M. N. & Morgan, D. Two-day radial-arm water maze learning and memory task; robust resolution of amyloid-related memory deficits in transgenic mice. Nat. Protoc. 1, 1671–1679 (2006).

60.

Puzzo, D. et al. Phosphodiesterase 5 inhibition improves synaptic function, memory, and amyloid-β load in an Alzheimer's disease mouse model. J. Neurosci. 29, 8075–8086 (2009).

61.

Madeira, C. et al. d-serine levels in Alzheimer's disease: implications for novel biomarker development. Transl. Psychiatry 5, e561 (2015).

62.

Seixas Da Silva, G. S. et al. Amyloid-β oligomers transiently inhibits AMP-activated kinase and cause metabolic defects in hippocampal neurons. J. Biol. Chem. 292, 7395–7406 (2017).

63.

Gong, B. et al. Ubiquitin hydrolase Uch-L1 rescues β-amyloid-induced decreases in synaptic function and contextual memory. Cell 126, 775–788 (2006).

64.

De Felice, F. G. et al. Aβ oligomers induce neuronal oxidative stress through an N-methyl-D-aspartate receptor-dependent mechanism that is blocked by the Alzheimer drug memantine. J. Biol. Chem. 282, 11590–11601 (2007).

65.

Lambert, M. P. et al. Monoclonal antibodies that target pathological assemblies of Aβ. J. Neurochem. 100, 23–35 (2007).

66.

Abràmoff, M. D., Magalhães, P. J. & Ram, S. J. Image processing with ImageJ. Biophotonics Int. 11, 36–42 (2004).

67.

Livak, K. J. & Schmittgen, T. D. Analysis of relative gene expression data using real-time quantitative PCR and the 2−ΔΔC T method. Methods 25, 402–408 (2001).

68.

Brito-Moreira, J. et al. Interaction of amyloid-β (Aβ) oligomers with neurexin 2α and neuroligin 1 mediates synapse damage and memory loss in mice. J. Biol. Chem. 292, 7327–7337 (2017).

69.

Schmidt, E. K., Clavarino, G., Ceppi, M. & Pierre, P. SUnSET, a nonradioactive method to monitor protein synthesis. Nat. Methods 6, 275–277 (2009).

70.

Beckman, D. et al. Prion protein modulates monoaminergic systems and depressive-like behavior in mice. J. Biol. Chem. 290, 20488–20498 (2015).
Acknowledgements
This work was supported by grants from Alzheimer Society of Canada (to F.G.D.F.) and the Weston Brain Institute (to F.G.D.F.), National Institute for Translational Neuroscience (INNT/Brazil) (465346/2014-6 to S.T.F. and F.G.F.), Human Frontier Science Program (to F.G.D.F.), International Society for Neurochemistry (CAEN 1B to M.V.L.), National Institutes of Health (NIH-R01NS049442 to O.A.), Canadian Institutes of Health Research (CIHR MOP 136940 and MOP 89919 to V.F.P. and M.A.M.P.), and from the Brazilian funding agencies Conselho Nacional de Desenvolvimento Científico e Tecnológico (CNPq) (451195/2017-5 to M.V.L., 406436/2016-9 to S.T.F., and 473324/2013-0 to F.G.D.F.) and Fundação Carlos Chagas Filho de Amparo à Pesquisa do Estado do Rio de Janeiro (FAPERJ) (202.817/2016 to M.V.L., 201.432/2014 to S.T.F., and 202.944/2015 to F.G.D.F.). R.L.F, G.B.d.F., G.C.K., F.C.R., J.R.C., D.B., and L.F.-G. were supported by fellowships granted by FAPERJ, CNPq, or Comissão de Aperfeiçoamento de Pessoal de Nível Superior (CAPES/Brazil; financial code 001). S.M. was supported by an NIH T32 grant (AG057461). We acknowledge the University of Kentucky Alzheimer's Disease Center and its Neuropathology Core, which is supported by NIH/NIA P30 AG028383, for brain samples. We thank W.L. Klein (Northwestern University) for the kind gift of oligomer-specific NU4 antibodies, B.M. Spiegelman (Harvard University) for sharing AdGFP and AdFNDC5 adenoviral constructs, and J. Wang (Queen's University, Canada) for help with mass spectrometry analyses. We also thank A. Lepelley, M. Oliveira, M. Melo, A.C. Rangel, and the CENABIO team for technical and/or administrative assistance.
Ethics declarations
Competing interests
The authors declare no competing interests.
Additional information
Publisher's note: Springer Nature remains neutral with regard to jurisdictional claims in published maps and institutional affiliations.
Supplementary information
Supplementary Tables 1 and 2, describing patient demographics and PCR primer sequences.
About this article
Cite this article
Lourenco, M.V., Frozza, R.L., de Freitas, G.B. et al. Exercise-linked FNDC5/irisin rescues synaptic plasticity and memory defects in Alzheimer's models. Nat Med 25, 165–175 (2019). https://doi.org/10.1038/s41591-018-0275-4
Received:

Accepted:

Published:

Issue Date: