Preconception cold–induced alterations of sperm DNA methylation result in offspring with altered brown adipose tissue and improved adaptation to overnutrition and hypothermia.
Access options
Subscribe to Journal
Get full journal access for 1 year
$59.00
only $4.92 per issue
All prices are NET prices.
VAT will be added later in the checkout.
Tax calculation will be finalised during checkout.
Rent or Buy article
Get time limited or full article access on ReadCube.
from$8.99
All prices are NET prices.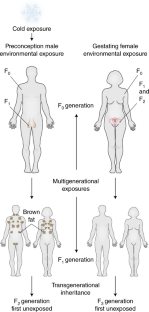 References
1.

Nilsson, E., Sadler-Riggleman, I. & Skinner, M. K. Environ. Epigenet. 4, dvy016 (2018).

2.

Cubas, P., Vincent, C. & Coen, E. Nature 401, 157–161 (1999).

3.

Waddington, C. H. Evolution 7, 118–126 (1953).

4.

Roth, O. & Landis, S. H. Evol. Appl. 10, 514–528 (2017).

5.

Lu, J. J., Tan, D. Y., Baskin, C. C. & Baskin, J. M. Sci. Rep. 6, 25076 (2016).

6.

Kreß, A., Oppold, A. M., Kuch, U., Oehlmann, J. & Müller, R. J. Insect Physiol. 99, 113–121 (2017).

7.

Sun, W. et al. Nat. Med. https://doi.org/10.1038/s41591-018-0102-y (2018).

8.

Symonds, M. E. et al. J. Endocrinol. 238, R53–R62 (2018).

9.

Hales, C. N. & Barker, D. J. Br. Med. Bull. 60, 5–20 (2001).

10.

Fullston, T. et al. FASEB J. 27, 4226–4243 (2013).

11.

Skinner, M. K. Genome Biol. Evol. 7, 1296–1302 (2015).
Acknowledgements
I thank H. Johnson for assistance in preparation of this manuscript. This work was supported by grants from the National Institutes of Health (NIH; ES012974) and the John Templeton Foundation (50183) to M.K.S.
Ethics declarations
Competing interests
The author declares no competing interests.
About this article
Cite this article
Skinner, M.K. Preconception cold–induced epigenetic inheritance. Nat Med 24, 1308–1309 (2018). https://doi.org/10.1038/s41591-018-0187-3
Further reading
Pinreddy Karunakar

,

Ameek Bhalla

&

Abhay Sharma

FEBS Letters (2019)