Abstract
Infants and young children are more susceptible to common respiratory pathogens than adults but can fare better against novel pathogens like severe acute respiratory syndrome coronavirus 2. The mechanisms by which infants and young children mount effective immune responses to respiratory pathogens are unknown. Through investigation of lungs and lung-associated lymph nodes from infant and pediatric organ donors aged 0–13 years, we show that bronchus-associated lymphoid tissue (BALT), containing B cell follicles, CD4+ T cells and functionally active germinal centers, develop during infancy. BALT structures are prevalent around lung airways during the first 3 years of life, and their numbers decline through childhood coincident with the accumulation of memory T cells. Single-cell profiling and repertoire analysis reveals that early life lung B cells undergo differentiation, somatic hypermutation and immunoglobulin class switching and exhibit a more activated profile than lymph node B cells. Moreover, B cells in the lung and lung-associated lymph nodes generate biased antibody responses to multiple respiratory pathogens compared to circulating antibodies, which are mostly specific for vaccine antigens in the early years of life. Together, our findings provide evidence for BALT as an early life adaptation for mobilizing localized immune protection to the diverse respiratory challenges during this formative life stage.
Access options
Access Nature and 54 other Nature Portfolio journals
Get Nature+, our best-value online-access subscription
$29.99 / 30 days
cancel any time
Subscribe to this journal
Receive 12 print issues and online access
$209.00 per year
only $17.42 per issue
Rent or buy this article
Prices vary by article type
from$1.95
to$39.95
Prices may be subject to local taxes which are calculated during checkout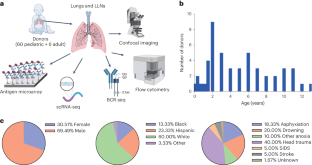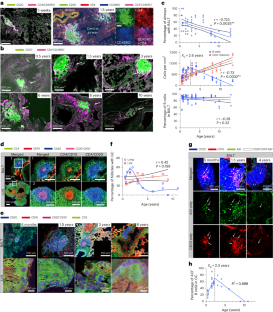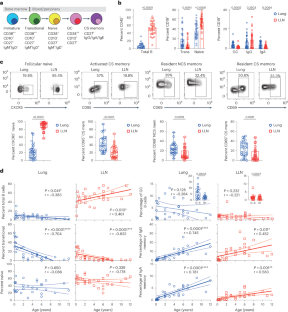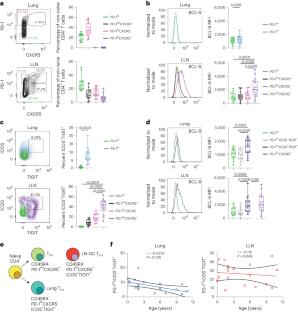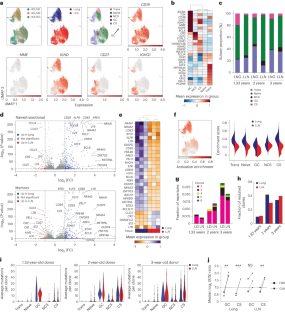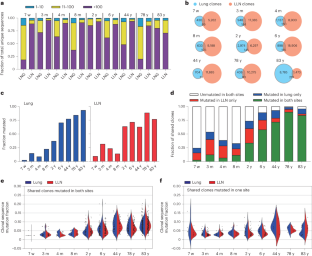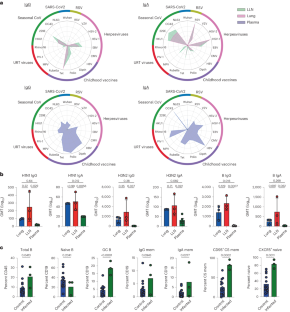 Data availability
BCR-seq data that support the findings of this study have been deposited in the SRA with the accession code PRJNA847585. The single-cell transcriptome and CITE-seq data have been deposited in Gene Expression Omnibus with accession number GSE223646. Source data are provided with this paper.
References
Mohr, E. & Siegrist, C.-A. Vaccination in early life: standing up to the challenges. Curr. Opin. Immunol. 41, 1–8 (2016).

PrabhuDas, M. et al. Challenges in infant immunity: implications for responses to infection and vaccines. Nat. Immunol. 12, 189–194 (2011).

Lu, X. et al. SARS-CoV-2 infection in children. N. Engl. J. Med. 382, 1663–1665 (2020).

Buckley, R. H. The multiple causes of human SCID. J. Clin. Invest. 114, 1409–1411 (2004).

Franca, T. T. et al. CD40 ligand deficiency: treatment strategies and novel therapeutic perspectives. Expert Rev. Clin. Immunol. 15, 529–540 (2019).

Crotty, S. Follicular helper CD4 T cells (TFH). Annu. Rev. Immunol. 29, 621–663 (2011).

Victora, G. D. & Nussenzweig, M. C. Germinal centers. Annu. Rev. Immunol. 30, 429–457 (2012).

Kim, W. et al. Germinal centre-driven maturation of B cell response to mRNA vaccination. Nature 604, 141–145 (2022).

Turner, J. S. et al. Human germinal centres engage memory and naive B cells after influenza vaccination. Nature 586, 127–132 (2020).

Turner, J. S. et al. SARS-CoV-2 mRNA vaccines induce persistent human germinal centre responses. Nature 596, 109–113 (2021).

Thome, J. J. et al. Early-life compartmentalization of human T cell differentiation and regulatory function in mucosal and lymphoid tissues. Nat. Med. 22, 72–77 (2016).

Farber, D. L. Tissues, not blood, are where immune cells act. Nature 593, 506–509 (2021).

Kumar, B. V., Connors, T. J. & Farber, D. L. Human T cell development, localization, and function throughout life. Immunity 48, 202–213 (2018).

Randall, T. D. Bronchus-associated lymphoid tissue (BALT) structure and function. Adv. Immunol. 107, 187–241 (2010).

Moyron-Quiroz, J. E. et al. Role of inducible bronchus associated lymphoid tissue (iBALT) in respiratory immunity. Nat. Med. 10, 927–934 (2004).

Rangel-Moreno, J. et al. The development of inducible bronchus-associated lymphoid tissue depends on IL-17. Nat. Immunol. 12, 639–646 (2011).

Bilalovic, N. et al. Expression of BCL-6 and CD10 protein is associated with longer overall survival and time to treatment failure in follicular lymphoma. Am. J. Clin. Pathol. 121, 34–42 (2004).

Muramatsu, M. et al. Class switch recombination and hypermutation require activation-induced cytidine deaminase (AID), a potential RNA editing enzyme. Cell 102, 553–563 (2000).

Muramatsu, M. et al. Specific expression of activation-induced cytidine deaminase (AID), a novel member of the RNA-editing deaminase family in germinal center B cells. J. Biol. Chem. 274, 18470–18476 (1999).

Cyster, J. G. et al. Follicular stromal cells and lymphocyte homing to follicles. Immunol. Rev. 176, 181–193 (2000).

Heesters, B. A., Myers, R. C. & Carroll, M. C. Follicular dendritic cells: dynamic antigen libraries. Nat. Rev. Immunol. 14, 495–504 (2014).

Junt, T. et al. CXCR5-dependent seeding of follicular niches by B and TH cells augments antiviral B cell responses. J. Immunol. 175, 7109–7116 (2005).

Weisel, N. M. et al. Comprehensive analyses of B-cell compartments across the human body reveal novel subsets and a gut-resident memory phenotype. Blood 136, 2774–2785 (2020).

Glass, D. R. et al. An integrated multi-omic single-cell atlas of human B cell identity. Immunity 53, 217–232 (2020).

Son, Y. M. et al. Tissue-resident CD4+ T helper cells assist the development of protective respiratory B and CD8+ T cell memory responses. Sci. Immunol. 6, eabb6852 (2021).

Swarnalekha, N. et al. T resident helper cells promote humoral responses in the lung. Sci. Immunol. 6, eabb6808 (2021).

Locci, M. et al. Human circulating PD-1+CXCR3−CXCR5+ memory TFH cells are highly functional and correlate with broadly neutralizing HIV antibody responses. Immunity 39, 758–769 (2013).

Stewart, A. et al. Single-cell transcriptomic analyses define distinct peripheral B cell subsets and discrete development pathways. Front. Immunol. 12, 602539 (2021).

He, B. et al. The transmembrane activator TACI triggers immunoglobulin class switching by activating B cells through the adaptor MyD88. Nat. Immunol. 11, 836–845 (2010).

Tan, C. et al. NR4A nuclear receptors restrain B cell responses to antigen when second signals are absent or limiting. Nat. Immunol. 21, 1267–1279 (2020).

Krzyzak, L. et al. CD83 modulates B cell activation and germinal center responses. J. Immunol. 196, 3581–3594 (2016).

Weisel, N. M. et al. Surface phenotypes of naive and memory B cells in mouse and human tissues. Nat. Immunol. 23, 135–145 (2022).

Cannons, J. L. et al. Optimal germinal center responses require a multistage T cell:B cell adhesion process involving integrins, SLAM-associated protein, and CD84. Immunity 32, 253–265 (2010).

Chen, S. et al. ID3 orchestrates germinal center B cell development. Mol. Cell. Biol. 36, 2543–2552 (2016).

Davis, C. W. et al. Longitudinal analysis of the human B cell response to Ebola virus infection. Cell 177, 1566–1582 (2019).

Yaari, G., Benichou, J. I., Vander Heiden, J. A., Kleinstein, S. H. & Louzoun, Y. The mutation patterns in B-cell immunoglobulin receptors reflect the influence of selection acting at multiple time-scales. Philos. Trans. R Soc. Lond. B Biol. Sci. 370, 20140242 (2015).

Meng, W. et al. An atlas of B-cell clonal distribution in the human body. Nat. Biotechnol. 35, 879–884 (2017).

Moyron-Quiroz, J. E. et al. Persistence and responsiveness of immunologic memory in the absence of secondary lymphoid organs. Immunity 25, 643–654 (2006).

Gould, S. J. & Isaacson, P. G. Bronchus-associated lymphoid tissue (BALT) in human fetal and infant lung. J. Pathol. 169, 229–234 (1993).

Heier, I. et al. Characterisation of bronchus-associated lymphoid tissue and antigen-presenting cells in central airway mucosa of children. Thorax 66, 151–156 (2011).

Pabst, R. & Tschernig, T. Bronchus-associated lymphoid tissue: an entry site for antigens for successful mucosal vaccinations? Am. J. Respir. Cell Mol. Biol. 43, 137–141 (2010).

Morbe, U. M. et al. Human gut-associated lymphoid tissues (GALT); diversity, structure, and function. Mucosal Immunol. 14, 793–802 (2021).

Senda, T. et al. Microanatomical dissection of human intestinal T-cell immunity reveals site-specific changes in gut-associated lymphoid tissues over life. Mucosal Immunol. 12, 378–389 (2019).

Randall, T. D. & Mebius, R. E. The development and function of mucosal lymphoid tissues: a balancing act with micro-organisms. Mucosal Immunol. 7, 455–466 (2014).

Connors, T. J. et al. Site-specific development and progressive maturation of human tissue resident memory T cells over infancy and childhood. Immunity https://doi.org/10.1016/j.immuni.2023.06.008 (2023)

Xu, H., Zhang, L. & Heyman, B. IgG-mediated immune suppression in mice is epitope specific except during high epitope density conditions. Sci. Rep. 8, 15292 (2018).

Wiley, J. A. et al. Inducible bronchus-associated lymphoid tissue elicited by a protein cage nanoparticle enhances protection in mice against diverse respiratory viruses. PLoS ONE 4, e7142 (2009).

Chiavolini, D. et al. Bronchus-associated lymphoid tissue (BALT) and survival in a vaccine mouse model of tularemia. PLoS ONE 5, e11156 (2010).

Poon, M. M. L. et al. Heterogeneity of human anti-viral immunity shaped by virus, tissue, age, and sex. Cell Rep. 37, 110071 (2021).

Thome, J. J. et al. Spatial map of human T cell compartmentalization and maintenance over decades of life. Cell 159, 814–828 (2014).

Carpenter, D. J. et al. Human immunology studies using organ donors: impact of clinical variations on immune parameters in tissues and circulation. Am. J. Transpl. 18, 74–88 (2018).

Dogra, P. et al. Tissue determinants of human NK cell development, function, and residence. Cell 180, 749–763 (2020).

Szabo, P. A. et al. Single-cell transcriptomics of human T cells reveals tissue and activation signatures in health and disease. Nat. Commun. 10, 4706 (2019).

Goel, R. R. et al. Distinct antibody and memory B cell responses in SARS-CoV-2 naive and recovered individuals following mRNA vaccination. Sci. Immunol. 6, eabi6950 (2021).

Vander Heiden, J. A. et al. pRESTO: a toolkit for processing high-throughput sequencing raw reads of lymphocyte receptor repertoires. Bioinformatics 30, 1930–1932 (2014).

Ye, J., Ma, N., Madden, T. L. & Ostell, J. M. IgBLAST: an immunoglobulin variable domain sequence analysis tool. Nucleic Acids Res. 41, W34–W40 (2013).

Rosenfeld, A. M., Meng, W., Luning Prak, E. T. & Hershberg, U. ImmuneDB: a system for the analysis and exploration of high-throughput adaptive immune receptor sequencing data. Bioinformatics 33, 292–293 (2017).

Melsted, P. et al. Modular, efficient and constant-memory single-cell RNA-seq preprocessing. Nat. Biotechnol. 39, 813–818 (2021).

Melsted, P., Ntranos, V. & Pachter, L. The barcode, UMI, set format and BUStools. Bioinformatics 35, 4472–4473 (2019).

Bernstein, N. J. et al. Solo: doublet identification in single-cell RNA-seq via semi-supervised deep learning. Cell Syst. 11, 95–101 (2020).

Sturm, G. et al. Scirpy: a Scanpy extension for analyzing single-cell T-cell receptor-sequencing data. Bioinformatics 36, 4817–4818 (2020).

Fowler, T. et al. Divergence of transcriptional landscape occurs early in B cell activation. Epigenetics Chromatin 8, 1–14 (2015).

Zhou, J. Q. & Kleinstein, S. H. Cutting edge: Ig H chains are sufficient to determine most B cell clonal relationships. J. Immunol. 203, 1687–1692 (2019).

Levy, S. et al. FLU-LISA: high throughput antibody profiling using antigen microarrays. Immunol. Cell Biol. 101, 231–248 (2022).
Acknowledgements
This work was supported by NIH grants AI100119, AI106697, AI128949 and AI168634 and a grant from the Helmsley Charitable Trust awarded to D.L.F. T.J.C. was supported by K23 AI141686, and T.M.B was supported by AI42288. Flow cytometry analysis was performed in the Columbia Center for Translational Immunology Flow Cytometry Core supported by NIH S10RR027050 and S10OD020056. Acquisition of human samples from the University of Florida was supported by the Helmsley Charitable Trust (to T.M.B. and D.L.F.). E.T.L.P., U.H. and T.H. were supported by NIH grant AI106697. scRNA-seq was performed in the Sulzberger Columbia Genome Center, which is supported by the NIH/NCI Cancer Center Support Grant P30CA013696. We wish to thank the families for the gift of organ donation that made this study possible. We thank S. Kleinstein for help and guidance with the scBCR analysis.
Ethics declarations
Competing interests
The authors declare no competing interests.
Peer review
Peer review information
Nature Immunology thanks the anonymous reviewers for their contribution to the peer review of this work. Primary Handling Editor: L. A. Dempsey, in collaboration with the Nature Immunology team. Peer reviewer reports are available.
Additional information
Publisher's note Springer Nature remains neutral with regard to jurisdictional claims in published maps and institutional affiliations.
Supplementary information
Rights and permissions
Springer Nature or its licensor (e.g. a society or other partner) holds exclusive rights to this article under a publishing agreement with the author(s) or other rightsholder(s); author self-archiving of the accepted manuscript version of this article is solely governed by the terms of such publishing agreement and applicable law.
About this article
Cite this article
Matsumoto, R., Gray, J., Rybkina, K. et al. Induction of bronchus-associated lymphoid tissue is an early life adaptation for promoting human B cell immunity. Nat Immunol 24, 1370–1381 (2023). https://doi.org/10.1038/s41590-023-01557-3
Received:

Accepted:

Published:

Issue Date:

DOI: https://doi.org/10.1038/s41590-023-01557-3
This article is cited by
Zhoujie Ding
David Tarlinton

Nature Immunology (2023)