In the version of this article originally published, the Figure 3g dot plot panel for PBS group 14 dpi was incorrect. However, the numerical data representing the frequencies identified in this dot plot remain correct. We have now replaced this dot plot with the correct one (original and revised panels are shown as Figs. 1 and 2 below). This correction does not affect either the total number of CD4+Ag85B+ (airway) cells reported in Figure 3i or the conclusion of the article.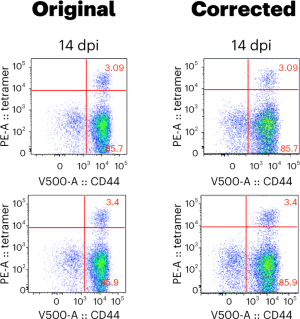 Rights and permissions
Open Access This article is licensed under a Creative Commons Attribution 4.0 International License, which permits use, sharing, adaptation, distribution and reproduction in any medium or format, as long as you give appropriate credit to the original author(s) and the source, provide a link to the Creative Commons license, and indicate if changes were made. The images or other third party material in this article are included in the article's Creative Commons license, unless indicated otherwise in a credit line to the material. If material is not included in the article's Creative Commons license and your intended use is not permitted by statutory regulation or exceeds the permitted use, you will need to obtain permission directly from the copyright holder. To view a copy of this license, visit http://creativecommons.org/licenses/by/4.0/.
About this article
Cite this article
Jeyanathan, M., Vaseghi-Shanjani, M., Afkhami, S. et al. Author Correction: Parenteral BCG vaccine induces lung-resident memory macrophages and trained immunity via the gut–lung axis. Nat Immunol 24, 1049 (2023). https://doi.org/10.1038/s41590-023-01525-x
Published:

Issue Date:

DOI: https://doi.org/10.1038/s41590-023-01525-x