Abstract
Cerebrovascular injury (CVI) is a common pathology caused by infections, injury, stroke, neurodegeneration and autoimmune disease. Rapid resolution of a CVI requires a coordinated innate immune response. In the present study, we sought mechanistic insights into how central nervous system-infiltrating monocytes program resident microglia to mediate angiogenesis and cerebrovascular repair after an intracerebral hemorrhage. In the penumbrae of human stroke brain lesions, we identified a subpopulation of microglia that express vascular endothelial growth factor A. These cells, termed 'repair-associated microglia' (RAMs), were also observed in a rodent model of CVI and coexpressed interleukin (IL)-6Ra. Cerebrovascular repair did not occur in IL-6 knockouts or in mice lacking microglial IL-6Ra expression and single-cell transcriptomic analyses revealed faulty RAM programming in the absence of IL-6 signaling. Infiltrating CCR2+ monocytes were the primary source of IL-6 after a CVI and were required to endow microglia with proliferative and proangiogenic properties. Faulty RAM programming in the absence of IL-6 or inflammatory monocytes resulted in poor cerebrovascular repair, neuronal destruction and sustained neurological deficits that were all restored via exogenous IL-6 administration. These data provide a molecular and cellular basis for how monocytes instruct microglia to repair damaged brain vasculature and promote functional recovery after injury.
Access options
Access Nature and 54 other Nature Portfolio journals
Get Nature+, our best-value online-access subscription
$29.99 / 30 days
cancel any time
Subscribe to this journal
Receive 12 print issues and online access
$209.00 per year
only $17.42 per issue
Rent or buy this article
Prices vary by article type
from$1.95
to$39.95
Prices may be subject to local taxes which are calculated during checkout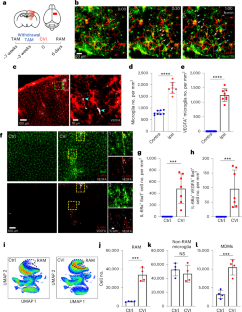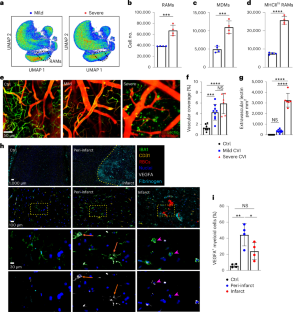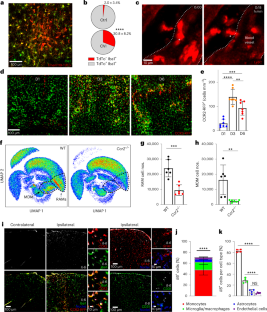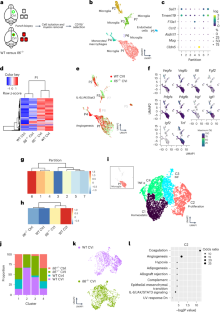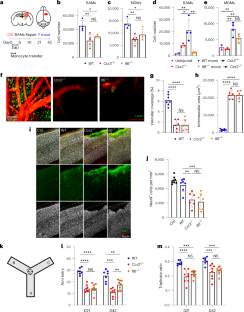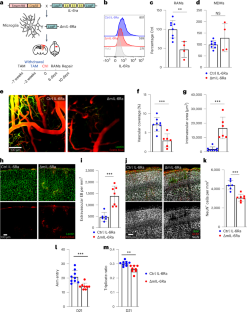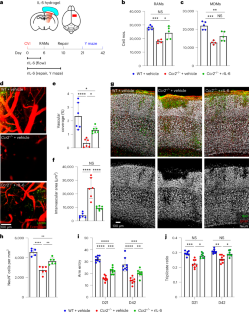 Data availability
The data that support the findings of the present study are available from the corresponding author upon request. There are no restrictions on data availability. ScRNA-seq data are available in the National Center for Biotechnology Information Gene Expression Omnibus under accession no. GSE215312. The mouse genome database used in our scRNA-seq analysis was mm10 (https://www.ncbi.nlm.nih.gov/assembly/GCF_000001635.20). Source data are provided with this paper.
References
Parikh, N. S., Merkler, A. E. & Iadecola, C. Inflammation, autoimmunity, infection, and stroke: epidemiology and lessons from therapeutic intervention. Stroke 51, 711–718 (2020).

Kenney, K. et al. Cerebral vascular injury in traumatic brain injury. Exp. Neurol. 275, 353–366 (2016).

Schneider, J. A. & Bennett, D. A. Where vascular meets neurodegenerative disease. Stroke 41, S144–S146 (2010).

Badjatia, N. & Rosand, J. Intracerebral hemorrhage. Neurologist 11, 311–324 (2005).

Twitchell, T. E. The restoration of motor function following hemiplegia in man. Brain 74, 443–480 (1951).

Rossini, P. M., Calautti, C., Pauri, F. & Baron, J. C. Post-stroke plastic reorganisation in the adult brain. Lancet Neurol. 2, 493–502 (2003).

Furlan, M., Marchal, G., Viader, F., Derlon, J. M. & Baron, J. C. Spontaneous neurological recovery after stroke and the fate of the ischemic penumbra. Ann. Neurol. 40, 216–226 (1996).

Lalancette-Hebert, M., Gowing, G., Simard, A., Weng, Y. C. & Kriz, J. Selective ablation of proliferating microglial cells exacerbates ischemic injury in the brain. J. Neurosci. 27, 2596–2605 (2007).

Narantuya, D. et al. Human microglia transplanted in rat focal ischemia brain induce neuroprotection and behavioral improvement. PLoS ONE 5, e11746 (2010).

Mastorakos, P., Russo, M. V., Zhou, T., Johnson, K. & McGavern, D. B. Antimicrobial immunity impedes CNS vascular repair following brain injury. Nat. Immunol. 22, 1280–1293 (2021).

Schaeffer, S. & Iadecola, C. Revisiting the neurovascular unit. Nat. Neurosci. 24, 1198–1209 (2021).

Park, L. et al. Brain perivascular macrophages initiate the neurovascular dysfunction of Alzheimer abeta peptides. Circ. Res. 121, 258–269 (2017).

Nortley, R. et al. Amyloid beta oligomers constrict human capillaries in Alzheimer's disease via signaling to pericytes. Science 365, eaav9518 (2019).

Mastorakos, P. & McGavern, D. The anatomy and immunology of vasculature in the central nervous system. Sci. Immunol. 4, eaav0492 (2019).

Davalos, D. et al. ATP mediates rapid microglial response to local brain injury in vivo. Nat. Neurosci. 8, 752–758 (2005).

Nimmerjahn, A., Kirchhoff, F. & Helmchen, F. Resting microglial cells are highly dynamic surveillants of brain parenchyma in vivo. Science 308, 1314–1318 (2005).

Roth, T. L. et al. Transcranial amelioration of inflammation and cell death after brain injury. Nature 505, 223–228 (2014).

Mastorakos, P. et al. Temporally distinct myeloid cell responses mediate damage and repair after cerebrovascular injury. Nat. Neurosci. 24, 245–258 (2021).

Lou, N. et al. Purinergic receptor P2RY12-dependent microglial closure of the injured blood-brain barrier. Proc. Natl Acad. Sci. USA 113, 1074–1079 (2016).

Dimitrijevic, O. B., Stamatovic, S. M., Keep, R. F. & Andjelkovic, A. V. Absence of the chemokine receptor CCR2 protects against cerebral ischemia/reperfusion injury in mice. Stroke 38, 1345–1353 (2007).

Perego, C., Fumagalli, S. & De Simoni, M. G. Temporal pattern of expression and colocalization of microglia/macrophage phenotype markers following brain ischemic injury in mice. J. Neuroinflam. 8, 174 (2011).

Wattananit, S. et al. Monocyte-derived macrophages contribute to spontaneous long-term functional recovery after stroke in mice. J. Neurosci. 36, 4182–4195 (2016).

Prinz, M., Jung, S. & Priller, J. Microglia biology: one century of evolving concepts. Cell 179, 292–311 (2019).

Keren-Shaul, H. et al. A unique microglia type associated with restricting development of Alzheimer's disease. Cell 169, 1276–1290 e1217 (2017).

Nayak, D., Roth, T. L. & McGavern, D. B. Microglia development and function. Annu. Rev. Immunol. 32, 367–402 (2014).

Stratoulias, V., Venero, J. L., Tremblay, M. E. & Joseph, B. Microglial subtypes: diversity within the microglial community. EMBO J. 38, e101997 (2019).

Reitmeir, R. et al. Vascular endothelial growth factor induces contralesional corticobulbar plasticity and functional neurological recovery in the ischemic brain. Acta Neuropathol. 123, 273–284 (2012).

Kaiser, T. & Feng, G. Tmem119-EGFP and Tmem119-CreERT2 transgenic mice for labeling and manipulating microglia. eNeuro 6, ENEURO.0448–18.2019 (2019).

Ferrara, N. & Henzel, W. J. Pituitary follicular cells secrete a novel heparin-binding growth factor specific for vascular endothelial cells. Biochem. Biophys. Res. Commun. 161, 851–858 (1989).

Van Snick, J. Interleukin-6: an overview. Annu. Rev. Immunol. 8, 253–278 (1990).

Peters, M. et al. Combined interleukin 6 and soluble interleukin 6 receptor accelerates murine liver regeneration. Gastroenterology 119, 1663–1671 (2000).

Saederup, N. et al. Selective chemokine receptor usage by central nervous system myeloid cells in CCR2-red fluorescent protein knock-in mice. PLoS ONE 5, e13693 (2010).

Serbina, N. V. & Pamer, E. G. Monocyte emigration from bone marrow during bacterial infection requires signals mediated by chemokine receptor CCR2. Nat. Immunol. 7, 311–317 (2006).

Tanaka, T., Narazaki, M. & Kishimoto, T. Interleukin (IL-6) Immunotherapy. Cold Spring Harb. Perspect. Biol. 10, a028456. (2018).

Chen, E. Y. et al. Enrichr: interactive and collaborative HTML5 gene list enrichment analysis tool. BMC Bioinf. 14, 128 (2013).

Marech, I. et al. Classical and non-classical proangiogenic factors as a target of antiangiogenic therapy in tumor microenvironment. Cancer Lett. 380, 216–226 (2016).

Hayashi, T., Noshita, N., Sugawara, T. & Chan, P. H. Temporal profile of angiogenesis and expression of related genes in the brain after ischemia. J. Cereb. Blood Flow Metab. 23, 166–180 (2003).

Krupinski, J., Kaluza, J., Kumar, P., Kumar, S. & Wang, J. M. Role of angiogenesis in patients with cerebral ischemic stroke. Stroke 25, 1794–1798 (1994).

Kato, H., Kogure, K., Liu, X. H., Araki, T. & Itoyama, Y. Progressive expression of immunomolecules on activated microglia and invading leukocytes following focal cerebral ischemia in the rat. Brain Res. 734, 203–212 (1996).

Schroeter, M., Jander, S., Huitinga, I., Witte, O. W. & Stoll, G. Phagocytic response in photochemically induced infarction of rat cerebral cortex. The role of resident microglia. Stroke 28, 382–386 (1997).

Gliem, M. et al. Macrophages prevent hemorrhagic infarct transformation in murine stroke models. Ann. Neurol. 71, 743–752 (2012).

Gliem, M. et al. Macrophage-derived osteopontin induces reactive astrocyte polarization and promotes re-establishment of the blood brain barrier after ischemic stroke. Glia 63, 2198–2207 (2015).

Hirano, T., Akira, S., Taga, T. & Kishimoto, T. Biological and clinical aspects of interleukin 6. Immunol. Today 11, 443–449 (1990).

Lin, Z. Q., Kondo, T., Ishida, Y., Takayasu, T. & Mukaida, N. Essential involvement of IL-6 in the skin wound-healing process as evidenced by delayed wound healing in IL-6-deficient mice. J. Leukoc. Biol. 73, 713–721 (2003).

Atreya, R. & Neurath, M. F. Involvement of IL-6 in the pathogenesis of inflammatory bowel disease and colon cancer. Clin. Rev. Allergy Immunol. 28, 187–196 (2005).

Gertz, K. et al. Essential role of interleukin-6 in post-stroke angiogenesis. Brain 135, 1964–1980 (2012).

Clark, W. M. et al. Lack of interleukin-6 expression is not protective against focal central nervous system ischemia. Stroke 31, 1715–1720 (2000).

Gronhoj, M. H., Clausen, B. H., Fenger, C. D., Lambertsen, K. L. & Finsen, B. Beneficial potential of intravenously administered IL-6 in improving outcome after murine experimental stroke. Brain Behav. Immun. 65, 296–311 (2017).

Li, Z. et al. M-CSF, IL-6, and TGF−beta promote generation of a new subset of tissue repair macrophage for traumatic brain injury recovery. Sci. Adv. 7, eabb6260 (2021).

Ormstad, H., Aass, H. C., Lund-Sorensen, N., Amthor, K. F. & Sandvik, L. Serum levels of cytokines and C-reactive protein in acute ischemic stroke patients, and their relationship to stroke lateralization, type, and infarct volume. J. Neurol. 258, 677–685 (2011).

Waje-Andreassen, U. et al. IL-6: an early marker for outcome in acute ischemic stroke. Acta Neurol. Scand. 111, 360–365 (2005).

Kitamura, Y. et al. Recovery of focal brain ischemia-induced behavioral dysfunction by intracerebroventricular injection of microglia. J. Pharm. Sci. 97, 289–293 (2005).

Koike, K. et al. Synergism of BSF-2/interleukin 6 and interleukin 3 on development of multipotential hemopoietic progenitors in serum-free culture. J. Exp. Med. 168, 879–890 (1988).

Bot, F. J., van Eijk, L., Broeders, L., Aarden, L. A. & Lowenberg, B. Interleukin-6 synergizes with M-CSF in the formation of macrophage colonies from purified human marrow progenitor cells. Blood 73, 435–437 (1989).

Uyttenhove, C., Coulie, P. G. & Van Snick, J. T cell growth and differentiation induced by interleukin-HP1/IL-6, the murine hybridoma/plasmacytoma growth factor. J. Exp. Med. 167, 1417–1427 (1988).

Hu, X. et al. Microglia/macrophage polarization dynamics reveal novel mechanism of injury expansion after focal cerebral ischemia. Stroke 43, 3063–3070 (2012).

Askenase, M. H. et al. Longitudinal transcriptomics define the stages of myeloid activation in the living human brain after intracerebral hemorrhage. Sci. Immunol. 6, eabd6279 (2021).

Garbers, C. & Rose-John, S. Dissecting interleukin-6 classic- and trans-signaling in inflammation and cancer. Methods Mol. Biol. 1725, 127–140 (2018).

Willis, E. F. et al. Repopulating microglia promote brain repair in an IL-6-dependent manner. Cell 180, 833–846 e816 (2020).

Leibinger, M. et al. Transneuronal delivery of hyper-interleukin-6 enables functional recovery after severe spinal cord injury in mice. Nat. Commun. 12, 391 (2021).

Barrett, J. P. et al. Interferon-beta plays a detrimental role in experimental traumatic brain injury by enhancing neuroinflammation that drives chronic neurodegeneration. J. Neurosci. 40, 2357–2370 (2020).

Kopf, M. et al. Impaired immune and acute-phase responses in interleukin-6-deficient mice. Nature 368, 339–342 (1994).

McFarland-Mancini, M. M. et al. Differences in wound healing in mice with deficiency of IL-6 versus IL-6 receptor. J. Immunol. 184, 7219–7228 (2010).

Jung, S. et al. Analysis of fractalkine receptor CX(3)CR1 function by targeted deletion and green fluorescent protein reporter gene insertion. Mol. Cell. Biol. 20, 4106–4114 (2000).

Madisen, L. et al. A robust and high-throughput Cre reporting and characterization system for the whole mouse brain. Nat. Neurosci. 13, 133–140 (2010).

Becht, E. et al. Dimensionality reduction for visualizing single-cell data using UMAP. Nat. Biotechnol. 37, 38–44 (2019).

Levine, J. H. et al. Data-driven phenotypic dissection of AML reveals progenitor-like cells that correlate with prognosis. Cell 162, 184–197 (2015).
Acknowledgements
This research was supported by the intramural program at the NINDS, NIH. We thank A. Elkahloun and B. Sisay in the National Human Genome Research Institute Microarray core for their assistance with the scRNA-seq experiment. The present study utilized the computational resources of the NIH Biowulf HPC cluster (http://hpc.nih.gov).
Ethics declarations
Competing interests
The authors declare no competing interests.
Peer review
Peer review information
Nature Immunology thanks the anonymous reviewer(s) for their contribution to the peer review of this work. Primary Handling Editor: L. A. Dempsey, in collaboration with the Nature Immunology team.
Additional information
Publisher's note Springer Nature remains neutral with regard to jurisdictional claims in published maps and institutional affiliations.
Supplementary information
Rights and permissions
Springer Nature or its licensor (e.g. a society or other partner) holds exclusive rights to this article under a publishing agreement with the author(s) or other rightsholder(s); author self-archiving of the accepted manuscript version of this article is solely governed by the terms of such publishing agreement and applicable law.
About this article
Cite this article
Choi, BR., Johnson, K.R., Maric, D. et al. Monocyte-derived IL-6 programs microglia to rebuild damaged brain vasculature. Nat Immunol 24, 1110–1123 (2023). https://doi.org/10.1038/s41590-023-01521-1
Received:

Accepted:

Published:

Issue Date:

DOI: https://doi.org/10.1038/s41590-023-01521-1