Abstract
Our previous study using systems vaccinology identified an association between the sterol regulatory binding protein (SREBP) pathway and humoral immune response to vaccination in humans. To investigate the role of SREBP signaling in modulating immune responses, we generated mice with B cell- or CD11c+ antigen-presenting cell (APC)-specific deletion of SCAP, an essential regulator of SREBP signaling. Ablation of SCAP in CD11c+ APCs had no effect on immune responses. In contrast, SREBP signaling in B cells was critical for antibody responses, as well as the generation of germinal centers,memory B cells and bone marrow plasma cells. SREBP signaling was required for metabolic reprogramming in activated B cells. Upon mitogen stimulation, SCAP-deficient B cells could not proliferate and had decreased lipid rafts. Deletion of SCAP in germinal center B cells using AID-Cre decreased lipid raft content and cell cycle progression. These studies provide mechanistic insights coupling sterol metabolism with the quality and longevity of humoral immunity.
Relevant articles
Open Access articles citing this article.
Yavuz F. Yazicioglu

,

Eros Marin

…

Alexander J. Clarke

Nature Immunology Open Access 24 April 2023
Access options
Access Nature and 54 other Nature Portfolio journals
Get Nature+, our best-value online-access subscription
$29.99 / 30 days
cancel any time
Subscribe to this journal
Receive 12 print issues and online access
$189.00 per year
only $15.75 per issue
Rent or buy this article
Get just this article for as long as you need it
$39.95
Prices may be subject to local taxes which are calculated during checkout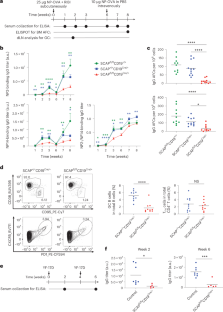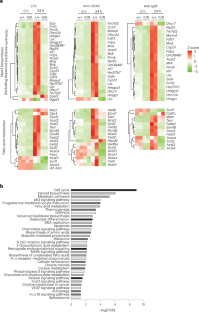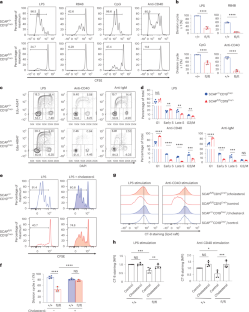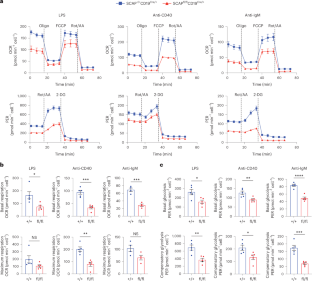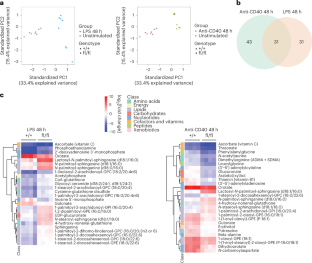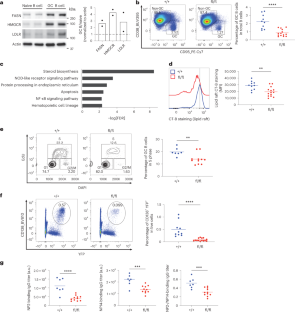 Data availability
RNA-seq data generated in this study have been deposited in the National Center for Biotechnology Information Gene Expression Omnibus database under accession codes GSE204913 and GSE206016. Source data are provided with this paper.
Code availability
All analyses and visualizations were performed in R. Computer code is available upon reasonable request.
References
Luo, W. & Yin, Q. B cell response to vaccination. Immunol. Invest. 50, 780–801 (2021).

Cyster, J. G. & Allen, C. D. C. B cell responses: cell interaction dynamics and decisions. Cell 177, 524–540 (2019).

Baumgarth, N. The shaping of a B cell pool maximally responsive to infections. Annu. Rev. Immunol. 39, 103–129 (2021).

Luo, W. et al. The AKT kinase signaling network is rewired by PTEN to control proximal BCR signaling in germinal center B cells. Nat. Immunol. 20, 736–746 (2019).

Luo, W., Weisel, F. & Shlomchik, M. J. B cell receptor and CD40 signaling are rewired for synergistic induction of the c-Myc transcription factor in germinal center B cells. Immunity 48, 313–326 (2018).

Weisel, F. J. et al. Germinal center B cells selectively oxidize fatty acids for energy while conducting minimal glycolysis. Nat. Immunol. 21, 331–342 (2020).

Chen, D. et al. Coupled analysis of transcriptome and BCR mutations reveals role of OXPHOS in affinity maturation. Nat. Immunol. 22, 904–913 (2021).

Mesin, L., Ersching, J. & Victora, G. D. Germinal center B cell dynamics. Immunity 45, 471–482 (2016).

Li, S. et al. Metabolic phenotypes of response to vaccination in humans. Cell 169, 862–877 e817 (2017).

Horton, J. D., Goldstein, J. L. & Brown, M. S. SREBPs: activators of the complete program of cholesterol and fatty acid synthesis in the liver. J. Clin. Invest. 109, 1125–1131 (2002).

Brown, M. S., Radhakrishnan, A. & Goldstein, J. L. Retrospective on cholesterol homeostasis: the central role of Scap. Annu. Rev. Biochem. 87, 783–807 (2018).

Kidani, Y. et al. Sterol regulatory element-binding proteins are essential for the metabolic programming of effector T cells and adaptive immunity. Nat. Immunol. 14, 489–499 (2013).

Matsuda, M. et al. SREBP cleavage-activating protein (SCAP) is required for increased lipid synthesis in liver induced by cholesterol deprivation and insulin elevation. Genes Dev. 15, 1206–1216 (2001).

Querec, T. et al. Yellow fever vaccine YF-17D activates multiple dendritic cell subsets via TLR2, 7, 8, and 9 to stimulate polyvalent immunity. J. Exp. Med. 203, 413–424 (2006).

Stoddart, A., Jackson, A. P. & Brodsky, F. M. Plasticity of B cell receptor internalization upon conditional depletion of clathrin. Mol. Biol. Cell 16, 2339–2348 (2005).

Janes, P. W., Ley, S. C. & Magee, A. I. Aggregation of lipid rafts accompanies signaling via the T cell antigen receptor. J. Cell Biol. 147, 447–461 (1999).

Kraus, M., Alimzhanov, M. B., Rajewsky, N. & Rajewsky, K. Survival of resting mature B lymphocytes depends on BCR signaling via the Igα/β heterodimer. Cell 117, 787–800 (2004).

Zuccarino-Catania, G. V. et al. CD80 and PD-L2 define functionally distinct memory B cell subsets that are independent of antibody isotype. Nat. Immunol. 15, 631–637 (2014).

Crotty, S. T. Follicular helper cell biology: a decade of discovery and diseases. Immunity 50, 1132–1148 (2019).

Yeh, C. H., Finney, J., Okada, T., Kurosaki, T. & Kelsoe, G. Primary germinal center-resident T follicular helper cells are a physiologically distinct subset of CXCR5hiPD-1hi T follicular helper cells. Immunity 55, 272–289 (2022).

Querec, T. D. et al. Systems biology approach predicts immunogenicity of the yellow fever vaccine in humans. Nat. Immunol. 10, 116–125 (2009).

Kwak, K., Akkaya, M. & Pierce, S. K. B cell signaling in context. Nat. Immunol. 20, 963–969 (2019).

Hou, B. et al. Selective utilization of Toll-like receptor and MyD88 signaling in B cells for enhancement of the antiviral germinal center response. Immunity 34, 375–384 (2011).

Kasturi, S. P. et al. Programming the magnitude and persistence of antibody responses with innate immunity. Nature 470, 543–547 (2011).

Han, S. et al. Cellular interaction in germinal centers. Roles of CD40 ligand and B7-2 in established germinal centers. J. Immunol. 155, 556–567 (1995).

Yan, S. et al. Long-chain acyl-CoA synthetase in fatty acid metabolism involved in liver and other diseases: an update. World J. Gastroenterol. 21, 3492–3498 (2015).

Waters, L. R., Ahsan, F. M., Wolf, D. M., Shirihai, O. & Teitell, M. A. Initial B cell activation induces metabolic reprogramming and mitochondrial remodeling. iScience 5, 99–109 (2018).

Bowman, C. E. et al. The mammalian malonyl-CoA synthetase ACSF3 is required for mitochondrial protein malonylation and metabolic efficiency. Cell Chem. Biol. 24, 673–684 (2017).

Wang, X. & Proud, C. G. Nutrient control of TORC1, a cell-cycle regulator. Trends Cell Biol. 19, 260–267 (2009).

Valvezan, A. J. & Manning, B. D. Molecular logic of mTORC1 signalling as a metabolic rheostat. Nat. Metab. 1, 321–333 (2019).

Porstmann, T. et al. SREBP activity is regulated by mTORC1 and contributes to Akt-dependent cell growth. Cell Metab. 8, 224–236 (2008).

Lewis, C. A., Griffiths, B., Santos, C. R., Pende, M. & Schulze, A. Regulation of the SREBP transcription factors by mTORC1. Biochem. Soc. Trans. 39, 495–499 (2011).

Winter, J. N., Jefferson, L. S. & Kimball, S. R. ERK and Akt signaling pathways function through parallel mechanisms to promote mTORC1 signaling. Am. J. Physiol. Cell Physiol. 300, C1172–C1180 (2011).

Heberle, A. M. et al. The PI3K and MAPK/p38 pathways control stress granule assembly in a hierarchical manner. Life Sci. Alliance 2, e201800257 (2019).

Zhu, J. & Thompson, C. B. Metabolic regulation of cell growth and proliferation. Nat. Rev. Mol. Cell Biol. 20, 436–450 (2019).

Li, F., Xu, W. & Zhao, S. Regulatory roles of metabolites in cell signaling networks. J. Genet. Genomics 40, 367–374 (2013).

Worgall, T. S., Juliano, R. A., Seo, T. & Deckelbaum, R. J. Ceramide synthesis correlates with the posttranscriptional regulation of the sterol-regulatory element-binding protein. Arterioscler. Thromb. Vasc. Biol. 24, 943–948 (2004).

Worgall, T. S. Sphingolipid synthetic pathways are major regulators of lipid homeostasis. Adv. Exp. Med. Biol. 721, 139–148 (2011).

Chatterjee, S., Balram, A. & Li, W. Convergence: lactosylceramide-centric signaling pathways induce inflammation, oxidative stress, and other phenotypic outcomes. Int. J. Mol. Sci. 22, 1816 (2021).

Mu, H. et al. Lactosylceramide promotes cell migration and proliferation through activation of ERK1/2 in human aortic smooth muscle cells. Am. J. Physiol. Heart Circ. Physiol. 297, H400–H408 (2009).

Chatterjee, S., Shi, W. Y., Wilson, P. & Mazumdar, A. Role of lactosylceramide and MAP kinase in the proliferation of proximal tubular cells in human polycystic kidney disease. J. Lipid Res. 37, 1334–1344 (1996).

Novgorodov, S. A. et al. Lactosylceramide contributes to mitochondrial dysfunction in diabetes. J. Lipid Res. 57, 546–562 (2016).

Volkel, W. et al. Glutathione conjugates of 4-hydroxy-2(E)-nonenal as biomarkers of hepatic oxidative stress-induced lipid peroxidation in rats. Free Radic. Biol. Med. 38, 1526–1536 (2005).

Black, S., Nicolay, U., Del Giudice, G. & Rappuoli, R. Influence of statins on influenza vaccine response in elderly individuals. J. Infect. Dis. 213, 1224–1228 (2016).

Omer, S. B. et al. Impact of statins on influenza vaccine effectiveness against medically attended acute respiratory Illness. J. Infect. Dis. 213, 1216–1223 (2016).

Yusuf, I. & Fruman, D. A. Regulation of quiescence in lymphocytes. Trends Immunol. 24, 380–386 (2003).

Ricker, E. et al. Serine-threonine kinase ROCK2 regulates germinal center B cell positioning and cholesterol biosynthesis. J. Clin. Invest. 130, 3654–3670 (2020).

Trindade, B. C. et al. The cholesterol metabolite 25-hydroxycholesterol restrains the transcriptional regulator SREBP2 and limits intestinal IgA plasma cell differentiation. Immunity 54, 2273–2287 (2021).

Reboldi, A. & Cyster, J. G. Peyer's patches: organizing B-cell responses at the intestinal frontier. Immunol. Rev. 271, 230–245 (2016).

Assmann, N. et al. Srebp-controlled glucose metabolism is essential for NK cell functional responses. Nat. Immunol. 18, 1197–1206 (2017).

Hu, J., Ge, H., Newman, M. & Liu, K. OSA: a fast and accurate alignment tool for RNA-seq. Bioinformatics 28, 1933–1934 (2012).

Love, M. I., Huber, W. & Anders, S. Moderated estimation of fold change and dispersion for RNA-seq data with DESeq2. Genome Biol. 15, 550 (2014).

Luo, W. & Brouwer, C. Pathview: an R/Bioconductor package for pathway-based data integration and visualization. Bioinformatics 29, 1830–1831 (2013).
Acknowledgements
We are grateful for the next-generation sequencing services provided by the Yerkes NHP Genomics Core, which is supported in part by NIH P51 OD011132. Sequencing data were acquired on an Illumina NovaSeq 6000 system, funded by NIH S10 OD026799. We thank R. Casellas (NIH) for providing the AID-Cre R26YFP mice. We acknowledge the NIH (grants R37 DK057665, R37 AI048638, U19 AI090023 and U19 AI057266), Bill and Melinda Gates Foundation and Soffer Endowment Fund and Open Philanthropy (to B.P.) for supporting this work in B.P.'s laboratory.
Ethics declarations
Competing interests
The authors declare no competing interests.
Peer review
Peer review information
Nature Immunology thanks the anonymous reviewers for their contribution to the peer review of this work. Primary Handling Editor: S. Houston, in collaboration with the Nature Immunology team.
Additional information
Publisher's note Springer Nature remains neutral with regard to jurisdictional claims in published maps and institutional affiliations.
Supplementary information
Source data
Source data for metabolomics analysis.
Unprocessed western blots for Fig. 6a.
Unprocessed western blots for Extended Data Fig. 8.
Rights and permissions
Springer Nature or its licensor (e.g. a society or other partner) holds exclusive rights to this article under a publishing agreement with the author(s) or other rightsholder(s); author self-archiving of the accepted manuscript version of this article is solely governed by the terms of such publishing agreement and applicable law.
About this article
Cite this article
Luo, W., Adamska, J.Z., Li, C. et al. SREBP signaling is essential for effective B cell responses. Nat Immunol 24, 337–348 (2023). https://doi.org/10.1038/s41590-022-01376-y
Received:

Accepted:

Published:

Issue Date:

DOI: https://doi.org/10.1038/s41590-022-01376-y
This article is cited by
Yavuz F. Yazicioglu
Eros Marin
Alexander J. Clarke

Nature Immunology (2023)