Abstract
Amino acid metabolism is essential for cell survival, while the byproduct ammonia is toxic and can injure cellular longevity. Here we show that CD8+ memory T (TM) cells mobilize the carbamoyl phosphate (CP) metabolic pathway to clear ammonia, thus promoting memory development. CD8+ TM cells use β-hydroxybutyrylation to upregulate CP synthetase 1 and trigger the CP metabolic cascade to form arginine in the cytosol. This cytosolic arginine is then translocated into the mitochondria where it is split by arginase 2 to urea and ornithine. Cytosolic arginine is also converted to nitric oxide and citrulline by nitric oxide synthases. Thus, both the urea and citrulline cycles are employed by CD8+ T cells to clear ammonia and enable memory development. This ammonia clearance machinery might be targeted to improve T cell-based cancer immunotherapies.
Access options
Access Nature and 54 other Nature Portfolio journals
Get Nature+, our best-value online-access subscription
$29.99 per month
cancel any time
Subscribe to this journal
Receive 12 print issues and online access
$189.00 per year
only $15.75 per issue
Rent or buy this article
Get just this article for as long as you need it
$39.95
Prices may be subject to local taxes which are calculated during checkout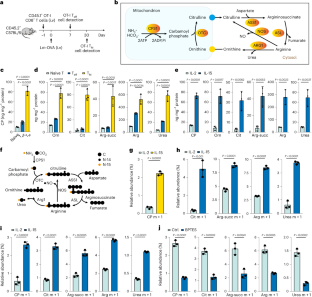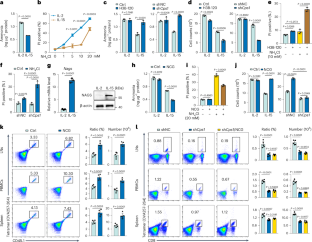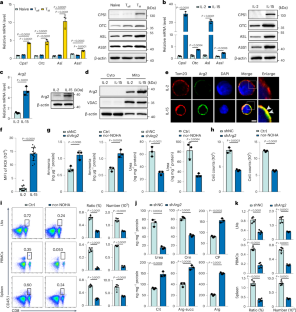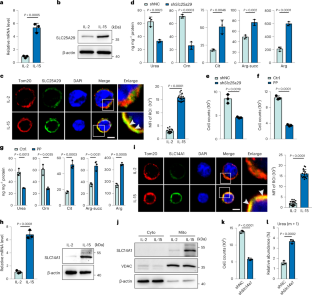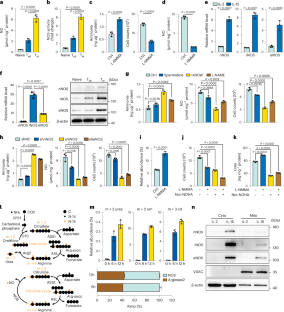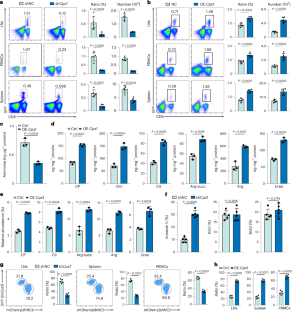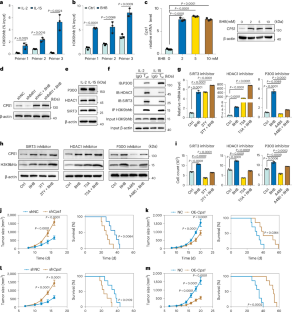 Data availability
The data supporting this study are available within main article and Supplementary Information files or are available from the corresponding author upon reasonable request. Source data are provided with this paper.
References
Lunt, S. Y. & Vander Heiden, M. G. Aerobic glycolysis: meeting the metabolic requirements of cell proliferation. Annu. Rev. Cell Dev. Biol. 27, 441–464 (2011).

Mehta, M. M., Weinberg, S. E. & Chandel, N. S. Mitochondrial control of immunity: beyond ATP. Nat. Rev. Immunol. 17, 608–620 (2017).

Leone, R. D. & Powell, J. D. Metabolism of immune cells in cancer. Nat. Rev. Cancer 20, 516–531 (2020).

Zhang, J., Pavlova, N. N. & Thompson, C. B. Cancer cell metabolism: the essential role of the nonessential amino acid, glutamine. EMBO J. 36, 1302–1315 (2017).

Srinivas, U. S., Tan, B. W. Q., Vellayappan, B. A. & Jeyasekharan, A. D. ROS and the DNA damage response in cancer. Redox Biol. 25, 101084 (2019).

Li, L. et al. p53 regulation of ammonia metabolism through urea cycle controls polyamine biosynthesis. Nature 567, 253–256 (2019).

Dasarathy, S. et al. Ammonia toxicity: from head to toe? Metab. Brain Dis. 32, 529–538 (2017).

Sies, H. & Jones, D. P. Reactive oxygen species (ROS) as pleiotropic physiological signalling agents. Nat. Rev. Mol. Cell Biol. 21, 363–383 (2020).

Weiner, I. D., Mitch, W. E. & Sands, J. M. Urea and ammonia metabolism and the control of renal nitrogen excretion. Clin. J. Am. Soc. Nephrol. 10, 1444–1458 (2015).

Amsen, D., van Gisbergen, K., Hombrink, P. & van Lier, R. A. W. Tissue-resident memory T cells at the center of immunity to solid tumors. Nat. Immunol. 19, 538–546 (2018).

Kok, L., Masopust, D. & Schumacher, T. N. The precursors of CD8(+) tissue resident memory T cells: from lymphoid organs to infected tissues. Nat. Rev. Immunol. https://doi.org/10.1038/s41577-021-00590-3 (2022).

Ma, R. et al. A Pck1-directed glycogen metabolic program regulates formation and maintenance of memory CD8(+) T cells. Nat. Cell Biol. 20, 21–27 (2018).

Zhang, H. et al. Ketogenesis-generated β-hydroxybutyrate is an epigenetic regulator of CD8(+) T-cell memory development. Nat. Cell Biol. 22, 18–25 (2020).

Wang, Y. et al. Coordinative metabolism of glutamine carbon and nitrogen in proliferating cancer cells under hypoxia. Nat. Commun. 10, 201 (2019).

Lercher, A. et al. Type I interferon signaling disrupts the hepatic urea cycle and alters systemic metabolism to suppress T cell function. Immunity 51, 1074–1087 (2019).

Keshet, R., Szlosarek, P., Carracedo, A. & Erez, A. Rewiring urea cycle metabolism in cancer to support anabolism. Nat. Rev. Cancer 18, 634–645 (2018).

De Chiara, F. et al. Urea cycle dysregulation in non-alcoholic fatty liver disease. J. Hepatol. 69, 905–915 (2018).

Purwono, A. R., Hibbaan, M. & Budihardjo, M. A. Ammonia-nitrogen (NH3-N) and ammonium-nitrogen (NH4+-N) equilibrium on the process of removing nitrogen by using tubular plastic media. J. Mater. Environ. Sci. 8, 4915–4922 (2017).

Eng, C. H., Yu, K., Lucas, J., White, E. & Abraham, R. T. Ammonia derived from glutaminolysis is a diffusible regulator of autophagy. Sci. Signal 3, ra31 (2010).

Cheong, H., Lindsten, T., Wu, J., Lu, C. & Thompson, C. B. Ammonia-induced autophagy is independent of ULK1/ULK2 kinases. Proc. Natl Acad. Sci. USA 108, 11121–11126 (2011).

Raup-Konsavage, W. M. et al. Arginase-2 mediates renal ischemia-reperfusion injury. Am. J. Physiol. 313, F522–F534 (2017).

Porcelli, V., Fiermonte, G., Longo, A. & Palmieri, F. The human gene SLC25A29, of solute carrier family 25, encodes a mitochondrial transporter of basic amino acids. J. Biol. Chem. 289, 13374–13384 (2014).

Shayakul, C., Clémençon, B. & Hediger, M. A. The urea transporter family (SLC14): physiological, pathological and structural aspects. Mol. Asp. Med. 34, 313–322 (2013).

Carlström, M. Nitric oxide signalling in kidney regulation and cardiometabolic health. Nat. Rev. Nephrol. 17, 575–590 (2021).

Bogdan, C. Nitric oxide synthase in innate and adaptive immunity: an update. Trends Immunol. 36, 161–178 (2015).

Cotter, G. et al. L-NMMA (a nitric oxide synthase inhibitor) is effective in the treatment of cardiogenic shock. Circulation 101, 1358–1361 (2000).

Garvey, E. P. et al. 1400W is a slow, tight binding, and highly selective inhibitor of inducible nitric-oxide synthase in vitro and in vivo. J. Biol. Chem. 272, 4959–4963 (1997).

Lampson, B. L. et al. Targeting eNOS in pancreatic cancer. Cancer Res. 72, 4472–4482 (2012).

Zhang, F., Liao, L., Ju, Y., Song, A. & Liu, Y. Neurochemical plasticity of nitric oxide synthase isoforms in neurogenic detrusor overactivity after spinal cord injury. Neurochem. Res. 36, 1903–1909 (2011).

Zhang, X. et al. Molecular basis for hierarchical histone de-β-hydroxybutyrylation by SIRT3. Cell Discov. 5, 35 (2019).

Huang, H. et al. The regulatory enzymes and protein substrates for the lysine β-hydroxybutyrylation pathway. Sci. Adv. 7, eabe2771 (2021).

Kaczmarska, Z. et al. Structure of p300 in complex with acyl-CoA variants. Nat. Chem. Biol. 13, 21–29 (2017).

Kurmi, K. & Haigis, M. C. Nitrogen metabolism in cancer and immunity. Trends Cell Biol. 30, 408–424 (2020).

Lee, J. S. et al. Urea cycle dysregulation generates clinically relevant genomic and biochemical signatures. Cell 174, 1559–1570 (2018).

Matsumoto, S. et al. Urea cycle disorders-update. J. Hum. Genet. 64, 833–847 (2019).

Hajaj, E., Sciacovelli, M., Frezza, C. & Erez, A. The context-specific roles of urea cycle enzymes in tumorigenesis. Mol. Cell 81, 3749–3759 (2021).

Pearce, E. L. et al. Enhancing CD8 T-cell memory by modulating fatty acid metabolism. Nature 460, 103–107 (2009).

McGovern, N. et al. Human fetal dendritic cells promote prenatal T-cell immune suppression through arginase-2. Nature 546, 662–666 (2017).

Peng, W. et al. Mitochondrial dysfunction in atherosclerosis. DNA Cell Biol. 38, 597–606 (2019).

Fouda, A. Y., Eldahshan, W., Narayanan, S. P., Caldwell, R. W. & Caldwell, R. B. Arginase pathway in acute retina and brain injury: therapeutic opportunities and unexplored avenues. Front. Pharmacol. 11, 277 (2020).

Yoo, H. C. et al. A variant of SLC1A5 Is a mitochondrial glutamine transporter for metabolic reprogramming in cancer cells. Cell Metab. 31, 267–283 (2020).

Aktan, F. iNOS-mediated nitric oxide production and its regulation. Life Sci. 75, 639–653 (2004).

Zhao, Y., Vanhoutte, P. M. & Leung, S. W. Vascular nitric oxide: beyond eNOS. J. Pharmacol. Sci. 129, 83–94 (2015).

Sun, J. et al. Essential role of nitric oxide in acute ischemic preconditioning: S-nitros(yl)ation versus sGC/cGMP/PKG signaling? Free Radic. Biol. Med. 54, 105–112 (2013).

Xiang, T. et al. The novel ZEB1-upregulated protein PRTG induced by Helicobacter pylori infection promotes gastric carcinogenesis through the cGMP/PKG signaling pathway. Cell Death Dis. 12, 150 (2021).

Luedike, P. et al. Cardioprotection through S-nitros(yl)ation of macrophage migration inhibitory factor. Circulation 125, 1880–1889 (2012).

Seth, D. et al. A multiplex enzymatic machinery for cellular protein s-nitrosylation. Mol. Cell 69, 451–464 (2018).

Majumdar, U. et al. Nitric oxide prevents aortic valve calcification by S-nitrosylation of USP9X to activate NOTCH signaling. Sci. Adv. 7, eabe3706 (2021).

Zhang, H. et al. TCR activation directly stimulates PYGB-dependent glycogenolysis to fuel the early recall response in CD8+ memory T cells. Mol. Cell 82, 3077–3088 (2022).

Spinelli, J. B., Kelley, L. P. & Haigis, M. C. An LC–MS approach to quantitative measurement of ammonia isotopologues. Sci. Rep. 7, 10304 (2017).
Acknowledgements
This work was supported by the Natural Science Foundation of China (81788101 to B.H. and 82071864, 82150103 to K.T.), CAMS Innovation Fund for Medical Sciences (2021-1-I2M-021 to B.H.), Program for HUST Academic Frontier Youth Team (2018QYTD01 to K.T.), the Key R&D program of Hubei Province (2020BCA068 to K.T.) and the Young Top-notch Talent Cultivation Program of Hubei Province (K.T.).
Ethics declarations
Competing interests
The authors declare no competing interests.
Peer review
Peer review information
Nature Immunology thanks Ping-Chih Ho and the other, anonymous, reviewer(s) for their contribution to the peer review of this work. Primary Handling Editor: N. Bernard, in collaboration with the Nature Immunology team.
Additional information
Publisher's note Springer Nature remains neutral with regard to jurisdictional claims in published maps and institutional affiliations.
Supplementary information
Reagent information, sequences of shRNA information, antibody information and sequences of qPCR primer information.
Rights and permissions
Springer Nature or its licensor (e.g. a society or other partner) holds exclusive rights to this article under a publishing agreement with the author(s) or other rightsholder(s); author self-archiving of the accepted manuscript version of this article is solely governed by the terms of such publishing agreement and applicable law.
About this article
Cite this article
Tang, K., Zhang, H., Deng, J. et al. Ammonia detoxification promotes CD8+ T cell memory development by urea and citrulline cycles. Nat Immunol 24, 162–173 (2023). https://doi.org/10.1038/s41590-022-01365-1
Received:

Accepted:

Published:

Issue Date:

DOI: https://doi.org/10.1038/s41590-022-01365-1