Abstract
T cell antigen-receptor (TCR) signaling controls the development, activation and survival of T cells by involving several layers and numerous mechanisms of gene regulation. N6-methyladenosine (m6A) is the most prevalent messenger RNA modification affecting splicing, translation and stability of transcripts. In the present study, we describe the Wtap protein as essential for m6A methyltransferase complex function and reveal its crucial role in TCR signaling in mouse T cells. Wtap and m6A methyltransferase functions were required for the differentiation of thymocytes, control of activation-induced death of peripheral T cells and prevention of colitis by enabling gut RORγt+ regulatory T cell function. Transcriptome and epitranscriptomic analyses reveal that m6A modification destabilizes Orai1 and Ripk1 mRNAs. Lack of post-transcriptional repression of the encoded proteins correlated with increased store-operated calcium entry activity and diminished survival of T cells with conditional genetic inactivation of Wtap. These findings uncover how m6A modification impacts on TCR signal transduction and determines activation and survival of T cells.
Access options
Subscribe to Nature+
Get immediate online access to the entire Nature family of 50+ journals
Subscribe to Journal
Get full journal access for 1 year
$99.00
only $8.25 per issue
All prices are NET prices.
VAT will be added later in the checkout.
Tax calculation will be finalised during checkout.
Buy article
Get time limited or full article access on ReadCube.
$32.00
All prices are NET prices.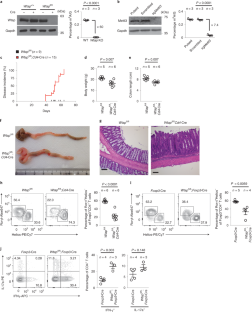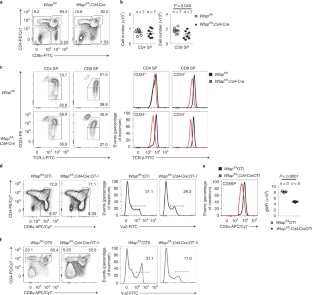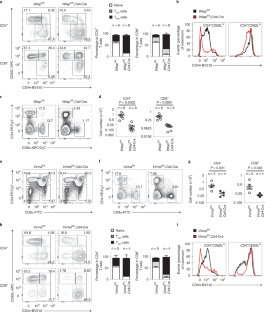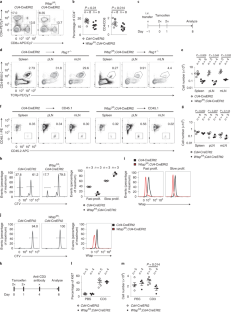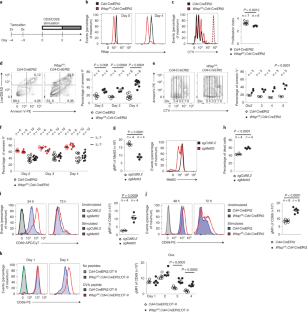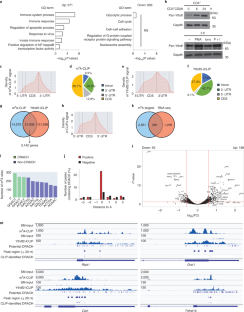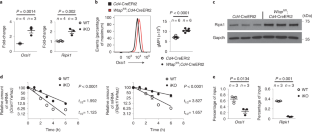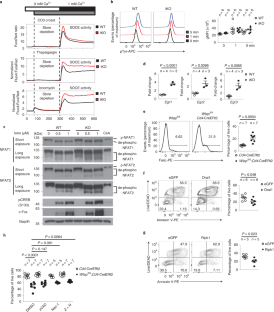 Data availability
RNA-seq, m6A-CLIP and YTHDF2-iCLIP datasets have been deposited in the Gene Expression Omnibus under the accession no. GSE188854. All data are available from the corresponding author upon reasonable request. Source data are provided with this paper.
References
Daley, S. R., Teh, C., Hu, D. Y., Strasser, A. & Gray, D. H. D. Cell death and thymic tolerance. Immunol. Rev. 277, 9–20 (2017).

Zhan, Y., Carrington, E. M., Zhang, Y., Heinzel, S. & Lew, A. M. Life and death of activated T cells: how are they different from naïve T cells? Front. Immunol. 8, 1809 (2017).

Pasparakis, M. & Vandenabeele, P. Necroptosis and its role in inflammation. Nature 517, 311–320 (2015).

Trebak, M. & Kinet, J. P. Calcium signalling in T cells. Nat. Rev. Immunol. 19, 154–169 (2019).

Feske, S. et al. A mutation in Orai1 causes immune deficiency by abrogating CRAC channel function. Nature 441, 179–185 (2006).

Picard, C. et al. STIM1 mutation associated with a syndrome of immunodeficiency and autoimmunity. N. Engl. J. Med. 360, 1971–1980 (2009).

Lacruz, R. S. & Feske, S. Diseases caused by mutations in ORAI1 and STIM1. Ann. N.Y. Acad. Sci. 1356, 45–79 (2015).

Hogan, P. G., Chen, L., Nardone, J. & Rao, A. Transcriptional regulation by calcium, calcineurin, and NFAT. Genes Dev. 17, 2205–2232 (2003).

Xiao, S. et al. FasL promoter activation by IL-2 through SP1 and NFAT but not Egr-2 and Egr-3. Eur. J. Immunol. 29, 3456–3465 (1999).

Rengarajan, J. et al. Sequential involvement of NFAT and Egr transcription factors in FasL regulation. Immunity 12, 293–300 (2000).

Dzialo-Hatton, R., Milbrandt, J., Hockett, R. D. Jr. & Weaver, C. T. Differential expression of Fas ligand in Th1 and Th2 cells is regulated by early growth response gene and NF-AT family members. J. Immunol. 166, 4534–4542 (2001).

La Rovere, R. M., Roest, G., Bultynck, G. & Parys, J. B. Intracellular Ca2+ signaling and Ca2+ microdomains in the control of cell survival, apoptosis and autophagy. Cell Calcium 60, 74–87 (2016).

Kim, K. D. et al. ORAI1 deficiency impairs activated T cell death and enhances T cell survival. J. Immunol. 187, 3620–3630 (2011).

Desvignes, L. et al. STIM1 controls T cell-mediated immune regulation and inflammation in chronic infection. J. Clin. Invest. 125, 2347–2362 (2015).

Zaccara, S., Ries, R. J. & Jaffrey, S. R. Reading, writing and erasing mRNA methylation. Nat. Rev. Mol. Cell Biol. 20, 608–624 (2019).

Fu, Y., Dominissini, D., Rechavi, G. & He, C. Gene expression regulation mediated through reversible m6A RNA methylation. Nat. Rev. Genet. 15, 293–306 (2014).

Shulman, Z. & Stern-Ginossar, N. The RNA modification N6-methyladenosine as a novel regulator of the immune system. Nat. Immunol. 21, 501–512 (2020).

Gao, Y. et al. m6A modification prevents formation of endogenous double-stranded RNAs and deleterious innate immune responses during hematopoietic development. Immunity 52, 1007–1021.e1008 (2020).

Li, H. B. et al. m6A mRNA methylation controls T cell homeostasis by targeting the IL-7/STAT5/SOCS pathways. Nature 548, 338–342 (2017).

Tong, J. et al. m6A mRNA methylation sustains Treg suppressive functions. Cell Res. 28, 253–256 (2018).

Yao, Y. et al. METTL3-dependent m6A modification programs T follicular helper cell differentiation. Nat. Commun. 12, 1333 (2021).

Grenov, A.C. et al. The germinal center reaction depends on RNA methylation and divergent functions of specific methyl readers. J. Exp. Med. 218, e20210360 (2021).

Sprent, J. & Surh, C. D. Writer's block: preventing m6A mRNA methylation promotes T cell naivety. Immunol. Cell Biol. 95, 855–856 (2017).

Cao, G., Li, H. B., Yin, Z. & Flavell, R. A. Recent advances in dynamic m6A RNA modification. Open Biol. 6, 160003 (2016).

Zaccara, S. & Jaffrey, S. R. A unified model for the function of YTHDF proteins in regulating m6A-modified mRNA. Cell 181, 1582–1595.e1518 (2020).

Lasman, L. et al. Context-dependent functional compensation between Ythdf m6A reader proteins. Genes Dev. 34, 1373–1391 (2020).

Liu, J. et al. A METTL3-METTL14 complex mediates mammalian nuclear RNA N6-adenosine methylation. Nat. Chem. Biol. 10, 93–95 (2014).

Wang, P., Doxtader, K. A. & Nam, Y. Structural basis for cooperative function of Mettl3 and Mettl14 methyltransferases. Mol. Cell 63, 306–317 (2016).

Schöller, E. et al. Interactions, localization, and phosphorylation of the m6A generating METTL3–METTL14–WTAP complex. RNA 24, 499–512 (2018).

Knuckles, P. et al. Zc3h13/Flacc is required for adenosine methylation by bridging the mRNA-binding factor Rbm15/Spenito to the m6A machinery component Wtap/Fl(2)d. Genes Dev. 32, 415–429 (2018).

Yue, Y. et al. VIRMA mediates preferential m6A mRNA methylation in 3′UTR and near stop codon and associates with alternative polyadenylation. Cell Discov. 4, 10 (2018).

Bawankar, P. et al. Hakai is required for stabilization of core components of the m6A mRNA methylation machinery. Nat. Commun. 12, 3778 (2021).

Ping, X. L. et al. Mammalian WTAP is a regulatory subunit of the RNA N6-methyladenosine methyltransferase. Cell Res. 24, 177–189 (2014).

Schwartz, S. et al. Perturbation of m6A writers reveals two distinct classes of mRNA methylation at internal and 5′ sites. Cell Rep. 8, 284–296 (2014).

Lu, T. X. et al. A new model of spontaneous colitis in mice induced by deletion of an RNA m6A methyltransferase component METTL14 in T cells. Cell Mol. Gastroenterol. Hepatol. 10, 747–761 (2020).

Borland, K. et al. Production and application of stable isotope-labeled internal standards for RNA modification analysis. Genes 10, 26 (2019).

Ohnmacht, C. et al. MUCOSAL IMMUNOLOGY. The microbiota regulates type 2 immunity through RORγt+ T cells. Science 349, 989–993 (2015).

Lin, Z. et al. Mettl3-/Mettl14-mediated mRNA N6-methyladenosine modulates murine spermatogenesis. Cell Res. 27, 1216–1230 (2017).

Kieper, W. C. et al. Recent immune status determines the source of antigens that drive homeostatic T cell expansion. J. Immunol. 174, 3158–3163 (2005).

Hoefig, K. P. et al. Defining the RBPome of primary T helper cells to elucidate higher-order Roquin-mediated mRNA regulation. Nat. Commun. 12, 5208 (2021).

Körtel, N. et al. Deep and accurate detection of m6A RNA modifications using miCLIP2 and m6Aboost machine learning. Nucleic Acids Res. 49, e92 (2021).

Buchbender, A. et al. Improved library preparation with the new iCLIP2 protocol. Methods 178, 33–48 (2020).

Krakau, S., Richard, H. & Marsico, A. PureCLIP: capturing target-specific protein–RNA interaction footprints from single-nucleotide CLIP-seq data. Genome Biol. 18, 240 (2017).

Paris, J. et al. Targeting the RNA m6A reader YTHDF2 selectively compromises cancer stem cells in acute myeloid leukemia. Cell Stem Cell 25, 137–148.e136 (2019).

Zhu, Y. et al. The E3 ligase VHL promotes follicular helper T cell differentiation via glycolytic-epigenetic control. J. Exp. Med. 216, 1664–1681 (2019).

Little, N. A., Hastie, N. D. & Davies, R. C. Identification of WTAP, a novel Wilms' tumour 1-associating protein. Hum. Mol. Genet. 9, 2231–2239 (2000).

Wang, X. et al. N6-Methyladenosine-dependent regulation of messenger RNA stability. Nature 505, 117–120 (2014).

Vaeth, M., Kahlfuss, S. & Feske, S. CRAC channels and calcium signaling in T cell-mediated immunity. Trends Immunol. 41, 878–901 (2020).

Li, S. et al. The transcription factors Egr2 and Egr3 are essential for the control of inflammation and antigen-induced proliferation of B and T cells. Immunity 37, 685–696 (2012).

Tummers, B. & Green, D. R. Caspase-8: regulating life and death. Immunol. Rev. 277, 76–89 (2017).

Lee, P. P. et al. A critical role for Dnmt1 and DNA methylation in T cell development, function, and survival. Immunity 15, 763–774 (2001).

Sledzinska, A. et al. TGF-β signalling is required for CD4+ T cell homeostasis but dispensable for regulatory T cell function. PLoS Biol. 11, e1001674 (2013).

Rubtsov, Y. P. et al. Regulatory T cell-derived interleukin-10 limits inflammation at environmental interfaces. Immunity 28, 546–558 (2008).

Hogquist, K. A. et al. T cell receptor antagonist peptides induce positive selection. Cell 76, 17–27 (1994).

Barnden, M. J., Allison, J., Heath, W. R. & Carbone, F. R. Defective TCR expression in transgenic mice constructed using cDNA-based alpha- and beta-chain genes under the control of heterologous regulatory elements. Immunol. Cell Biol. 76, 34–40 (1998).

Busch, A., Brüggemann, M., Ebersberger, S. & Zarnack, K. iCLIP data analysis: a complete pipeline from sequencing reads to RBP binding sites. Methods 178, 49–62 (2020).

Bray, N. L., Pimentel, H., Melsted, P. & Pachter, L. Near-optimal probabilistic RNA-seq quantification. Nat. Biotechnol. 34, 525–527 (2016).

Love, M. I., Huber, W. & Anders, S. Moderated estimation of fold change and dispersion for RNA-seq data with DESeq2. Genome Biol. 15, 550 (2014).
Acknowledgements
We thank C. Keplinger (Helmholtz Zentrum München) and L. Esser (Ludwig-Maximilians−Universität) for excellent technical support. We thank the BMC Core Facility (Ludwig-Maximilians-Universität) for flow cytometry, H. Blum and S. Krebs (Ludwig-Maximilians-Universität) for mRNA- and CLIP-seq and N. Angstman for initial processing of sequencing data. The present study was supported by the German Research Foundation grant nos. HE3359/8-1 (#444891219), HE3359/7-1 (#432656284) and SFB 1054 (project A03, #210592381), SPP 1935 (#313381103) and TRR338 (project C02, #452881907) to V.H.
Ethics declarations
Competing interests
The authors declare no competing interests.
Peer review
Peer review information
Nature Immunology thanks Ziv Shulman, Martin Turner and Monika Wolkers for their contribution to the peer review of this work. Primary Handling Editor: L. A. Dempsey in collaboration with the Nature Immunology team. Peer reviewer reports are available.
Additional information
Publisher's note Springer Nature remains neutral with regard to jurisdictional claims in published maps and institutional affiliations.
Supplementary information
About this article
Cite this article
Ito-Kureha, T., Leoni, C., Borland, K. et al. The function of Wtap in N6-adenosine methylation of mRNAs controls T cell receptor signaling and survival of T cells. Nat Immunol 23, 1208–1221 (2022). https://doi.org/10.1038/s41590-022-01268-1
Received:

Accepted:

Published:

Issue Date:

DOI: https://doi.org/10.1038/s41590-022-01268-1