Abstract
Chronic inflammation triggers compensatory immunosuppression to stop inflammation and minimize tissue damage. Studies have demonstrated that endoplasmic reticulum (ER) stress augments the suppressive phenotypes of immune cells; however, the molecular mechanisms underpinning this process and how it links to the metabolic reprogramming of immunosuppressive macrophages remain elusive. In the present study, we report that the helper T cell 2 cytokine interleukin-4 and the tumor microenvironment increase the activity of a protein kinase RNA-like ER kinase (PERK)-signaling cascade in macrophages and promote immunosuppressive M2 activation and proliferation. Loss of PERK signaling impeded mitochondrial respiration and lipid oxidation critical for M2 macrophages. PERK activation mediated the upregulation of phosphoserine aminotransferase 1 (PSAT1) and serine biosynthesis via the downstream transcription factor ATF-4. Increased serine biosynthesis resulted in enhanced mitochondrial function and α-ketoglutarate production required for JMJD3-dependent epigenetic modification. Inhibition of PERK suppressed macrophage immunosuppressive activity and could enhance the efficacy of immune checkpoint programmed cell death protein 1 inhibition in melanoma. Our findings delineate a previously undescribed connection between PERK signaling and PSAT1-mediated serine metabolism critical for promoting immunosuppressive function in M2 macrophages.
Relevant articles
Open Access articles citing this article.
Wenxiang Deng

,

Qinghu He

&

Wenan Zhang

Naunyn-Schmiedeberg's Archives of Pharmacology Open Access 08 November 2023

Huamei Wei

,

Jinhun Yang

…

Jian Pu

Scientific Reports Open Access 05 November 2023

Wentao Zeng

,

Fei Li

…

Xin Xie

Journal of Experimental & Clinical Cancer Research Open Access 23 September 2023
Access options
Access Nature and 54 other Nature Portfolio journals
Get Nature+, our best-value online-access subscription
$29.99 / 30 days
cancel any time
Subscribe to this journal
Receive 12 print issues and online access
$209.00 per year
only $17.42 per issue
Rent or buy this article
Prices vary by article type
from$1.95
to$39.95
Prices may be subject to local taxes which are calculated during checkout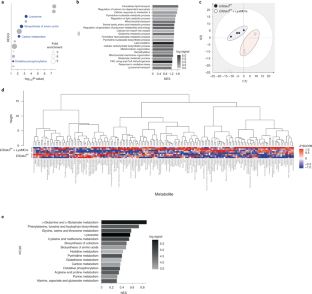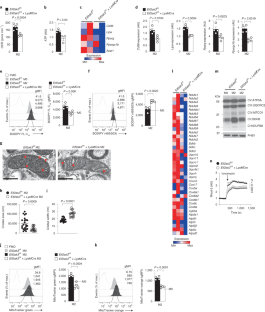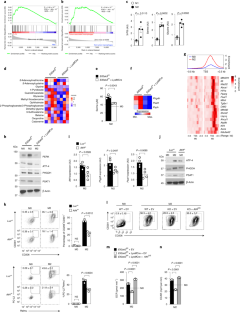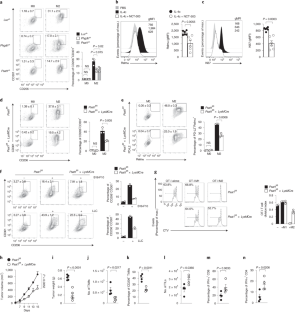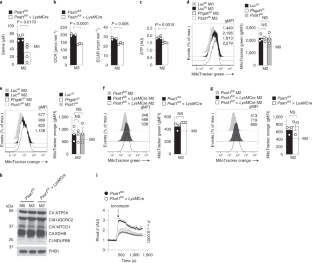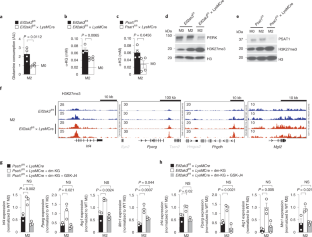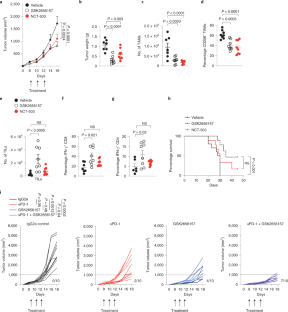 Data availability
RNA-seq and ChIP-seq results are available in the Gene Expression Omnibus database under accession nos. GSE165836 and GSE183287, respectively. Other data available on request to corresponding author. Source data are provided with this paper.
References
Wynn, T. A., Chawla, A. & Pollard, J. W. Macrophage biology in development, homeostasis and disease. Nature 496, 445–455 (2013).

McNelis, J. C. & Olefsky, J. M. Macrophages, immunity, and metabolic disease. Immunity 41, 36–48 (2014).

Murray, P. J. Macrophage polarization. Annu. Rev. Physiol. 79, 541–566 (2017).

Etchegaray, J.-P. & Mostoslavsky, R. Interplay between metabolism and epigenetics: a nuclear adaptation to environmental changes. Mol. Cell 62, 695–711 (2016).

Lio, C. J. & Huang, S. C. Circles of life: linking metabolic and epigenetic cycles to immunity. Immunology 161, 165–174 (2020).

Buck, M. D., Sowell, R. T., Kaech, S. M. & Pearce, E. L. Metabolic instruction of immunity. Cell 169, 570–586 (2017).

Li, X. et al. Navigating metabolic pathways to enhance antitumour immunity and immunotherapy. Nat. Rev. Clin. Oncol. 16, 425–441 (2019).

Bettigole, S. E. & Glimcher, L. H. Endoplasmic reticulum stress in Immunity. Annu. Rev. Immunol. 33, 107–138 (2015).

Grootjans, J., Kaser, A., Kaufman, R. J. & Blumberg, R. S. The unfolded protein response in immunity and inflammation. Nat. Rev. Immunol. 16, 469–484 (2016).

Song, M. & Cubillos-Ruiz, J. R. Endoplasmic reticulumsstress responses in intratumoral immune cells: implications for cancer immunotherapy. Trends Immunol. 40, 128–141 (2019).

Osorio, F. et al. The unfolded-protein-response sensor IRE-1α regulates the function of CD8α+ dendritic cells. Nat. Immunol. 15, 248–257 (2014).

Cubillos-Ruiz, J. R. et al. ER stress sensor XBP1 controls anti-tumor immunity by disrupting dendritic cell homeostasis. Cell 161, 1527–1538 (2015).

Mohamed, E. et al. The unfolded protein response mediator PERK governs myeloid cell-driven immunosuppression in tumors through inhibition of STING signaling. Immunity 52, 668–682.e7 (2020).

Song, M. et al. IRE1α–XBP1 controls T cell function in ovarian cancer by regulating mitochondrial activity. Nature 562, 423–428 (2018).

Cao, Y. et al. ER stress-induced mediator C/EBP homologous protein thwarts effector T cell activity in tumors through T-bet repression. Nat. Commun. 10, 1280 (2019).

Walter, P. & Ron, D. The unfolded protein response: from stress pathway to homeostatic regulation. Science 334, 1081–1086 (2011).

Shan, B. et al. The metabolic ER stress sensor IRE1α suppresses alternative activation of macrophages and impairs energy expenditure in obesity. Nat. Immunol. 18, 519–529 (2017).

Batista, A. et al. IRE1α regulates macrophage polarization, PD-L1 expression, and tumor survival. PLoS Biol. 18, e3000687 (2020).

Wek, R. C. & Cavener, D. R. Translational control and the unfolded protein response. Antioxid. Redox Sign 9, 2357–2372 (2007).

Rainbolt, T. K., Saunders, J. M. & Wiseman, R. L. Stress-responsive regulation of mitochondria through the ER unfolded protein response. Trends Endocrinol. Metab. 25, 528–537 (2014).

Wortel, I. M. N., Meer, L. T., van der, Kilberg, M. S. & van Leeuwen, F. N. Surviving stress: modulation of ATF4-mediated stress responses in normal and malignant cells. Trends Endocrinol. Metab. 28, 794–806 (2017).

Gundra, U. M. et al. Alternatively activated macrophages derived from monocytes and tissue macrophages are phenotypically and functionally distinct. Blood 123, e110–e122 (2014).

Lavin, Y. et al. Innate immune landscape in early lung adenocarcinoma by paired single-cell analyses. Cell 169, 750–765.e17 (2017).

Huang, S. C.-C. et al. Cell-intrinsic lysosomal lipolysis is essential for alternative activation of macrophages. Nat. Immunol. 15, 846–855 (2014).

Guthrie, L. N. et al. Attenuation of PKR-like ER kinase (PERK) signaling selectively controls endoplasmic reticulum stress-induced inflammation without compromising immunological responses*. J. Biol. Chem. 291, 15830–15840 (2016).

Yang, F. et al. ER-stress regulates macrophage polarization through pancreatic EIF-2alpha kinase. Cell Immunol. 336, 40–47 (2019).

Pakos‐Zebrucka, K. et al. The integrated stress response. EMBO Rep. 17, 1374–1395 (2016).

Costa-Mattioli, M. & Walter, P. The integrated stress response: from mechanism to disease. Science 368, eaat5314 (2020).

Vitale, I., Manic, G., Coussens, L. M., Kroemer, G. & Galluzzi, L. Macrophages and metabolism in the tumor microenvironment. Cell Metab. 30, 36–50 (2019).

Jha, A. K. et al. Network integration of parallel metabolic and transcriptional data reveals metabolic modules that regulate macrophage polarization. Immunity 42, 419–430 (2015).

Liu, P.-S. et al. α-Ketoglutarate orchestrates macrophage activation through metabolic and epigenetic reprogramming. Nat. Immunol. 18, 985–994 (2017).

Lebeau, J. et al. The PERK arm of the unfolded protein response regulates mitochondrial morphology during acute endoplasmic reticulum. Stress Cell Rep. 22, 2827–2836 (2018).

Cogliati, S., Enriquez, J. A. & Scorrano, L. Mitochondrial cristae: where beauty meets functionality. Trends Biochem. Sci. 41, 261–273 (2016).

Bravo, R. et al. Increased ER-mitochondrial coupling promotes mitochondrial respiration and bioenergetics during early phases of ER stress. J. Cell Sci. 124, 2143–2152 (2011).

Haschemi, A. et al. The sedoheptulose kinase CARKL directs macrophage polarization through control of glucose metabolism. Cell Metab. 15, 813–826 (2012).

Ma, E. H. et al. Serine Is an essential metabolite for effector T cell expansion. Cell Metab. 25, 345–357 (2017).

Locasale, J. W. Serine, glycine and one-carbon units: cancer metabolism in full circle. Nat. Rev. Cancer 13, 572–583 (2013).

Ducker, G. S. & Rabinowitz, J. D. One-carbon metabolism in health and disease. Cell Metab. 25, 27–42 (2017).

Harding, H. P. et al. Regulated translation initiation controls stress-induced gene expression in mammalian cells. Mol. Cell 6, 1099–1108 (2000).

Harding, H. P. et al. An integrated stress response regulates amino acid metabolism and resistance to oxidative stress. Mol. Cell 11, 619–633 (2003).

Halaby, M. J. et al. GCN2 drives macrophage and MDSC function and immunosuppression in the tumor microenvironment. Sci. Immunol. 4, eaax8189 (2019).

Mullarky, E. et al. Identification of a small molecule inhibitor of 3-phosphoglycerate dehydrogenase to target serine biosynthesis in cancers. Proc. Natl Acad. Sci. USA 113, 1778–1783 (2016).

Pacold, M. E. et al. A PHGDH inhibitor reveals coordination of serine synthesis and one-carbon unit fate. Nat. Chem. Biol. 12, 452–458 (2016).

Kory, N. et al. SFXN1 is a mitochondrial serine transporter required for one-carbon metabolism. Science 362, eaat9528 (2018).

Gao, X. et al. Serine availability influences mitochondrial dynamics and function through lipid metabolism. Cell Rep. 22, 3507–3520 (2018).

Hwang, I.-Y. et al. Psat1-dependent fluctuations in α-ketoglutarate affect the timing of ESC differentiation. Cell Metab. 24, 494–501 (2016).

Harris, N. L. & Loke, P. Recent advances in type-2-cell-mediated immunity: insights from helminth infection. Immunity 47, 1024–1036 (2017).

Schäfer, M. & Werner, S. Cancer as an overhealing wound: an old hypothesis revisited. Nat. Rev. Mol. Cell Biol. 9, 628–638 (2008).

Eming, S. A., Wynn, T. A. & Martin, P. Inflammation and metabolism in tissue repair and regeneration. Science 356, 1026–1030 (2017).

DeNardo, D. G. et al. CD4+ T cells regulate pulmonary metastasis of mammary carcinomas by enhancing protumor properties of macrophages. Cancer Cell 16, 91–102 (2009).

Yang, X. et al. ATF4 regulates CD4+ T cell immune responses through metabolic reprogramming. CellReports 23, 1754–1766 (2018).

Ma, L. et al. Control of nutrient stress-induced metabolic reprogramming by PKCζ in tumorigenesis. Cell 152, 599–611 (2013).

Gao, S. et al. PSAT1 is regulated by ATF4 and enhances cell proliferation via the GSK3β/β-catenin/cyclin D1 signaling pathway in ER-negative breast cancer. J. Exp. Clin. Cancer Res. 36, 179 (2017).

Yang, C. et al. Glutamine‐utilizing transaminases are a metabolic vulnerability of TAZ/YAP‐activated cancer cells. EMBO Rep. 19, e43577 (2018).

Martínez-Reyes, I. & Chandel, N. S. Mitochondrial TCA cycle metabolites control physiology and disease. Nat. Commun. 11, 102 (2020).

Chisolm, D. A. et al. CCCTC-binding factor translates Interleukin 2- and α-ketoglutarate-sensitive metabolic changes in T cells into context-dependent gene programs. Immunity 47, 251–267.e7 (2017).

Zhang, Q. et al. Tet2 is required to resolve inflammation by recruiting Hdac2 to specifically repress IL-6. Nature 525, 389–393 (2015).

Pan, W. et al. The DNA methylcytosine dioxygenase Tet2 sustains immunosuppressive function of tumor-infiltrating myeloid cells to promote melanoma progression. Immunity 47, 284–297.e5 (2017).

Finkelman, F. D. et al. Anti-cytokine antibodies as carrier proteins. Prolongation of in vivo effects of exogenous cytokines by injection of cytokine-anti-cytokine antibody complexes. J. Immunol. 151, 1235–1244 (1993).

Ivanisevic, J. et al. Toward 'omic scale metabolite profiling: a dual separation-mass spectrometry approach for coverage of lipid and central carbon metabolism. Anal. Chem. 85, 6876–6884 (2013).

Roci, I. et al. Metabolite profiling and stable isotope tracing in sorted subpopulations of mammalian cells. Anal. Chem. 88, 2707–2713 (2016).

Gallart-Ayala, H. et al. A global HILIC-MS approach to measure polar human cerebrospinal fluid metabolome: exploring gender-associated variation in a cohort of elderly cognitively healthy subjects. Analytica Chim. Acta 1037, 327–337 (2018).

Dunn, W. B. et al. Procedures for large-scale metabolic profiling of serum and plasma using gas chromatography and liquid chromatography coupled to mass spectrometry. Nat. Protoc. 6, 1060–1083 (2011).

Gagnebin, Y. et al. Metabolomic analysis of urine samples by UHPLC-QTOF-MS: Impact of normalization strategies. Analytica Chim. Acta 955, 27–35 (2017).

Tsugawa, H., Kanazawa, M., Ogiwara, A. & Arita, M. MRMPROBS suite for metabolomics using large-scale MRM assays. Bioinformatics 30, 2379–2380 (2014).

Conza, G. D. et al. Tumor-induced reshuffling of lipid composition on the endoplasmic reticulum membrane sustains macrophage survival and pro-tumorigenic activity. Nat. Immunol. 22, 1403–1415 (2021).
Acknowledgements
We thank S. Adoro and A. Huang for providing Eif2ak3fl/fl and OT-I mice, respectively. We thank A. Huang, S. Adoro and G. Dubyak for helpful discussions, and H. Fujioka from the Cleveland Center for Membrane and Structural Biology for expert technical assistance. All the individuals above are affiliated with Case Western Reserve University. L.N.R is supported by the Immunology T32 Training Program (no. AI089474). P.-C.H. is supported in part by a postdoctoral fellowship provided by Ministry of Science and Technology, Taiwan. C.-W.J.L. is funded by the National Institutes of Health's National Cancer Institute K22 award (no. K22CA241290), and startup funds from the Department of Microbial Infection and Immunity and Pelotonia Institute of Immuno-oncology at Ohio State University. J.I. is supported by a UNIL interdisciplinary grant. P.-C.H. is funded by the European Research Council starting grant (no. 802773-MitoGuide), SNSF project grants (no. 31003A_182470), the Cancer Research Institute (CLIP investigator award and Lloyd J. Old STAR award) and University of Lausanne (UNIL) interdisciplinary grant. S.C.-C.H. is funded by the Cancer Research Institute CLIP Investigator Award, the VeloSano Pilot Award, Case Comprehensive Cancer Center American Cancer Society pilot grants (nos. IRG-91-022-19 and IRG-16-186-21), Case GI SPORE DRP grant (no. 5P50CA150964-08) and the Cleveland Digestive Research Core Center pilot grant (no. 1P30DK097948).
Ethics declarations
Competing interests
P.-C.H. is a member of the scientific advisory for Elixiron Immunotherapeutics. The remaining authors declare no competing interests.
Peer review
Peer review information
Nature Immunology thanks Navdeep Chandel and the other, anonymous, reviewer(s) for their contribution to the peer review of this work. L. A. Dempsey was the primary editor on this article and managed its editorial process and peer review in collaboration with the rest of the editorial team.
Additional information
Publisher's note Springer Nature remains neutral with regard to jurisdictional claims in published maps and institutional affiliations.
Supplementary information
Flow cytometry gating strategy.
About this article
Cite this article
Raines, L.N., Zhao, H., Wang, Y. et al. PERK is a critical metabolic hub for immunosuppressive function in macrophages. Nat Immunol 23, 431–445 (2022). https://doi.org/10.1038/s41590-022-01145-x
Received:

Accepted:

Published:

Issue Date:

DOI: https://doi.org/10.1038/s41590-022-01145-x