Abstract
Intestinal epithelial cell (IEC) damage by T cells contributes to graft-versus-host disease, inflammatory bowel disease and immune checkpoint blockade-mediated colitis. But little is known about the target cell-intrinsic features that affect disease severity. Here we identified disruption of oxidative phosphorylation and an increase in succinate levels in the IECs from several distinct in vivo models of T cell-mediated colitis. Metabolic flux studies, complemented by imaging and protein analyses, identified disruption of IEC-intrinsic succinate dehydrogenase A (SDHA), a component of mitochondrial complex II, in causing these metabolic alterations. The relevance of IEC-intrinsic SDHA in mediating disease severity was confirmed by complementary chemical and genetic experimental approaches and validated in human clinical samples. These data identify a critical role for the alteration of the IEC-specific mitochondrial complex II component SDHA in the regulation of the severity of T cell-mediated intestinal diseases.
Access options
Subscribe to Journal
Get full journal access for 1 year
$59.00
only $4.92 per issue
All prices are NET prices.
VAT will be added later in the checkout.
Tax calculation will be finalised during checkout.
Rent or Buy article
Get time limited or full article access on ReadCube.
from$8.99
All prices are NET prices.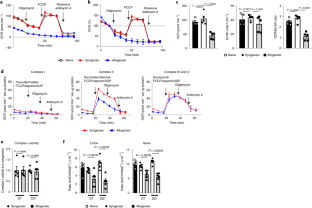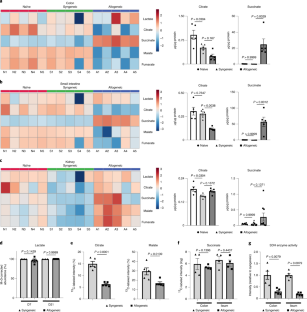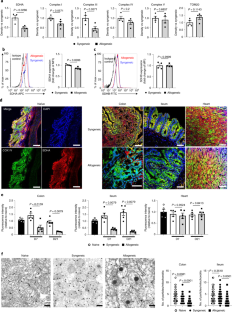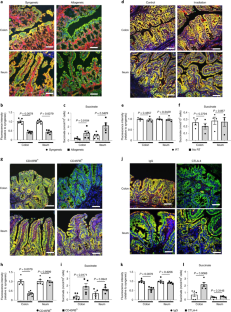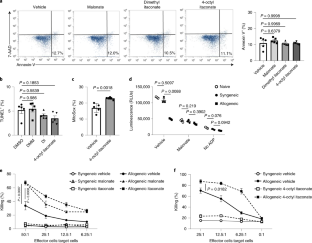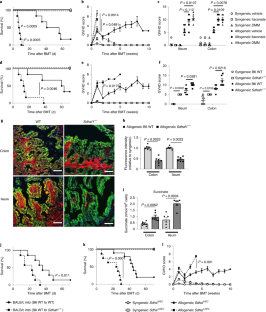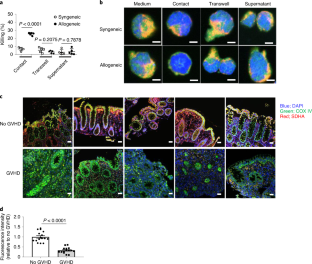 Data availability
Transcriptomics data have been deposited in the NCBI's GEO database under the accession code GSE158259. Source data are provided with this paper.
References
1.

Strober, W., Fuss, I. & Mannon, P. The fundamental basis of inflammatory bowel disease. J. Clin. Invest. 117, 514–521 (2007).

2.

Martins, F. et al. Adverse effects of immune-checkpoint inhibitors: epidemiology, management and surveillance. Nat. Rev. Clin. Oncol. 16, 563–580 (2019).

3.

Ferrara, J. L., Levine, J. E., Reddy, P. & Holler, E. Graft-versus-host disease. Lancet 373, 1550–1561 (2009).

4.

Neurath, M. F. Targeting immune cell circuits and trafficking in inflammatory bowel disease. Nat Immunol. 20, 970–979 (2019).

5.

Zeiser, R. & Blazar, B. R. Acute graft-versus-host disease—biologic process, prevention, and therapy. N. Engl. J. Med. 377, 2167–2179 (2017).

6.

O'Neill, L. A. & Pearce, E. J. Immunometabolism governs dendritic cell and macrophage function. J. Exp. Med. 213, 15–23 (2016).

7.

Everts, B. et al. TLR-driven early glycolytic reprogramming via the kinases TBK1-IKKɛ supports the anabolic demands of dendritic cell activation. Nat. Immunol. 15, 323–332 (2014).

8.

Buck, M. D. et al. Mitochondrial dynamics controls T cell fate through metabolic programming. Cell 166, 63–76 (2016).

9.

Albenberg, L. et al. Correlation between intraluminal oxygen gradient and radial partitioning of intestinal microbiota. Gastroenterology 147, 1055–1063 (2014).

10.

He, G. et al. Noninvasive measurement of anatomic structure and intraluminal oxygenation in the gastrointestinal tract of living mice with spatial and spectral EPR imaging. Proc. Natl Acad. Sci. USA 96, 4586–4591 (1999).

11.

Fan, Y. Y. et al. A bioassay to measure energy metabolism in mouse colonic crypts, organoids, and sorted stem cells. Am. J. Physiol. Gastrointest. Liver Physiol. 309, G1–G9 (2015).

12.

Salabei, J. K., Gibb, A. A. & Hill, B. G. Comprehensive measurement of respiratory activity in permeabilized cells using extracellular flux analysis. Nat. Protoc. 9, 421–438 (2014).

13.

Jacquemin, G. et al. Granzyme B-induced mitochondrial ROS are required for apoptosis. Cell Death Differ. 22, 862–874 (2015).

14.

Wang, F., Yin, Q., Chen, L. & Davis, M. M. Bifidobacterium can mitigate intestinal immunopathology in the context of CTLA-4 blockade. Proc. Natl Acad. Sci. USA 115, 157–161 (2018).

15.

Perez-Ruiz, E. et al. Prophylactic TNF blockade uncouples efficacy and toxicity in dual CTLA-4 and PD-1 immunotherapy. Nature 569, 428–432 (2019).

16.

Mills, E. L. et al. Succinate dehydrogenase supports metabolic repurposing of mitochondria to drive inflammatory macrophages. Cell 167, 457–470 (2016).

17.

Bailis, W. et al. Distinct modes of mitochondrial metabolism uncouple T cell differentiation and function. Nature 571, 403–407 (2019).

18.

Tannahill, G. M. et al. Succinate is an inflammatory signal that induces IL-1β through HIF-1α. Nature 496, 238–242 (2013).

19.

Littlewood-Evans, A. et al. GPR91 senses extracellular succinate released from inflammatory macrophages and exacerbates rheumatoid arthritis. J. Exp. Med. 213, 1655–1662 (2016).

20.

Kuo, C. Y., Chiu, Y. C., Lee, A. Y. & Hwang, T. L. Mitochondrial Lon protease controls ROS-dependent apoptosis in cardiomyocyte under hypoxia. Mitochondrion 23, 7–16 (2015).

21.

Ishizawa, J. et al. Mitochondrial ClpP-mediated proteolysis induces selective cancer cell lethality. Cancer Cell 35, 721–737 (2019).

22.

Ghezzi, D. et al. SDHAF1, encoding a LYR complex-II specific assembly factor, is mutated in SDH-defective infantile leukoencephalopathy. Nat. Genet. 41, 654–656 (2009).

23.

Na, U. et al. The LYR factors SDHAF1 and SDHAF3 mediate maturation of the iron–sulfur subunit of succinate dehydrogenase. Cell Metab. 20, 253–266 (2014).

24.

Michelucci, A. et al. Immune-responsive gene 1 protein links metabolism to immunity by catalyzing itaconic acid production. Proc. Natl Acad. Sci. USA 110, 7820–7825 (2013).

25.

Mathewson, N. D. et al. Gut microbiome-derived metabolites modulate intestinal epithelial cell damage and mitigate graft-versus-host disease. Nat. Immunol. 17, 505–513 (2016).

26.

Suzuki, T., Yoshida, S. & Hara, H. Physiological concentrations of short-chain fatty acids immediately suppress colonic epithelial permeability. Br. J. Nutr. 100, 297–305 (2008).

27.

Wu, S. R. & Reddy, P. Tissue tolerance: a distinct concept to control acute GVHD severity. Blood 129, 1747–1752 (2017).

28.

Donohoe, D. R. et al. The microbiome and butyrate regulate energy metabolism and autophagy in the mammalian colon. Cell Metab. 13, 517–526 (2011).

29.

Chouchani, E. T. et al. Ischaemic accumulation of succinate controls reperfusion injury through mitochondrial ROS. Nature 515, 431–435 (2014).

30.

Guzy, R. D., Sharma, B., Bell, E., Chandel, N. S. & Schumacker, P. T. Loss of the SdhB, but not the SdhA, subunit of complex II triggers reactive oxygen species-dependent hypoxia-inducible factor activation and tumorigenesis. Mol. Cell. Biol. 28, 718–731 (2008).

31.

Lemarie, A., Huc, L., Pazarentzos, E., Mahul-Mellier, A. L. & Grimm, S. Specific disintegration of complex II succinate:ubiquinone oxidoreductase links pH changes to oxidative stress for apoptosis induction. Cell Death Differ. 18, 338–349 (2011).

32.

Martinvalet, D., Zhu, P. & Lieberman, J. Granzyme A induces caspase-independent mitochondrial damage, a required first step for apoptosis. Immunity 22, 355–370 (2005).

33.

Dotiwala, F. et al. Granzyme B disrupts central metabolism and protein synthesis in bacteria to promote an immune cell death program. Cell 171, 1125–1137 (2017).

34.

Walch, M. et al. Cytotoxic cells kill intracellular bacteria through granulysin-mediated delivery of granzymes. Cell 161, 1229 (2015).

35.

Zhang, Z. et al. Gasdermin E suppresses tumour growth by activating anti-tumour immunity. Nature 579, 415–420 (2020).

36.

Lu, Y. et al. Caspase-11 signaling enhances graft-versus-host disease. Nat. Commun. 10, 4044 (2019).

37.

Humphries, F. et al. Succination inactivates gasdermin D and blocks pyroptosis. Science 369, 1633–1637 (2020).

38.

Luan, H. H. et al. GDF15 Is an inflammation-induced central mediator of tissue tolerance. Cell 178, 1231–1244 e1211 (2019).

39.

Cooke, K. R. et al. Tumor necrosis factor-alpha production to lipopolysaccharide stimulation by donor cells predicts the severity of experimental acute graft-versus-host disease. J. Clin. Invest. 102, 1882–1891 (1998).

40.

Hill, G. R. et al. Interleukin-11 promotes T cell polarization and prevents acute graft-versus-host disease after allogeneic bone marrow transplantation. J. Clin. Invest. 102, 115–123 (1998).

41.

Mathew, A. V., Seymour, E. M., Byun, J., Pennathur, S. & Hummel, S. L. Altered metabolic profile with sodium-restricted dietary approaches to stop hypertension diet in hypertensive heart failure with preserved ejection fraction. J. Card. Fail. 21, 963–967 (2015).

42.

Campbell, E. L. et al. Transmigrating neutrophils shape the mucosal microenvironment through localized oxygen depletion to influence resolution of inflammation. Immunity 40, 66–77 (2014).

43.

West, A. P. et al. Mitochondrial DNA stress primes the antiviral innate immune response. Nature 520, 553–557 (2015).

44.

Chacko, B. K. et al. The Bioenergetic Health Index: a new concept in mitochondrial translational research. Clin. Sci. 127, 367–373 (2014).
Acknowledgements
This work was supported by US NIH grants HL090775, CA173878, CA203542, HL149633 (to P.R.), K08HL130944 (to A.V.M.), DK081943 and DK89503 (to S.P.), JSPS Postdoctoral Fellowships for Research Abroad (to H.F.), The YASUDA Medical Foundation Grants for Research Abroad (to H.F.), JSPS KAKENHI grants JP20K22901 and JP21H02904 (to H.F.), The Kawasaki Foundation of Medical Science and Medical Welfare (to H.F.), The Ryobiteien Memorial Foundation (to H.F.), The MSD Life Science Foundation Public Interest Incorporated Foundation (to H.F.), The Okayama Medical Foundation (to H.F.), The SENSHIN Medical Research Foundation (to H.F.), The Kato Memorial Bioscience Foundation (to H.F.) and The NOVARTIS Foundation (Japan) for the Promotion of Science (to H.F.). We acknowledge use of the Microscopy & Image-analysis Laboratory (MIL) of the University of Michigan's Biomedical Research Core Facilities for the preparation of samples and images. Support for the MIL core is provided by the University of Michigan Rogel Cancer Center (NIH grant CA46592).
Ethics declarations
Competing interests
The authors declare no competing interests.
Additional information
Peer review information Nature Immunology thanks the anonymous reviewers for their contribution to the peer review of this work. Editor Recognition Statement: N. Bernard was the primary editor on this article and managed its editorial process and peer review in collaboration with the rest of the editorial team.
Publisher's note Springer Nature remains neutral with regard to jurisdictional claims in published maps and institutional affiliations.
Supplementary information
Supplementary Figs. 1 and 2, Tables 1 and 2 and Methods
About this article
Cite this article
Fujiwara, H., Seike, K., Brooks, M.D. et al. Mitochondrial complex II in intestinal epithelial cells regulates T cell-mediated immunopathology. Nat Immunol 22, 1440–1451 (2021). https://doi.org/10.1038/s41590-021-01048-3
Received:

Accepted:

Published:

Issue Date: