Abstract
During the germinal center (GC) reaction, B cells undergo profound transcriptional, epigenetic and genomic architectural changes. How such changes are established remains unknown. Mapping chromatin accessibility during the humoral immune response, we show that OCT2 was the dominant transcription factor linked to differential accessibility of GC regulatory elements. Silent chromatin regions destined to become GC-specific super-enhancers (SEs) contained pre-positioned OCT2-binding sites in naive B cells (NBs). These preloaded SE 'seeds' featured spatial clustering of regulatory elements enriched in OCT2 DNA-binding motifs that became heavily loaded with OCT2 and its GC-specific coactivator OCAB in GC B cells (GCBs). SEs with high abundance of pre-positioned OCT2 binding preferentially formed long-range chromatin contacts in GCs, to support expression of GC-specifying factors. Gain in accessibility and architectural interactivity of these regions were dependent on recruitment of OCAB. Pre-positioning key regulators at SEs may represent a broadly used strategy for facilitating rapid cell fate transitions.
This is a preview of subscription content
Access options
Subscribe to Journal
Get full journal access for 1 year
$59.00
only $4.92 per issue
All prices are NET prices.
VAT will be added later in the checkout.
Tax calculation will be finalised during checkout.
Rent or Buy article
Get time limited or full article access on ReadCube.
from$8.99
All prices are NET prices.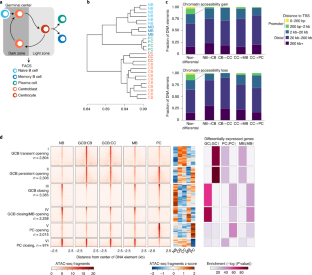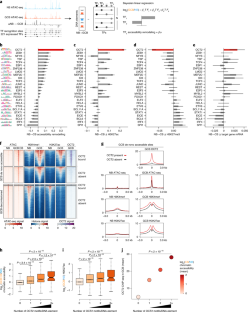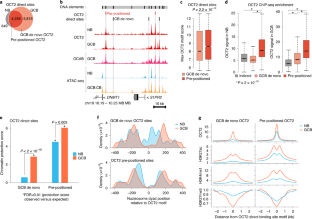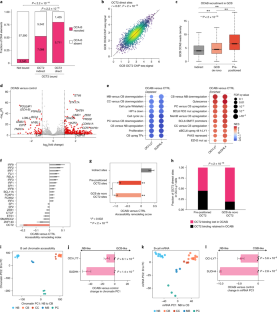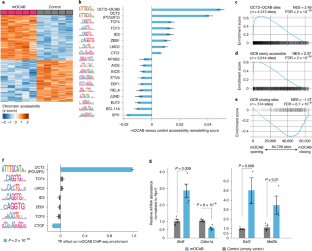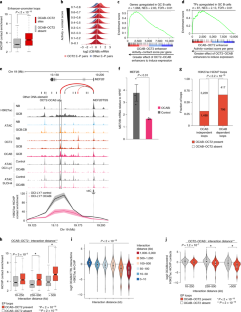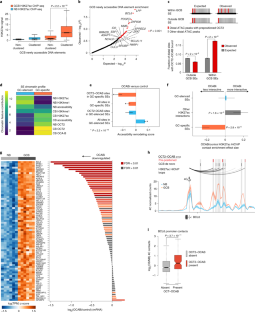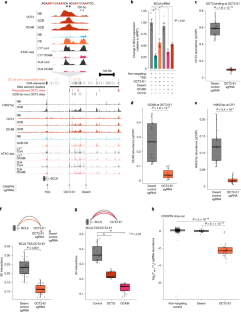 Data availability
All sequencing data generated for this study are available in Gene Expression Omnibus (accession number GSE159314). Source data are provided with this paper.
References
1.

Mesin, L., Ersching, J. & Victora, G. D. Germinal center B cell dynamics. Immunity 45, 471–482 (2016).

2.

Mlynarczyk, C., Fontán, L. & Melnick, A. Germinal center‐derived lymphomas: the darkest side of humoral immunity. Immunol. Rev. 288, 214–239 (2019).

3.

Hatzi, K. et al. Histone demethylase LSD1 is required for germinal center formation and BCL6-driven lymphomagenesis. Nat. Immunol. 20, 86–96 (2019).

4.

Hatzi, K. et al. A hybrid mechanism of action for BCL6 in B cells defined by formation of functionally distinct complexes at enhancers and promoters. Cell Rep. 4, 578–588 (2013).

5.

Bunting, K. L. et al. Multi-tiered reorganization of the genome during B cell affinity maturation anchored by a germinal center-specific locus control region. Immunity 45, 497–512 (2016).

6.

Agirre, X. et al. Long non-coding RNAs discriminate the stages and gene regulatory states of human humoral immune response. Nat. Commun. 10, 821 (2019).

7.

Song, S. & Matthias, P. D. The transcriptional regulation of germinal center formation. Front Immunol. 9, 2026 (2018).

8.

Fernando, T. M. et al. BCL6 evolved to enable stress tolerance in vertebrates and is broadly required by cancer cells to adapt to stress. Cancer Discov. 9, 662–679 (2019).

9.

Jiang, Y. et al. CREBBP inactivation promotes the development of HDAC3-dependent lymphomas. Cancer Discov. 7, 38–53 (2017).

10.

Zhang, J. et al. The CREBBP acetyltransferase is a haploinsufficient tumor suppressor in B-cell lymphoma. Cancer Discov. 7, 322–337 (2017).

11.

Arnold, C. N. et al. A forward genetic screen reveals roles for Nfkbid, Zeb1, and Ruvbl2 in humoral immunity. Proc. Natl Acad. Sci. USA 109, 12286–12293 (2012).

12.

Chen, S. et al. Id3 orchestrates germinal center B cell development. Mol. Cell Biol. 36, 2543–2552 (2016).

13.

Ochiai, K. et al. Transcriptional regulation of germinal center B and plasma cell fates by dynamical control of IRF4. Immunity 38, 918–929 (2013).

14.

Ci, W. et al. The BCL6 transcriptional program features repression of multiple oncogenes in primary B cells and is deregulated in DLBCL. Blood 113, 5536–5548 (2009).

15.

Hodson, D. J. et al. Regulation of normal B-cell differentiation and malignant B-cell survival by OCT2. Proc. Natl Acad. Sci. USA 113, E2039–E2046 (2016).

16.

Yusufova, N. et al. Histone H1 loss drives lymphoma by disrupting 3D chromatin architecture. Nature 589, 299–305 (2021).

17.

Sáez, A.-I. et al. Analysis of octamer-binding transcription factors Oct2 and Oct1 and their coactivator BOB.1/OBF.1 in lymphomas. Mod. Pathol. 15, 211–220 (2002).

18.

Shaknovich, R. et al. DNA methyltransferase 1 and DNA methylation patterning contribute to germinal center B-cell differentiation. Blood 118, 3559–3569 (2011).

19.

Green, J. A. et al. The sphingosine 1-phosphate receptor S1P2 maintains the homeostasis of germinal center B cells and promotes niche confinement. Nat. Immunol. 12, 672–680 (2011).

20.

Golay, J. et al. The A-Myb transcription factor is a marker of centroblasts in vivo. J. Immunol. 160, 2786–2793 (1998).

21.

Lambert, S. A. et al. The human transcription factors. Cell 175, 598–599 (2018).

22.

Wang, S. et al. HiNT: a computational method for detecting copy number variations and translocations from Hi-C data. Genome Biol. 21, 73 (2020).

23.

Sauter, P. & Matthias, P. Coactivator OBF-1 makes selective contacts with both the POU-specific domain and the POU homeodomain and acts as a molecular clamp on DNA. Mol. Cell Biol. 18, 7397–7409 (1998).

24.

Gstaiger, M., Knoepfel, L., Georgiev, O., Schaffner, W. & Hovens, C. M. A B-cell coactivator of octamer-binding transcription factors. Nature 373, 360–362 (1995).

25.

Malik, V., Zimmer, D. & Jauch, R. Diversity among POU transcription factors in chromatin recognition and cell fate reprogramming. Cell Mol. Life Sci. 75, 1587–1612 (2018).

26.

Song, S. et al. OBF1 and Oct factors control the germinal center transcriptional program. Blood 137, 2920–2934 (2021).

27.

Hatzi, K. & Melnick, A. Breaking bad in the germinal center: how deregulation of BCL6 contributes to lymphomagenesis. Trends Mol. Med. 20, 343–352 (2014).

28.

Park, S.-R. et al. HoxC4 binds to the promoter of the cytidine deaminase AID gene to induce AID expression, class-switch DNA recombination and somatic hypermutation. Nat. Immunol. 10, 540–550 (2009).

29.

Cattoretti, G. et al. Stages of germinal center transit are defined by B cell transcription factor coexpression and relative abundance. J. Immunol. 177, 6930–6939 (2006).

30.

Dominguez, P. M. et al. DNA methylation dynamics of germinal center B cells are mediated by AID. Cell Rep. 12, 2086–2098 (2015).

31.

Huang, C. et al. The BCL6 RD2 domain governs commitment of activated B cells to form germinal centers. Cell Rep. 8, 1497–1508 (2014).

32.

Mumbach, M. R. et al. HiChIP: efficient and sensitive analysis of protein-directed genome architecture. Nat. Methods 13, 919–922 (2016).

33.

Fulco, C. P. et al. Activity-by-contact model of enhancer–promoter regulation from thousands of CRISPR perturbations. Nat. Genet. 51, 1664–1669 (2019).

34.

Davis, C. A. et al. The Encyclopedia of DNA elements (ENCODE): data portal update. Nucleic Acids Res. 46, gkx1081 (2017).

35.

Dominguez-Sola, D. et al. The FOXO1 transcription factor instructs the germinal center dark zone program. Immunity 43, 1064–1074 (2015).

36.

Willis, S. N. et al. Transcription factor IRF4 regulates germinal center cell formation through a B cell-intrinsic mechanism. J. Immunol. 192, 3200–3206 (2014).

37.

Schoenfelder, S. & Fraser, P. Long-range enhancer–promoter contacts in gene expression control. Nat. Rev. Genet. 20, 437–455 (2019).

38.

Schubart, K. et al. B cell development and immunoglobulin gene transcription in the absence of Oct-2 and OBF-1. Nat. Immunol. 2, 69–74 (2001).

39.

Iwafuchi-Doi, M. & Zaret, K. S. Pioneer transcription factors in cell reprogramming. Gene Dev. 28, 2679–2692 (2014).

40.

Zhu, F. et al. The interaction landscape between transcription factors and the nucleosome. Nature 562, 76–81 (2018).

41.

Michael, A. K. et al. Mechanisms of OCT4–SOX2 motif readout on nucleosomes. Science 368, 1460–1465 (2020).

42.

Schep, A. N. et al. Structured nucleosome fingerprints enable high-resolution mapping of chromatin architecture within regulatory regions. Genome Res. 25, 1757–1770 (2015).

43.

Subramanian, A. et al. Gene set enrichment analysis: a knowledge-based approach for interpreting genome-wide expression profiles. Proc. Natl Acad. Sci. USA 102, 15545–15550 (2005).

44.

Raviram, R. et al. 4C-ker: a method to reproducibly identify genome-wide interactions captured by 4C-Seq experiments. PLoS Comput. Biol. 12, e1004780 (2016).

45.

Chu, C.-S. et al. Unique immune cell coactivators specify locus control region function and cell stage. Mol. Cell 80, 845–861.e10 (2020).

46.

Yu, M. et al. RNA polymerase II-associated factor 1 regulates the release and phosphorylation of paused RNA polymerase II. Science 350, 1383–1386 (2015).

47.

Giammartino, D. C. D. et al. KLF4 is involved in the organization and regulation of pluripotency-associated three-dimensional enhancer networks. Nat. Cell Biol. 21, 1179–1190 (2019).

48.

Gaspar, J. M. NGmerge: merging paired-end reads via novel empirically-derived models of sequencing errors. BMC Bioinformatics 19, 536 (2018).

49.

Landt, S. G. et al. ChIP-seq guidelines and practices of the ENCODE and modENCODE consortia. Genome Res. 22, 1813–1831 (2012).

50.

Rivas, M. A. et al. Smc3 dosage regulates B cell transit through germinal centers and restricts their malignant transformation. Nat. Immunol. 22, 240–253 (2021).

51.

Corces, M. R. et al. The chromatin accessibility landscape of primary human cancers. Science 362, eaav1898 (2018).

52.

Kostka, D., Friedrich, T., Holloway, A. K. & Pollard, K. S. motifDiverge: a model for assessing the statistical significance of gene regulatory motif divergence between two DNA sequences. Stat. Interface 8, 463–476 (2015).

53.

Schep, A. N., Wu, B., Buenrostro, J. D. & Greenleaf, W. J. chromVAR: inferring transcription-factor-associated accessibility from single-cell epigenomic data. Nat. Methods 14, 975–978 (2017).

54.

Li, Z. et al. Identification of transcription factor binding sites using ATAC-seq. Genome Biol. 20, 45 (2019).

55.

Tsankov, A. M. et al. Transcription factor binding dynamics during human ES cell differentiation. Nature 518, 344–349 (2015).

56.

Saint-André, V. et al. Models of human core transcriptional regulatory circuitries. Genome Res. 26, 385–396 (2016).

57.

Imielinski, M., Guo, G. & Meyerson, M. Insertions and deletions target lineage-defining genes in human cancers. Cell 168, 460–472.e14 (2017).

58.

Patro, R., Duggal, G., Love, M. I., Irizarry, R. A. & Kingsford, C. Salmon provides fast and bias-aware quantification of transcript expression. Nat. Methods 14, 417–419 (2017).

59.

Servant, N. et al. HiC-Pro: an optimized and flexible pipeline for Hi-C data processing. Genome Biol. 16, 259 (2015).

60.

Cao, Y. et al. Accurate loop calling for 3D genomic data with cLoops. Bioinformatics 36, 666–675 (2019).

61.

Love, M. I., Huber, W. & Anders, S. Moderated estimation of fold change and dispersion for RNA-seq data with DESeq2. Genome Biol. 15, 550 (2014).

62.

Heinz, S. et al. Simple combinations of lineage-determining transcription factors prime cis-regulatory elements required for macrophage and B cell identities. Mol. Cell 38, 576–589 (2010).
Acknowledgements
A.S.D. is funded by NCI (1 F31 CA220981-01). A.M.M. and O.E. are funded by Leukemia and Lymphoma Society SCOR 7012-16 and SCOR 7021-20. O.E. is supported by Janssen and Eli Lilly research grants, NIH grants UL1TR002384, R01CA194547 and LLS SCOR grant 180078-02. A.M.M. is funded by NCI R35 CA220499, and NCI P01 CA229086, LLS TRP 6572-19, The Chemotherapy Foundation and the Follicular Lymphoma Consortium. R.G.R. is supported by NIH grants R01AI148387 and R01CA178765 and Leukemia and Lymphoma Society SCOR 7021-20. This study makes use of data generated by the Blueprint Consortium. A full list of the investigators who contributed to the generation of the data is available from www.blueprint-epigenome.eu. Funding for the project was provided by the European Union's Seventh Framework Programme (FP7/2007-2013) under grant agreement no 282510 BLUEPRINT.
Ethics declarations
Competing interests
A.M.M. receives research funding from Janssen and Daiichi Sankyo, has consulted for Constellation, Jubilant and Epizyme, and is on the advisory board of KDAC. O.E. is scientific advisor and equity holder in Freenome, Owkin, Volastra Therapeutics and OneThree Biotech. A.S.D., C.-S.C., D.C.D.G., M.A.R., J.C.H., Y.J., N.Y., A.A., R.G.R. and E.A. declare no competing interests.
Additional information
Peer review information Nature Immunology thanks Marcus Clark, Rhys Allan and the other, anonymous, reviewer(s) for their contribution to the peer review of this work. Peer reviewer reports are available. L. A. Dempsey was the primary editor on this article and managed its editorial process and peer review in collaboration with the rest of the editorial team.
Publisher's note Springer Nature remains neutral with regard to jurisdictional claims in published maps and institutional affiliations.
Supplementary information
Supplementary Tables 1 and 2.
About this article
Cite this article
Doane, A.S., Chu, CS., Di Giammartino, D.C. et al. OCT2 pre-positioning facilitates cell fate transition and chromatin architecture changes in humoral immunity. Nat Immunol 22, 1327–1340 (2021). https://doi.org/10.1038/s41590-021-01025-w
Received:

Accepted:

Published:

Issue Date: