Analysis of the transcriptional landscape of inflammatory neutrophils discloses specific transcription factor engagement at the bone marrow–to-blood and the blood-to-tissue transitions.
Access options
Subscribe to Journal
Get full journal access for 1 year
$59.00
only $4.92 per issue
All prices are NET prices.
VAT will be added later in the checkout.
Tax calculation will be finalised during checkout.
Rent or Buy article
Get time limited or full article access on ReadCube.
from$8.99
All prices are NET prices.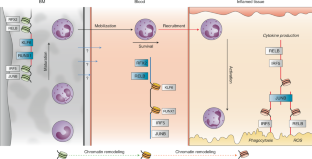 References
1.

Borregaard, N., Sørensen, O. E. & Theilgaard-Mönch, K. Trends Immunol. 28, 340–345 (2007).

2.

Ecker, S. et al. Genome Biol. 18, 18 (2017).

3.

Silvestre-Roig, C., Hidalgo, A. & Soehnlein, O. Blood 127, 2173–2181 (2016).

4.

Ballesteros, I. et al. Cell 183, 1282–1297.e18 (2020).

5.

Khoyratty, T. E. et al. Nat. Immunol. https://doi.org/10.1038/s41590-021-00968-4 (2021).

6.

Grassi, L. et al. Cell Rep. 24, 2784–2794 (2018).

7.

Grieshaber-Bouyer, R. et al. Nat. Commun. 12, 2856 (2021).

8.

Xie, X. et al. Nat. Immunol. 21, 1119–1133 (2020).

9.

Bajrami, B. et al. J. Exp. Med. 213, 1999–2018 (2016).

10.

Ferraro, B. et al. J. Am. Coll. Cardiol. 73, 2990–3002 (2019).
Ethics declarations
Competing interests
R.C. declares no competing interests. O.S. receives funding from Novo Nordisk to study the potential of chronopharmacology for the treatment of atherosclerosis; he is also inventor on patents dealing with chemokine signaling and histones in inflammation.
About this article
Cite this article
Chevre, R., Soehnlein, O. Neutrophil life in three acts: a production by different stage directors. Nat Immunol 22, 1072–1074 (2021). https://doi.org/10.1038/s41590-021-00997-z