Abstract
The transcription factor ThPOK (encoded by the Zbtb7b gene) controls homeostasis and differentiation of mature helper T cells, while opposing their differentiation to CD4+ intraepithelial lymphocytes (IELs) in the intestinal mucosa. Thus CD4 IEL differentiation requires ThPOK transcriptional repression via reactivation of the ThPOK transcriptional silencer element (SilThPOK). In the present study, we describe a new autoregulatory loop whereby ThPOK binds to the SilThPOK to maintain its own long-term expression in CD4 T cells. Disruption of this loop in vivo prevents persistent ThPOK expression, leads to genome-wide changes in chromatin accessibility and derepresses the colonic regulatory T (Treg) cell gene expression signature. This promotes selective differentiation of naive CD4 T cells into GITRloPD-1loCD25lo (Triplelo) Treg cells and conversion to CD4+ IELs in the gut, thereby providing dominant protection from colitis. Hence, the ThPOK autoregulatory loop represents a key mechanism to physiologically control ThPOK expression and T cell differentiation in the gut, with potential therapeutic relevance.
Relevant articles
Open Access articles citing this article.
Jayati Basu

,

Jikun Zha

…

Dietmar J. Kappes

Communications Biology Open Access 21 January 2022
Access options
Access Nature and 54 other Nature Portfolio journals
Get Nature+, our best-value online-access subscription
$29.99 / 30 days
cancel any time
Subscribe to this journal
Receive 12 print issues and online access
$209.00 per year
only $17.42 per issue
Rent or buy this article
Prices vary by article type
from$1.95
to$39.95
Prices may be subject to local taxes which are calculated during checkout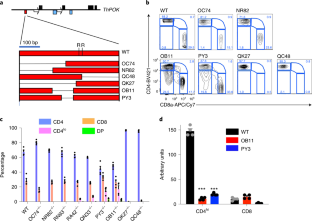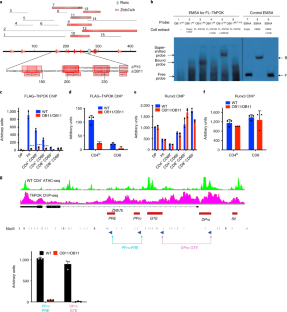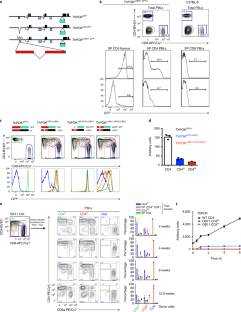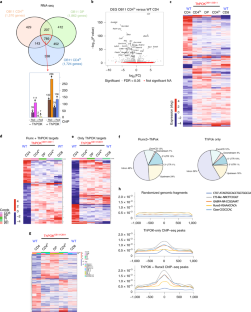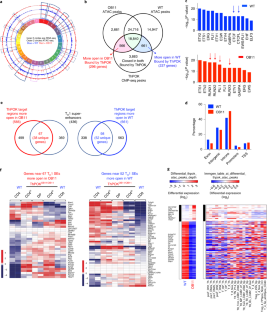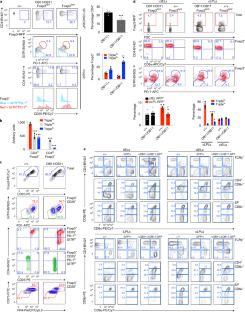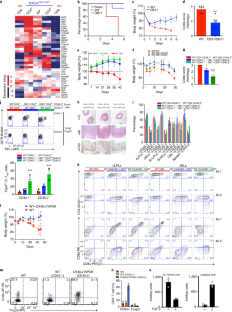 Data availability
All newly generated sequencing data for this study can be accessed at the GEO under accession code GSE168772. All other data that support the findings of this study are available from the corresponding author upon request.
References
Dave, V. P., Allman, D., Keefe, R., Hardy, R. R. & Kappes, D. J. HD mice: a novel mouse mutant with a specific defect in the generation of CD4+ T cells. Proc. Natl Acad. Sci. USA 95, 8187–8192 (1998).

He, X. et al. The zinc finger transcription factor Th-POK regulates CD4 versus CD8 T-cell lineage commitment. Nature 433, 826–833 (2005).

Keefe, R., Dave, V., Allman, D., Wiest, D. & Kappes, D. J. Regulation of lineage commitment distinct from positive selection. Science 286, 1149–1153 (1999).

Wang, L. et al. The zinc finger transcription factor Zbtb7b represses CD8-lineage gene expression in peripheral CD4+ T cells. Immunity 29, 876–887 (2008).

He, X. et al. CD4-CD8 lineage commitment is regulated by a silencer element at the ThPOK transcription-factor locus. Immunity 28, 346–358 (2008).

Setoguchi, R. et al. Repression of the transcription factor Th-POK by Runx complexes in cytotoxic T cell development. Science 319, 822–825 (2008).

Mookerjee-Basu, J. et al. Functional conservation of a developmental switch in mammals since the Jurassic age. Mol. Biol. Evol. 36, 39–53 (2019).

Vacchio, M. S. et al. A ThPOK-LRF transcriptional node maintains the integrity and effector potential of post-thymic CD4+ T cells. Nat. Immunol. 15, 947–956 (2014).

Ciucci, T. et al. The emergence and functional fitness of memory CD4+ T cells require the transcription factor Thpok. Immunity 50, 91–105.e4 (2019).

Mucida, D. et al. Transcriptional reprogramming of mature CD4+ helper T cells generates distinct MHC class II–restricted cytotoxic T lymphocytes. Nat. Immunol. 14, 281–289 (2013).

Sujino, T. et al. Tissue adaptation of regulatory and intraepithelial CD4+ T cells controls gut inflammation. Science 352, 1581–1586 (2016).

Reis, B. S., Rogoz, A., Costa-Pinto, F. A., Taniuchi, I. & Mucida, D. Mutual expression of the transcription factors Runx3 and ThPOK regulates intestinal CD4+ T cell immunity. Nat. Immunol. 14, 271–280 (2013).

Fuxman Bass, J. I. et al. Human gene-centered transcription factor networks for enhancers and disease variants. Cell 161, 661–673 (2015).

Reece-Hoyes, J. S. et al. Yeast one-hybrid assays for gene-centered human gene regulatory network mapping. Nat. Methods 8, 1050–1052 (2011).

Reece-Hoyes, J. S. et al. Enhanced yeast one-hybrid assays for high-throughput gene-centered regulatory network mapping. Nat. Methods 8, 1059–1064 (2011).

Muroi, S. et al. Cascading suppression of transcriptional silencers by ThPOK seals helper T cell fate. Nat. Immunol. 9, 1113–1121 (2008).

Boursalian, T. E., Golob, J., Soper, D. M., Cooper, C. J. & Fink, P. J. Continued maturation of thymic emigrants in the periphery. Nat. Immunol. 5, 418–425 (2004).

Zhou, W. et al. Single-cell analysis reveals regulatory gene expression dynamics leading to lineage commitment in early T cell development. Cell Syst. 9, 321–337.e9 (2019).

Vacchio, M. S. et al. A Thpok-directed transcriptional circuitry promotes Bcl6 and Maf expression to orchestrate T follicular helper differentiation. Immunity 51, 465–478.e6 (2019).

Istaces, N. et al. EOMES interacts with RUNX3 and BRG1 to promote innate memory cell formation through epigenetic reprogramming. Nat. Commun. 10, 3306 (2019).

Zhang, J. A., Mortazavi, A., Williams, B. A., Wold, B. J. & Rothenberg, E. V. Dynamic transformations of genome-wide epigenetic marking and transcriptional control establish T cell identity. Cell 149, 467–482 (2012).

Zheng, S., Papalexi, E., Butler, A., Stephenson, W. & Satija, R. Molecular transitions in early progenitors during human cord blood hematopoiesis. Mol. Syst. Biol. 14, e8041 (2018).

Diao, H. & Pipkin, M. E. Stability and flexibility in chromatin structure and transcription underlies memory CD8 T-cell differentiation. F1000Res. 8, 1278 (2019).

Chen, H. et al. Single-cell trajectories reconstruction, exploration and mapping of omics data with STREAM. Nat. Commun. 10, 1903 (2019).

Whyte, W. A. et al. Master transcription factors and mediator establish super-enhancers at key cell identity genes. Cell 53, 307–319 (2013).

Vahedi, G. et al. Super-enhancers delineate disease-associated regulatory nodes in T cells. Nature 520, 558–562 (2015).

Khan, A. & Zhang, X. dbSUPER: a database of super-enhancers in mouse and human genome. Nucleic Acids Res. 44, D164–D171 (2016).

Snook, J. P., Kim, C. & Williams, M. A. TCR signal strength controls the differentiation of CD4+ effector and memory T cells. Sci. Immunol. 3, eaas9103 (2018).

Carpenter, A. C. et al. Control of regulatory T cell differentiation by the transcription factors Thpok and LRF. J. Immunol. 199, 1716–1728 (2017).

Wyss, L. et al. Affinity for self antigen selects Treg cells with distinct functional properties. Nat. Immunol. 17, 1093–1101 (2016).

Miragaia, R. J. et al. Single-cell transcriptomics of regulatory T cells reveals trajectories of tissue adaptation. Immunity 50, 493–504.e7 (2019).

Neurath, M., Fuss, I. & Strober, W. TNBS-colitis. Int. Rev. Immunol. 19, 51–62 (2000).

Powrie, F. et al. Inhibition of Th1 responses prevents inflammatory bowel disease in scid mice reconstituted with CD45RBhi CD4+ T cells. Immunity 1, 553–562 (1994).

Larsson, A. J. M. et al. Genomic encoding of transcriptional burst kinetics. Nature 565, 251–254 (2019).

Suter, D. M. et al. Mammalian genes are transcribed with widely different bursting kinetics. Science 332, 472–474 (2011).

Chubb, J. R., Trcek, T., Shenoy, S. M. & Singer, R. H. Transcriptional pulsing of a developmental gene. Curr. Biol. 16, 1018–1025 (2006).

Raj, A., Peskin, C. S., Tranchina, D., Vargas, D. Y. & Tyagi, S. Stochastic mRNA synthesis in mammalian cells. PLoS Biol. 4, e309 (2006).

De Obaldia, M. E., Bell, J. J. & Bhandoola, A. Early T-cell progenitors are the major granulocyte precursors in the adult mouse thymus. Blood 121, 64–71 (2013).

Rothenberg, E. V., Hosokawa, H. & Ungerback, J. Mechanisms of action of hematopoietic transcription factor PU.1 in initiation of T-cell development. Front. Immunol. 10, 228 (2019).

Takada, K. & Jameson, S. C. Naive T cell homeostasis: from awareness of space to a sense of place. Nat. Rev. Immunol. 9, 823–832 (2009).

Tu, E. et al. T cell receptor-regulated TGF-β type I receptor expression determines T cell quiescence and activation. Immunity 48, 745–759.e6 (2018).

Marshall, N. B. et al. NKG2C/E marks the unique cytotoxic CD4 T cell subset, ThCTL, generated by influenza infection. J. Immunol. 198, 1142–1155 (2017).

Pearce, E. L. et al. Control of effector CD8+ T cell function by the transcription factor eomesodermin. Science 302, 1041–1043 (2003).

Curran, M. A. et al. Systemic 4-1BB activation induces a novel T cell phenotype driven by high expression of eomesodermin. J. Exp. Med. 210, 743–755 (2013).

Hirschhorn-Cymerman, D. et al. Induction of tumoricidal function in CD4+ T cells is associated with concomitant memory and terminally differentiated phenotype. J. Exp. Med. 209, 2113–2126 (2012).

Qui, H. Z. et al. CD134 plus CD137 dual costimulation induces eomesodermin in CD4 T cells to program cytotoxic Th1 differentiation. J. Immunol. 187, 3555–3564 (2011).

Wagner, D. H. Jr. et al. Expression of CD40 identifies a unique pathogenic T cell population in type 1 diabetes. Proc. Natl Acad. Sci. USA 99, 3782–3787 (2002).

Bilate, A. N. et al. T cell receptor is required for differentiation, but not maintenance, of intestinal CD4+ intraepithelial lymphocytes. Immunity 53, 1001–1014.e20 (2020).

Waid, D. M., Vaitaitis, G. M. & Wagner, D. H. Jr. Peripheral CD4loCD40+ auto-aggressive T cell expansion during insulin-dependent diabetes mellitus. Eur. J. Immunol. 34, 1488–1497 (2004).

Flamand, L. et al. Activation of CD8+ T lymphocytes through the T cell receptor turns on CD4 gene expression: implications for HIV pathogenesis. Proc. Natl Acad. Sci. USA 95, 3111–3116 (1998).

Buenrostro, J. D., Wu, B., Chang, H. Y. & Greenleaf, W. J. ATAC-seq: a method for assaying chromatin accessibility genome-wide. Curr. Protoc. Mol. Biol. 109, 21.29.1–21.29.9 (2015).

Langmead, B. & Salzberg, S. L. Fast gapped-read alignment with Bowtie 2. Nat. Methods 9, 357–359 (2012).

Hoffman, M. M. et al. Integrative annotation of chromatin elements from ENCODE data. Nucleic Acids Res. 41, 827–841 (2013).

Quinlan, A. R. BEDTools: the Swiss-army tool for genome feature analysis. Curr. Protoc. Bioinform. 47, 11.12.1–11.12.34 (2014).

Feng, J., Liu, T., Qin, B., Zhang, Y. & Liu, X. S. Identifying ChIP-seq enrichment using MACS. Nat. Protoc. 7, 1728–1740 (2012).

Li, H. & Durbin, R. Fast and accurate long-read alignment with Burrows–Wheeler transform. Bioinformatics 26, 589–595 (2010).

Heinz, S. et al. Simple combinations of lineage-determining transcription factors prime cis-regulatory elements required for macrophage and B cell identities. Mol. Cell 38, 576–589 (2010).

Anders, S., Pyl, P. T. & Huber, W. HTSeq—a Python framework to work with high-throughput sequencing data. Bioinformatics 31, 166–169 (2015).

Love, M. I., Huber, W. & Anders, S. Moderated estimation of fold change and dispersion for RNA-seq data with DESeq2. Genome Biol. 15, 550 (2014).

Huang, D. W., Sherman, B. T. & Lempicki, R. A. Systematic and integrative analysis of large gene lists using DAVID bioinformatics resources. Nat. Protoc. 4, 44–57 (2009).

Mucida, D. et al. Reciprocal TH17 and regulatory T cell differentiation mediated by retinoic acid. Science 317, 256–260 (2007).

Antoniou, E. et al. The TNBS-induced colitis animal model: an overview. Ann. Med. Surg. 11, 9–15 (2016).

Hagège, H. et al. Quantitative analysis of chromosome conformation capture assays (3C-qPCR). Nat. Protoc. 2, 1722 (2007).
Acknowledgements
This work was supported by NIH grants (nos. R01 AI068907 and R01 GM107179 (to D.J.K.), R35 GM122502 (to J.F.B. and A.J.M.W.), R01CA227629 and R01CA218133 (to S.G.) and P30 CA006927 (FCCC Comprehensive Cancer Center Core Grant)). We thank the following core facilities of the Fox Chase Cancer Center for their assistance: Flow Cytometry, Cell Culture, DNA Sequencing, Genomic and Laboratory Animal. We thank D.L. Wiest and G. Rall for critical comments and suggestions on the manuscript.
Ethics declarations
Competing interests
The authors declare no competing interests.
Additional information
Peer review information Nature Immunology thanks Jonathan Kaye and Harinder Singh for their contribution to the peer review of this work. Laurie Dempsey was the primary editor on this article and managed its editorial process and peer review in collaboration with the rest of the editorial team.
Publisher's note Springer Nature remains neutral with regard to jurisdictional claims in published maps and institutional affiliations.
Supplementary information
Supplementary Table 1 and Data (gating strategy).
About this article
Cite this article
Basu, J., Reis, B.S., Peri, S. et al. Essential role of a ThPOK autoregulatory loop in the maintenance of mature CD4+ T cell identity and function. Nat Immunol 22, 969–982 (2021). https://doi.org/10.1038/s41590-021-00980-8
Received:

Accepted:

Published:

Issue Date:

DOI: https://doi.org/10.1038/s41590-021-00980-8
This article is cited by
Deepshika Ramanan
Alvin Pratama
Christophe Benoist

Nature Reviews Immunology (2023)

Jayati Basu
Andre Olsson
Dietmar J. Kappes

Nature Immunology (2023)

Jayati Basu
Jikun Zha
Dietmar J. Kappes

Communications Biology (2022)