Abstract
T cell exhaustion presents one of the major hurdles to cancer immunotherapy. Among exhausted CD8+ tumor-infiltrating lymphocytes, the terminally exhausted subset contributes directly to tumor cell killing owing to its cytotoxic effector function. However, this subset does not respond to immune checkpoint blockades and is difficult to be reinvigorated with restored proliferative capacity. Here, we show that a half-life-extended interleukin-10–Fc fusion protein directly and potently enhanced expansion and effector function of terminally exhausted CD8+ tumor-infiltrating lymphocytes by promoting oxidative phosphorylation, a process that was independent of the progenitor exhausted T cells. Interleukin-10–Fc was a safe and highly efficient metabolic intervention that synergized with adoptive T cell transfer immunotherapy, leading to eradication of established solid tumors and durable cures in the majority of treated mice. These findings show that metabolic reprogramming by upregulating mitochondrial pyruvate carrier-dependent oxidative phosphorylation can revitalize terminally exhausted T cells and enhance the response to cancer immunotherapy.
Relevant articles
Open Access articles citing this article.
Peipei Zhou

,

Hao Shi

…

Hongbo Chi

Nature Open Access 15 November 2023

Tomonari Shigemura

,

Nahuel Perrot

…

Kathleen M. Mahoney

BMC Cancer Open Access 27 October 2023

Hongcheng Cheng

,

Yajing Qiu

…

Guideng Li

Nature Metabolism Open Access 30 January 2023
Access options
Access Nature and 54 other Nature Portfolio journals
Get Nature+, our best-value online-access subscription
$29.99 / 30 days
cancel any time
Subscribe to this journal
Receive 12 print issues and online access
$209.00 per year
only $17.42 per issue
Rent or buy this article
Prices vary by article type
from$1.95
to$39.95
Prices may be subject to local taxes which are calculated during checkout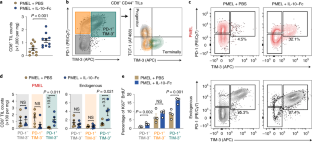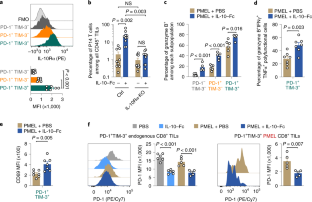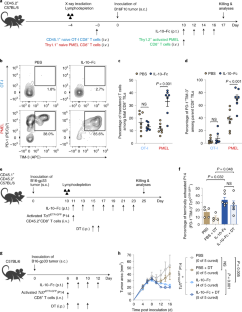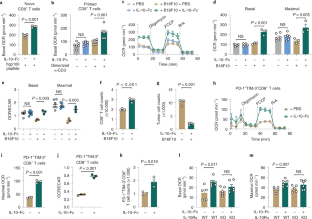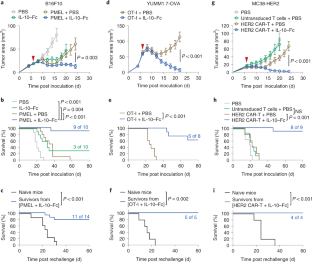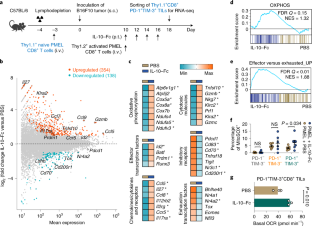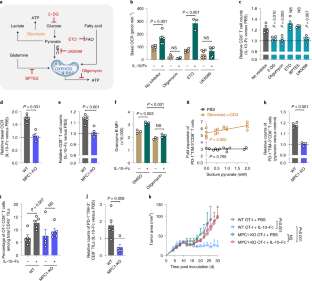 Data availability
Gene sets in the MSigDB database (C2 and C7) were used for gene set enrichment analysis. All data generated and supporting the findings of this study are available within the paper. The RNA-seq data for tumor-infiltrating lymphocytes are available in the Gene Expression Omnibus database under accession code GSE168990. Source data are provided with this paper. Additional information and materials will be made available upon reasonable request.
References
Chen, D. S. & Mellman, I. Elements of cancer immunity and the cancer–immune set point. Nature 541, 321–330 (2017).

Robert, C. et al. Pembrolizumab versus ipilimumab in advanced melanoma. N. Engl. J. Med. 372, 2521–2532 (2015).

Page, D. B., Postow, M. A., Callahan, M. K., Allison, J. P. & Wolchok, J. D. Immune modulation in cancer with antibodies. Annu. Rev. Med. 65, 185–202 (2014).

Sharma, P., Hu-Lieskovan, S., Wargo, J. A. & Ribas, A. Primary, adaptive, and acquired resistance to cancer immunotherapy. Cell 168, 707–723 (2017).

McLane, L. M., Abdel-Hakeem, M. S. & Wherry, E. J. CD8 T cell exhaustion during chronic viral infection and cancer. Annu. Rev. Immunol. 37, 457–495 (2019).

Thommen, D. S. & Schumacher, T. N. T cell dysfunction in cancer. Cancer Cell 33, 547–562 (2018).

Chen, J. et al. NR4A transcription factors limit CAR T cell function in solid tumours. Nature 567, 530–534 (2019).

Miller, B. C. et al. Subsets of exhausted CD8+ T cells differentially mediate tumor control and respond to checkpoint blockade. Nat. Immunol. 20, 326–336 (2019).

Siddiqui, I. et al. Intratumoral Tcf1+ PD-1+ CD8+ T cells with stem-like properties promote tumor control in response to vaccination and checkpoint blockade immunotherapy. Immunity 50, 195–211.e10 (2019).

Kurtulus, S. et al. Checkpoint blockade immunotherapy induces dynamic changes in PD-1− CD8+ tumor-infiltrating T cells. Immunity 50, 181–194.e6 (2019).

LaFleur, M. W. et al. PTPN2 regulates the generation of exhausted CD8+ T cell subpopulations and restrains tumor immunity. Nat. Immunol. 20, 1335–1347 (2019).

Paley, M. A. et al. Progenitor and terminal subsets of CD8+ T cells cooperate to contain chronic viral infection. Science 338, 1220–1225 (2012).

He, R. et al. Follicular CXCR5-expressing CD8+ T cells curtail chronic viral infection. Nature 537, 412–416 (2016).

Im, S. J. et al. Defining CD8+ T cells that provide the proliferative burst after PD-1 therapy. Nature 537, 417–421 (2016).

Franco, F., Jaccard, A., Romero, P., Yu, Y. R. & Ho, P. C. Metabolic and epigenetic regulation of T-cell exhaustion. Nat. Metab. 2, 1001–1012 (2020).

Zhang, L. & Romero, P. Metabolic control of CD8+ T cell fate decisions and antitumor immunity. Trends Mol. Med. 24, 30–48 (2018).

Bengsch, B. et al. Bioenergetic insufficiencies due to metabolic alterations regulated by the inhibitory receptor PD-1 are an early driver of CD8+ T cell exhaustion. Immunity 45, 358–373 (2016).

Scharping, N. E. et al. Mitochondrial stress induced by continuous stimulation under hypoxia rapidly drives T cell exhaustion. Nat. Immunol. 22, 205–215 (2021).

Yu, Y. R. et al. Disturbed mitochondrial dynamics in CD8+ TILs reinforce T cell exhaustion. Nat. Immunol. 21, 1540–1551 (2020).

Vardhana, S. A. et al. Impaired mitochondrial oxidative phosphorylation limits the self-renewal of T cells exposed to persistent antigen. Nat. Immunol. 21, 1022–1033 (2020).

Fujii, S. I., Shimizu, K., Shimizu, T. & Lotze, M. T. Interleukin-10 promotes the maintenance of antitumor CD8+ T-cell effector function in situ. Blood 98, 2143–2151 (2001).

Mumm, J. B. et al. IL-10 elicits IFNγ-dependent tumor immune surveillance. Cancer Cell 20, 781–796 (2011).

Tanikawa, T. et al. Interleukin-10 ablation promotes tumor development, growth, and metastasis. Cancer Res. 72, 420–429 (2012).

Naing, A. et al. PEGylated IL-10 (pegilodecakin) induces systemic immune activation, CD8+ T cell invigoration and polyclonal T cell expansion in cancer patients. Cancer Cell 34, 775–791.e3 (2018).

Ip, W. K. E., Hoshi, N., Shouval, D. S., Snapper, S. & Medzhitov, R. Anti-inflammatory effect of IL-10 mediated by metabolic reprogramming of macrophages. Science 356, 513–519 (2017).

Tan, J. C., Indelicato, S. R., Narula, S. K., Zavodny, P. J. & Chou, C. C. Characterization of interleukin-10 receptors on human and mouse cells. J. Biol. Chem. 268, 21053–21059 (1993).

Wang, J., Saffold, S., Krauss, J., Chen, W. & Cao, X. Eliciting T cell immunity against poorly immunogenic tumors by immunization with dendritic cell-tumor fusion vaccines. J. Immunol. 161, 5516–5524 (1998).

Lechner, M. G. et al. Immunogenicity of murine solid tumor models as a defining feature of in vivo behavior and response to immunotherapy. J. Immunother. 36, 477–489 (2013).

Alfei, F. et al. TOX reinforces the phenotype and longevity of exhausted T cells in chronic viral infection. Nature 571, 265–269 (2019).

Moynihan, K. D. et al. Eradication of large established tumors in mice by combination immunotherapy that engages innate and adaptive immune responses. Nat. Med. 22, 1402–1410 (2016).

Pai, C. C. S. et al. Clonal deletion of tumor-specific T cells by interferon-γ confers therapeutic resistance to combination immune checkpoint blockade. Immunity 50, 477–492.e8 (2019).

June, C. H., O'Connor, R. S., Kawalekar, O. U., Ghassemi, S. & Milone, M. C. CAR T cell immunotherapy for human cancer. Science 359, 1361–1365 (2018).

Santos, J. M. et al. Adenovirus coding for interleukin-2 and tumor necrosis factor alpha replaces lymphodepleting chemotherapy in adoptive T cell therapy. Mol. Ther. 26, 2243–2254 (2018).

Klapper, J. A. et al. High-dose interleukin-2 for the treatment of metastatic renal cell carcinoma: a retrospective analysis of response and survival in patients treated in the Surgery Branch at the National Cancer Institute between 1986 and 2006. Cancer 113, 293–301 (2008).

Floros, T. & Tarhini, A. A. Anticancer cytokines: biology and clinical effects of interferon-α2, interleukin (IL)-2, IL-15, IL-21, and IL-12. Semin. Oncol. 42, 539–548 (2015).

Buck, M. D. D. et al. Mitochondrial dynamics controls T cell fate through metabolic programming. Cell 166, 63–76 (2016).

Herzig, S. et al. Identification and functional expression of the mitochondrial pyruvate carrier. Science 336, 93–96 (2012).

Gray, L. R. et al. Hepatic mitochondrial pyruvate carrier 1 is required for efficient regulation of gluconeogenesis and whole-body glucose homeostasis. Cell Metab. 22, 669–681 (2015).

Grenell, A. et al. Loss of MPC1 reprograms retinal metabolism to impair visual function. Proc. Natl Acad. Sci. USA 116, 3530–3535 (2019).

Wegrzyn, J. et al. Function of mitochondrial Stat3 in cellular respiration. Science 323, 793–797 (2009).

Hamaidi, I. et al. Sirt2 inhibition enhances metabolic fitness and effector functions of tumor-reactive T cells. Cell Metab. 32, 420–436 (2020).

Lim, A. R., Rathmell, W. K. & Rathmell, J. C. The tumor microenvironment as a metabolic barrier to effector T cells and immunotherapy. Elife 9, e55185 (2020).

Li, X. et al. Navigating metabolic pathways to enhance antitumour immunity and immunotherapy. Nat. Rev. Clin. Oncol. 16, 425–441 (2019).

Chapman, N. M., Boothby, M. R. & Chi, H. Metabolic coordination of T cell quiescence and activation. Nat. Rev. Immunol. 20, 55–70 (2020).

Qiao, J. et al. Targeting tumors with IL-10 prevents dendritic cell-mediated CD8+ T cell apoptosis. Cancer Cell 35, 901–915.e4 (2019).

Naing, A. et al. Pegilodecakin combined with pembrolizumab or nivolumab for patients with advanced solid tumours (IVY): a multicentre, multicohort, open-label, phase 1b trial. Lancet Oncol. 20, 1544–1555 (2019).

Platt, R. J. et al. CRISPR-Cas9 knockin mice for genome editing and cancer modeling. Cell 159, 440–455 (2014).

Vanderperre, B. et al. Embryonic lethality of mitochondrial pyruvate carrier 1 deficient mouse can be rescued by a ketogenic diet. PLoS Genet. 12, e1006056 (2016).

Cheng, W. C. et al. Uncoupling protein 2 reprograms the tumor microenvironment to support the anti-tumor immune cycle. Nat. Immunol. 20, 206–217 (2019).

Tschumi, B. O. et al. CART cells are prone to Fas- and DR5-mediated cell death. J. Immunother. Cancer 6, 71 (2018).

Guo, Y. et al. Purification and characterization of human IL-10/Fc fusion protein expressed in Pichia pastoris. Protein Expr. Purif. 83, 152–156 (2012).

Armour, K. L., Clark, M. R., Hadley, A. G. & Williamson, L. M. Recombinant human IgG molecules lacking Fcγ receptor I binding and monocyte triggering activities. Eur. J. Immunol. 29, 2613–2624 (1999).

Steele, A. W., Nickerson, P. W., Steurer, W., Steiger, J. & Strom, T. B. Administration of noncytolytic IL-10/Fc in murine models of lipopolysaccharide-induced septic shock and allogeneic islet transplantation. J. Immunol. 154, 5590–5600 (1995).

Doench, J. G. et al. Optimized sgRNA design to maximize activity and minimize off-target effects of CRISPR-Cas9. Nat. Biotechnol. 34, 184–191 (2016).

Ma, L. et al. Enhanced CAR-T cell activity against solid tumors by vaccine boosting through the chimeric receptor. Science 365, 162–168 (2019).

Michelet, X. et al. Metabolic reprogramming of natural killer cells in obesity limits antitumor responses. Nat. Immunol. 19, 1330–1340 (2018).

Picelli, S. et al. Full-length RNA-seq from single cells using Smart-seq2. Nat. Protoc. 9, 171–181 (2014).
Acknowledgements
We thank D. Trono and B.E. Correia for providing plasmids of Delta 8.9 and pVSV-G; J.-C. Martinou (University of Geneva) for providing Mpc1fl/fl mice; and A. Donda (University of Lausanne) for the technical support on human CAR T cells. We acknowledge the EPFL Center of PhenoGenomics, Flow Cytometry Core Facility and Protein Expression Core Facility for technical assistance. This work was supported in part by the Swiss National Science Foundation (SNSF project grant no. 315230_173243), the ISREC Foundation with a donation from the Biltema Foundation, the Swiss Cancer League (grant no. KFS-4600-08-2018), the European Research Council under the ERC grant agreement MechanoIMM (grant no. 805337), the Kristian Gerhard Jebsen Foundation, Fondation Pierre Mercier pour la science, an Anna Fuller Fund grant and the EPFL (L.T.). P.-C.H. was supported in part by the Swiss Institute for Experimental Cancer Research (ISREC grant no. 26075483), SNSF project grants (grant nos. 31003A_163204 and 31003A_182470), the Cancer Research Institute Lloyd J. Old STAR award and the European Research Council Starting Grant (grant no. 802773-MitoGuide). P.R. was supported in part by grants from the SNSF (grant nos. 310030_182735 and 310030E-164187). W.H. was supported in part by the Swiss Cancer League (grant no. KFS-4407-02-2018) and the SNSF (grant no. 310030B_179570). W.X. was supported in part by the Strategic Priority Research Program of the Chinese Academy of Sciences (grant no. XDB29030000) and the Ministry of Science and Technology of China (grant no. 2016YFC1303503). M.G. was supported by the Chinese Scholarship Council (grant no. 201808320453).
Ethics declarations
Competing interests
Y.G., L.T. and Y.-Q.X. are inventors on the patent (International Publication Number WO 2021053134) related to the technology described in this manuscript. The remaining authors declare no competing interests.
Additional information
Publisher's note Springer Nature remains neutral with regard to jurisdictional claims in published maps and institutional affiliations.
Supplementary information
About this article
Cite this article
Guo, Y., Xie, YQ., Gao, M. et al. Metabolic reprogramming of terminally exhausted CD8+ T cells by IL-10 enhances anti-tumor immunity. Nat Immunol 22, 746–756 (2021). https://doi.org/10.1038/s41590-021-00940-2
Received:

Accepted:

Published:

Issue Date:

DOI: https://doi.org/10.1038/s41590-021-00940-2