Abstract
Continuous supply of immune cells throughout life relies on the delicate balance in the hematopoietic stem cell (HSC) pool between long-term maintenance and meeting the demands of both normal blood production and unexpected stress conditions. Here we identified distinct subsets of human long-term (LT)-HSCs that responded differently to regeneration-mediated stress: an immune checkpoint ligand CD112lo subset that exhibited a transient engraftment restraint (termed latency) before contributing to hematopoietic reconstitution and a primed CD112hi subset that responded rapidly. This functional heterogeneity and CD112 expression are regulated by INKA1 through direct interaction with PAK4 and SIRT1, inducing epigenetic changes and defining an alternative state of LT-HSC quiescence that serves to preserve self-renewal and regenerative capacity upon regeneration-mediated stress. Collectively, our data uncovered the molecular intricacies underlying HSC heterogeneity and self-renewal regulation and point to latency as an orchestrated physiological response that balances blood cell demands with preserving a stem cell reservoir.
Relevant articles
Open Access articles citing this article.
Yu Wei Zhang

,

Julian Mess

…

Nina Cabezas-Wallscheid

Nature Cell Biology Open Access 20 June 2022
Access options
Subscribe to Nature+
Get immediate online access to the entire Nature family of 50+ journals
Subscribe to Journal
Get full journal access for 1 year
$99.00
only $8.25 per issue
All prices are NET prices.
VAT will be added later in the checkout.
Tax calculation will be finalised during checkout.
Buy article
Get time limited or full article access on ReadCube.
$32.00
All prices are NET prices.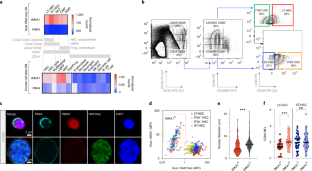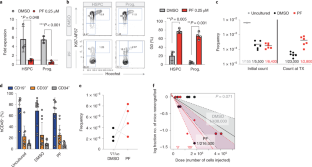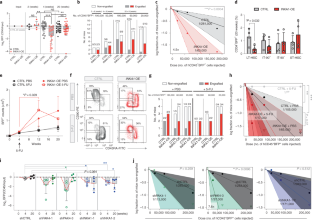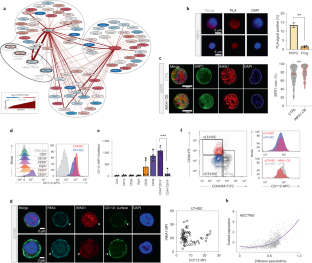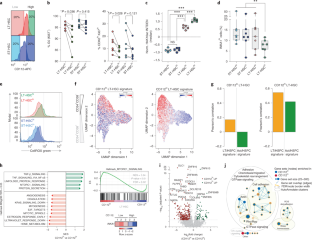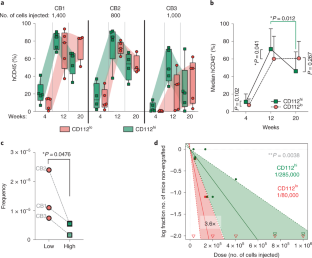 References
Bernitz, J. M., Kim, H. S., MacArthur, B., Sieburg, H. & Moore, K. Hematopoietic stem cells count and remember self-renewal divisions. Cell 167, 1296–1309 (2016).

Scala, S. et al. Dynamics of genetically engineered hematopoietic stem and progenitor cells after autologous transplantation in humans. Nat. Med. 24, 1683–1690 (2018).

Laurenti, E. et al. CDK6 levels regulate quiescence exit in human hematopoietic stem cells. Cell Stem Cell 16, 302–313 (2015).

Takizawa, H. et al. Pathogen-induced TLR4–TRIF innate immune signaling in hematopoietic stem cells promotes proliferation but reduces competitive fitness. Cell Stem Cell 21, 225–240 (2017).

Walter, D. et al. Exit from dormancy provokes DNA-damage-induced attrition in haematopoietic stem cells. Nature 520, 549–552 (2015).

Muller, L., Di Benedetto, S. & Pawelec, G. The immune system and its dysregulation with aging. Subcell. Biochem. 91, 21–43 (2019).

Cabezas-Wallscheid, N. et al. Vitamin A–retinoic acid signaling regulates hematopoietic stem cell dormancy. Cell 169, 807–823 (2017).

Rodriguez-Fraticelli, A. E. et al. Single-cell lineage tracing unveils a role for TCF15 in haematopoiesis. Nature 583, 585–589 (2020).

Notta, F. et al. Isolation of single human hematopoietic stem cells capable of long-term multilineage engraftment. Science 333, 218–221 (2011).

Velten, L. et al. Human haematopoietic stem cell lineage commitment is a continuous process. Nat. Cell Biol. 19, 271–281 (2017).

Laurenti, E. et al. The transcriptional architecture of early human hematopoiesis identifies multilevel control of lymphoid commitment. Nat. Immunol. 14, 756–763 (2013).

Kaufmann, K. B. et al. A stemness screen reveals C3orf54/INKA1 as a promoter of human leukemia stem cell latency. Blood 133, 2198–2211 (2019).

Dart, A. E. & Wells, C. M. P21-activated kinase 4—not just one of the PAK. Eur. J. Cell Biol. 92, 129–138 (2013).

Baskaran, Y. et al. An in cellulo-derived structure of PAK4 in complex with its inhibitor Inka1. Nat. Commun. 6, 8681 (2015).

Luo, T. et al. Inca: a novel p21-activated kinase-associated protein required for cranial neural crest development. Development 134, 1279–1289 (2007).

Grigoryan, A. et al. LaminA/C regulates epigenetic and chromatin architecture changes upon aging of hematopoietic stem cells. Genome Biol. 19, 189 (2018).

McBrian, M. A. et al. Histone acetylation regulates intracellular pH. Mol. Cell 49, 310–321 (2013).

Hay, S. B., Ferchen, K., Chetal, K., Grimes, H. L. & Salomonis, N. The human cell atlas bone marrow single-cell interactive web portal. Exp. Hematol. 68, 51–61 (2018).

Xie, S. Z. et al. Sphingolipid modulation activates proteostasis programs to govern human hematopoietic stem cell self-renewal. Cell Stem Cell 25, 639–653 (2019).

La Manno, G. et al. RNA velocity of single cells. Nature 560, 494–498 (2018).

Haghverdi, L., Buttner, M., Wolf, F. A., Buettner, F. & Theis, F. J. Diffusion pseudotime robustly reconstructs lineage branching. Nat. Methods 13, 845–848 (2016).

Tirosh, I. et al. Dissecting the multicellular ecosystem of metastatic melanoma by single-cell RNA-seq. Science 352, 189–196 (2016).

Randall, T. D. & Weissman, I. L. Phenotypic and functional changes induced at the clonal level in hematopoietic stem cells after 5-fluorouracil treatment. Blood 89, 3596–3606 (1997).

Coyaud, E. et al. Global interactomics uncovers extensive organellar targeting by Zika virus. Mol. Cell Proteom. 17, 2242–2255 (2018).

Chen, Y. et al. Quantitative acetylome analysis reveals the roles of SIRT1 in regulating diverse substrates and cellular pathways. Mol. Cell Proteom. 11, 1048–1062 (2012).

Takayama, N. et al. The transition from quiescent to activated states in human hematopoietic stem cells is governed by dynamic 3D genome reorganization. Cell Stem Cell 28, 488–501 (2021).

Rodgers, J. T. et al. mTORC1 controls the adaptive transition of quiescent stem cells from G0 to GAlert. Nature 510, 393–396 (2014).

Biasco, L. et al. In vivo tracking of human hematopoiesis reveals patterns of clonal dynamics during early and steady-state reconstitution phases. Cell Stem Cell 19, 107–119 (2016).

Belderbos, M. E. et al. Donor-to-donor heterogeneity in the clonal dynamics of transplanted human cord blood stem cells in murine xenografts. Biol. Blood Marrow Transpl. 26, 16–25 (2020).

Klose, M., Florian, M. C., Gerbaulet, A., Geiger, H. & Glauche, I. Hematopoietic stem cell dynamics are regulated by progenitor demand: lessons from a quantitative modeling approach. Stem Cells 37, 948–957 (2019).

Yamamoto, R. et al. Large-scale clonal analysis resolves aging of the mouse hematopoietic stem cell compartment. Cell Stem Cell 22, 600–607 (2018).

Hussein, A. M. et al. Metabolic control over mTOR-dependent diapause-like state. Dev. Cell 52, 236–250 (2020).

Khoa, L. T. P. et al. Histone acetyltransferase MOF blocks acquisition of quiescence in ground-state ESCs through activating fatty acid oxidation. Cell Stem Cell 27, 441–458 (2020).

Reddy, P. N. et al. p21-activated kinase 2 regulates HSPC cytoskeleton, migration and homing via CDC42 activation and interaction with β-Pix. Blood 127, 1967–1975 (2016).

Yang, L. et al. Rho GTPase Cdc42 coordinates hematopoietic stem cell quiescence and niche interaction in the bone marrow. Proc. Natl Acad. Sci. USA 104, 5091–5096 (2007).

Andrews, L. P., Yano, H. & Vignali, D. A. A. Inhibitory receptors and ligands beyond PD-1, PD-L1 and CTLA-4: breakthroughs or backups. Nat. Immunol. 20, 1425–1434 (2019).

Kalia, V., Penny, L. A., Yuzefpolskiy, Y., Baumann, F. M. & Sarkar, S. Quiescence of memory CD8+ T cells is mediated by regulatory T cells through inhibitory receptor CTLA-4. Immunity 42, 1116–1129 (2015).

Agudo, J. et al. Quiescent tissue stem cells evade immune surveillance. Immunity 48, 271–285 (2018).

Beerman, I., Seita, J., Inlay, M. A., Weissman, I. L. & Rossi, D. J. Quiescent hematopoietic stem cells accumulate DNA damage during aging that is repaired upon entry into cell cycle. Cell Stem Cell 15, 37–50 (2014).

Hirata, Y. et al. CD150hi bone marrow Tregs maintain hematopoietic stem cell quiescence and immune privilege via adenosine. Cell Stem Cell 22, 445–453 (2018).

Ryall, J. G. et al. The NAD+-dependent SIRT1 deacetylase translates a metabolic switch into regulatory epigenetics in skeletal muscle stem cells. Cell Stem Cell 16, 171–183 (2015).

Wang, Y. et al. Histone deacetylase SIRT1 negatively regulates the differentiation of interleukin-9-producing CD4+ T cells. Immunity 44, 1337–1349 (2016).

Cluntun, A. A. et al. The rate of glycolysis quantitatively mediates specific histone acetylation sites. Cancer Metab. 3, 10 (2015).

Sharma, G. G. et al. MOF and histone H4 acetylation at lysine 16 are critical for DNA damage response and double-strand break repair. Mol. Cell. Biol. 30, 3582–3595 (2010).

Wooten, M. et al. Superresolution imaging of chromatin fibers to visualize epigenetic information on replicative DNA. Nat. Protoc. 15, 1188–1208 (2020).

Sullivan, B. A. Optical mapping of protein–DNA complexes on chromatin fibers. Methods Mol. Biol. 659, 99–115 (2010).

Itoh, K. et al. Reproducible establishment of hemopoietic supportive stromal cell lines from murine bone marrow. Exp. Hematol. 17, 145–153 (1989).

Satija, R., Farrell, J. A., Gennert, D., Schier, A. F. & Regev, A. Spatial reconstruction of single-cell gene expression data. Nat. Biotechnol. 33, 495–502 (2015).

Picelli, S. et al. Full-length RNA-seq from single cells using Smart-seq2. Nat. Protoc. 9, 171–181 (2014).

Haghverdi, L., Lun, A. T. L., Morgan, M. D. & Marioni, J. C. Batch effects in single-cell RNA-sequencing data are corrected by matching mutual nearest neighbors. Nat. Biotechnol. 36, 421–427 (2018).

Eraslan, G., Simon, L. M., Mircea, M., Mueller, N. S. & Theis, F. J. Single-cell RNA-seq denoising using a deep count autoencoder. Nat. Commun. 10, 390 (2019).

Fares, I. et al. EPCR expression marks UM171-expanded CD34+ cord blood stem cells. Blood 129, 3344–3351 (2017).

Buenrostro, J. D., Giresi, P. G., Zaba, L. C., Chang, H. Y. & Greenleaf, W. J. Transposition of native chromatin for fast and sensitive epigenomic profiling of open chromatin, DNA-binding proteins and nucleosome position. Nat. Methods 10, 1213–1218 (2013).
Acknowledgements
We thank the obstetrics units of Trillium Health and William Osler Health Partners for CB, the UHN-SickKids Flow cytometry facility for cell sorting, and M. Minden and the Leukemia Tissue Bank at Princess Margaret Cancer Centre/UHN for providing primary mPB samples. We thank E. Laurenti and all members of the laboratory of J.E.D., in particular J. C. Y. Wang, for critical feedback. This research was supported by the Deutsche Forschungsgemeinschaft (K.B.K.) and is part of the University of Toronto's Medicine by Design initiative, which receives funding from the Canada First Research Excellence Fund. Work in the laboratory of J.E.D. is supported by funds from the Princess Margaret Cancer Centre Foundation, the Canadian Institutes of Health Research (Foundation no. 154293 (to J.E.D), operating grant nos. 154293 and 89932 (to J.E.D), International Development Research Centre, Canadian Cancer Society (grant no. 703212 (to J.E.D)), Terry Fox Research Institute Program Project grant, Ontario Institute for Cancer Research through funding provided by the Government of Ontario, a Canada Research Chair and the Ontario Ministry of Health and Long Term Care.
Ethics declarations
Competing interests
J.E.D. served on the Scientific Advisory Board at Trillium Therapeutics, reports receiving a commercial research grant from Celgene, and has ownership interest (including patents) in Trillium Therapeutics. S.T. is employed by Kirin Holdings. All other authors declare no competing interests.
Additional information
Peer review information Nature Immunology thanks Gay Crooks and the other, anonymous, reviewer(s) for their contribution to the peer review of this work. L. A. Dempsey was the primary editor on this article and managed its editorial process and peer review in collaboration with the rest of the editorial team.
Publisher's note Springer Nature remains neutral with regard to jurisdictional claims in published maps and institutional affiliations.
Supplementary information
Supplementary Table 1, High-confidence interactors of INKA1 and PAK4 according to proximity-dependent BioID assay. Supplementary Table 2, Differentially expressed genes (289) between CD112lo and CD112hi LT-HSCs (statistics calculated by DESeq2). Supplementary Table 3, Details of commercially available reagents and other materials and resources used.
About this article
Cite this article
Kaufmann, K.B., Zeng, A.G.X., Coyaud, E. et al. A latent subset of human hematopoietic stem cells resists regenerative stress to preserve stemness. Nat Immunol 22, 723–734 (2021). https://doi.org/10.1038/s41590-021-00925-1
Received:

Accepted:

Published:

Issue Date:

DOI: https://doi.org/10.1038/s41590-021-00925-1
Further reading
Sen Zhang
Yao Ma
Hideo Ema

Stem Cell Reviews and Reports (2022)

Yu Wei Zhang
Julian Mess
Nina Cabezas-Wallscheid

Nature Cell Biology (2022)