Abstract
Although the pathological significance of tumor-associated macrophage (TAM) heterogeneity is still poorly understood, TAM reprogramming is viewed as a promising anticancer therapy. Here we show that a distinct subset of TAMs (F4/80hiCD115hiC3aRhiCD88hi), endowed with high rates of heme catabolism by the stress-responsive enzyme heme oxygenase-1 (HO-1), plays a critical role in shaping a prometastatic tumor microenvironment favoring immunosuppression, angiogenesis and epithelial-to-mesenchymal transition. This population originates from F4/80+HO-1+ bone marrow (BM) precursors, accumulates in the blood of tumor bearers and preferentially localizes at the invasive margin through a mechanism dependent on the activation of Nrf2 and coordinated by the NF-κB1–CSF1R–C3aR axis. Inhibition of F4/80+HO-1+ TAM recruitment or myeloid-specific deletion of HO-1 blocks metastasis formation and improves anticancer immunotherapy. Relative expression of HO-1 in peripheral monocyte subsets, as well as in tumor lesions, discriminates survival among metastatic melanoma patients. Overall, these results identify a distinct cancer-induced HO-1+ myeloid subgroup as a new antimetastatic target and prognostic blood marker.
Relevant articles
Open Access articles citing this article.
Tianzhuo Zhang

,

Qin Fang

…

Jishi Wang

Journal of Translational Medicine Open Access 04 September 2022

Goodwin G. Jinesh

&

Andrew S. Brohl

Signal Transduction and Targeted Therapy Open Access 23 August 2022

Stefanie K. Wculek

,

Gillian Dunphy

…

David Sancho

Cellular & Molecular Immunology Open Access 07 December 2021
Access options
Subscribe to Nature+
Get immediate online access to the entire Nature family of 50+ journals
Subscribe to Journal
Get full journal access for 1 year
$99.00
only $8.25 per issue
All prices are NET prices.
VAT will be added later in the checkout.
Tax calculation will be finalised during checkout.
Buy article
Get time limited or full article access on ReadCube.
$32.00
All prices are NET prices.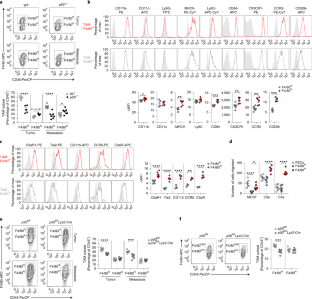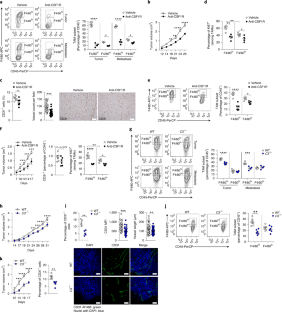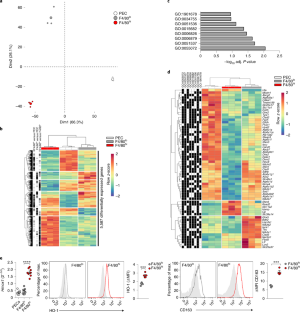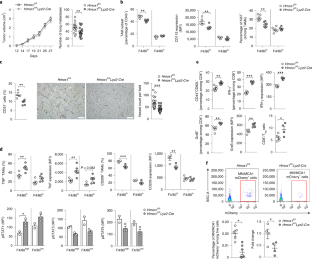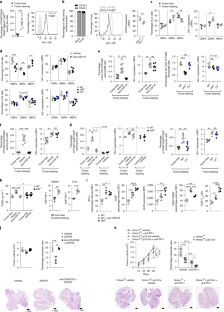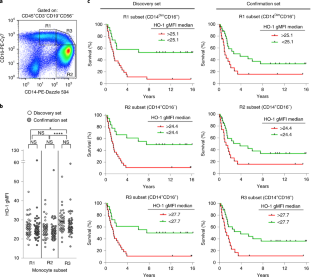 Data availability
The data that support the findings of this study are available from the corresponding author upon reasonable request. RNA-seq raw data are reported in Supplementary Table 1 and have been deposited at the Gene Expression Omnibus (GEO accession no. GSE167413). Datasets containing patients' clinical parameters and flow cytometry data generated during the current study are presented in Supplementary Tables 2 and 3.
References
Ueha, S., Shand, F. H. & Matsushima, K. Myeloid cell population dynamics in healthy and tumor-bearing mice. Int. Immunopharmacol. 11, 783–788 (2011).

Yang, M., McKay, D., Pollard, J. W. & Lewis, C. E. Diverse functions of macrophages in different tumor microenvironments. Cancer Res. 78, 5492–5503 (2018).

Gordon, S. & Pluddemann, A. The mononuclear phagocytic system. Generation of diversity. Front. Immunol. 10, 1893 (2019).

Strauss, L. et al. RORC1 regulates tumor-promoting 'emergency' granulo-monocytopoiesis. Cancer Cell 28, 253–269 (2015).

Mantovani, A., Allavena, P., Sica, A. & Balkwill, F. Cancer-related inflammation. Nature 454, 436–444 (2008).

Mantovani, A., Marchesi, F., Malesci, A., Laghi, L. & Allavena, P. Tumour-associated macrophages as treatment targets in oncology. Nat. Rev. Clin. Oncol. 14, 399–416 (2017).

Sica, A., Guarneri, V. & Gennari, A. Myelopoiesis, metabolism and therapy: a crucial crossroads in cancer progression. Cell Stress 3, 284–294 (2019).

Mehla, K. & Singh, P. K. Metabolic regulation of macrophage polarization in cancer. Trends Cancer 5, 822–834 (2019).

Blagih, J. & Jones, R. G. Polarizing macrophages through reprogramming of glucose metabolism. Cell Metab. 15, 793–795 (2012).

Wang, D., Paz-Priel, I. & Friedman, A. D. NF-κB p50 regulates C/EBPα expression and inflammatory cytokine-induced neutrophil production. J. Immunol. 182, 5757–5762 (2009).

Porta, C. et al. Protumor steering of cancer inflammation by p50 NF-κB enhances colorectal cancer progression. Cancer Immunol. Res. 6, 578–593 (2018).

Ziegler-Heitbrock, L. The p50-homodimer mechanism in tolerance to LPS. J. Endotoxin Res. 7, 219–222 (2001).

Porta, C. et al. Tolerance and M2 (alternative) macrophage polarization are related processes orchestrated by p50 nuclear factor κB. Proc. Natl Acad. Sci. USA 106, 14978–14983 (2009).

Gozzelino, R., Jeney, V. & Soares, M. P. Mechanisms of cell protection by heme oxygenase-1. Annu. Rev. Pharmacol. Toxicol. 50, 323–354 (2010).

Sica, A. et al. Bacterial lipopolysaccharide rapidly inhibits expression of C-C chemokine receptors in human monocytes. J. Exp. Med. 185, 969–974 (1997).

Reis, E. S., Mastellos, D. C., Ricklin, D., Mantovani, A. & Lambris, J. D. Complement in cancer: untangling an intricate relationship. Nat. Rev. Immunol. 18, 5–18 (2018).

Schraufstatter, I. U., Discipio, R. G., Zhao, M. & Khaldoyanidi, S. K. C3a and C5a are chemotactic factors for human mesenchymal stem cells, which cause prolonged ERK1/2 phosphorylation. J. Immunol. 182, 3827–3836 (2009).

De Palma, M. et al. Tie2 identifies a hematopoietic lineage of proangiogenic monocytes required for tumor vessel formation and a mesenchymal population of pericyte progenitors. Cancer Cell 8, 211–226 (2005).

Jenkins, S. J. & Hume, D. A. Homeostasis in the mononuclear phagocyte system. Trends Immunol. 35, 358–367 (2014).

Saccani, A. et al. p50 nuclear factor-κB overexpression in tumor-associated macrophages inhibits M1 inflammatory responses and antitumor resistance. Cancer Res. 66, 11432–11440 (2006).

Vadrevu, S. K. et al. Complement c5a receptor facilitates cancer metastasis by altering T-cell responses in the metastatic niche. Cancer Res. 74, 3454–3465 (2014).

Markiewski, M. M. et al. Modulation of the antitumor immune response by complement. Nat. Immunol. 9, 1225–1235 (2008).

Cassetta, L. et al. Human tumor-associated macrophage and monocyte transcriptional landscapes reveal cancer-specific reprogramming, biomarkers, and therapeutic targets. Cancer Cell 35, 588–602 (2019).

Gozzelino, R. & Soares, M. P. Coupling heme and iron metabolism via ferritin H chain. Antioxid. Redox Signal. 20, 1754–1769 (2014).

Otterbein, L. E. et al. Carbon monoxide has anti-inflammatory effects involving the mitogen-activated protein kinase pathway. Nat. Med. 6, 422–428 (2000).

Nitti, M. et al. HO-1 induction in cancer progression: a matter of cell adaptation. Antioxididants (Basel) 6, 29 (2017).

Weis, N., Weigert, A., von Knethen, A. & Brune, B. Heme oxygenase-1 contributes to an alternative macrophage activation profile induced by apoptotic cell supernatants. Mol. Biol. Cell 20, 1280–1288 (2009).

Ponka, P. Tissue-specific regulation of iron metabolism and heme synthesis: distinct control mechanisms in erythroid cells. Blood 89, 1–25 (1997).

Park, J. Y. et al. Polarized CD163+ tumor-associated macrophages are associated with increased angiogenesis and CXCL12 expression in gastric cancer. Clin. Res. Hepatol. Gastroenterol. 40, 357–365 (2016).

Brouard, S. et al. Heme oxygenase-1-derived carbon monoxide requires the activation of transcription factor NF-κB to protect endothelial cells from tumor necrosis factor-α-mediated apoptosis. J. Biol. Chem. 277, 17950–17961 (2002).

Zhou, C. et al. The heme oxygenase-1 inhibitor ZnPPIX induces non-canonical, Beclin 1-independent, autophagy through p38 MAPK pathway. Acta Biochim. Biophys. Sin. (Shanghai) 44, 815–822 (2012).

Sun, J. et al. Hemoprotein Bach1 regulates enhancer availability of heme oxygenase-1 gene. EMBO J. 21, 5216–5224 (2002).

Ren, D. et al. Brusatol enhances the efficacy of chemotherapy by inhibiting the Nrf2-mediated defense mechanism. Proc. Natl Acad. Sci. USA 108, 1433–1438 (2011).

Gabrilovich, D. I., Ostrand-Rosenberg, S. & Bronte, V. Coordinated regulation of myeloid cells by tumours. Nat. Rev. Immunol. 12, 253–268 (2012).

McArdle, A. J. et al. Determinants of carboxyhemoglobin levels and relationship with sepsis in a retrospective cohort of preterm neonates. PLoS ONE 11, e0161784 (2016).

Sica, A. & Mantovani, A. Macrophage plasticity and polarization: in vivo veritas. J. Clin. Invest. 122, 787–795 (2012).

Ribas, A. Tumor immunotherapy directed at PD-1. N. Engl. J. Med. 366, 2517–2519 (2012).

Wu, W. C. et al. Circulating hematopoietic stem and progenitor cells are myeloid-biased in cancer patients. Proc. Natl Acad. Sci. USA 111, 4221–4226 (2014).

Hoeffel, G. & Ginhoux, F. Fetal monocytes and the origins of tissue-resident macrophages. Cell. Immunol. 330, 5–15 (2018).

Korolnek, T. & Hamza, I. Macrophages and iron trafficking at the birth and death of red cells. Blood 125, 2893–2897 (2015).

Soares, M. P. & Bach, F. H. Heme oxygenase-1: from biology to therapeutic potential. Trends Mol. Med. 15, 50–58 (2009).

Nemeth, Z. et al. Heme oxygenase-1 in macrophages controls prostate cancer progression. Oncotarget 6, 33675–33688 (2015).

Chan, K., Lu, R., Chang, J. C. & Kan, Y. W. NRF2, a member of the NFE2 family of transcription factors, is not essential for murine erythropoiesis, growth, and development. Proc. Natl Acad. Sci. USA 93, 13943–13948 (1996).

Carminati, L. et al. Antimetastatic and antiangiogenic activity of trabectedin in cutaneous melanoma. Carcinogenesis 40, 303–312 (2019).

Biswas, S. K. et al. A distinct and unique transcriptional program expressed by tumor-associated macrophages (defective NF-κB and enhanced IRF-3/STAT1 activation). Blood 107, 2112–2122 (2006).

Sensi, M. et al. Immunogenicity without immunoselection: a mutant but functional antioxidant enzyme retained in a human metastatic melanoma and targeted by CD8+ T cells with a memory phenotype. Cancer Res. 65, 632–640 (2005).

Ritchie, M. E. et al. limma powers differential expression analyses for RNA-sequencing and microarray studies. Nucleic Acids Res. 43, e47 (2015).

Durinck, S., Spellman, P. T., Birney, E. & Huber, W. Mapping identifiers for the integration of genomic datasets with the R/Bioconductor package biomaRt. Nat. Protoc. 4, 1184–1191 (2009).

Yu, G., Wang, L. G., Han, Y. & He, Q. Y. clusterProfiler: an R package for comparing biological themes among gene clusters. OMICS 16, 284–287 (2012).

Subramanian, A. et al. Gene set enrichment analysis: a knowledge-based approach for interpreting genome-wide expression profiles. Proc. Natl Acad. Sci. USA 102, 15545–15550 (2005).

Li, T. et al. TIMER: a web server for comprehensive analysis of tumor-infiltrating immune cells. Cancer Res. 77, e108–e110 (2017).

Jiang, P. et al. Signatures of T cell dysfunction and exclusion predict cancer immunotherapy response. Nat. Med. 24, 1550–1558 (2018).
Acknowledgements
This work was supported by Associazione Italiana per la Ricerca sul Cancro (AIRC) IG (nos. 19885 to A.S. and 15860 to R.M.); AIRC 5x1000 no. 22757; Fondazione Cariplo and Ministero Universita Ricerca (project no. 2017BA9LM5_001); AIRC fellowship 'Pierluigi Meneghelli' (no. 19682); Associazione "Augusto per la Vita" Novellara (RE); and Associazione "Medicine Rocks", Milano. We thank C. Vegetti and I. Bersani (Fondazione IRCCS Istituto Nazionale dei Tumori) for excellent technical help with flow cytometry analysis of human monocyte subsets and immunohistochemistry of melanoma lesions, respectively. We also thank M. Soares for critical discussions and editing of the manuscript. M.P.S. is supported by Fundação 'la Caixa', Fundação para a Ciência e Tecnologia (nos. HR18-00502 and SAICT/2017/029411).
Ethics declarations
Competing interests
The authors declare no competing interests.
Additional information
Peer review information Nature Immunology thanks Daniele Gilkes, Hozumi Motohashi and the other, anonymous, reviewer(s) for their contribution to the peer review of this work. Zoltan Fehervari was the primary editor on this article and managed its editorial process and peer review in collaboration with the rest of the editorial team.
Publisher's note Springer Nature remains neutral with regard to jurisdictional claims in published maps and institutional affiliations.
Supplementary information
Supplementary Fig. 1 and Tables 2 and 3.
Differential gene expression analysis between F4/80hi and F4/80lo TAMs and PECs. A probe was considered significantly differentially expressed if it had an absolute fold change ≥1.5 and adjusted P ≤ 0.05. Expression profiling data are available at Gene Expression Omnibus (GEO) with accession no. GSE167413.
About this article
Cite this article
Consonni, F.M., Bleve, A., Totaro, M.G. et al. Heme catabolism by tumor-associated macrophages controls metastasis formation. Nat Immunol 22, 595–606 (2021). https://doi.org/10.1038/s41590-021-00921-5
Received:

Accepted:

Published:

Issue Date:

DOI: https://doi.org/10.1038/s41590-021-00921-5