A systems immunology analysis of controlled human malaria infections in Africans who were malaria experienced and Europeans who were malaria naive yields new insights into old questions of malaria immunity.
Access options
Subscribe to Journal
Get full journal access for 1 year
$59.00
only $4.92 per issue
All prices are NET prices.
VAT will be added later in the checkout.
Tax calculation will be finalised during checkout.
Rent or Buy article
Get time limited or full article access on ReadCube.
from$8.99
All prices are NET prices.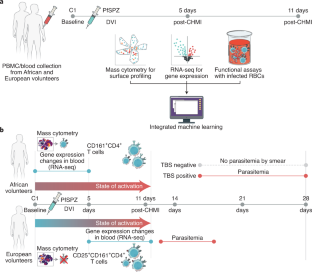 References
1.

Moncunill, G. et al. Sci. Transl. Med. 12, eaay8924 (2020).

2.

Tran, T. M. et al. Immunity 51, 750–765.e10 (2019).

3.

de Jong, S. E. et al. Nat. Immunol. https://doi.org/10.1038/s41590-021-00911-7 (2021).

4.

Crompton, P. D. et al. Annu. Rev. Immunol. 32, 157–187 (2014).

5.

Langhorne, J., Ndungu, F. M., Sponaas, A.-M. & Marsh, K. Nat. Immunol. 9, 725–732 (2008).

6.

Truong, K.-L. et al. Nat. Commun. 10, 2263 (2019).

7.

Teirlinck, A. C. et al. PLoS Pathog. 7, e1002389 (2011).

8.

Portugal, S. et al. Elife 4, e07218 (2015).

9.

Ishizuka, A. S. et al. Nat. Med. 22, 614–623 (2016).

10.

Zaidi, I. et al. J. Immunol. 199, 3781–3788 (2017).

11.

Tsang, J. S. et al. Trends Immunol. 41, 457–465 (2020).

12.

De Filippo, C. et al. Proc. Natl Acad. Sci. USA 107, 14691–14696 (2010).
Acknowledgements
The authors would like to thank Austin J. Athman (Visual Medical Arts, National Institute of Allergy and Infectious Diseases, National Institutes of Health) for assistance with creating the illustration in Fig. 1.
Ethics declarations
Competing interests
The authors declare no competing interests.
About this article
Cite this article
Holla, P., Tran, T.M. Experience counts in the malaria response. Nat Immunol 22, 537–539 (2021). https://doi.org/10.1038/s41590-021-00917-1