Abstract
Evasion of host immunity is a hallmark of cancer; however, mechanisms linking oncogenic mutations and immune escape are incompletely understood. Through loss-of-function screening of 1,001 tumor suppressor genes, we identified death-associated protein kinase 3 (DAPK3) as a previously unrecognized driver of anti-tumor immunity through the stimulator of interferon genes (STING) pathway of cytosolic DNA sensing. Loss of DAPK3 expression or kinase activity impaired STING activation and interferon (IFN)-β-stimulated gene induction. DAPK3 deficiency in IFN-β-producing tumors drove rapid growth and reduced infiltration of CD103+CD8α+ dendritic cells and cytotoxic lymphocytes, attenuating the response to cancer chemo-immunotherapy. Mechanistically, DAPK3 coordinated post-translational modification of STING. In unstimulated cells, DAPK3 inhibited STING K48-linked poly-ubiquitination and proteasome-mediated degradation. After cGAMP stimulation, DAPK3 was required for STING K63-linked poly-ubiquitination and STING–TANK-binding kinase 1 interaction. Comprehensive phospho-proteomics uncovered a DAPK3-specific phospho-site on the E3 ligase LMO7, critical for LMO7–STING interaction and STING K63-linked poly-ubiquitination. Thus, DAPK3 is an essential kinase for STING activation that drives tumor-intrinsic innate immunity and tumor immune surveillance.
Access options
Subscribe to Journal
Get full journal access for 1 year
$59.00
only $4.92 per issue
All prices are NET prices.
VAT will be added later in the checkout.
Tax calculation will be finalised during checkout.
Rent or Buy article
Get time limited or full article access on ReadCube.
from$8.99
All prices are NET prices.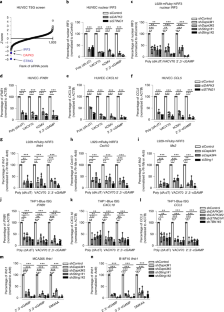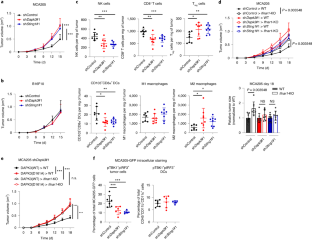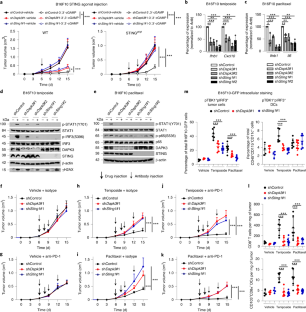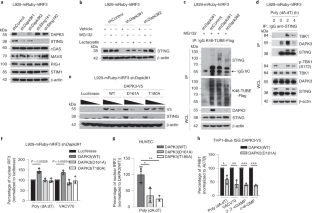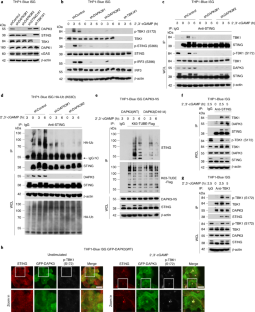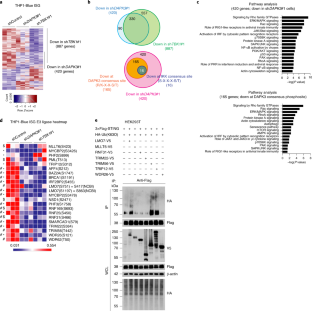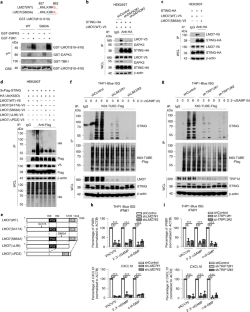 Data availability
Screening results are presented in Supplementary Table 1 and phospho-proteomics results in Supplementary Table 2. Mass spectrometry proteome and phosphoproteome data were deposited in MassIVE (identifier PXD023639) and ProteomeXchange (identifier PXD023637). Uncropped immunoblot images are provided in the manuscript. Source data are provided with this paper. Additional data will be made available from the corresponding author upon reasonable request.
References
1.

Zitvogel, L., Galluzzi, L., Kepp, O., Smyth, M. J. & Kroemer, G. Type I interferons in anticancer immunity. Nat. Rev. Immunol. 15, 405–414 (2015).

2.

Vanpouille-Box, C., Demaria, S., Formenti, S. C. & Galluzzi, L. Cytosolic DNA sensing in organismal tumor control. Cancer Cell 34, 361–378 (2018).

3.

Kwon, J. & Bakhoum, S. F. The cytosolic DNA-sensing cGAS–STING pathway in cancer. Cancer Discov. 10, 26–39 (2020).

4.

Chen, Q., Sun, L. & Chen, Z. J. Regulation and function of the cGAS–STING pathway of cytosolic DNA sensing. Nat. Immunol. 17, 1142–1149 (2016).

5.

Corrales, L., McWhirter, S. M., Dubensky, T. W. Jr. & Gajewski, T. F. The host STING pathway at the interface of cancer and immunity. J. Clin. Investig. 126, 2404–2411 (2016).

6.

Woo, S. R. et al. STING-dependent cytosolic DNA sensing mediates innate immune recognition of immunogenic tumors. Immunity 41, 830–842 (2014).

7.

Harding, S. M. et al. Mitotic progression following DNA damage enables pattern recognition within micronuclei. Nature 548, 466–470 (2017).

8.

Mackenzie, K. J. et al. cGAS surveillance of micronuclei links genome instability to innate immunity. Nature 548, 461–465 (2017).

9.

Ahn, J. et al. Inflammation-driven carcinogenesis is mediated through STING. Nat. Commun. 5, 5166 (2014).

10.

Yang, H., Wang, H., Ren, J., Chen, Q. & Chen, Z. J. cGAS is essential for cellular senescence. Proc. Natl Acad. Sci. USA 114, E4612–E4620 (2017).

11.

Wang, Z. et al. cGAS/STING axis mediates a topoisomerase II inhibitor-induced tumor immunogenicity. J. Clin. Invest. 129, 4850–4862 (2019).

12.

Hanahan, D. & Weinberg, R. A. Hallmarks of cancer: the next generation. Cell 144, 646–674 (2011).

13.

Brognard, J., Zhang, Y. W., Puto, L. A. & Hunter, T. Cancer-associated loss-of-function mutations implicate DAPK3 as a tumor-suppressing kinase. Cancer Res. 71, 3152–3161 (2011).

14.

Lio, C. W. et al. cGAS-STING signaling regulates initial innate control of cytomegalovirus infection. J. Virol. 90, 7789–7797 (2016).

15.

Farag, A. K. & Roh, E. J. Death-associated protein kinase (DAPK) family modulators: current and future therapeutic outcomes. Med. Res. Rev. 39, 349–385 (2019).

16.

Fang, J. et al. Attenuation of EPO-dependent erythroblast formation by death-associated protein kinase-2. Blood 112, 886–890 (2008).

17.

Willemsen, J. et al. Phosphorylation-Dependent Feedback Inhibition of RIG-I by DAPK1 Identified by Kinome-wide siRNA Screening. Mol. Cell 65, 403–415.e8 (2017).

18.

Kocher, B. A., White, L. S. & Piwnica-Worms, D. DAPK3 suppresses acini morphogenesis and is required for mouse development. Mol. Cancer Res. 13, 358–367 (2014).

19.

Hosoba, K. et al. Phosphorylation of myosin II regulatory light chain by ZIP kinase is responsible for cleavage furrow ingression during cell division in mammalian cultured cells. Biochem. Biophys. Res. Commun. 459, 686–691 (2015).

20.

Demaria, O. et al. STING activation of tumor endothelial cells initiates spontaneous and therapeutic antitumor immunity. Proc. Natl Acad. Sci. USA 112, 15408–15413 (2015).

21.

Mitchison, T. J., Pineda, J., Shi, J. & Florian, S. Is inflammatory micronucleation the key to a successful anti-mitotic cancer drug? Open Biol. 7, 170182 (2017).

22.

Zierhut, C. et al. The cytoplasmic DNA sensor cGAS promotes mitotic cell death. Cell 178, 302–315.e23 (2019).

23.

Lohard, S. et al. STING-dependent paracriny shapes apoptotic priming of breast tumors in response to anti-mitotic treatment. Nat. Commun. 11, 259 (2020).

24.

Luo, W. W. et al. iRhom2 is essential for innate immunity to DNA viruses by mediating trafficking and stability of the adaptor STING. Nat. Immunol. 17, 1057–1066 (2016).

25.

Graves, P. R., Winkfield, K. M. & Haystead, T. A. Regulation of zipper-interacting protein kinase activity in vitro and in vivo by multisite phosphorylation. J. Biol. Chem. 280, 9363–9374 (2005).

26.

Okamoto, M. et al. Identification of death-associated protein kinases inhibitors using structure-based virtual screening. J. Med. Chem. 52, 7323–7327 (2009).

27.

Zhang, J., Hu, M. M., Wang, Y. Y. & Shu, H. B. TRIM32 protein modulates type I interferon induction and cellular antiviral response by targeting MITA/STING protein for K63-linked ubiquitination. J. Biol. Chem. 287, 28646–28655 (2012).

28.

Tsuchida, T. et al. The ubiquitin ligase TRIM56 regulates innate immune responses to intracellular double-stranded DNA. Immunity 33, 765–776 (2010).

29.

Liu, S. et al. Phosphorylation of innate immune adaptor proteins MAVS, STING, and TRIF induces IRF3 activation. Science 347, aaa2630 (2015).

30.

Tsuchiya, Y., Jounai, N., Takeshita, F., Ishii, K. J. & Mizuguchi, K. Ligand-induced ordering of the C-terminal tail primes STING for phosphorylation by TBK1. EBioMedicine 9, 87–96 (2016).

31.

Zhao, B. et al. A conserved PLPLRT/SD motif of STING mediates the recruitment and activation of TBK1. Nature 569, 718–722 (2019).

32.

Tanaka, Y. & Chen, Z. J. STING specifies IRF3 phosphorylation by TBK1 in the cytosolic DNA signaling pathway. Sci. Signal. 5, ra20 (2012).

33.

Lapek, J. D. Jr., Lewinski, M. K., Wozniak, J. M., Guatelli, J. & Gonzalez, D. J. Quantitative temporal viromics of an inducible HIV-1 model yields insight to global host targets and phospho-dynamics associated with protein Vpr. Mol. Cell. Proteomics 16, 1447–1461 (2017).

34.

Burch, L. R., Scott, M., Pohler, E., Meek, D. & Hupp, T. Phage-peptide display identifies the interferon-responsive, death-activated protein kinase family as a novel modifier of MDM2 and p21WAF1. J. Mol. Biol. 337, 115–128 (2004).

35.

Arif, A., Chatterjee, P., Moodt, R. A. & Fox, P. L. Heterotrimeric GAIT complex drives transcript-selective translation inhibition in murine macrophages. Mol. Cell. Biol. 32, 5046–5055 (2012).

36.

Schmid, J. A. & Birbach, A. IκB kinase β (IKKβ/IKK2/IKBKB)—a key molecule in signaling to the transcription factor NF-κB. Cytokine Growth Factor Rev. 19, 157–165 (2008).

37.

Nehru, V., Almeida, F. N. & Aspenström, P. Interaction of RhoD and ZIP kinase modulates actin filament assembly and focal adhesion dynamics. Biochem. Biophys. Res. Commun. 433, 163–169 (2013).

38.

Tang, H. W. et al. Atg1-mediated myosin II activation regulates autophagosome formation during starvation-induced autophagy. EMBO J. 30, 636–651 (2011).

39.

Ni, G., Konno, H. & Barber, G. N. Ubiquitination of STING at lysine 224 controls IRF3 activation. Sci. Immunol. 2, eaah7119 (2017).

40.

Yang, L. et al. UBXN3B positively regulates STING-mediated antiviral immune responses. Nat. Commun. 9, 2329 (2018).

41.

Mullard, A. Can innate immune system targets turn up the heat on 'cold' tumours? Nat. Rev. Drug Discov. 17, 3–5 (2018).

42.

Mallipeddi, R. et al. Reduced expression of insulin-like growth factor-binding protein-3 (IGFBP-3) in squamous cell carcinoma complicating recessive dystrophic epidermolysis bullosa. J. Invest. Dermatol. 122, 1302–1309 (2004).

43.

Bi, J. et al. Downregulation of ZIP kinase is associated with tumor invasion, metastasis and poor prognosis in gastric cancer. Int. J. Cancer 124, 1587–1593 (2009).

44.

Song, S. et al. Decreased expression of STING predicts poor prognosis in patients with gastric cancer. Sci. Rep. 7, 39858 (2017).

45.

Puto, L. A. & Reed, J. C. Daxx represses RelB target promoters via DNA methyltransferase recruitment and DNA hypermethylation. Genes Dev. 22, 998–1010 (2008).

46.

Seo, G. J. et al. TRIM56-mediated monoubiquitination of cGAS for cytosolic DNA sensing. Nat. Commun. 9, 613 (2018).

47.

Wang, Q. et al. The E3 ubiquitin ligase AMFR and INSIG1 bridge the activation of TBK1 kinase by modifying the adaptor STING. Immunity 41, 919–933 (2014).

48.

Kawai, T. & Akira, S. Signaling to NF-κB by Toll-like receptors. Trends Mol. Med. 13, 460–469 (2007).

49.

Balka, K. R. et al. TBK1 and IKKε act redundantly to mediate STING-induced NF-κB responses in myeloid cells. Cell Rep. 31, 107492 (2020).

50.

Pokatayev, V. et al. Homeostatic regulation of STING protein at the resting state by stabilizer TOLLIP. Nat. Immunol. 21, 158–167 (2020).

51.

Dhanwani, R. et al. Cellular sensing of extracellular purine nucleosides triggers an innate IFN-β response. Sci. Adv. 6, eaba3688 (2020).

52.

Zhao, M., Sun, J. & Zhao, Z. TSGene: a web resource for tumor suppressor genes. Nucleic Acids Res. 41, D970–D976 (2013).

53.

Sharma, S. & Rao, A. RNAi screening: tips and techniques. Nat. Immunol. 10, 799–804 (2009).

54.

Sharma, S. et al. An siRNA screen for NFAT activation identifies septins as coordinators of store-operated Ca2+ entry. Nature 499, 238–242 (2013).

55.

Wang, Y. et al. Reversed-phase chromatography with multiple fraction concatenation strategy for proteome profiling of human MCF10A cells. Proteomics 11, 2019–2026 (2011).

56.

Elias, J. E. & Gygi, S. P. Target-decoy search strategy for increased confidence in large-scale protein identifications by mass spectrometry. Nat. Methods 4, 207–214 (2007).

57.

Wozniak, J. M. & Gonzalez, D. J. PTMphinder: an R package for PTM site localization and motif extraction from proteomic datasets. PeerJ 7, e7046 (2019).

58.

Xu, S., Feng, Y. & Zhao, S. Proteins with evolutionarily hypervariable domains are associated with immune response and better survival of basal-like breast cancer patients. Comput. Struct. Biotechnol. J. 17, 430–440 (2019).

59.

Cerami, E. et al. The cBio cancer genomics portal: an open platform for exploring multidimensional cancer genomics data. Cancer Discov. 2, 401–404 (2012).

60.

Gao, J. et al. Integrative analysis of complex cancer genomics and clinical profiles using the cBioPortal. Sci. Signal. 6, pl1 (2013).
Acknowledgements
We thank J. Huang (LJI) for support for the HUVEC siRNA screen; S. Shresta (LJI) for Ifnar1-null mice; C. Benedict (LJI) for MEFs, NHDFs and hCMV; N. P. Restifo (NCI) for MCA205; J. Schlom (NCI) for MC38; S. Schoenberger (LJI) for B16F10; C. C. Hedrick (LJI) for LLC-RFP; Y. C. Liu (LJI) for pEF-neo-HA-Ub; D. Zajonc (LJI) for pGEX-4T-2; J. Day and K. Tanguay (LJI) for shRNA and siRNA constructs, and siRNA screen support; D. Freeman, B. McDonald and R. El Morabiti (LJI) for hCMV propagation; M. Diep, K. Foos and M. Kaur (LJI) for technical assistance; Z. Mikulski (LJI Microscopy Core Facility) for confocal microscopy support; A. Sethi (LJI Bioinformatics Core Facility) for pathway analysis support; LJI Flow Cytometry Core Facility for cell sorting (FACSAria-II Cell Sorter; supported by the Shared Instrumentation Grant (SIG) program no. S10 RR027366); and D. Araujo (LJI) for proofreading the manuscript. This work was supported by National Institutes of Health (NIH) grant nos. R01CA199376, U01DE028227 and U54CA260591 (S.S.); and NIH grant no. S10OD020025 and grant no. R01ES027595 (M.J.). C.-W.J.L. was supported by a Cancer Research Institute (CRI) Irvington Postdoc Fellowship. A.C. was supported by the UCSD Microbial Sciences Initiative Graduate Research Fellowship and by the UCSD Graduate Training Program in Cellular and Molecular Pharmacology, through an institutional training grant from the National Institute of General Medical Sciences, grant no. T32 GM007752.
Ethics declarations
Competing interests
The authors declare no competing interests.
Additional information
Peer review information Nature Immunology thanks Katherine A. Fitzgerald, Hong-Bing Shu and the other, anonymous, reviewer(s) for their contribution to the peer review of this work. Peer reviewer reports are available. L. A. Dempsey was the primary editor on this article and managed its editorial process and peer review in collaboration with the rest of the editorial team.
Publisher's note Springer Nature remains neutral with regard to jurisdictional claims in published maps and institutional affiliations.
Supplementary information
Supplementary Tables 1–6.
About this article
Cite this article
Takahashi, M., Lio, CW.J., Campeau, A. et al. The tumor suppressor kinase DAPK3 drives tumor-intrinsic immunity through the STING–IFN-β pathway. Nat Immunol 22, 485–496 (2021). https://doi.org/10.1038/s41590-021-00896-3
Received:

Accepted:

Published:

Issue Date: