Abstract
Innate T cells, including invariant natural killer T (iNKT) and mucosal-associated innate T (MAIT) cells, are a heterogeneous T lymphocyte population with effector properties preprogrammed during their thymic differentiation. How this program is initiated is currently unclear. Here, we show that the transcription factor BCL-6 was transiently expressed in iNKT cells upon exit from positive selection and was required for their proper development beyond stage 0. Notably, development of MAIT cells was also impaired in the absence of Bcl6. BCL-6-deficient iNKT cells had reduced expression of genes that were associated with the innate T cell lineage, including Zbtb16, which encodes PLZF, and PLZF-targeted genes. BCL-6 contributed to a chromatin accessibility landscape that was permissive for the expression of development-related genes and inhibitory for genes associated with naive T cell programs. Our results revealed new functions for BCL-6 and illuminated how this transcription factor controls early iNKT cell development.
Access options
Subscribe to Journal
Get full journal access for 1 year
$59.00
only $4.92 per issue
All prices are NET prices.
VAT will be added later in the checkout.
Tax calculation will be finalised during checkout.
Rent or Buy article
Get time limited or full article access on ReadCube.
from$8.99
All prices are NET prices.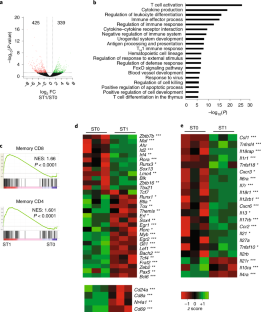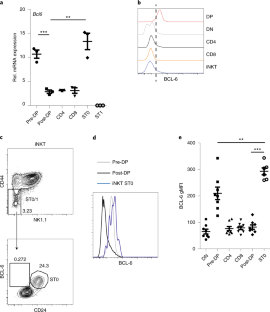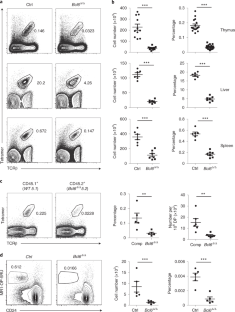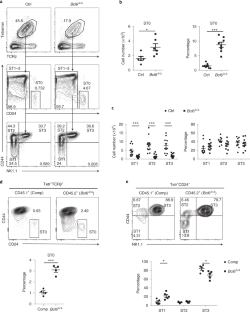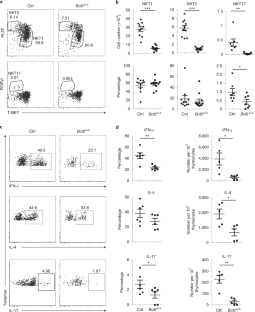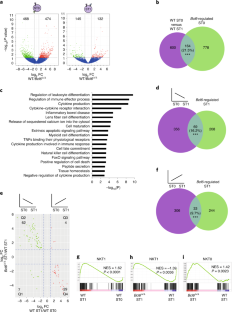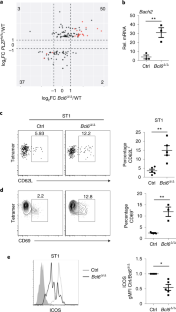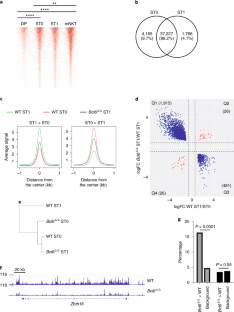 Data availability
RNA-seq and ATAC-seq data have been deposited to the Gene Expression Omnibus with the accession code GSE134212. Source data for Figs. 2–5, 7 and 8 and Extended Data Figs. 1–6 are provided with the paper. The data that support the findings of this study are available from the corresponding authors upon request.
References
1.

Verykokakis, M. & Kee, B. L. Transcriptional and epigenetic regulation of innate-like T lymphocyte development. Curr. Opin. Immunol. 51, 39–45 (2018).

2.

Bendelac, A., Savage, P. B. & Teyton, L. The biology of NKT cells. Annu Rev. Immunol. 25, 297–336 (2007).

3.

Griewank, K. et al. Homotypic interactions mediated by Slamf1 and Slamf6 receptors control NKT cell lineage development. Immunity 27, 751–762 (2007).

4.

Kovalovsky, D. et al. The BTB-zinc finger transcriptional regulator PLZF controls the development of invariant natural killer T cell effector functions. Nat. Immunol. 9, 1055–1064 (2008).

5.

Savage, A. K. et al. The transcription factor PLZF directs the effector program of the NKT cell lineage. Immunity 29, 391–403 (2008).

6.

Kreslavsky, T. et al. TCR-inducible PLZF transcription factor required for innate phenotype of a subset of γδ T cells with restricted TCR diversity. Proc. Natl Acad. Sci. USA 106, 12453–12458 (2009).

7.

Verykokakis, M. et al. Inhibitor of DNA binding 3 limits development of murine slam-associated adaptor protein-dependent "innate" γδ T cells. PLoS ONE 5, e9303 (2010).

8.

Constantinides, M. G., McDonald, B. D., Verhoef, P. A. & Bendelac, A. A committed precursor to innate lymphoid cells. Nature 508, 397–401 (2014).

9.

Lee, Y. J. et al. Lineage-specific effector signatures of invariant NKT cells are shared amongst γδ T, innate lymphoid, and Th cells. J. Immunol. 197, 1460–1470 (2016).

10.

Benlagha, K., Kyin, T., Beavis, A., Teyton, L. & Bendelac, A. A thymic precursor to the NKT cell lineage. Science 296, 553–555 (2002).

11.

Benlagha, K., Wei, D. G., Veiga, J., Teyton, L. & Bendelac, A. Characterization of the early stages of thymic NKT cell development. J. Exp. Med. 202, 485–492 (2005).

12.

Gadue, P. & Stein, P. L. NKT cell precursors exhibit differential cytokine regulation and require Itk for efficient maturation. J. Immunol. 169, 2397–2406 (2002).

13.

Dickgreber, N. et al. Immature murine NKT cells pass through a stage of developmentally programmed innate IL-4 secretion. J. Leukoc. Biol. 92, 999–1009 (2012).

14.

Lee, Y. J., Holzapfel, K. L., Zhu, J., Jameson, S. C. & Hogquist, K. A. Steady-state production of IL-4 modulates immunity in mouse strains and is determined by lineage diversity of iNKT cells. Nat. Immunol. 14, 1146–1154 (2013).

15.

D'Cruz, L. M., Yang, C. Y. & Goldrath, A. W. Transcriptional regulation of NKT cell development and homeostasis. Curr. Opin. Immunol. 22, 199–205 (2010).

16.

Tripathi, S. et al. Meta- and orthogonal integration of influenza "OMICs" data defines a role for UBR4 in virus budding. Cell Host Microbe 18, 723–735 (2015).

17.

Subramanian, A. et al. Gene set enrichment analysis: a knowledge-based approach for interpreting genome-wide expression profiles. Proc. Natl Acad. Sci. USA 102, 15545–15550 (2005).

18.

Mao, A. P. et al. Multiple layers of transcriptional regulation by PLZF in NKT cell development. Proc. Natl Acad. Sci. USA 113, 7602–7607 (2016).

19.

Krishnamoorthy, V. et al. The IRF4 gene regulatory module functions as a read-write integrator to dynamically coordinate T helper cell fate. Immunity 47, 481–497 (2017).

20.

Engel, I. et al. Co-receptor choice by Vα14i NKT cells is driven by Th-POK expression rather than avoidance of CD8-mediated negative selection. J. Exp. Med. 207, 1015–1029 (2010).

21.

Engel, I., Zhao, M., Kappes, D., Taniuchi, I. & Kronenberg, M. The transcription factor Th-POK negatively regulates Th17 differentiation in Vα14i NKT cells. Blood 120, 4524–4532 (2012).

22.

Enders, A. et al. ZBTB7B (Th-POK) regulates the development of IL-17-producing CD1d-restricted mouse NKT cells. J. Immunol. 189, 5240–5249 (2012).

23.

Verykokakis, M. et al. Essential functions for ID proteins at multiple checkpoints in invariant NKT cell development. J. Immunol. 191, 5973–5983 (2013).

24.

Roychoudhuri, R. et al. BACH2 represses effector programs to stabilize Treg-mediated immune homeostasis. Nature 498, 506–510 (2013).

25.

Tsukumo, S. et al. Bach2 maintains T cells in a naive state by suppressing effector memory-related genes. Proc. Natl Acad. Sci. USA 110, 10735–10740 (2013).

26.

Zook, E. C. & Kee, B. L. Development of innate lymphoid cells. Nat. Immunol. 17, 775–782 (2016).

27.

Hollister, K. et al. Insights into the role of Bcl6 in follicular Th cells using a new conditional mutant mouse model. J. Immunol. 191, 3705–3711 (2013).

28.

Mathew, R. et al. A negative feedback loop mediated by the Bcl6–cullin 3 complex limits TFH cell differentiation. J. Exp. Med. 211, 1137–1151 (2014).

29.

Carr, T. et al. The transcription factor lymphoid enhancer factor 1 controls invariant natural killer T cell expansion and Th2-type effector differentiation. J. Exp. Med. 212, 793–807 (2015).

30.

Engel, I. et al. Innate-like functions of natural killer T cell subsets result from highly divergent gene programs. Nat. Immunol. 17, 728–739 (2016).

31.

Hosoya, T. et al. Global dynamics of stage-specific transcription factor binding during thymocyte development. Sci. Rep. 8, 5605 (2018).

32.

Shih, H. Y. et al. Developmental acquisition of regulomes underlies innate lymphoid cell functionality. Cell 165, 1120–1133 (2016).

33.

Mao, A. P., Ishizuka, I. E., Kasal, D. N., Mandal, M. & Bendelac, A. A shared Runx1-bound Zbtb16 enhancer directs innate and innate-like lymphoid lineage development. Nat. Commun. 8, 863 (2017).

34.

Chang, P. P. et al. Identification of Bcl-6-dependent follicular helper NKT cells that provide cognate help for B cell responses. Nat. Immunol. 13, 35–43 (2012).

35.

Lund, R. et al. Identification of genes involved in the initiation of human Th1 or Th2 cell commitment. Eur. J. Immunol. 35, 3307–3319 (2005).

36.

Fukuda, T. et al. The murine BCL6 gene is induced in activated lymphocytes as an immediate early gene. Oncogene 11, 1657–1663 (1995).

37.

DiToro, D. et al. Differential IL-2 expression defines developmental fates of follicular versus nonfollicular helper T cells. Science 361, eaao2933 (2018).

38.

Ichii, H. et al. Role for Bcl-6 in the generation and maintenance of memory CD8+ T cells. Nat. Immunol. 3, 558–563 (2002).

39.

Ichii, H. et al. Bcl6 is essential for the generation of long-term memory CD4+ T cells. Int. Immunol. 19, 427–433 (2007).

40.

Wu, T. et al. The TCF1–Bcl6 axis counteracts type I interferon to repress exhaustion and maintain T cell stemness. Sci. Immunol. 1, eaai8593 (2016).

41.

Im, S. J. et al. Defining CD8+ T cells that provide the proliferative burst after PD-1 therapy. Nature 537, 417–421 (2016).

42.

Choi, Y. S. et al. Bcl6 expressing follicular helper CD4 T cells are fate committed early and have the capacity to form memory. J. Immunol. 190, 4014–4026 (2013).

43.

Bunting, K. L. & Melnick, A. M. New effector functions and regulatory mechanisms of BCL6 in normal and malignant lymphocytes. Curr. Opin. Immunol. 25, 339–346 (2013).

44.

Huang, C., Hatzi, K. & Melnick, A. Lineage-specific functions of Bcl-6 in immunity and inflammation are mediated by distinct biochemical mechanisms. Nat. Immunol. 14, 380–388 (2013).

45.

Huang, C. et al. The BCL6 RD2 domain governs commitment of activated B cells to form germinal centers. Cell Rep. 8, 1497–1508 (2014).

46.

Liu, X. et al. Bcl6 expression specifies the T follicular helper cell program in vivo. J. Exp. Med. 209, 1841–1824 (2012).

47.

Liu, X. et al. Genome-wide analysis identifies Bcl6-controlled regulatory networks during T follicular helper cell differentiation. Cell Rep. 14, 1735–1747 (2016).

48.

Hatzi, K. et al. BCL6 orchestrates TFH cell differentiation via multiple distinct mechanisms. J. Exp. Med. 212, 539–553 (2015).

49.

Luckey, C. J. et al. Memory T and memory B cells share a transcriptional program of self-renewal with long-term hematopoietic stem cells. Proc. Natl Acad. Sci. USA 103, 3304–3309 (2006).

50.

Abbas, A. R., Wolslegel, K., Seshasayee, D., Modrusan, Z. & Clark, H. F. Deconvolution of blood microarray data identifies cellular activation patterns in systemic lupus erythematosus. PLoS ONE 4, e6098 (2009).

51.

Verykokakis, M., Boos, M. D., Bendelac, A. & Kee, B. L. SAP protein-dependent natural killer T-like cells regulate the development of CD8+ T cells with innate lymphocyte characteristics. Immunity 33, 203–215 (2010).

52.

Moulos, P. & Hatzis, P. Systematic integration of RNA-seq statistical algorithms for accurate detection of differential gene expression patterns. Nucleic Acids Res. 43, e25 (2015).

53.

Corces, M. R. et al. An improved ATAC-seq protocol reduces background and enables interrogation of frozen tissues. Nat. Methods 14, 959–962 (2017).

54.

Langmead, B. & Salzberg, S. L. Fast gapped-read alignment with Bowtie 2. Nat. Methods 9, 357–359 (2012).

55.

Li, H. et al. The Sequence Alignment/Map format and SAMtools. Bioinformatics 25, 2078–2079 (2009).

56.

Quinlan, A. R. & Hall, I. M. BEDTools: a flexible suite of utilities for comparing genomic features. Bioinformatics 26, 841–842 (2010).

57.

Zhang, Y. et al. Model-based analysis of ChIP-seq (MACS). Genome Biol. 9, R137 (2008).

58.

Lun, A. T. & Smyth, G. K. csaw: a Bioconductor package for differential binding analysis of ChIP-seq data using sliding windows. Nucleic Acids Res. 44, e45 (2016).
Acknowledgements
This work was supported by a European Commission H2020-MSCA-IF grant (no. 655271) and a Hellenic Foundation for Research and Innovation grant (no. 486) to M.V. and grants from the National Institute of Allergy and Infectious Diseases (R56 AI104303 and R01 AI123396) to B.L.K. M.V. and P.M. were supported by a Stavros Niarchos Foundation start-up grant to BSRC Alexander Fleming (GRA-14451), as part of the Foundation's initiative to support the Greek research ecosystem. M.S. was supported by Knut and Alice Wallenbergs Foundation and Cancerfonden. A.L.D. was supported by NIH 5R01 AI32771. This work benefited from the project "Strategic Development of the Biomedical Research Institute Alexander Fleming" (MIS 5002562) to P.H., which was implemented under "Action for the Strategic Development on the Research and Technological Sector", funded by the Operational Programme "Competitiveness, Entrepreneurship and Innovation" (NSRF 2014–2020) and co-financed by Greece and the European Union. We thank A. Melnick (Weill Cornell Medicine) for advice and C. Dagla, G. van der Voort, A. Rao and L. Lenner for technical support. We also thank the InfrafrontierGR Infrastructure for providing mouse and flow cytometry facilities, BSRC Fleming Flow Facility, the University of Chicago Genomics Core Facility and the Cytometry and Antibodies Core Facility, the University of Chicago Comprehensive Cancer Center (P30 CA014599) and the NIH Tetramer Facility.
Ethics declarations
Competing interests
The authors declare no competing interests.
Additional information
Editor recognition statement L. A. Dempsey was the primary editor on this article and managed its editorial process and peer review in collaboration with the rest of the editorial team.
Publisher's note Springer Nature remains neutral with regard to jurisdictional claims in published maps and institutional affiliations.
Supplementary information
About this article
Cite this article
Gioulbasani, M., Galaras, A., Grammenoudi, S. et al. The transcription factor BCL-6 controls early development of innate-like T cells. Nat Immunol 21, 1058–1069 (2020). https://doi.org/10.1038/s41590-020-0737-y
Received:

Accepted:

Published:

Issue Date:
Further reading
Mallory Paynich Murray

,

Isaac Engel

,

Grégory Seumois

,

Sara Herrera-De la Mata

,

Sandy Lucette Rosales

,

Ashu Sethi

,

Ashmitaa Logandha Ramamoorthy Premlal

,

Goo-Young Seo

,

Jason Greenbaum

,

Pandurangan Vijayanand

,

James P. Scott-Browne

&

Mitchell Kronenberg

Nature Communications (2021)

Theodore T. Drashansky

,

Eric Y. Helm

,

Nina Curkovic

,

Jaimee Cooper

,

Pingyan Cheng

,

Xianghong Chen

,

Namrata Gautam

,

Lingsong Meng

,

Alexander J. Kwiatkowski

,

William O. Collins

,

Benjamin G. Keselowsky

,

Derek Sant'Angelo

,

Zhiguang Huo

,

Weizhou Zhang

,

Liang Zhou

&

Dorina Avram

iScience (2021)

BMC Bioinformatics (2021)