Abstract
Initiation of T cell antigen receptor (TCR) signaling involves phosphorylation of CD3 cytoplasmic tails by the tyrosine kinase Lck. How Lck is recruited to the TCR to initiate signaling is not well known. We report a previously unknown binding motif in the CD3ε cytoplasmic tail that interacts in a noncanonical mode with the Lck SH3 domain: the receptor kinase (RK) motif. The RK motif is accessible only upon TCR ligation, demonstrating how ligand binding leads to Lck recruitment. Binding of the Lck SH3 domain to the exposed RK motif resulted in local augmentation of Lck activity, CD3 phosphorylation, T cell activation and thymocyte development. Introducing the RK motif into a well-characterized 41BB-based chimeric antigen receptor enhanced its antitumor function in vitro and in vivo. Our findings underscore how a better understanding of the functioning of the TCR might promote rational improvement of chimeric antigen receptor design for the treatment of cancer.
This is a preview of subscription content
Access options
Subscribe to Journal
Get full journal access for 1 year
$59.00
only $4.92 per issue
All prices are NET prices.
VAT will be added later in the checkout.
Tax calculation will be finalised during checkout.
Rent or Buy article
Get time limited or full article access on ReadCube.
from$8.99
All prices are NET prices.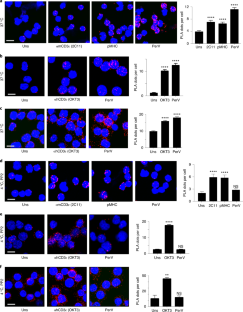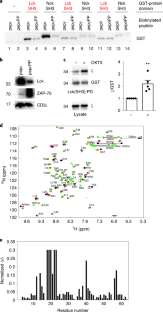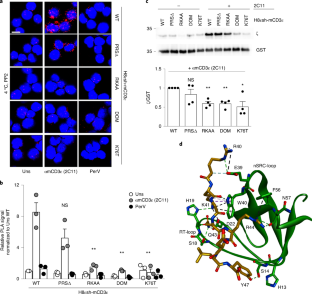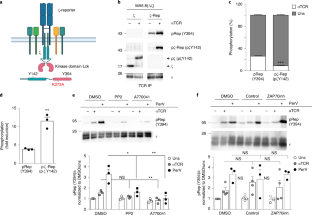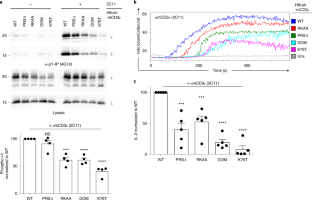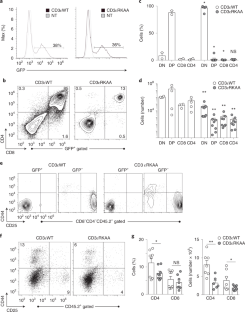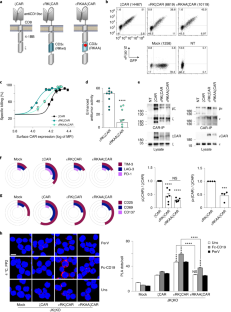 Data availability
The authors declare that all relevant data supporting the findings of this study are available within the paper and its supplementary information files.
References
1.

Reth, M. Antigen receptor tail clue. Nature 338, 383–384 (1989).

2.

Palacios, E. H. & Weiss, A. Function of the Src-family kinases, Lck and Fyn, in T-cell development and activation. Oncogene 23, 7990–8000 (2004).

3.

Veillette, A., Bookman, M. A., Horak, E. M. & Bolen, J. B. The CD4 and CD8 T cell surface antigens are associated with the internal membrane tyrosine-protein kinase p56lck. Cell 55, 301–308 (1988).

4.

Veillette, A., Caron, L., Fournel, M. & Pawson, T. Regulation of the enzymatic function of the lymphocyte-specific tyrosine protein kinase p56lck by the non-catalytic SH2 and SH3 domains. Oncogene 7, 971–980 (1992).

5.

Boggon, T. J. & Eck, M. J. Structure and regulation of Src family kinases. Oncogene 23, 7918–7927 (2004).

6.

Gorska, M. M., Stafford, S. J., Cen, O., Sur, S. & Alam, R. Unc119, a novel activator of Lck/Fyn, is essential for T cell activation. J. Exp. Med. 199, 369–379 (2004).

7.

Trible, R. P., Emert-Sedlak, L. & Smithgall, T. E. HIV-1 Nef selectively activates Src family kinases Hck, Lyn, and c-Src through direct SH3 domain interaction. J. Biol. Chem. 281, 27029–27038 (2006).

8.

Lund, T. C., Prator, P. C., Medveczky, M. M. & Medveczky, P. G. The Lck binding domain of herpesvirus saimiri tip-484 constitutively activates Lck and STAT3 in T cells. J. Virol. 73, 1689–1694 (1999).

9.

Jiang, N. et al. Two-stage cooperative T cell receptor-peptide major histocompatibility complex-CD8 trimolecular interactions amplify antigen discrimination. Immunity 34, 13–23 (2011).

10.

Casas, J. et al. Ligand-engaged TCR is triggered by Lck not associated with CD8 coreceptor. Nat. Commun. 5, 5624 (2014).

11.

Granja, C. B., Gozashti, C. S. & Dasgupta, J. D. CD4-independent signal transduction through the T-cell receptor (TCR/CD3). Immunology 83, 414–419 (1994).

12.

Zal, T., Zal, M. A. & Gascoigne, N. R. J. Inhibition of T cell receptor-coreceptor interactions by antagonist ligands visualized by live FRET imaging of the T-hybridoma immunological synapse. Immunity. 16, 521–534 (2002).

13.

Artyomov, M. N., Lis, M., Devadas, S., Davis, M. M. & Chakraborty, A. K. CD4 and CD8 binding to MHC molecules primarily acts to enhance Lck delivery. Proc. Natl Acad. Sci. USA 107, 16916–16921 (2010).

14.

Nika, K. et al. Constitutively active Lck kinase in T cells drives antigen receptor signal transduction. Immunity 32, 766–777 (2010).

15.

Roh, K.-H., Lillemeier, B. F., Wang, F. & Davis, M. M. The coreceptor CD4 is expressed in distinct nanoclusters and does not colocalize with T-cell receptor and active protein tyrosine kinase p56lck. Proc. Natl Acad. Sci. USA 112, 1604–1613 (2015).

16.

Rossy, J., Owen, D. M., Williamson, D. J., Yang, Z. & Gaus, K. Conformational states of the kinase Lck regulate clustering in early T cell signaling. Nat. Immunol. 14, 82–89 (2012).

17.

Davis, S. J. & van der Merwe, P. A. The kinetic-segregation model: TCR triggering and beyond. Nat. Immunol. 7, 803–809 (2006).

18.

Aivazian, D. & Stern, L. J. Phosphorylation of T cell receptor ζ is regulated by a lipid dependent folding transition. Nat. Struct. Biol. 7, 1023–1026 (2000).

19.

Minguet, S., Swamy, M., Alarcón, B., Luescher, I. F. & Schamel, W. W. A. Full activation of the T cell receptor requires both clustering and conformational changes at CD3. Immunity. 26, 43–54 (2007).

20.

Zhang, H., Cordoba, S.-P., Dushek, O. & van der Merwe, P. A. Basic residues in the T-cell receptor ζ cytoplasmic domain mediate membrane association and modulate signaling. Proc. Natl Acad. Sci. USA 108, 19323–19328 (2011).

21.

Martinez-Martin, N. et al. Cooperativity between T cell receptor complexes revealed by conformational mutants of CD3. Sci. Signal. 2, 43 (2009).

22.

Swamy, M. et al. A cholesterol-based allostery model of T cell receptor phosphorylation. Immunity 44, 1091–1101 (2016).

23.

Schamel, W. W., Alarcón, B. & Minguet, S. The TCR is an allosterically regulated macromolecular machinery changing its conformation while working. Immunol. Rev. 291, 8–25 (2019).

24.

Zhao, Y. et al. A herceptin-based chimeric antigen receptor with modified signaling domains leads to enhanced survival of transduced T lymphocytes and antitumor activity. J. Immunol. 183, 5563–5574 (2009).

25.

Eyquem, J. et al. Targeting a CAR to the TRAC locus with CRISPR/Cas9 enhances tumour rejection. Nature 543, 113–117 (2017).

26.

Sun, C. et al. THEMIS-SHP1 recruitment by 4-1BB tunes LCK-mediated priming of chimeric antigen receptor-redirected T cells. Cancer Cell 37, 216–225 (2020).

27.

Gil, D., Schamel, W. W. A., Montoya, M., Sánchez-Madrid, F. & Alarcón, B. Recruitment of Nck by CD3ε reveals a ligand-induced conformational change essential for T cell receptor signaling and synapse formation. Cell 109, 901–912 (2002).

28.

Blanco, R., Borroto, A., Schamel, W., Pereira, P. & Alarcón, B. Conformational changes in the T cell receptor differentially determine T cell subset development in mice. Sci. Signal. 7, 115 (2014).

29.

Schönle, A. et al. Caveolin-1 regulates TCR signal strength and regulatory T-cell differentiation into alloreactive T cells. Blood 127, 1930–1939 (2016).

30.

Peri, K. G. et al. Interactions of the SH2 domain of lymphocyte-specific tyrosine protein kinase p56lck with phosphotyrosine-containing proteins. Oncogene 8, 2765–2772 (1993).

31.

Alexandropoulos, K., Cheng, G. & Baltimore, D. Proline-rich sequences that bind to Src homology 3 domains with individual specificities. Proc. Natl Acad. Sci. USA 92, 3110–3114 (1995).

32.

Borroto, A. et al. Nck recruitment to the TCR required for ZAP70 activation during thymic development. J. Immunol. 190, 1103–1112 (2013).

33.

Kang, H. et al. SH3 domain recognition of a proline-independent tyrosine-based RKxxYxxY motif in immune cell adaptor SKAP55. EMBO J. 19, 2889–2899 (2000).

34.

Shah, N. H., Löbel, M., Weiss, A. & Kuriyan, J. Fine-tuning of substrate preferences of the Src-family kinase Lck revealed through a high-throughput specificity screen. Elife 7, 18 (2018).

35.

Paensuwan, P. Nck binds to the T cell antigen receptor using its SH3.1 and SH2 domains in a cooperative manner, promoting TCR functioning. J. Immunol. 96, 448–458 (2015).

36.

Molina, T. J. et al. Profound block in thymocyte development in mice lacking p56lck. Nature 357, 161–164 (1992).

37.

DeJarnette, J. B. et al. Specific requirement for CD3ε in T cell development. Proc. Natl Acad. Sci. USA 95, 14909–14914 (1998).

38.

Gärtner, F. et al. Immature thymocytes employ distinct signaling pathways for allelic exclusion versus differentiation and expansion. Immunity 10, 537–546 (1999).

39.

Kumar, R. et al. Increased sensitivity of antigen-experienced T cells through the enrichment of oligomeric T cell receptor complexes. Immunity 35, 375–387 (2011).

40.

Imai, C. et al. Chimeric receptors with 4-1BB signaling capacity provoke potent cytotoxicity against acute lymphoblastic leukemia. Leukemia 18, 676–684 (2004).

41.

Zhao, Z. et al. Structural design of engineered costimulation determines tumor rejection kinetics and persistence of CAR T cells. Cancer Cell 28, 415–428 (2015).

42.

Gkourtsa, A., van den Burg, J., Avula, T., Hochstenbach, F. & Distel, B. Binding of a proline-independent hydrophobic motif by the Candida albicans Rvs167-3 SH3 domain. Microbiol. Res. 190, 27–36 (2016).

43.

Hem, C. D. et al. T cell specific adaptor protein (TSAd) promotes interaction of Nck with Lck and SLP-76 in T cells. Cell Commun. Signal. 13, 31 (2015).

44.

Rudd, M. L., Tua-Smith, A. & Straus, D. B. Lck SH3 domain function is required for T-cell receptor signals regulating thymocyte development. Mol. Cell Biol. 26, 7892–7900 (2006).

45.

Ballek, O., Valečka, J., Manning, J. & Filipp, D. The pool of preactivated Lck in the initiation of T-cell signaling: a critical re-evaluation of the Lck standby model. Immunol. Cell Biol. 93, 384–395 (2014).

46.

Stirnweiss, A. et al. T cell activation results in conformational changes in the Src family kinase Lck to induce its activation. Sci. Signal. 6, 13 (2013).

47.

Xu, C. et al. Regulation of T cell receptor activation by dynamic membrane binding of the CD3ɛ cytoplasmic tyrosine-based motif. Cell 135, 702–713 (2008).

48.

Li, L. et al. Ionic CD3–Lck interaction regulates the initiation of T-cell receptor signaling. Proc. Natl Acad. Sci. USA 114, 5891–5899 (2017).

49.

Feucht, J. et al. Calibration of CAR activation potential directs alternative T cell fates and therapeutic potency. Nat. Med. 25, 82–88 (2019).

50.

Carpenito, C. et al. Control of large, established tumor xenografts with genetically retargeted human T cells containing CD28 and CD137 domains. Proc. Natl Acad. Sci. USA. 106, 3360–3365 (2009).

51.

Dopfer, E. P. et al. Analysis of novel phospho-ITAM specific antibodies in a S2 reconstitution system for TCR–CD3 signalling. Immunol. Letters 130, 43–50 (2010).

52.

Schweimer, K. et al. Structural Investigation of the binding of a herpesviral protein to the SH3 domain of tyrosine kinase Lck. Biochemistry 41, 5120–5130 (2002).

53.

de Vries, S. J., van Dijk, M. & Bonvin, A. M. J. J. The HADDOCK web server for data-driven biomolecular docking. Nat. Protocols 5, 883–897 (2010).

54.

Eswar, N. et al. Comparative protein structure modeling using MODELLER. Curr. Protoc. Protein Sci. 50, 2.9.1–2.9.31 (2007).
Acknowledgements
We thank K. Fehrenbach, A. Buschky, L. Herr, S. Pathan-Chhatbar and R. Heissmann for technical assistance and K. Astrahantseff, K. Schachtrup, Y. Kulathu and H. van Santen for critical reading of the manuscript. We also thank B. Alarcón for providing reagents and S. Andrade for scientific discussion. This study was supported by the German Research Foundation (DFG) through BIOSS - EXC294 and CIBSS - EXC 2189 to W.W.S., M.K. and S.M.; SFB1160 (P5 to S.M.); SFB850 (C10 to S.M.); SFB854 (B19 to W.W.S.); and SFB1381 (A9 to W.W.S.). The work of P.M. is financially supported by DFG through GU1225/3-1. O.S.Y., N.M.W., A.M. and S.M.B. were supported by DFG through GSC-4 (Spemann Graduate School). F.A.H. was partially supported by the Baden Württemberg Stiftung (Eliteprogramm to S.M.). R.M.V.C. was supported by the European Union's Horizon 2020 research and innovation programme under the Marie Skłodowska-Curie grant agreement no. 721358.
Ethics declarations
Competing interests
F.A.H., W.W.S. and S.M. are listed as inventors on a patent application filed by the University of Freiburg (PCT/EP2020/058075) related to the use of the RK motif in immunotherapy against cancer. W.W.S. receives consulting income from TCR2 therapeutics.
Additional information
Peer review information Jamie D. K. Wilson and Ioana Visan were the primary editors on this article and managed its editorial process and peer review in collaboration with the rest of the editorial team.
Publisher's note Springer Nature remains neutral with regard to jurisdictional claims in published maps and institutional affiliations.
Supplementary information
About this article
Cite this article
Hartl, F.A., Beck-Garcìa, E., Woessner, N.M. et al. Noncanonical binding of Lck to CD3ε promotes TCR signaling and CAR function. Nat Immunol 21, 902–913 (2020). https://doi.org/10.1038/s41590-020-0732-3
Received:

Accepted:

Published:

Issue Date: