Abstract
STING is essential for control of infections and for tumor immunosurveillance, but it can also drive pathological inflammation. STING resides on the endoplasmic reticulum (ER) and traffics following stimulation to the ERGIC/Golgi, where signaling occurs. Although STING ER exit is the rate-limiting step in STING signaling, the mechanism that drives this process is not understood. Here we identify STEEP as a positive regulator of STING signaling. STEEP was associated with STING and promoted trafficking from the ER. This was mediated through stimulation of phosphatidylinositol-3-phosphate (PtdIns(3)P) production and ER membrane curvature formation, thus inducing COPII-mediated ER-to-Golgi trafficking of STING. Depletion of STEEP impaired STING-driven gene expression in response to virus infection in brain tissue and in cells from patients with STING-associated diseases. Interestingly, STING gain-of-function mutants from patients interacted strongly with STEEP, leading to increased ER PtdIns(3)P levels and membrane curvature. Thus, STEEP enables STING signaling by promoting ER exit.
This is a preview of subscription content
Access options
Subscribe to Journal
Get full journal access for 1 year
$59.00
only $4.92 per issue
All prices are NET prices.
VAT will be added later in the checkout.
Tax calculation will be finalised during checkout.
Rent or Buy article
Get time limited or full article access on ReadCube.
from$8.99
All prices are NET prices.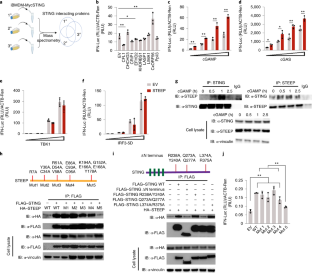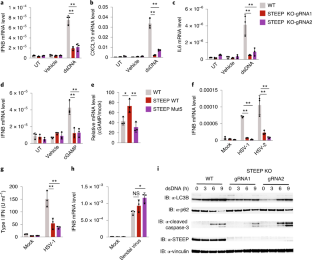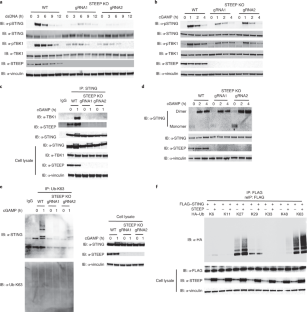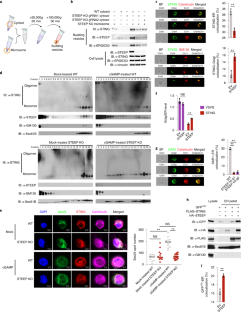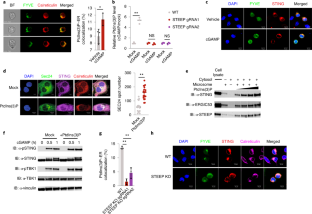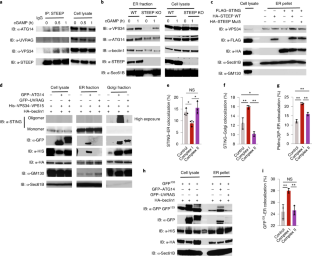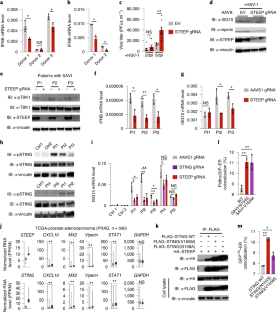 Data availability
The data that support the findings of this study are available from the corresponding author upon request. Source data are provided with this paper.
References
1.

Paludan, S. R. Activation and regulation of DNA-driven immune responses. Microbiol. Mol. Biol. Rev.79, 225–241 (2015).

2.

Sun, L., Wu, J., Du, F., Chen, X. & Chen, Z. J. Cyclic GMP–AMP synthase is a cytosolic DNA sensor that activates the type I interferon pathway. Science339, 786–791 (2013).

3.

Wu, J. et al. Cyclic GMP–AMP is an endogenous second messenger in innate immune signaling by cytosolic DNA. Science339, 826–830 (2013).

4.

Ishikawa, H. & Barber, G. N. STING is an endoplasmic reticulum adaptor that facilitates innate immune signalling. Nature455, 674–678 (2008).

5.

Shang, G., Zhang, C., Chen, Z. J., Bai, X. C. & Zhang, X. Cryo-EM structures of STING reveal its mechanism of activation by cyclic GMP–AMP. Nature567, 389–393 (2019).

6.

Tanaka, Y. & Chen, Z. J. STING specifies IRF3 phosphorylation by TBK1 in the cytosolic DNA signaling pathway. Sci. Signal.5, ra20 (2012).

7.

Liu, S. et al. Phosphorylation of innate immune adaptor proteins MAVS, STING, and TRIF induces IRF3 activation. Science347, aaa2630 (2015).

8.

Prabakaran, T. et al. Attenuation of cGAS–STING signaling is mediated by a p62/SQSTM1-dependent autophagy pathway activated by TBK1. EMBO J.37, e97858 (2018).

9.

Gulen, M. F. et al. Signalling strength determines proapoptotic functions of STING. Nat. Commun.8, 427 (2017).

10.

Reinert, L. S. et al. Sensing of HSV-1 by the cGAS–STING pathway in microglia orchestrates antiviral defense in the CNS. Nat. Commun.7, 13348 (2016).

11.

Li, X. D. et al. Pivotal roles of cGAS–cGAMP signaling in antiviral defense and immune adjuvant effects. Science341, 1390–1394 (2013).

12.

Woo, S. R. et al. STING-dependent cytosolic DNA sensing mediates innate immune recognition of immunogenic tumors. Immunity41, 830–842 (2014).

13.

Crow, Y. J. et al. Mutations in the gene encoding the 3′−5′ DNA exonuclease TREX1 cause Aicardi–Goutieres syndrome at the AGS1 locus. Nat. Genet.38, 917–920 (2006).

14.

Liu, Y. et al. Activated STING in a vascular and pulmonary syndrome. N. Engl. J. Med.371, 507–518 (2014).

15.

Fu, J. et al. STING agonist formulated cancer vaccines can cure established tumors resistant to PD-1 blockade. Sci. Transl. Med.7, 283ra252 (2015).

16.

Hanson, M. C. et al. Nanoparticulate STING agonists are potent lymph node–targeted vaccine adjuvants. J. Clin. Investig.125, 2532–2546 (2015).

17.

Haag, S. M. et al. Targeting STING with covalent small-molecule inhibitors. Nature559, 269–273 (2018).

18.

Saitoh, T. et al. Atg9a controls dsDNA-driven dynamic translocation of STING and the innate immune response. Proc. Natl Acad. Sci. USA106, 20842–20846 (2009).

19.

Dobbs, N. et al. STING activation by translocation from the ER is associated with infection and autoinflammatory disease. Cell Host Microbe18, 157–168 (2015).

20.

Srikanth, S. et al. The Ca2+ sensor STIM1 regulates the type I interferon response by retaining the signaling adaptor STING at the endoplasmic reticulum. Nat. Immunol.20, 152–162 (2019).

21.

Konno, H., Konno, K. & Barber, G. N. Cyclic dinucleotides trigger ULK1 (ATG1) phosphorylation of STING to prevent sustained innate immune signaling. Cell155, 688–698 (2013).

22.

Luo, W. W. et al. iRhom2 is essential for innate immunity to DNA viruses by mediating trafficking and stability of the adaptor STING. Nat. Immunol.17, 1057–1066 (2016).

23.

Wei, J. et al. SNX8 modulates innate immune response to DNA virus by mediating trafficking and activation of MITA. PLoS Pathog.14, e1007336 (2018).

24.

Yang, L. et al. UBXN3B positively regulates STING-mediated antiviral immune responses. Nat. Commun.9, 2329 (2018).

25.

Sun, M. S. et al. TMED2 potentiates cellular IFN responses to DNA viruses by reinforcing MITA dimerization and facilitating its trafficking. Cell Rep.25, 3086–3098 (2018).

26.

Lee, M. N. et al. Identification of regulators of the innate immune response to cytosolic DNA and retroviral infection by an integrative approach. Nat. Immunol.14, 179–185 (2013).

27.

Szappanos, D. et al. The RNA helicase DDX3X is an essential mediator of innate antimicrobial immunity. PLoS Pathog.14, e1007397 (2018).

28.

Liu, Y. P. et al. Endoplasmic reticulum stress regulates the innate immunity critical transcription factor IRF3. J. Immunol.189, 4630–4639 (2012).

29.

Paludan, S. R., Reinert, L. S. & Hornung, V. DNA-stimulated cell death: implications for host defence, inflammatory diseases and cancer. Nat. Rev. Immunol.19, 151–153 (2019).

30.

Ni, G., Konno, H. & Barber, G. N. Ubiquitination of STING at lysine 224 controls IRF3 activation. Sci. Immunol.2, eaah7119 (2017).

31.

Ge, L., Melville, D., Zhang, M. & Schekman, R. The ER–Golgi intermediate compartment is a key membrane source for the LC3 lipidation step of autophagosome biogenesis. Elife2, e00947 (2013).

32.

Ge, L., Zhang, M. & Schekman, R. Phosphatidylinositol 3-kinase and COPII generate LC3 lipidation vesicles from the ER–Golgi intermediate compartment. Elife3, e04135 (2014).

33.

Ogawa, E., Mukai, K., Saito, K., Arai, H. & Taguchi, T. The binding of TBK1 to STING requires exocytic membrane traffic from the ER. Biochem. Biophys. Res. Commun.503, 138–145 (2018).

34.

Gui, X. et al. Autophagy induction via STING trafficking is a primordial function of the cGAS pathway. Nature567, 262–266 (2019).

35.

Hanna, M. G. T. et al. Sar1 GTPase activity is regulated by membrane curvature. J. Biol. Chem.291, 1014–1027 (2016).

36.

Balch, W. E., McCaffery, J. M., Plutner, H. & Farquhar, M. G. Vesicular stomatitis virus glycoprotein is sorted and concentrated during export from the endoplasmic reticulum. Cell76, 841–852 (1994).

37.

Long, K. R. et al. Sar1 assembly regulates membrane constriction and ER export. J. Cell Biol.190, 115–128 (2010).

38.

Shibata, Y., Voeltz, G. K. & Rapoport, T. A. Rough sheets and smooth tubules. Cell126, 435–439 (2006).

39.

He, S. et al. PtdIns(3)P-bound UVRAG coordinates Golgi–ER retrograde and Atg9 transport by differential interactions with the ER tether and the beclin 1 complex. Nat. Cell Biol.15, 1206–1219 (2013).

40.

Hirama, T. et al. Membrane curvature induced by proximity of anionic phospholipids can initiate endocytosis. Nat. Commun.8, 1393 (2017).

41.

Kihara, A., Noda, T., Ishihara, N. & Ohsumi, Y. Two distinct Vps34 phosphatidylinositol 3-kinase complexes function in autophagy and carboxypeptidase Y sorting in Saccharomyces cerevisiae. J. Cell Biol.152, 519–530 (2001).

42.

An, J. et al. Expression of cyclic GMP–AMP synthase in patients with systemic lupus erythematosus. Arthritis Rheumatol.69, 800–807 (2017).

43.

Mukai, K. et al. Activation of STING requires palmitoylation at the Golgi. Nat. Commun.7, 11932 (2016).

44.

Kawasaki, T., Takemura, N., Standley, D. M., Akira, S. & Kawai, T. The second messenger phosphatidylinositol-5-phosphate facilitates antiviral innate immune signaling. Cell Host Microbe14, 148–158 (2013).

45.

Brandizzi, F. & Barlowe, C. Organization of the ER–Golgi interface for membrane traffic control. Nat. Rev. Mol. Cell Biol.14, 382–392 (2013).

46.

Jongsma, M. L. et al. An ER-associated pathway defines endosomal architecture for controlled cargo transport. Cell166, 152–166 (2016).

47.

Raiborg, C. et al. Repeated ER-endosome contacts promote endosome translocation and neurite outgrowth. Nature520, 234–238 (2015).

48.

Rasmussen, S. B. et al. Activation of autophagy by alpha-herpesviruses in myeloid cells is mediated by cytoplasmic viral DNA through a mechanism dependent on stimulator of IFN genes. J. Immunol.187, 5268–5276 (2011).

49.

Lee, C. C., Avalos, A. M. & Ploegh, H. L. Accessory molecules for Toll-like receptors and their function. Nat. Rev. Immunol.12, 168–179 (2012).

50.

Chan, Y. K. & Gack, M. U. Viral evasion of intracellular DNA and RNA sensing. Nat. Rev. Microbiol.14, 360–373 (2016).

51.

Hendel, A. et al. Chemically modified guide RNAs enhance CRISPR-Cas genome editing in human primary cells. Nat. Biotechnol.33, 985–989 (2015).

52.

Wang, Q. et al. The E3 ubiquitin ligase AMFR and INSIG1 bridge the activation of TBK1 kinase by modifying the adaptor STING. Immunity41, 919–933 (2014).

53.

Pettitt, T. R., Dove, S. K., Lubben, A., Calaminus, S. D. & Wakelam, M. J. Analysis of intact phosphoinositides in biological samples. J. Lipid Res.47, 1588–1596 (2006).

54.

Anders, S. & Huber, W. Differential expression analysis for sequence count data. Genome Biol.11, R106 (2010).
Acknowledgements
The technical assistance of K. S. Petersen, the AU FACS Core Facility and the AU Health Bioimaging Core Facility is greatly appreciated. We acknowledge T. Melia, Yale University, for critical reading of the manuscript. This work was funded by the European Research Council (ERC-AdG ENVISION; 786602), the Novo Nordisk Foundation (NNF18OC0030274) and the Lundbeck Foundation (R198-2015-171; R268-2016-3927); B.-c.Z. is funded by a postdoctoral grant from the Danish Council for Independent Research, Medical Sciences (5053-00083B); the postdoctoral salary to S.A. was funded by the European Union under the Horizon 2020 Research and Innovation Program and Marie Skłodowska-Curie Actions (MSCA) – international fellowship (PathAutoBio 796840); the PhD scholarship to S.J.W. was funded by the European Union under the Horizon 2020 Research and Innovation Program and the MSCA-Innovative Training Networks Programme MSCA-ITN (EDGE, 675278); the postdoctoral grant to A.T. was funded by the Lundbeck Foundation (R264-2017-3344).
Ethics declarations
Competing interests
The authors declare no competing interests.
Additional information
Peer review information Jamie D. K. Wilson and Ioana Visan were the primary editors on this article and managed its editorial process and peer review in collaboration with the rest of the editorial team.
Publisher's note Springer Nature remains neutral with regard to jurisdictional claims in published maps and institutional affiliations.
Supplementary information
About this article
Cite this article
Zhang, Bc., Nandakumar, R., Reinert, L.S. et al. STEEP mediates STING ER exit and activation of signaling. Nat Immunol 21, 868–879 (2020). https://doi.org/10.1038/s41590-020-0730-5
Received:

Accepted:

Published:

Issue Date:
Further reading
Ruoxi Zhang
Rui Kang
Daolin Tang

Signal Transduction and Targeted Therapy (2021)

Alexiane Decout
Jason D. Katz
Andrea Ablasser

Nature Reviews Immunology (2021)