Abstract
Skin wounds heal by coordinated induction of inflammation and tissue repair, but the initiating events are poorly defined. Here we uncover a fundamental role of commensal skin microbiota in this process and show that it is mediated by the recruitment and the activation of type I interferon (IFN)-producing plasmacytoid DC (pDC). Commensal bacteria colonizing skin wounds trigger activation of neutrophils to express the chemokine CXCL10, which recruits pDC and acts as an antimicrobial protein to kill exposed microbiota, leading to the formation of CXCL10–bacterial DNA complexes. These complexes and not complexes with host-derived DNA activate pDC to produce type I IFNs, which accelerate wound closure by triggering skin inflammation and early T cell–independent wound repair responses, mediated by macrophages and fibroblasts that produce major growth factors required for healing. These findings identify a key function of commensal microbiota in driving a central innate wound healing response of the skin.
Your institute does not have access to this article
Relevant articles
Open Access articles citing this article.
Yuting Lu

,

Xiangliang Yuan

…

Qin Li

Journal of Hematology & Oncology Open Access 29 April 2022

Nikaïa Smith

,

Pedro Goncalves

…

James P. Di Santo

Nature Immunology Open Access 01 September 2021
Access options
Subscribe to Nature+
Get immediate online access to the entire Nature family of 50+ journals
Subscribe to Journal
Get full journal access for 1 year
$59.00
only $4.92 per issue
All prices are NET prices.
VAT will be added later in the checkout.
Tax calculation will be finalised during checkout.
Buy article
Get time limited or full article access on ReadCube.
$32.00
All prices are NET prices.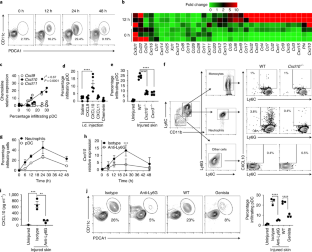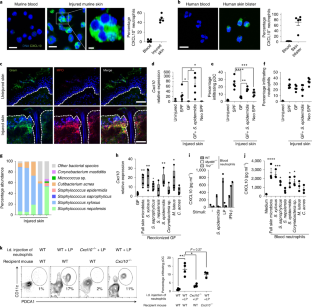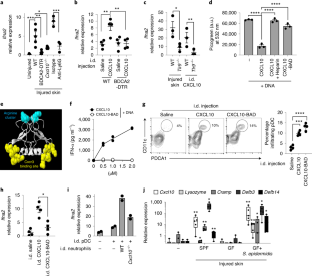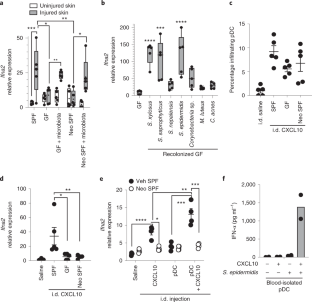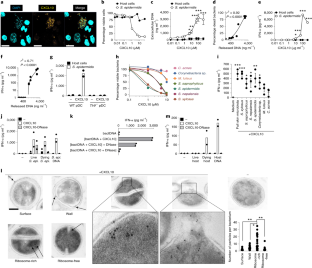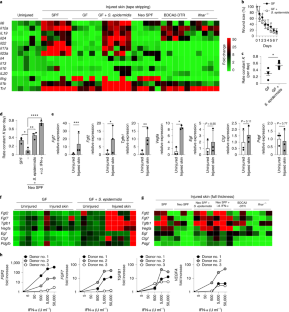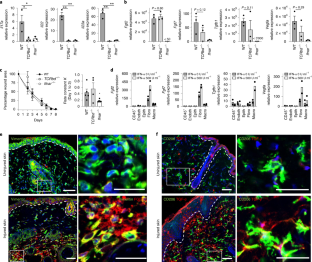 Data availability
All data supporting the findings of this study are available within the article and its supplementary information and from the corresponding author upon reasonable request. Source data are provided with this paper.
References
Sen, C. K. et al. Human skin wounds: a major and snowballing threat to public health and the economy. Wound Repair Regen. 17, 763–771 (2009).

Singer, A. J. & Clark, R. A. Cutaneous wound healing. New Engl. J. Med. 341, 738–746 (1999).

Martin, P. Wound healing—aiming for perfect skin regeneration. Science 276, 75–81 (1997).

Gurtner, G. C., Werner, S., Barrandon, Y. & Longaker, M. T. Wound repair and regeneration. Nature 453, 314–321 (2008).

Eming, S. A., Martin, P. & Tomic-Canic, M. Wound repair and regeneration: mechanisms, signaling, and translation. Sci. Transl. Med. 6, 265sr266 (2014).

Theofilopoulos, A. N., Baccala, R., Beutler, B. & Kono, D. H. Type I interferons (α/β) in immunity and autoimmunity. Ann. Rev. Immunol. 23, 307–336 (2005).

Sun, L. et al. Type I interferons link viral infection to enhanced epithelial turnover and repair. Cell Host Microbe. 17, 85–97 (2015).

Gregorio, J. et al. Plasmacytoid dendritic cells sense skin injury and promote wound healing through type I interferons. J. Exp. Med. 207, 2921–2930 (2010).

Fischer, J. C. et al. RIG-I/MAVS and STING signaling promote gut integrity during irradiation- and immune-mediated tissue injury. Sci. Transl. Med. 9, eaag2513 (2017).

Tohyama, M. et al. IFN-α enhances IL-22 receptor expression in keratinocytes: a possible role in the development of psoriasis. J. Invest. Dermatol. 132, 1933–1935 (2012).

Lande, R. et al. Plasmacytoid dendritic cells sense self-DNA coupled with antimicrobial peptide. Nature 449, 564–569 (2007).

Lande, R. et al. Cationic antimicrobial peptides in psoriatic skin cooperate to break innate tolerance to self-DNA. Euro. J. Immunol. 45, 203–213 (2015).

Zasloff, M. Antimicrobial peptides of multicellular organisms. Nature 415, 389–395 (2002).

Stacy, A. & Belkaid, Y. Microbial guardians of skin health. Science 363, 227–228 (2019).

Naik, S. et al. Commensal-dendritic-cell interaction specifies a unique protective skin immune signature. Nature 520, 104–108 (2015).

Linehan, J. L. et al. Non-classical immunity controls microbiota impact on skin immunity and tissue repair. Cell 172, 784–796.e18 (2018).

Werner, S. & Grose, R. Regulation of wound healing by growth factors and cytokines. Physiol. Rev. 83, 835–870 (2003).

Bradley, K. C. et al. Microbiota-driven tonic interferon signals in lung stromal cells protect from influenza virus infection. Cell Rep. 28, 245–256.e4 (2019).

Martin, P. K. et al. Autophagy proteins suppress protective type I interferon signalling in response to the murine gut microbiota. Nat Microbiol. 3, 1131–1141 (2018).

Vanbervliet, B. et al. The inducible CXCR3 ligands control plasmacytoid dendritic cell responsiveness to the constitutive chemokine stromal cell-derived factor 1 (SDF-1)/CXCL12. J. Exp. Med. 198, 823–830 (2003).

Ordonez-Rueda, D. et al. A hypomorphic mutation in the Gfi1 transcriptional repressor results in a novel form of neutropenia. Euro. J. Immunol. 42, 2395–2408 (2012).

Cole, A. M. et al. Cutting edge: IFN-inducible ELR– CXC chemokines display defensin-like antimicrobial activity. J. Immunol. 167, 623–627 (2001).

Margulieux, K. R., Fox, J. W., Nakamoto, R. K. & Hughes, M. A. CXCL10 acts as a bifunctional antimicrobial molecule against Bacillus anthracis. MBio 7, e00334–16 (2016).

Bauer, S. et al. Human TLR9 confers responsiveness to bacterial DNA via species-specific CpG motif recognition. Proc. Natl Acad. Sci. USA 98, 9237–9242 (2001).

Krieg, A. M. et al. CpG motifs in bacterial DNA trigger direct B-cell activation. Nature 374, 546–549 (1995).

Stetson, D. B. & Medzhitov, R. Type I interferons in host defense. Immunity. 25, 373–381 (2006).

Jameson, J. M., Sharp, L. L., Witherden, D. A. & Havran, W. L. Regulation of skin cell homeostasis by gamma delta T cells. Front Biosci. 9, 2640–2651 (2004).

Kono, H. & Rock, K. L. How dying cells alert the immune system to danger. Nat. Rev. Immunol. 8, 279–289 (2008).

Yang, D. et al. Many chemokines including CCL20/MIP-3α display antimicrobial activity. J. Leukocyte Biol. 74, 448–455 (2003).

Lee, E. Y. et al. Helical antimicrobial peptides assemble into protofibril scaffolds that present ordered dsDNA to TLR9. Nat. Commun. 10, 1012 (2019).

Schmidt, N. W. et al. Liquid-crystalline ordering of antimicrobial peptide-DNA complexes controls TLR9 activation. Nat. Mater. 14, 696–700 (2015).

Wolf, M. & Moser, B. Antimicrobial activities of chemokines: not just a side-effect? Front. Immunol. 3, 213 (2012).

Nestle, F. O. et al. Plasmacytoid predendritic cells initiate psoriasis through interferon-α production. J. Exp. Med. 202, 135–143 (2005).

Stehlikova, Z. et al. Dysbiosis of skin microbiota in psoriatic patients: co-occurrence of fungal and bacterial communities. Front Microbiol. 10, 438 (2019).

De Cecco, M. et al. L1 drives IFN in senescent cells and promotes age-associated inflammation. Nature 566, 73–78 (2019).

Demaria, M. et al. An essential role for senescent cells in optimal wound healing through secretion of PDGF-AA. Dev. Cell. 31, 722–733 (2014).

Hiebert, P. et al. Nrf2-Mediated Fibroblast Reprogramming Drives Cellular Senescence by Targeting the Matrisome. Dev. Cell 46, 145–161.e10 (2018).

Jameson, J. et al. A role for skin γδ T cells in wound repair. Science 296, 747–749 (2002).

Harrison, O. J. et al. Commensal-specific T cell plasticity promotes rapid tissue adaptation to injury. Science 363, eaat6280 (2019).

Loesche, M. et al. Temporal stability in chronic wound microbiota is associated with poor healing. J. Invest. Dermatol. 137, 237–244 (2017).

Yankeelov, J. A. Jr. Modification of arginine in proteins by oligomers of 2,3-butanedione. Biochemistry. 9, 2433–2439 (1970).

Akbar, A. N. et al. Investigation of the cutaneous response to recall antigen in humans in vivo. Clin. Exp. Immunol. 173, 163–172 (2013).
Acknowledgements
We thank M. Malissen from INSERM U1104 laboratory in CIML, Marseille, France for providing the Genista mice; B. Humbel and J. Daraspe from the Electron Microscopy Facility of the University of Lausanne for the electron microscopy; H. Maby-El Hajjami, L. Cagnon, S.A. Maillard and F. Stuber for recruiting healthy volunteers and for establishing and running the human skin blister study; and I. Surbeck and A. Joncic for technical assistance. This work was funded by the Swiss National Science Foundation to M.G. (grant no. 310030_163360), a grant from the Fondation Pierre Mercier to J.D.D., and an Alfred and Annemarie von Sick grant to D.E.S. and M.G.
Ethics declarations
Competing interests
The authors declare no competing interests.
Additional information
Peer review information Zoltan Fehervari was the primary editor on this article and managed its editorial process and peer review in collaboration with the rest of the editorial team.
Publisher's note Springer Nature remains neutral with regard to jurisdictional claims in published maps and institutional affiliations.
Supplementary information
About this article
Cite this article
Di Domizio, J., Belkhodja, C., Chenuet, P. et al. The commensal skin microbiota triggers type I IFN–dependent innate repair responses in injured skin. Nat Immunol 21, 1034–1045 (2020). https://doi.org/10.1038/s41590-020-0721-6
Received:

Accepted:

Published:

Issue Date:

DOI: https://doi.org/10.1038/s41590-020-0721-6