Abstract
Differentiation of CD4+ T cells into either follicular helper T (TFH) or type 1 helper T (TH1) cells influences the balance between humoral and cellular adaptive immunity, but the mechanisms whereby pathogens elicit distinct effector cells are incompletely understood. Here we analyzed the spatiotemporal dynamics of CD4+ T cells during infection with recombinant vesicular stomatitis virus (VSV), which induces early, potent neutralizing antibodies, or recombinant lymphocytic choriomeningitis virus (LCMV), which induces a vigorous cellular response but inefficient neutralizing antibodies, expressing the same T cell epitope. Early exposure of dendritic cells to type I interferon (IFN), which occurred during infection with VSV, induced production of the cytokine IL-6 and drove TFH cell polarization, whereas late exposure to type I IFN, which occurred during infection with LCMV, did not induce IL-6 and allowed differentiation into TH1 cells. Thus, tight spatiotemporal regulation of type I IFN shapes antiviral CD4+ T cell differentiation and might instruct vaccine design strategies.
This is a preview of subscription content
Access options
Subscribe to Journal
Get full journal access for 1 year
$59.00
only $4.92 per issue
All prices are NET prices.
VAT will be added later in the checkout.
Tax calculation will be finalised during checkout.
Rent or Buy article
Get time limited or full article access on ReadCube.
from$8.99
All prices are NET prices.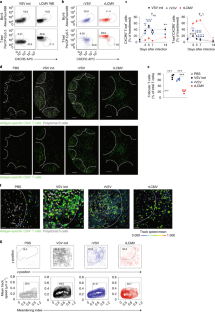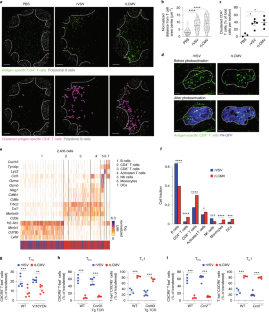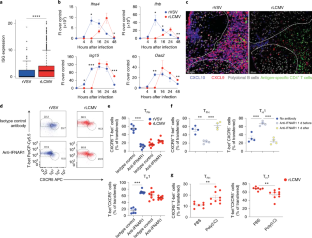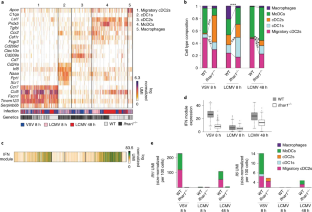 Data availability
All data are available in the main text or the Supplementary Information. RNA-seq data that support the findings of this study have been deposited in the Gene Expression Omnibus (GEO) under accession GSE130009. Source data for Figs. 1–4 and Extended Data Figs. 1, 2, 5–7 and 9 are presented with the paper.
References
1.

Hale, J. S. et al. Distinct memory CD4+ T cells with commitment to T follicular helper- and T helper 1-cell lineages are generated after acute viral infection. Immunity 38, 805–817 (2013).

2.

Wu, T. et al. Cutting edge: miR-17-92 is required for both CD4 Th1 and T follicular helper cell responses during viral infection. J. Immunol. 195, 2515–2519 (2015).

3.

Crotty, S. Follicular helper CD4 T cells (TFH). Annu. Rev. Immunol. 29, 621–663 (2011).

4.

Vinuesa, C. G., Linterman, M. A., Yu, D. & MacLennan, I. C. Follicular helper T cells. Annu. Rev. Immunol. 34, 335–368 (2016).

5.

Szabo, S. J. et al. A novel transcription factor, T-bet, directs Th1 lineage commitment. Cell 100, 655–669 (2000).

6.

Arnaout, R. A. & Nowak, M. A. Competitive coexistence in antiviral immunity. J. Theor. Biol. 204, 431–441 (2000).

7.

Hangartner, L., Zinkernagel, R. M. & Hengartner, H. Antiviral antibody responses: the two extremes of a wide spectrum. Nat. Rev. Immunol. 6, 231–243 (2006).

8.

Kuka, M. & Iannacone, M. Viral subversion of B cell responses within secondary lymphoid organs. Nat. Rev. Immunol. 18, 255–265 (2018).

9.

Maloy, K. J. et al. Qualitative and quantitative requirements for CD4+ T cell-mediated antiviral protection. J. Immunol. 162, 2867–2874 (1999).

10.

Oxenius, A., Bachmann, M. F., Zinkernagel, R. M. & Hengartner, H. Virus-specific MHC-class II-restricted TCR-transgenic mice: effects on humoral and cellular immune responses after viral infection. Eur. J. Immunol. 28, 390–400 (1998).

11.

Fazilleau, N., McHeyzer-Williams, L. J., Rosen, H. & McHeyzer-Williams, M. G. The function of follicular helper T cells is regulated by the strength of T cell antigen receptor binding. Nat. Immunol. 10, 375–384 (2009).

12.

Fallet, B. et al. Interferon-driven deletion of antiviral B cells at the onset of chronic infection. Sci. Immunol. 1, eaah6817 (2016).

13.

Osokine, I. et al. Type I interferon suppresses de novo virus-specific CD4 Th1 immunity during an established persistent viral infection. Proc. Natl Acad. Sci. USA 111, 7409–7414 (2014).

14.

Kerfoot, S. M. et al. Germinal center B cell and T follicular helper cell development initiates in the interfollicular zone. Immunity 34, 947–960 (2011).

15.

Mempel, T. R., Henrickson, S. E. & Von Andrian, U. H. T-cell priming by dendritic cells in lymph nodes occurs in three distinct phases. Nature 427, 154–159 (2004).

16.

Gerner, M. Y., Casey, K. A., Kastenmuller, W. & Germain, R. N. Dendritic cell and antigen dispersal landscapes regulate T cell immunity. J. Exp. Med. 214, 3105–3122 (2017).

17.

Groom, J. R. et al. CXCR3 chemokine receptor–ligand interactions in the lymph node optimize CD4+ T helper 1 cell differentiation. Immunity 37, 1091–1103 (2012).

18.

Medaglia, C. et al. Spatial reconstruction of immune niches by combining photoactivatable reporters and scRNA-seq. Science 358, 1622–1626 (2017).

19.

Victora, G. D. et al. Germinal center dynamics revealed by multiphoton microscopy with a photoactivatable fluorescent reporter. Cell 143, 592–605 (2010).

20.

Hangartner, L. et al. Antiviral immune responses in gene-targeted mice expressing the immunoglobulin heavy chain of virus-neutralizing antibodies. Proc. Natl Acad. Sci. USA 100, 12883–12888 (2003).

21.

Cook, K. D., Kline, H. C. & Whitmire, J. K. NK cells inhibit humoral immunity by reducing the abundance of CD4+ T follicular helper cells during a chronic virus infection. J. Leukoc. Biol. 98, 153–162 (2015).

22.

Narni-Mancinelli, E. et al. Fate mapping analysis of lymphoid cells expressing the NKp46 cell surface receptor. Proc. Natl Acad. Sci. USA 108, 18324–18329 (2011).

23.

Buch, T. et al. A Cre-inducible diphtheria toxin receptor mediates cell lineage ablation after toxin administration. Nat. Methods 2, 419–426 (2005).

24.

Odermatt, B., Eppler, M., Leist, T. P., Hengartner, H. & Zinkernagel, R. M. Virus-triggered acquired immunodeficiency by cytotoxic T-cell-dependent destruction of antigen-presenting cells and lymph follicle structure. Proc. Natl Acad. Sci. USA 88, 8252–8256 (1991).

25.

Borrow, P., Evans, C. F. & Oldstone, M. B. Virus-induced immunosuppression: immune system-mediated destruction of virus-infected dendritic cells results in generalized immune suppression. J. Virol. 69, 1059–1070 (1995).

26.

Moseman, E. A., Wu, T., de la Torre, J. C., Schwartzberg, P. L. & McGavern, D. B. Type I interferon suppresses virus-specific B cell responses by modulating CD8+ T cell differentiation. Sci. Immunol. 1, eaah3565 (2016).

27.

Isogawa, M., Chung, J., Murata, Y., Kakimi, K. & Chisari, F. V. CD40 activation rescues antiviral CD8+ T cells from PD-1-mediated exhaustion. PLoS Pathog. 9, e1003490 (2013).

28.

Sammicheli, S. et al. Inflammatory monocytes hinder antiviral B cell responses. Sci. Immunol. 1, eaah6789 (2016).

29.

Boring, L. et al. Impaired monocyte migration and reduced type 1 (Th1) cytokine responses in C-C chemokine receptor 2 knockout mice. J. Clin. Invest. 100, 2552–2561 (1997).

30.

Eisenbarth, S. C. Dendritic cell subsets in T cell programming: location dictates function. Nat. Rev. Immunol. 19, 89–103 (2018).

31.

Li, J., Lu, E., Yi, T. & Cyster, J. G. EBI2 augments Tfh cell fate by promoting interaction with IL-2-quenching dendritic cells. Nature 533, 110–114 (2016).

32.

Kuka, M., De Giovanni, M. & Iannacone, M. The role of type I interferons in CD4+ T cell differentiation. Immunol. Lett. 215, 19–23 (2019).

33.

Nurieva, R. I. et al. Generation of T follicular helper cells is mediated by interleukin-21 but independent of T helper 1, 2, or 17 cell lineages. Immunity 29, 138–149 (2008).

34.

Eto, D. et al. IL-21 and IL-6 are critical for different aspects of B cell immunity and redundantly induce optimal follicular helper CD4 T cell (Tfh) differentiation. PLoS One 6, e17739 (2011).

35.

Cucak, H., Yrlid, U., Reizis, B., Kalinke, U. & Johansson-Lindbom, B. Type I interferon signalling in dendritic cells stimulates the development of lymph-node-resident T follicular helper cells. Immunity 31, 491–501 (2009).

36.

Baran, Y. et al. MetaCell: analysis of single-cell RNA-seq data using K-nn graph partitions. Genome Biol. 20, 206 (2019).

37.

Chakarov, S. & Fazilleau, N. Monocyte-derived dendritic cells promote T follicular helper cell differentiation. EMBO Mol. Med. 6, 590–603 (2014).

38.

Scheu, S., Dresing, P. & Locksley, R. M. Visualization of IFNβ production by plasmacytoid versus conventional dendritic cells under specific stimulation conditions in vivo. Proc. Natl Acad. Sci. USA 105, 20416–20421 (2008).

39.

Kumagai, Y. et al. Alveolar macrophages are the primary interferon-α producer in pulmonary infection with RNA viruses. Immunity 27, 240–252 (2007).

40.

Iannacone, M. et al. Subcapsular sinus macrophages prevent CNS invasion on peripheral infection with a neurotropic virus. Nature 465, 1079–1083 (2010).

41.

Trinchieri, G. Lymphocyte choriomeningitis virus plays hide-and-seek with type 1 interferon. Cell Host Microbe 11, 553–555 (2012).

42.

Gaya, M. et al. Inflammation-induced disruption of SCS macrophages impairs B cell responses to secondary infection. Science 347, 667–672 (2015).

43.

Kawano, Y., Noma, T., Kou, K., Yoshizawa, I. & Yata, J. Regulation of human IgG subclass production by cytokines: human IgG subclass production enhanced differentially by interleukin-6. Immunology 84, 278–284 (1995).

44.

Hsieh, C. S. et al. Development of TH1 CD4+ T cells through IL-12 produced by Listeria-induced macrophages. Science 260, 547–549 (1993).

45.

Bradley, L. M., Dalton, D. K. & Croft, M. A direct role for IFN-γ in regulation of Th1 cell development. J. Immunol. 157, 1350–1358 (1996).

46.

Heufler, C. et al. Interleukin-12 is produced by dendritic cells and mediates T helper 1 development as well as interferon-γ production by T helper 1 cells. Eur. J. Immunol. 26, 659–668 (1996).

47.

Oxenius, A., Karrer, U., Zinkernagel, R. M. & Hengartner, H. IL-12 is not required for induction of type 1 cytokine responses in viral infections. J. Immunol. 162, 965–973 (1999).

48.

Schijns, V. E. et al. Mice lacking IL-12 develop polarized Th1 cells during viral infection. J. Immunol. 160, 3958–3964 (1998).

49.

Madisen, L. et al. A robust and high-throughput Cre reporting and characterization system for the whole mouse brain. Nat. Neurosci. 13, 133–140 (2010).

50.

Pircher, H., Bürki, K., Lang, R., Hengartner, H. & Zinkernagel, R. M. Tolerance induction in double specific T-cell receptor transgenic mice varies with antigen. Nature 342, 559–561 (1989).

51.

Müller, U. et al. Functional role of type I and type II interferons in antiviral defense. Science 264, 1918–1921 (1994).

52.

Yamazaki, C. et al. Critical roles of a dendritic cell subset expressing a chemokine receptor, XCR1. J. Immunol. 190, 6071–6082 (2013).

53.

Caton, M. L., Smith-Raska, M. R. & Reizis, B. Notch–RBP-J signalling controls the homeostasis of CD8– dendritic cells in the spleen. J. Exp. Med. 204, 1653–1664 (2007).

54.

Prigge, J. R. et al. Type I IFNs act upon hematopoietic progenitors to protect and maintain hematopoiesis during Pneumocystis lung infection in mice. J. Immunol. 195, 5347–5357 (2015).

55.

Jung, S. et al. Analysis of fractalkine receptor CX3CR1 function by targeted deletion and green fluorescent protein reporter gene insertion. Mol. Cell. Biol. 20, 4106–4114 (2000).

56.

Saederup, N. et al. Selective chemokine receptor usage by central nervous system myeloid cells in CCR2-red fluorescent protein knock-in mice. PLoS One 5, e13693 (2010).

57.

Eschli, B. et al. Early antibodies specific for the neutralizing epitope on the receptor binding subunit of the lymphocytic choriomeningitis virus glycoprotein fail to neutralize the virus. J. Virol. 81, 11650–11657 (2007).

58.

Tonti, E. et al. Bisphosphonates target B cells to enhance humoral immune responses. Cell Rep. 5, 323–330 (2013).

59.

Hor, J. L. et al. Spatiotemporally distinct interactions with dendritic cell subsets facilitates CD4+ and CD8+ T cell activation to localized viral infection. Immunity 43, 554–565 (2015).

60.

Sammicheli, S., Kuka, M. & Iannacone, M. Intravital imaging of B cell responses in lymph nodes. Methods Mol. Biol. 1763, 63–74 (2018).

61.

Tan, Y. et al. Streamlining volumetric multi-channel image cytometry using hue-saturation-brightness-based surface creation. Commun. Biol. 1, 136 (2018).

62.

Jaitin, D. A. et al. Massively parallel single-cell RNA-seq for marker-free decomposition of tissues into cell types. Science 343, 776–779 (2014).
Acknowledgements
We thank M. Mainetti and M. Freschi for technical support; M. Silva for secretarial assistance; J.C. de la Torre (The Scripps Research Institute) for providing rLCMV; D. Pinschewer (University of Basel) for providing rVSV; M. Linterman (Babraham Institute) for providing Cd11c-Cre; Ifnar1fl/fl bone marrow; R. Pardi and A. Mondino for critical reading of the manuscript; and the members of the Iannacone laboratory for helpful discussions. Confocal immunofluorescence histology was carried out at Alembic, San Raffaele Scientific Institute, and the Vita-Salute San Raffaele University. Flow cytometry was carried out at FRACTAL, San Raffaele Scientific Institute. We would like to acknowledge the PhD program in Basic and Applied Immunology and Oncology at Vita-Salute San Raffaele University, as V.C. and E.S. conducted this study as partial fulfillment of their PhD in Molecular Medicine within this program. M.I. is supported by European Research Council (ERC) Consolidator grant 725038, Italian Association for Cancer Research (AIRC) grants 19891 and 22737, Italian Ministry of Health (MoH) grant GR-2011-02347925, Lombardy Foundation for Biomedical Research (FRRB) grant 2015-0010, the European Molecular Biology Organization Young Investigator Program and a Career Development award from the Giovanni Armenise-Harvard Foundation. M.K. is supported by Italian Ministry of Education grants SIR-RBSI14BAO5 and PRIN-2017ZXT5WR.
Ethics declarations
Competing interests
The authors declare no competing interests.
Additional information
Peer review information Ioana Visan was the primary editor on this article and managed its editorial process and peer review in collaboration with the rest of the editorial team.
Publisher's note Springer Nature remains neutral with regard to jurisdictional claims in published maps and institutional affiliations.
Supplementary information
About this article
Cite this article
De Giovanni, M., Cutillo, V., Giladi, A. et al. Spatiotemporal regulation of type I interferon expression determines the antiviral polarization of CD4+ T cells. Nat Immunol 21, 321–330 (2020). https://doi.org/10.1038/s41590-020-0596-6
Received:

Accepted:

Published:

Issue Date: