Abstract
Mitochondrial abnormalities have been noted in lupus, but the causes and consequences remain obscure. Autophagy-related genes ATG5, ATG7 and IRGM have been previously implicated in autoimmune disease. We reasoned that failure to clear defective mitochondria via mitophagy might be a foundational driver in autoimmunity by licensing mitochondrial DNA–dependent induction of type I interferon. Here, we show that mice lacking the GTPase IRGM1 (IRGM homolog) exhibited a type I interferonopathy with autoimmune features. Irgm1 deletion impaired the execution of mitophagy with cell-specific consequences. In fibroblasts, mitochondrial DNA soiling of the cytosol induced cyclic GMP-AMP synthase (cGAS)–stimulator of interferon genes (STING)-dependent type I interferon, whereas in macrophages, lysosomal Toll-like receptor 7 was activated. In vivo, Irgm1–/– tissues exhibited mosaic dependency upon nucleic acid receptors. Whereas salivary and lacrimal gland autoimmune pathology was abolished and lung pathology was attenuated by cGAS and STING deletion, pancreatic pathology remained unchanged. These findings reveal fundamental connections between mitochondrial quality control and tissue-selective autoimmune disease.
Relevant articles
Open Access articles citing this article.
Erika Iervasi

,

Antonella Strangio

…

Daniele Saverino

Immunologic Research Open Access 23 May 2023

Jian Xu

,

Dongming Wu

…

Zhuqing Rao

Cell Death Discovery Open Access 10 February 2023

Andrea Irazoki

,

Isabel Gordaliza-Alaguero

…

Antonio Zorzano

Nature Communications Open Access 06 January 2023
Access options
Access Nature and 54 other Nature Portfolio journals
Get Nature+, our best-value online-access subscription
$29.99 / 30 days
cancel any time
Subscribe to this journal
Receive 12 print issues and online access
$189.00 per year
only $15.75 per issue
Rent or buy this article
Get just this article for as long as you need it
$39.95
Prices may be subject to local taxes which are calculated during checkout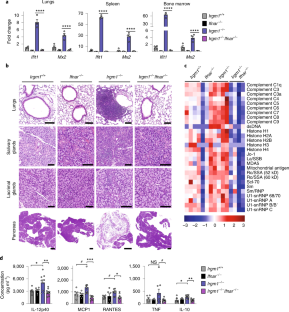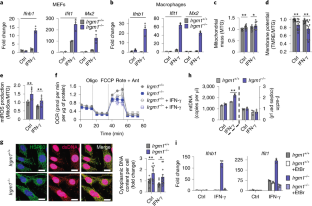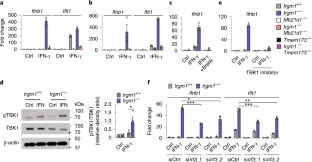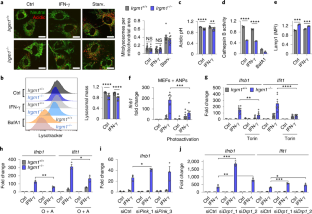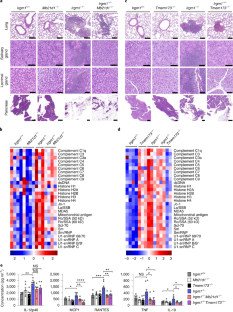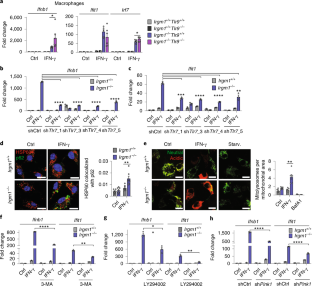 Data availability
The data that support the findings of this study are available from the corresponding author upon reasonable request. Source data are provided with this paper.
References
Thorlacius, G. E., Wahren-Herlenius, M. & Ronnblom, L. An update on the role of type I interferons in systemic lupus erythematosus and Sjogren's syndrome. Curr. Opin. Rheumatol. 30, 471–481 (2018).

Crow, Y. J. & Manel, N. Aicardi–Goutieres syndrome and the type I interferonopathies. Nat. Rev. Immunol. 15, 429–440 (2015).

Rodero, M. P. & Crow, Y. J. Type I interferon-mediated monogenic autoinflammation: the type I interferonopathies, a conceptual overview. J. Exp. Med. 213, 2527–2538 (2016).

West, A. P. et al. Mitochondrial DNA stress primes the antiviral innate immune response. Nature 520, 553–557 (2015).

Rongvaux, A. et al. Apoptotic caspases prevent the induction of type I interferons by mitochondrial DNA. Cell 159, 1563–1577 (2014).

Gkirtzimanaki, K. et al. IFNα impairs autophagic degradation of mtDNA promoting autoreactivity of SLE monocytes in a STING-dependent fashion. Cell Rep. 25, 921–933.e5 (2018).

Monteith, A. J. et al. Defects in lysosomal maturation facilitate the activation of innate sensors in systemic lupus erythematosus. Proc. Natl Acad. Sci. USA 113, E2142–E2151 (2016).

Caza, T. N. et al. HRES-1/Rab4-mediated depletion of Drp1 impairs mitochondrial homeostasis and represents a target for treatment in SLE. Ann. Rheum. Dis. 73, 1888–1897 (2014).

Perl, A., Gergely, P. Jr. & Banki, K. Mitochondrial dysfunction in T cells of patients with systemic lupus erythematosus. Int. Rev. Immunol. 23, 293–313 (2004).

Pilla-Moffett, D., Barber, M. F., Taylor, G. A. & Coers, J. Interferon-inducible GTPases in host resistance, inflammation and disease. J. Mol. Biol. 428, 3495–3513 (2016).

Haldar, A. K. et al. IRG and GBP host resistance factors target aberrant, 'non-self' vacuoles characterized by the missing of 'self' IRGM proteins. PLoS Pathog. 9, e1003414 (2013).

Zhao, Y. O., Könen-Waisman, S., Taylor, G. A., Martens, S. & Howard, J. C. Localisation and mislocalisation of the interferon-inducible immunity-related GTPase, Irgm1 (LRG-47) in mouse cells. PLoS ONE 5, e8648 (2010).

Maric-Biresev, J. et al. Loss of the interferon-γ-inducible regulatory immunity-related GTPase (IRG), Irgm1, causes activation of effector IRG proteins on lysosomes, damaging lysosomal function and predicting the dramatic susceptibility of Irgm1-deficient mice to infection. BMC Biol. 14, 33 (2016).

Traver, M. K. et al. Immunity-related GTPase M (IRGM) proteins influence the localization of guanylate-binding protein 2 (GBP2) by modulating macroautophagy. J. Biol. Chem. 286, 30471–30480 (2011).

Azzam, K. M. et al. Irgm1 coordinately regulates autoimmunity and host defense at select mucosal surfaces. JCI Insight 2, e91914 (2017).

Zhou, X. J. et al. Genetic association of PRDM1-ATG5 intergenic region and autophagy with systemic lupus erythematosus in a Chinese population. Ann. Rheum. Dis. 70, 1330–1337 (2011).

Xia, Q. et al. Autophagy-related IRGM genes confer susceptibility to ankylosing spondylitis in a Chinese female population: a case–control study. Genes Immun. 18, 42–47 (2017).

Yao, Q. M. et al. Polymorphisms in autophagy-related gene IRGM are associated with susceptibility to autoimmune thyroid diseases. Biomed. Res. Int. 2018, 7959707 (2018).

Nocturne, G. & Mariette, X. Advances in understanding the pathogenesis of primary Sjogren's syndrome. Nat. Rev. Rheumatol. 9, 544–556 (2013).

Feng, C. G., Weksberg, D. C., Taylor, G. A., Sher, A. & Goodell, M. A. The p47 GTPase Lrg-47 (Irgm1) links host defense and hematopoietic stem cell proliferation. Cell Stem Cell 2, 83–89 (2008).

Matsuzawa, T. et al. IFN-γ elicits macrophage autophagy via the p38 MAPK signaling pathway. J. Immunol. 189, 813–818 (2012).

King, K. Y. et al. Irgm1 protects hematopoietic stem cells by negative regulation of IFN signaling. Blood 118, 1525–1533 (2011).

West, A. P. & Shadel, G. S. Mitochondrial DNA in innate immune responses and inflammatory pathology. Nat. Rev. Immunol. 17, 363–375 (2017).

Nakahira, K. et al. Autophagy proteins regulate innate immune responses by inhibiting the release of mitochondrial DNA mediated by the NALP3 inflammasome. Nat. Immunol. 12, 222–230 (2011).

Ma, F. et al. Positive feedback regulation of type I IFN production by the IFN-inducible DNA sensor cGAS. J. Immunol. 194, 1545–1554 (2015).

Hamacher-Brady, A. & Brady, N. R. Mitophagy programs: mechanisms and physiological implications of mitochondrial targeting by autophagy. Cell Mol. Life Sci. 73, 775–795 (2016).

Katayama, H., Kogure, T., Mizushima, N., Yoshimori, T. & Miyawaki, A. A sensitive and quantitative technique for detecting autophagic events based on lysosomal delivery. Chem. Biol. 18, 1042–1052 (2011).

Singh, S. B., Davis, A. S., Taylor, G. A. & Deretic, V. Human IRGM induces autophagy to eliminate intracellular mycobacteria. Science 313, 1438–1441 (2006).

Georgakopoulos, N. D., Wells, G. & Campanella, M. The pharmacological regulation of cellular mitophagy. Nat. Chem. Biol. 13, 136–146 (2017).

McWilliams, T. G. et al. Phosphorylation of Parkin at serine 65 is essential for its activation in vivo. Open Biol. 8, 180108 (2018).

Di Malta, C., Cinque, L. & Settembre, C. Transcriptional regulation of autophagy: mechanisms and diseases. Front. Cell Dev. Biol. 7, 114 (2019).

Trudeau, K. M. et al. Lysosome acidification by photoactivated nanoparticles restores autophagy under lipotoxicity. J. Cell Biol. 214, 25–34 (2016).

He, L., Weber, K. J., Diwan, A. & Schilling, J. D. Inhibition of mTOR reduces lipotoxic cell death in primary macrophages through an autophagy-independent mechanism. J. Leukoc. Biol. 100, 1113–1124 (2016).

Oka, T. et al. Mitochondrial DNA that escapes from autophagy causes inflammation and heart failure. Nature 485, 251–255 (2012).

Rodríguez-Nuevo, A. et al. Mitochondrial DNA and TLR9 drive muscle inflammation upon Opa1 deficiency. EMBO J. 37, e96553 (2018).

Ewald, S. E. et al. The ectodomain of Toll-like receptor 9 is cleaved to generate a functional receptor. Nature 456, 658–662 (2008).

Ewald, S. E. et al. Nucleic acid recognition by Toll-like receptors is coupled to stepwise processing by cathepsins and asparagine endopeptidase. J. Exp. Med. 208, 643–651 (2011).

Kruger, A. et al. Human TLR8 senses UR/URR motifs in bacterial and mitochondrial RNA. EMBO Rep. 16, 1656–1663 (2015).

Martinez, J. et al. Molecular characterization of LC3-associated phagocytosis reveals distinct roles for rubicon, NOX2 and autophagy proteins. Nat. Cell Biol. 17, 893–906 (2015).

Caielli, S. et al. Oxidized mitochondrial nucleoids released by neutrophils drive type I interferon production in human lupus. J. Exp. Med. 213, 697–713 (2016).

Lama, L. et al. Development of human cGAS-specific small-molecule inhibitors for repression of dsDNA-triggered interferon expression. Nat. Commun. 10, 2261 (2019).

Sharma, S. et al. Suppression of systemic autoimmunity by the innate immune adaptor STING. Proc. Natl Acad. Sci. USA 112, E710–E717 (2015).

Shi, B. et al. SNAPIN is critical for lysosomal acidification and autophagosome maturation in macrophages. Autophagy 13, 285–301 (2017).

Vitner, E. B. et al. Induction of the type I interferon response in neurological forms of Gaucher disease. J. Neuroinflammation 13, 104 (2016).

Borralho, P. M., Rodrigues, C. M. & Steer, C. J. microRNAs in mitochondria: an unexplored niche. Adv. Exp. Med. Biol. 887, 31–51 (2015).

Gao, S. et al. Two novel lncRNAs discovered in human mitochondrial DNA using PacBio full-length transcriptome data. Mitochondrion 38, 41–47 (2018).

Chauhan, S., Mandell, M. A. & Deretic, V. IRGM governs the core autophagy machinery to conduct antimicrobial defense. Mol. Cell 58, 507–521 (2015).

Kumar, S. et al. Mechanism of Stx17 recruitment to autophagosomes via IRGM and mammalian Atg8 proteins. J. Cell Biol. 217, 997–1013 (2018).

Sliter, D. A. et al. Parkin and PINK1 mitigate STING-induced inflammation. Nature 561, 258–262 (2018).

Ajayi, T. A. et al. Crohn's disease IRGM risk alleles are associated with altered gene expression in human tissues. Am. J. Physiol. Gastrointest. Liver Physiol. 316, G95–G105 (2019).

Collazo, C. M. et al. Inactivation of LRG-47 and IRG-47 reveals a family of interferon γ–inducible genes with essential, pathogen-specific roles in resistance to infection. J. Exp. Med. 194, 181–188 (2001).

Hemmi, H. et al. A Toll-like receptor recognizes bacterial DNA. Nature 408, 740–745 (2000).

Martinez, J. et al. Noncanonical autophagy inhibits the autoinflammatory, lupus-like response to dying cells. Nature 533, 115–119 (2016).
Acknowledgements
We thank P. West, D. Sliter, F. Zhao, and J. Santos for helpful discussions; N. Yan (UTSW) and R. Youle (NINDS/NIH) for reagents; G. Barber (University of Miami) for Tmem173–/– mice; C. Bosio (NIAID/NIH) for Tlr9–/– mice; L. Perrow for assistance with breeding; D. King for blood cell count analysis; the NIEHS Histology Core laboratory for assistance with processing, sectioning, and staining of tissues; K. Gerrish, B. Elgart and N. Clausen of the NIEHS Molecular Genomics Core; N. Martin and D. Chen of the NIEHS Viral Vector Core; C.J. Tucker, A.K. Janoshazi, and E. Scappini of the NIEHS Fluorescence Microscopy and Imaging Center; and C. Bortner and M. Sifre of the NIEHS Flow Cytometry Core Facility. This research was supported by the Intramural Research Program of the NIH, National Institute of Environmental Health Sciences (grant no. Z01 ES102005 (M.B.F.) and grant no. ZIA ES103286 (J. Martinez)); and by grant nos. AI135398, AI145929, and AI148243 (G.A.T.); grant no. R21AG063373 (M.W.G.); and grant no. R21AG060456 (O.S.S.).
Ethics declarations
Competing interests
The authors declare no competing interests.
Additional information
Peer review information Nature Immunology thanks Søren Paludan and the other, anonymous, reviewer(s) for their contribution to the peer review of this work. L. A. Dempsey was the primary editor on this article and managed its editorial process and peer review in collaboration with the rest of the editorial team.
Publisher's note Springer Nature remains neutral with regard to jurisdictional claims in published maps and institutional affiliations.
Supplementary information
About this article
Cite this article
Rai, P., Janardhan, K.S., Meacham, J. et al. IRGM1 links mitochondrial quality control to autoimmunity. Nat Immunol 22, 312–321 (2021). https://doi.org/10.1038/s41590-020-00859-0
Received:

Accepted:

Published:

Issue Date:

DOI: https://doi.org/10.1038/s41590-020-00859-0