Abstract
The antimicrobial functions of neutrophils are facilitated by a defensive armamentarium of proteins stored in granules, and by the formation of neutrophil extracellular traps (NETs). However, the toxic nature of these structures poses a threat to highly vascularized tissues, such as the lungs. Here, we identified a cell-intrinsic program that modified the neutrophil proteome in the circulation and caused the progressive loss of granule content and reduction of the NET-forming capacity. This program was driven by the receptor CXCR2 and by regulators of circadian cycles. As a consequence, lungs were protected from inflammatory injury at times of day or in mouse mutants in which granule content was low. Changes in the proteome, granule content and NET formation also occurred in human neutrophils, and correlated with the incidence and severity of respiratory distress in pneumonia patients. Our findings unveil a 'disarming' strategy of neutrophils that depletes protein stores to reduce the magnitude of inflammation.
Access options
Subscribe to Journal
Get full journal access for 1 year
$225.00
only $18.75 per issue
All prices are NET prices.
VAT will be added later in the checkout.
Rent or Buy article
Get time limited or full article access on ReadCube.
from$8.99
All prices are NET prices.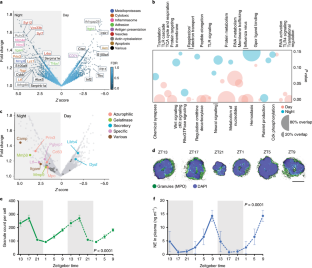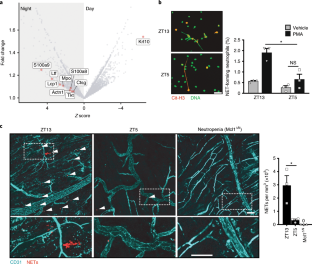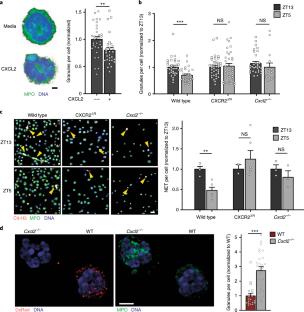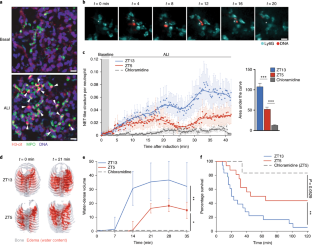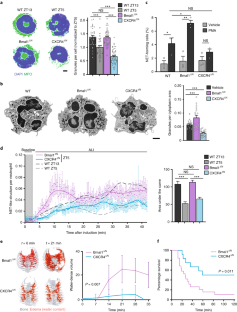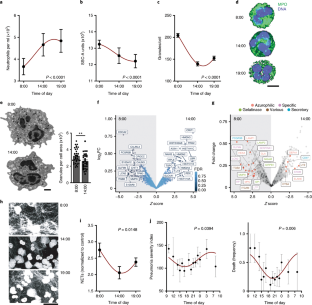 Data availability
Proteomics data for mouse and human neutrophils are available in the Peptide Atlas with accession number PASS01364. Proteomics data for Bmal1∆N mice at ZT5 and ZT13 and WT vehicle versus AMD3100-treated mice are also available in the Peptide Atlas with the accession number PASS01438. Mouse circadian transcriptomics used for the correlation analysis are available at the Gene Expression Omnibus with accession number GSE102310. Human sequencing data used for the correlation analysis are available at GEO with accession number GSE136632. All other data are available upon request.
Code availability
ImageJ macros for TEM granule quantification and extracellular DNA quantification are available in FigShare (see the relevant section of Methods for specific links). All other code is available upon request.
References
1.

Cowland, J. B. & Borregaard, N. Granulopoiesis and granules of human neutrophils. Immunol. Rev. 273, 11–28 (2016).

2.

Ley, K. et al. Neutrophils: new insights and open questions. Sci. Immunol. 3, eaat4579 (2018).

3.

Borregaard, N., Sørensen, O. E. & Theilgaard-Mönch, K. Neutrophil granules: a library of innate immunity proteins. Trends Immunol. 28, 340–345 (2007).

4.

Rørvig, S., Østergaard, O., Heegaard, N. H. & Borregaard, N. Proteome profiling of human neutrophil granule subsets, secretory vesicles, and cell membrane: correlation with transcriptome profiling of neutrophil precursors. J. Leukoc. Biol. 94, 711–721 (2013).

5.

Borregaard, N. Neutrophils, from marrow to microbes. Immunity 33, 657–670 (2010).

6.

Le Cabec, V., Cowland, J. B., Calafat, J. & Borregaard, N. Targeting of proteins to granule subsets is determined by timing and not by sorting: the specific granule protein NGAL is localized to azurophil granules when expressed in HL-60 cells. Proc. Natl Acad. Sci. USA 93, 6454–6457 (1996).

7.

Evrard, M. et al. Developmental analysis of bone marrow neutrophils reveals populations specialized in expansion, trafficking, and effector functions. Immunity 48, 364–379.e8 (2018).

8.

Grassi, L. et al. Dynamics of transcription regulation in human bone marrow myeloid differentiation to mature blood neutrophils. Cell Rep. 24, 2784–2794 (2018).

9.

Tak, T., Tesselaar, K., Pillay, J., Borghans, J. A. & Koenderman, L. What's your age again? Determination of human neutrophil half-lives revisited. J. Leukoc. Biol. 94, 595–601 (2013).

10.

Casanova-Acebes, M. et al. Neutrophils instruct homeostatic and pathological states in naive tissues. J. Exp. Med. 215, 2778–2795 (2018).

11.

He, W. et al. Circadian expression of migratory factors establishes lineage-specific signatures that guide the homing of leukocyte subsets to tissues. Immunity 49, 1175–1190.e7 (2018).

12.

Adrover, J. M. et al. A neutrophil timer coordinates immune defense and vascular protection. Immunity 51, 966–967 (2019).

13.

Grommes, J. & Soehnlein, O. Contribution of neutrophils to acute lung injury. Mol. Med. 17, 293–307 (2011).

14.

Looney, M. R., Su, X., Van Ziffle, J. A., Lowell, C. A. & Matthay, M. A. Neutrophils and their Fcγ receptors are essential in a mouse model of transfusion-related acute lung injury. J. Clin. Investig. 116, 1615–1623 (2006).

15.

Sreeramkumar, V. et al. Neutrophils scan for activated platelets to initiate inflammation. Science 346, 1234–1238 (2014).

16.

Matthay, M. A. & Zemans, R. L. The acute respiratory distress syndrome: pathogenesis and treatment. Ann. Rev. Pathol. 6, 147–163 (2011).

17.

Casanova-Acebes, M. et al. Rhythmic modulation of the hematopoietic niche through neutrophil clearance. Cell 153, 1025–1035 (2013).

18.

Devi, S. et al. Neutrophil mobilization via plerixafor-mediated CXCR4 inhibition arises from lung demargination and blockade of neutrophil homing to the bone marrow. J. Exp. Med. 210, 2321–2336 (2013).

19.

Zhang, D. et al. Neutrophil ageing is regulated by the microbiome. Nature 525, 528–532 (2015).

20.

Papayannopoulos, V., Metzler, K. D., Hakkim, A. & Zychlinsky, A. Neutrophil elastase and myeloperoxidase regulate the formation of neutrophil extracellular traps. J. Cell Biol. 191, 677–691 (2010).

21.

Urban, C. F. et al. Neutrophil extracellular traps contain calprotectin, a cytosolic protein complex involved in host defense against Candida albicans. PLoS Pathog. 5, e1000639 (2009).

22.

Csepregi, J. Z. et al. Myeloid-specific deletion of Mcl-1 yields severely neutropenic mice that survive and breed in homozygous form. J. Immunol. 201, 3793–3803 (2018).

23.

Looney, M. R. et al. Platelet depletion and aspirin treatment protect mice in a two-event model of transfusion-related acute lung injury. J. Clin. Investig. 119, 3450–3461 (2009).

24.

Caudrillier, A. et al. Platelets induce neutrophil extracellular traps in transfusion-related acute lung injury. J. Clin. Investig. 122, 2661–2671 (2012).

25.

Hidalgo, A. et al. Heterotypic interactions enabled by polarized neutrophil microdomains mediate thromboinflammatory injury. Nat. Med. 15, 384–391 (2009).

26.

Thomas, G. M. et al. Extracellular DNA traps are associated with the pathogenesis of TRALI in humans and mice. Blood 119, 6335–6343 (2012).

27.

Looney, M. R., Gilliss, B. M. & Matthay, M. A. Pathophysiology of transfusion-related acute lung injury. Curr. Opin. Hematol. 17, 418–423 (2010).

28.

Looney, M. R. et al. Stabilized imaging of immune surveillance in the mouse lung. Nat. Methods 8, 91–96 (2011).

29.

Muller, J. E. et al. Circadian variation in the frequency of onset of acute myocardial infarction. N. Engl. J. Med. 313, 1315–1322 (1985).

30.

Scheiermann, C., Kunisaki, Y. & Frenette, P. S. Circadian control of the immune system. Nat. Rev. Immunol. 13, 190–198 (2013).

31.

Suarez-Barrientos, A. et al. Circadian variations of infarct size in acute myocardial infarction. Heart 97, 970–976 (2011).

32.

Cilloniz, C. et al. Acute respiratory distress syndrome in mechanically ventilated patients with community-acquired pneumonia. Eur. Respir. J. 51, 1702215 (2018).

33.

Faurschou, M. & Borregaard, N. Neutrophil granules and secretory vesicles in inflammation. Microbes Infect. 5, 1317–1327 (2003).

34.

Meyer-Hoffert, U. Neutrophil-derived serine proteases modulate innate immune responses. Front. Biosci. (Landmark Ed.) 14, 3409–3418 (2009).

35.

Pham, C. T. Neutrophil serine proteases: specific regulators of inflammation. Nat. Rev. Immunol. 6, 541–550 (2006).

36.

Houghton, A. M. et al. Neutrophil elastase-mediated degradation of IRS-1 accelerates lung tumor growth. Nat. Med. 16, 219–223 (2010).

37.

Talukdar, S. et al. Neutrophils mediate insulin resistance in mice fed a high-fat diet through secreted elastase. Nat. Med. 18, 1407–1412 (2012).

38.

Coffelt, S. B. et al. IL-17-producing γδ T cells and neutrophils conspire to promote breast cancer metastasis. Nature 522, 345–348 (2015).

39.

Quail, D. F. et al. Obesity alters the lung myeloid cell landscape to enhance breast cancer metastasis through IL5 and GM-CSF. Nat. Cell. Biol. 19, 974–987 (2017).

40.

Doerschuk, C. M. The role of CD18-mediated adhesion in neutrophil sequestration induced by infusion of activated plasma in rabbits. Am. J. Respir. Cell Mol. Biol. 7, 140–148 (1992).

41.

Yipp, B. G. et al. The lung is a host defense niche for immediate neutrophil-mediated vascular protection. Sci. Immunol. 2, eaam8929 (2017).

42.

Muller, J. E. & Tofler, G. H. Circadian variation and cardiovascular disease. N. Engl. J. Med. 325, 1038–1039 (1991).

43.

Engelmann, B. & Massberg, S. Thrombosis as an intravascular effector of innate immunity. Nat. Rev. Immunol. 13, 34–45 (2013).

44.

Jimenez-Alcazar, M. et al. Host DNases prevent vascular occlusion by neutrophil extracellular traps. Science 358, 1202–1206 (2017).

45.

Navarro, P. et al. General statistical framework for quantitative proteomics by stable isotope labeling. J. Proteome Res. 13, 1234–1247 (2014).

46.

Garcia-Marques, F. et al. A novel systems-biology algorithm for the analysis of coordinated protein responses using quantitative proteomics. Mol. Cell. Proteomics 15, 1740–1760 (2016).

47.

Trevisan-Herraz, M. et al. SanXoT: a modular and versatile package for the quantitative analysis of high-throughput proteomics experiments. Bioinformatics 35, 1594–1596 (2019).

48.

Li, P. et al. PAD4 is essential for antibacterial innate immunity mediated by neutrophil extracellular traps. J. Exp. Med. 207, 1853–1862 (2010).
Acknowledgements
We thank members of the Comparative Medicine Unit and Advanced Microscopy Unit at CNIC. This study was supported by Intramural grants from the Severo Ochoa program (IGP-SO), a grant from Fundació La Marató de TV3 (120/C/2015-20153032), grant SAF2015-65607-R from Ministerio de Ciencia, Investigacion y Universidades (MCIU) with cofunding from Fondo Europeo de Desarrollo Regional, grant RTI2018-095497-B-I00 from MCIU and HR17_00527 from Fundación La Caixa (to A.H.), and fellowship BES-2013-065550 from MCIU (to J.M.A.), fellowship from La Caixa Foundation (ID 100010434, code LCF/BQ/DR19/11740022, to A.A.-C.) and fellowship Health-PERIS 2016–2020 (to C.C.) Funds were also obtained from Instituto de Salud Carlos III (FIS PI17/01601, to I.L.) and SAF2015-68632-R from MCIU (to M.A.M.); Wellcome Trust Seed Award in Science (206103/Z/17/Z, to D.R.), SFB1123-A1/A10 from Deutsche Forschungsgemeinschaft and ERC-AdG 692511 (to C.W.); SAF2017-84494-C2-R and Programa Red Guipuzcoana de Ciencia, Tecnología e Información 2018-CIEN-000058-01 (to J.R.-C.). Work at CIC biomaGUNE was performed under the Maria de Maeztu Units of Excellence Program from the Spanish State Research Agency (MDM-2017-0720). C.W. is a van de Laar professor of atherosclerosis. The CNIC is supported by the MCIU and the Pro-CNIC Foundation, and is a Severo Ochoa Center of Excellence (MEIC award SEV-2015-0505).
Ethics declarations
Competing interests
The authors declare no competing interests.
Additional information
Peer review information Ioana Visan was the primary editor on this article and managed its editorial process and peer review in collaboration with the rest of the editorial team.
Publisher's note Springer Nature remains neutral with regard to jurisdictional claims in published maps and institutional affiliations.
Supplementary information
About this article
Cite this article
Adrover, J.M., Aroca-Crevillén, A., Crainiciuc, G. et al. Programmed 'disarming' of the neutrophil proteome reduces the magnitude of inflammation. Nat Immunol (2020). https://doi.org/10.1038/s41590-019-0571-2
Received:

Accepted:

Published: