Abstract
The cytokine interleukin (IL)-1β is a key mediator of antimicrobial immunity as well as autoimmune inflammation. Production of IL-1β requires transcription by innate immune receptor signaling and maturational cleavage by inflammasomes. Whether this mechanism applies to IL-1β production seen in T cell-driven autoimmune diseases remains unclear. Here, we describe an inflammasome-independent pathway of IL-1β production that was triggered upon cognate interactions between effector CD4+ T cells and mononuclear phagocytes (MPs). The cytokine TNF produced by activated CD4+ T cells engaged its receptor TNFR on MPs, leading to pro-IL-1β synthesis. Membrane-bound FasL, expressed by CD4+ T cells, activated death receptor Fas signaling in MPs, resulting in caspase-8-dependent pro-IL-1β cleavage. The T cell-instructed IL-1β resulted in systemic inflammation, whereas absence of TNFR or Fas signaling protected mice from CD4+ T cell-driven autoimmunity. The TNFR–Fas–caspase-8-dependent pathway provides a mechanistic explanation for IL-1β production and its consequences in CD4+ T cell-driven autoimmune pathology.
Relevant articles
Open Access articles citing this article.
Adrianne F. Pike

,

Ildikò Szabò

…

Luigi Bubacco

npj Parkinson's Disease Open Access 24 March 2022

Adrianne F. Pike

,

Francesca Longhena

…

Luigi Bubacco

Journal of Neuroinflammation Open Access 16 February 2022

Yang Wang

,

Ziqi Zhang

…

Xiawei Wei

Molecular Cancer Open Access 16 February 2021
Access options
Subscribe to Nature+
Get immediate online access to the entire Nature family of 50+ journals
Subscribe to Journal
Get full journal access for 1 year
$99.00
only $8.25 per issue
All prices are NET prices.
VAT will be added later in the checkout.
Tax calculation will be finalised during checkout.
Buy article
Get time limited or full article access on ReadCube.
$32.00
All prices are NET prices.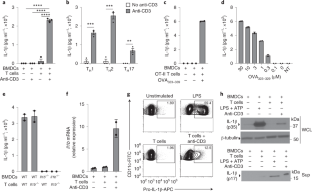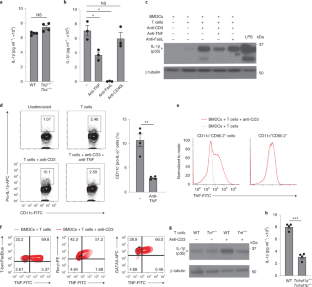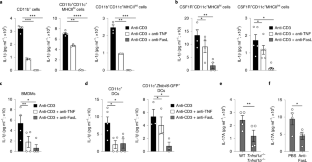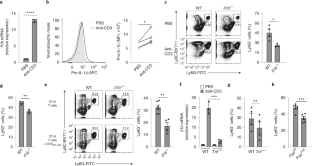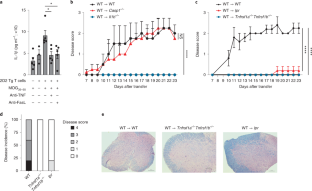 Data availability
The data that support the findings of this study are available from the corresponding author upon reasonable request. Source data for Figs. 1–4 are provided with this paper.
References
Zheng, H. et al. Resistance to fever induction and impaired acute-phase response in interleukin-1 β-deficient mice. Immunity 3, 9–19 (1995).

Miller, L. S. et al. MyD88 mediates neutrophil recruitment initiated by IL-1R but not TLR2 activation in immunity against Staphylococcus aureus. Immunity 24, 79–91 (2006).

Jain, A., Song, R., Wakeland, E. K. & Pasare, C. T cell-intrinsic IL-1R signaling licenses effector cytokine production by memory CD4 T cells. Nat. Commun. 9, 3185 (2018).

Dinarello, C. A. Interleukin-1 in the pathogenesis and treatment of inflammatory diseases. Blood 117, 3720–3732 (2011).

Broderick, L., De Nardo, D., Franklin, B. S., Hoffman, H. M. & Latz, E. The inflammasomes and autoinflammatory syndromes. Annu. Rev. Pathol. 10, 395–424 (2015).

Goodnow, C. C., Sprent, J., Fazekas de St Groth, B. & Vinuesa, C. G. Cellular and genetic mechanisms of self tolerance and autoimmunity. Nature 435, 590–597 (2005).

Masters, S. L., Simon, A., Aksentijevich, I. & Kastner, D. L. Horror autoinflammaticus: the molecular pathophysiology of autoinflammatory disease. Annu. Rev. Immunol. 27, 621–668 (2009).

Lopalco, G. et al. Interleukin-1 as a common denominator from autoinflammatory to autoimmune disorders: premises, perils, and perspectives. Mediators Inflamm. 2015, 194864 (2015).

Raphael, I., Nalawade, S., Eagar, T. N. & Forsthuber, T. G. T cell subsets and their signature cytokines in autoimmune and inflammatory diseases. Cytokine 74, 5–17 (2015).

Bluestone, J. A., Bour-Jordan, H., Cheng, M. & Anderson, M. T cells in the control of organ-specific autoimmunity. J. Clin. Invest. 125, 2250–2260 (2015).

Schenten, D. et al. Signaling through the adaptor molecule MyD88 in CD4+ T cells is required to overcome suppression by regulatory T cells. Immunity 40, 78–90 (2014).

Shaw, P. J., McDermott, M. F. & Kanneganti, T. D. Inflammasomes and autoimmunity. Trends Mol. Med. 17, 57–64 (2011).

Ippagunta, S. K. et al. Inflammasome-independent role of apoptosis-associated speck-like protein containing a CARD (ASC) in T cell priming is critical for collagen-induced arthritis. J. Biol. Chem. 285, 12454–12462 (2010).

Schott, W. H. et al. Caspase-1 is not required for type 1 diabetes in the NOD mouse. Diabetes 53, 99–104 (2004).

Cogswell, J. P. et al. NF-κB regulates IL-1β transcription through a consensus NF-κB binding site and a nonconsensus CRE-like site. J. Immunol. 153, 712–723 (1994).

Martinon, F., Burns, K. & Tschopp, J. The inflammasome: a molecular platform triggering activation of inflammatory caspases and processing of proIL-β. Mol. Cell 10, 417–426 (2002).

Martin, B. N. et al. T cell-intrinsic ASC critically promotes TH17-mediated experimental autoimmune encephalomyelitis. Nat. Immunol. 17, 583–592 (2016).

Baldassare, J. J., Bi, Y. & Bellone, C. J. The role of p38 mitogen-activated protein kinase in IL-1β transcription. J. Immunol. 162, 5367–5373 (1999).

Geppert, T. D., Whitehurst, C. E., Thompson, P. & Beutler, B. Lipopolysaccharide signals activation of tumor necrosis factor biosynthesis through the Ras/Raf-1/MEK/MAPK pathway. Mol. Med. 1, 93–103 (1994).

Li, C. R., Mueller, E. E. & Bradley, L. M. Islet antigen-specific TH17 cells can induce TNF-⍺-dependent autoimmune diabetes. J. Immunol. 192, 1425–1432 (2014).

Franchi, L., Eigenbrod, T., Munoz-Planillo, R. & Nunez, G. The inflammasome: a caspase-1-activation platform that regulates immune responses and disease pathogenesis. Nat. Immunol. 10, 241–247 (2009).

He, W. T. et al. Gasdermin D is an executor of pyroptosis and required for interleukin-1β secretion. Cell Res. 25, 1285–1298 (2015).

Bossaller, L. et al. Cutting edge: FAS (CD95) mediates noncanonical IL-1β and IL-18 maturation via caspase-8 in an RIP3-independent manner. J. Immunol. 189, 5508–5512 (2012).

Wang, L., Du, F. & Wang, X. TNF-⍺ induces two distinct caspase-8 activation pathways. Cell 133, 693–703 (2008).

Lemmers, B. et al. Essential role for caspase-8 in Toll-like receptors and NF-κB signaling. J. Biol. Chem. 282, 7416–7423 (2007).

Philip, N. H. et al. Activity of uncleaved caspase-8 controls anti-bacterial immune defense and TLR-induced cytokine production independent of cell death. PLoS Pathog. 12, e1005910 (2016).

Helft, J. et al. GM-CSF mouse bone marrow cultures comprise a heterogeneous population of CD11c+ MHCII+macrophages and dendriticcells. Immunity 42, 1197–1211 (2015).

Erlich, Z. et al. Macrophages, rather than DCs, are responsible for inflammasome activity in the GM-CSF BMDC model. Nat. Immunol. 20, 397–406 (2019).

Satpathy, A. T. et al. Zbtb46 expression distinguishes classical dendritic cells and their committed progenitors from other immune lineages. J. Exp. Med. 209, 1135–1152 (2012).

Bachmann, M. F. & Kopf, M. On the role of the innate immunity in autoimmune disease. J. Exp. Med. 193, F47–F50 (2001).

Janeway, C. A.Jr. Approaching the asymptote? Evolution and revolution in immunology. Cold Spring Harb. Symp. Quant. Biol. 54, 1–13 (1989).

VanderBorght, A., Geusens, P., Raus, J. & Stinissen, P. The autoimmune pathogenesis of rheumatoid arthritis: role of autoreactive T cells and new immunotherapies. Semin. Arthritis Rheum. 31, 160–175 (2001).

Fletcher, J. M., Lalor, S. J., Sweeney, C. M., Tubridy, N. & Mills, K. H. T cells in multiple sclerosis and experimental autoimmune encephalomyelitis. Clin. Exp. Immunol. 162, 1–11 (2010).

Pugliese, A. Autoreactive T cells in type 1 diabetes. J. Clin. Invest. 127, 2881–2891 (2017).

Mannie, M. D., Dinarello, C. A. & Paterson, P. Y. Interleukin 1 and myelin basic protein synergistically augment adoptive transfer activity of lymphocytes mediating experimental autoimmune encephalomyelitis in Lewis rats. J. Immunol. 138, 4229–4235 (1987).

Lin, C. C. & Edelson, B. T. New insights into the role of IL-1β in experimental autoimmune encephalomyelitis and multiple sclerosis. J. Immunol. 198, 4553–4560 (2017).

Adachi, M. et al. Enhanced and accelerated lymphoproliferation in Fas-null mice. Proc. Natl Acad. Sci. USA 93, 2131–2136 (1996).

Mande, P. et al. Fas ligand promotes an inducible TLR-dependent model of cutaneous lupus-like inflammation. J. Clin. Invest. 128, 2966–2978 (2018).

Orning, P. et al. Pathogen blockade of TAK1 triggers caspase-8-dependent cleavage of gasdermin D and cell death. Science 362, 1064–1069 (2018).

Conos, S. A., Lawlor, K. E., Vaux, D. L., Vince, J. E. & Lindqvist, L. M. Cell death is not essential for caspase-1-mediated interleukin-1β activation and secretion.Cell Death Differ. 23, 1827–1838 (2016).

Furlan, R. et al. Caspase-1 regulates the inflammatory process leading to autoimmune demyelination. J. Immunol. 163, 2403–2409 (1999).

De Jager, P. L. et al. Meta-analysis of genome scans and replication identify CD6, IRF8 and TNFRSF1A as new multiple sclerosis susceptibility loci. Nat. Genet. 41, 776–782 (2009).

Hinks, A. et al. Dense genotyping of immune-related disease regions identifies 14 new susceptibility loci for juvenile idiopathic arthritis. Nat. Genet. 45, 664–669 (2013).

International Multiple Sclerosis Genetics Consortium et al. Analysis of immune-related loci identifies 48 new susceptibility variants for multiple sclerosis. Nat. Genet. 45, 1353–1360 (2013).

Jin, Y. et al. Genome-wide association studies of autoimmune vitiligo identify 23 new risk loci and highlight key pathways and regulatory variants. Nat. Genet. 48, 1418–1424 (2016).

Tsoi, L. C. et al. Large scale meta-analysis characterizes genetic architecture for common psoriasis associated variants. Nat. Commun. 8, 15382 (2017).

Itoh, N. et al. Requirement of Fas for the development of autoimmune diabetes in nonobese diabetic mice. J. Exp. Med. 186, 613–618 (1997).

Kruglov, A. A., Lampropoulou, V., Fillatreau, S. & Nedospasov, S. A. Pathogenic and protective functions of TNF in neuroinflammation are defined by its expression in T lymphocytes and myeloid cells. J. Immunol. 187, 5660–5670 (2011).

Varanasi, V., Avanesyan, L., Schumann, D. M. & Chervonsky, A. V. Cytotoxic mechanisms employed by mouse T cells to destroy pancreatic β-cells. Diabetes 61, 2862–2870 (2012).
Acknowledgements
We thank all the members of the Pasare laboratory and R. Bagirzadeh for helpful discussions. We thank A. Ma for sharing WT and D117A Il1b constructs. We thank M. Jordan for sharing Zbtb46-GFP reporter mice. This work was supported by grants from the National Institutes of Health (AI113125 and AI123176) to C.P. M.M.M. was supported by a National Science Foundation Graduate Research Fellowship under grant 2017220107.
Ethics declarations
Competing interests
The authors declare no competing interests.
Additional information
Peer review information Ioana Visan was the primary editor on this article and managed its editorial process and peer review in collaboration with the rest of the editorial team.
Publisher's note Springer Nature remains neutral with regard to jurisdictional claims in published maps and institutional affiliations.
Supplementary information
About this article
Cite this article
Jain, A., Irizarry-Caro, R.A., McDaniel, M.M. et al. T cells instruct myeloid cells to produce inflammasome-independent IL-1β and cause autoimmunity. Nat Immunol 21, 65–74 (2020). https://doi.org/10.1038/s41590-019-0559-y
Received:

Accepted:

Published:

Issue Date:

DOI: https://doi.org/10.1038/s41590-019-0559-y